The Shiny Seventh's reunion Deverell Barracks Ripon 2008
L-R. Back row: Roger Hankins, Fred Sharp, Walter Scott, Peter Bailey, Geordie Tate, George Cowie, Graham Smith, Paul Simmons, Jim Ross, Alan Morton, Donny Neilson, Brian Hemingray, Eugene Anderson
Centre row: Phil Dawson, Dighny Brien, Fred Lasham, Joe Carney, Paddy Hooks, Ray Rogers, John Yates, Jack Merrill
Front row: Eric Brown, Ron Wakeford, Ray Rowe, Bob Blakey, John Gililand, Andy Jackson, Frank Hannaway, Terry Bradley, Kevin Ella, Stewart Aitken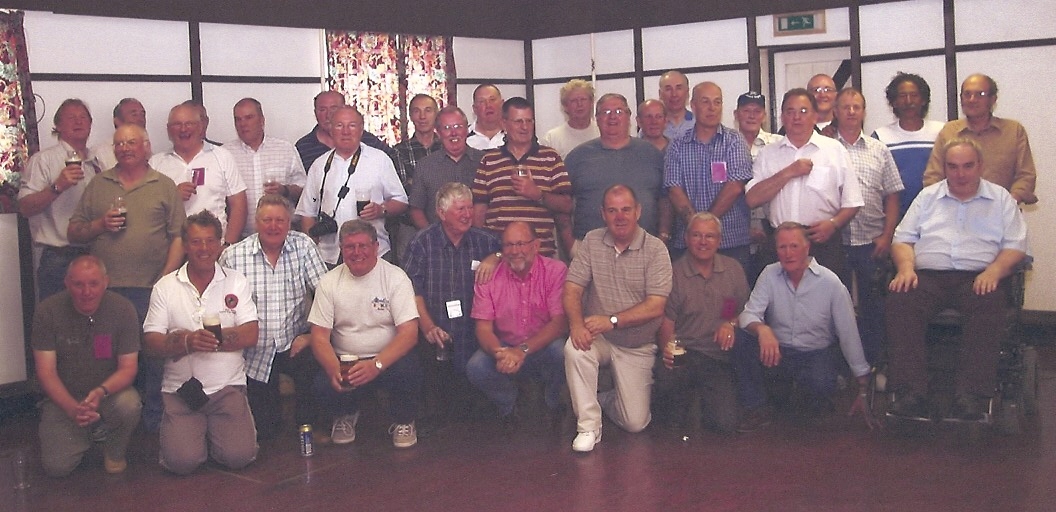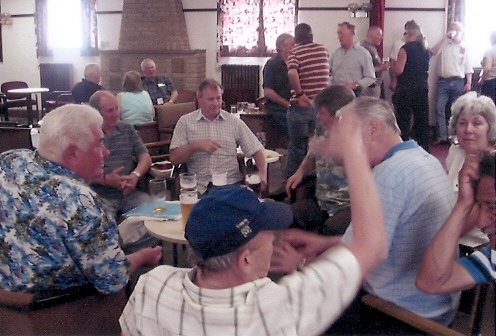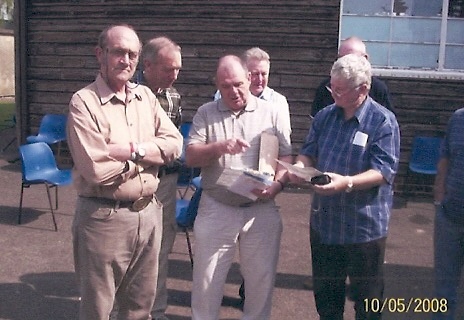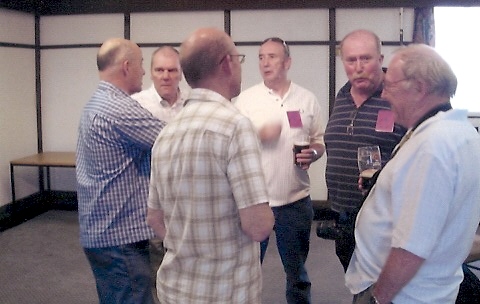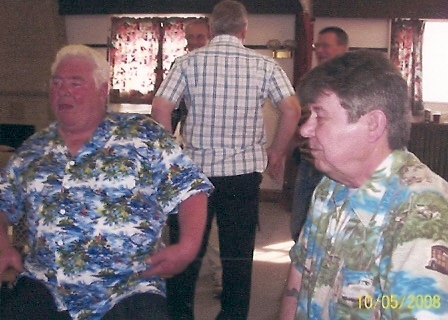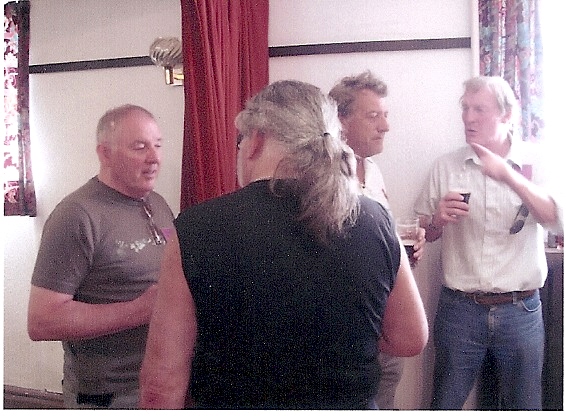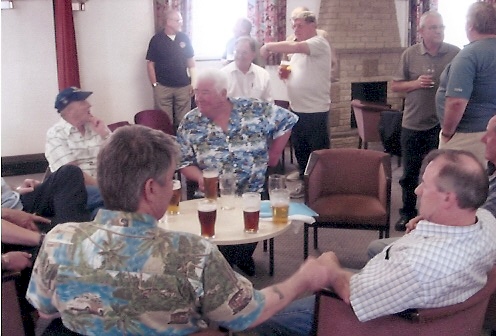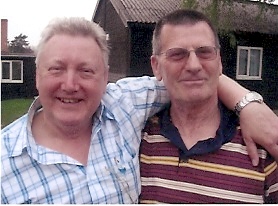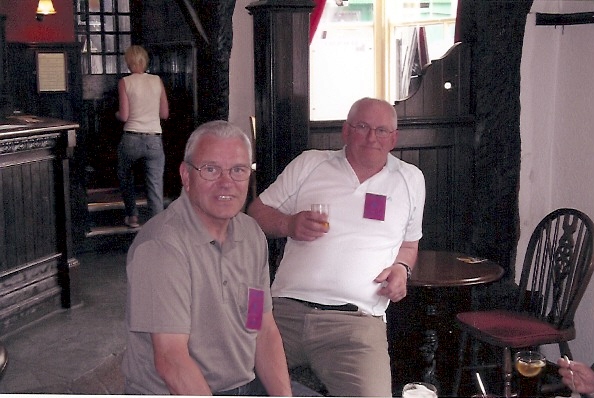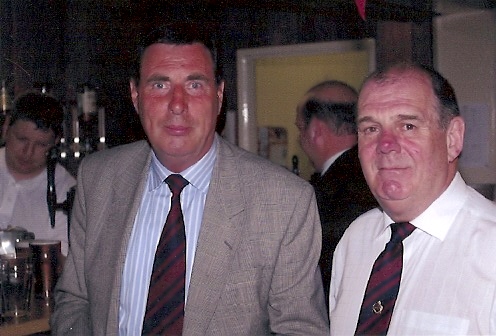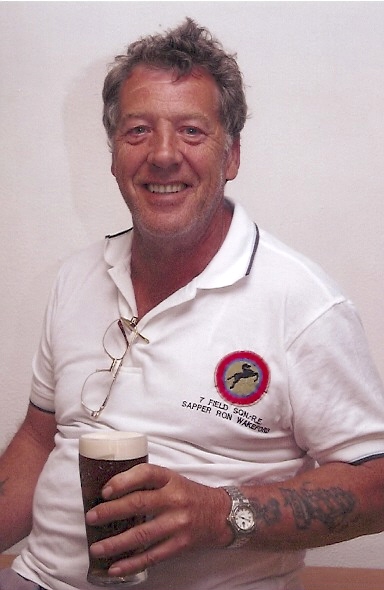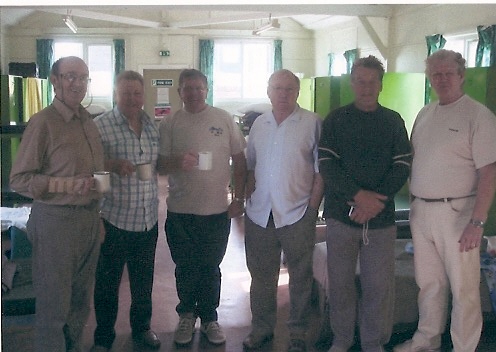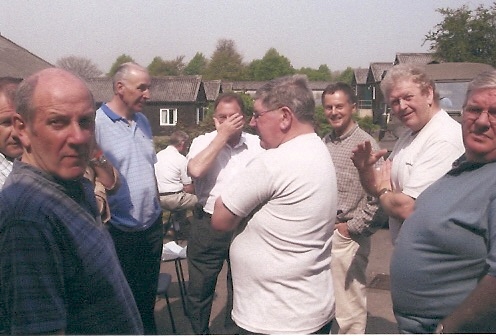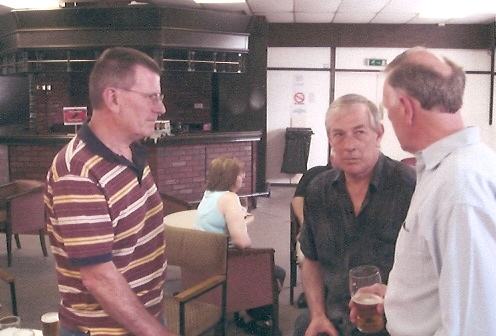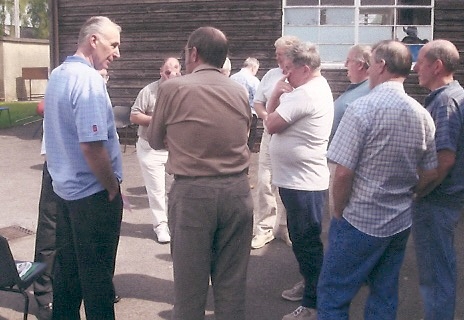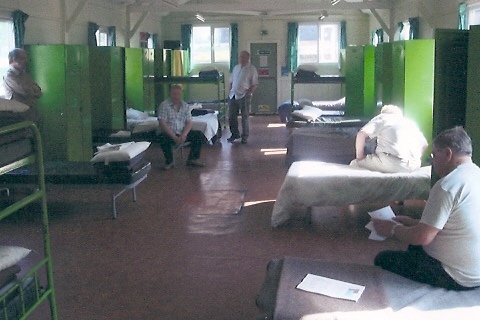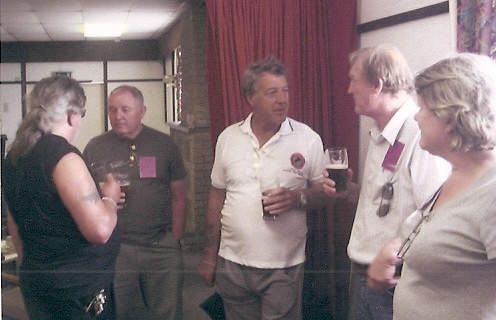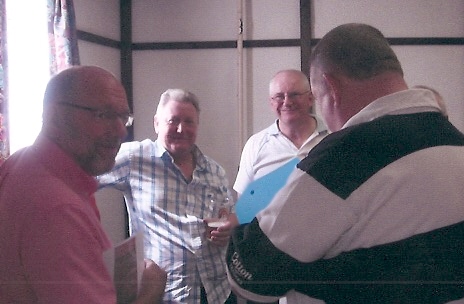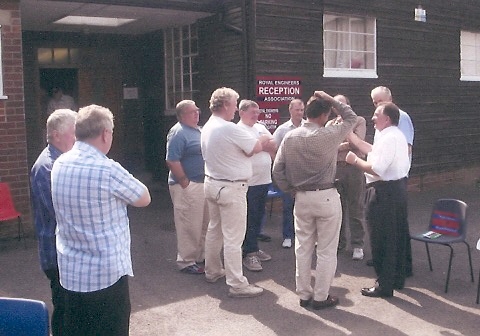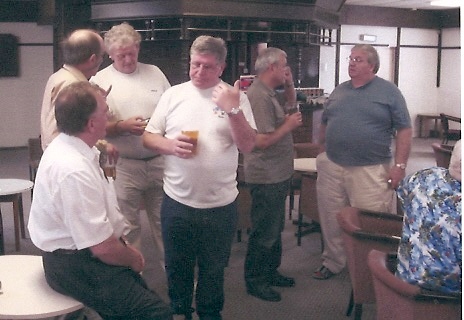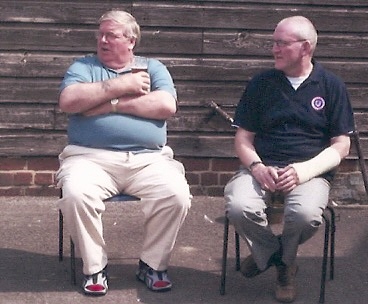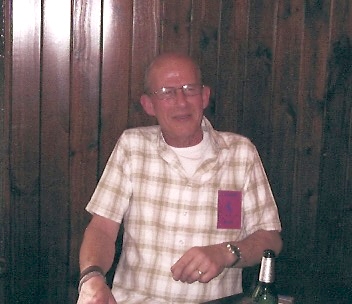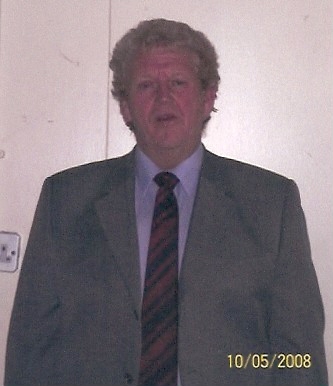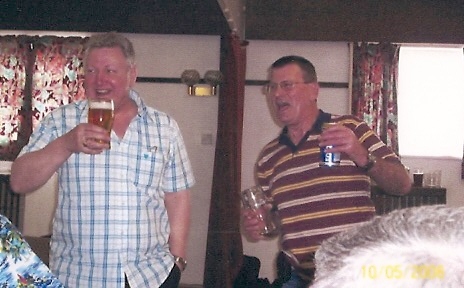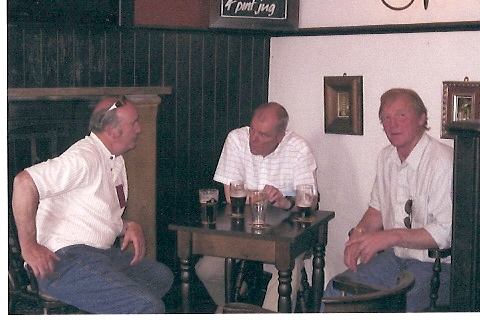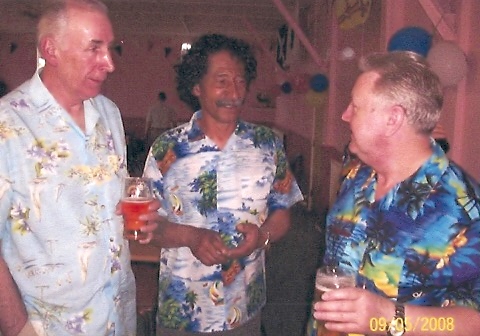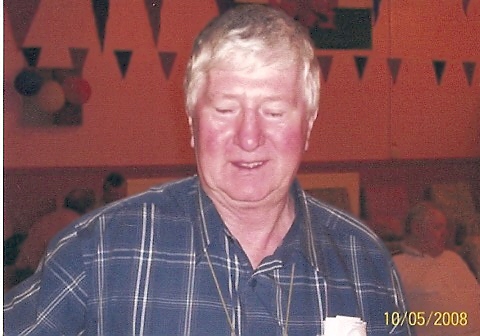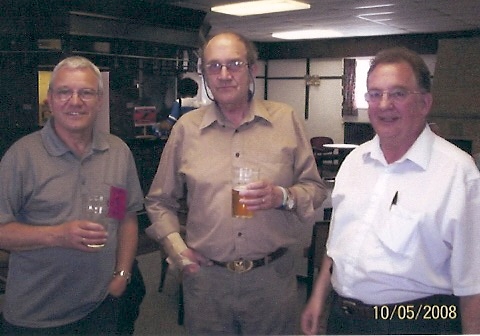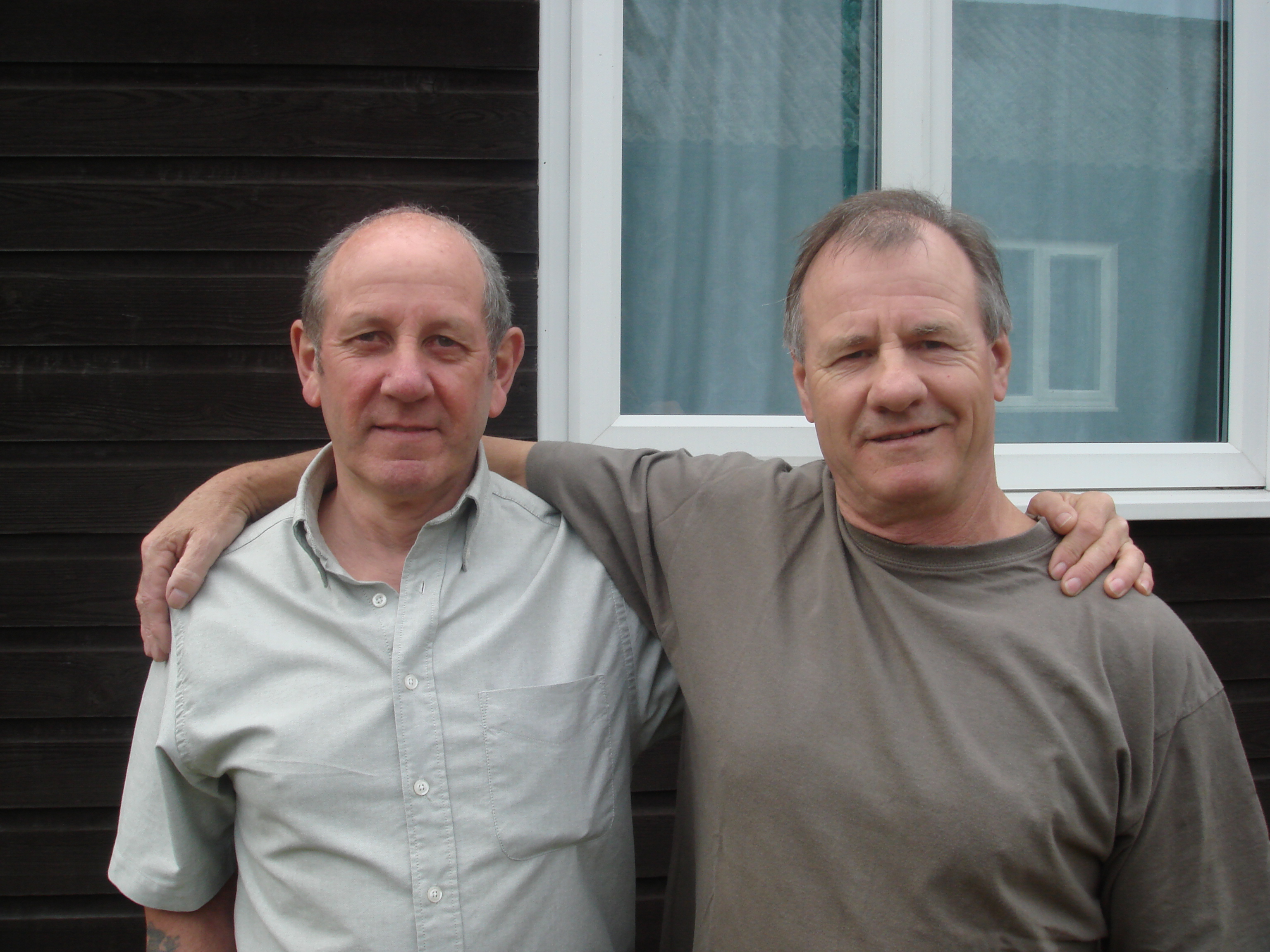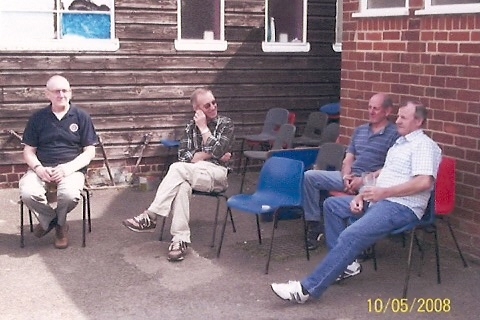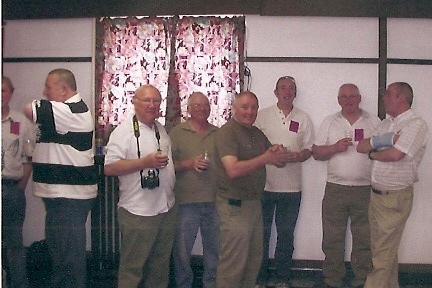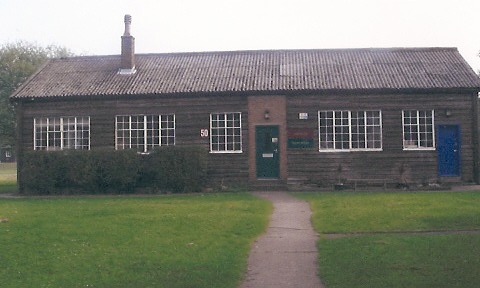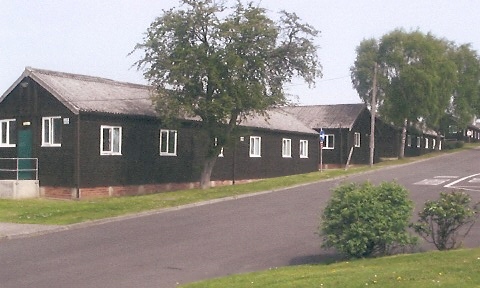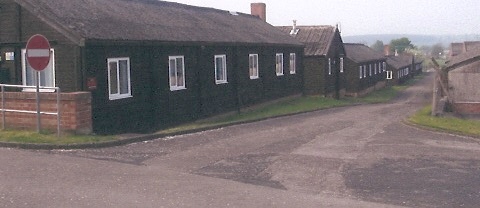 Ray Rogers:

[u][/u]7 Field Squadron - First reunion Well guys what a weekend! Sorry to those few of you who were prevented from attending and thanks for the well wishes. To those who chose not to attend - tough, you missed something worthwhile. To those who did put in an appearance; great to meet everyone, including those who served before my time and those who served after plus those I did know. We drank and talked and drank and nobody fell over; well not to my knowledge anyway. We have a couple of photos which we WILL use in evidence against you. Wont we John? Eric told many stories, were any of them true? Tony behaved; well done. Between them Geordie and Joe nearly filled the place. Slim has really slimmed down, or have I really got that much larger. Bob had half a moustache which Tony never got an answer about. Frank denied knowledge of an ex college girl (his wife was there) until he was presented with the fact she was a vicar's daughter and he could not deny it any longer. Well done Ron for making it over from Oz. Puts others to shame for not bothering to attend. Ron (the ponytailed one) could not answer what he did every day whilst the others climbed in Italy, and the stories could go on and on. To contine:
Ray Rogers:
Continued: Those who slept in C wing didn't snore too badly; thanks lads. A certain gentleman (a loose term for him) must have forgotten his training and lost his night vision as he found it necessary to put the bloody lights on (at 2.30am I think) so he could hold an important conversation with Andy. Thanks again Bob for starting this whole thing off, to Andy for arranging the weekend and to Sammy for the coins. If you haven't got one I'm sure it can be arranged via this siter. I have photos of everyone I think. More about distribution later. the consensus was that the format should be repeated next year; it is the 60th anniversary of the freedom of the city and it may be the last year the barracks are available. Anybody with different ideas or requirements voice them via this site. Post your thought and memories of the weekend here as none of us can remember everything and we want to share them please. I trust everyone got home safely and make sure you keep yourselves safe for another year. More later I'm sure plus check out George's site as he will be adding to it after this weekend. One last word, 2 Troop of course were the best turned out, their commanding officer even attended to inspect.

Bob:

Thanks every body for a great turnout and a really good weekend from what I can remember
Hope you all arrived home safe and sound.

Frank H:

[color=blue]wow what a weekend:lol:[/color] thanks a million to George, Bob & Andy. Slim - the best scheme box ever, you are a top bloke Ray Rogers sorry about the light, it was John G to blame for leading me astray, John G thanks for the trip down memory lane, you were and still are a special guy. Ray Rowe, hope you accept the offer of honourary 3 troop membership for you staying power and minesweeping capabilities (I haven't done that for a long time. Flick great to see you, thanks for reminding me what happened to my 21st birthday present, that will teach you to fall asleep on stag. Andy What else can I say, your one in a million.

Ray Rowe:

To all, thanks for a great weekend,seeing all those faces again brought memories flooding back. Frank H, I gladly accept honourary membership of 3 troop.Fred Lasham youv`e never changed, the photos are great A special thanks to Bob, George and Andy for making this happen, already looking forward to next time.
Spud:

Guys thanks to EVERYONE who attended it made it a great weekend. Special thanks to BoB B and Andy without whom it would not have happened. Sadly it was all over before I blinked. Thanks for all the memories and advice. My missus thought all those she met were great blokes and told me that we must have been a good unit for that many to appear. Thanks again till next time
Brian Hemingray:
Just like to add my thanks to Bob,George and Andy for organising a GREAT weekend hope to see you all next year.

Alan Morton.:

To everyone and the memories of Shiney 7 Sqn, what a fabulous, fantastic live journey into the past.
Special thanks to BOB,ANDY, RAY ROGERS, GEORDIE COWIE & SAMMY, would not have happened without you.
Thanks also to Dave Biram for sending some Spanish sunshine.
My Missus also sends her thanks to all the gentlemen of the Royal Engineers, she had a great time listening to all the stories and adventures. Safe journey to the two Ronnies on their way back to Belgium & Australia. Look forward to seeing you all and possibly even more of us next year.

Andy (Anderson):

Well what can I say? Set off to Ripon with a feeling of nervous apprehension which was soon replaced by a feeling of euphoria after a few hugs of long lost chums. There is so much I would like to say about you guys but space here won't allow it, George is going to set up a page on his site for photo's of the weekend, I will send him the group photo, there are a few missing, Ron P. Tony & Eric did a runner, Frank S. & Flick were a bit late but I am sure they were captuerd by other cameras, All photo's to George please, Frank I want money or your missus gets the piccies, Donnie thanks again for the guitar, you are a star, Smudge I am now going to change my name, I would like to mention you all individually but it would take too long. Cont.
Andy (Anderson):
Suffice it to say you are all a bunch of great guys. It seems we had a massive influence on each others lives forty years ago, me especially, and hopefully it continues, Spud are you listening? yes you do have friends!!! and thanks to you all for having me as a friend. I am sure more details of the weekend will emerge, All in all, a very emotional weekend for me but also a very very funny one too. Fantastic...

Andy (Anderson):

I did try to get contact details from the guys without PC's but failed miserably so while the iron is hot, those of you who have phone numbers and or addresses of those without PC's please e-mail them to me, this WILL happen again and next time it will be better now that we know the format and we also have more time to get organised. Sammy's sister, Elaine, still has some coins, thanks Sammy, they were excellent, and Elaine has sold your caravan! so if anyone still wants a coin let me know (Dave B. you will have to get one) and by the way, your beer went down well. The C.O. of 38 had heard about our do, god knows where from, and sends his congrats (spoke to him on the Sunday morning) Kenn Hart sends you all a thank you, he was impressed!
Ray Rogers:

Guys: A message from Henry Day What a great reunion after all these years- I've a lot to thank you for. I always remembered you all in 2 Tp as a thoroughly likeable lot and you still are! I last saw the photocopy of Andy's obit in Mort's hands and I think he said he would get it scanned or whatever; if not I will photocopy the Alpine Journal again (or perhaps scan it for you directly and e mail?). The Land Rover show was good too (May and June copies of Land Rover Owner international are carrying my account of the Caucasus expedition we did last year). Now they want me to do another one on the China trip we did in 2001 when we were the wrong side of Asia when 9/11 happened. Somehow these things keep on happening to me.. Anyway, all the best to you and keep in touch. I will have a look at the websites when my own computer has been cleaned of a virus (and where did that come from???) Henry

George Cowie:

Guys,A thousand thanks to all who attended and help make this reunion a resounding success. Words can't descibe how much I enjoyed seeing everyone after 40 years. I can safely state that everyone enjoyed it. A big thanks to Andy for organising it all, he even got the weather spot on. I'm sure you are already thinking of nxt years meeting. Special mention to the 2 Ronnies for travelling so far, I know you both enjoyed it. Commiserations to those who couldn't make it for whatever reason. You missed out BIG time. I will post a new page with reunion photos soon. Best wishes to you all. You are all GREAT guys. George

George Cowie:

Guys, On saturday evening Jock Orr, ex 1 troop, turned up at the Sgts Mess. By this time a lot of guys thinned out to different locations. Jock Orr was in 7sqn 1963-66. He made LT Col before retiring and now lives in Ripon. He was unable to attend earlier in the day as he had to preside over a function at Ripon golf course, where he is president. He will visit the websites now that he has the address. Maybe he will make some contributions. It was great to talk to him, and he stated that he has seen a lot of things in his army service but never saw any unit more professional than Shiny 7. He will attend nxt years reunion. rgds George

John G :

Well what can I say that has not been said already. Slim look forward to seeing you again next year. Guess we may need more gin. Frank, Spud great seeing you again. Andy, George and Bob great organisation best p--- up for a long time.Sam thanks for the effort on the coins would expect nothing less from a member of the ferret brotherhood Andy you are dead if that photo appears. but Spain could be interesting!!!! I had a great time memories of the Belfry and Bridge camp. Looking forward to the next reunion Andy thanks once again for all your admin skills. to all that attended it was great meeting you all thanks for the memories and friendships old and new

Joe Carney:

Well!!!! what a weekend. Let's do it again. Thanks to Bob, Andy, George, Slim and everybody else that were there. Can't wait to see the photos. Can somebody thank Ripon REA for a well organised weekend.Thanks again. See you ALL next year.

fred lasham:

Hi Guys i just want to add my thanks to everyone who organized the re-union. It was great seeing many old mates even though at times i had difficulty putting names to faces. If there is another bash i hope that i will find out about it earlier enough for me to make arrangements to have the time off.i would like stay for the full courseinstead of leaving early. i am not saying i will be able to kep up with you all (booze) but i would do my best. this computer lark gets me at times, so how do i get copies of the photos that were taken? i thought some one said they wrer going to put them onto a disc, is this correct, if so who do i need to contact? once again my thanks go to everyone who organised a great day, Fred Lasham
L-R: Eric Elgie, Jim Ross, John Gilliland, John Yates, Spud, Fred Lasham,Tony Rountree, Kevin Ella, Alan Morton, Eric Brown, Ron Plaxton, Roger Hankins, Mrs Morton, Eugene Anderson
L-R: Eric Brown, Ron Plaxton, Ron Wakeford, Roger Hankins
L-R: Donny Nielson, Tony Rountree, Eric Elgie, Ray Rogers, Bob Blakey, John Yates, Terry Bradly, Joe Carny, Jim Ross
L-R: Paddy Hooks, Pete Baily, Dick Church, Fred Sharp, Geordie Tate, Phil Dawson
Ray & Fred
Terry and Walter
Hughie ( jock ) Orr & Frank Hannaway
Ron Wakeford
Jack Merrell, Ray Rowe, Bob Blakey, Phil Dawson, Ron Wakeford, Paul Simmons
John Yates, Jim Ross, Alan Morton, Ray Rogers,Bob Blakey, Henry Day, Paul Simmons, Joe Carney
Fred Lasham, Spud Taylor, Kev Ella
Ron Plaxton, Eric Brown, Ron Wakeford, Roger (Hank) Hankins, Mrs Sally Smith
Andy Jackson,Ray Rowe, Walter (Scottie) Scott, Graham (Smudge) Smith
Dick Church
Eric Elgie & Tony Rountree
Joe Carney & Brian Hemingray
Jack George Frank Ray John
Paul (slim) Simmons
Fred Sharp, Peter Bailey, Roger Hankins
Alan, Henry Day, George
John (Jock) Gilliland
Terry Bradley, Jack Merrill, Ray Rogers
Jim Ross & John (Yacky) Yates
The former Sqn Offices, now looking a bit sad and tired
Front and back view of the old Sqn Spider
Alan Andy Ray
The Shiny 7 reunions are open to all Shiny Sevener's from all era's past and present
Deveral Barracks Ripon April 2009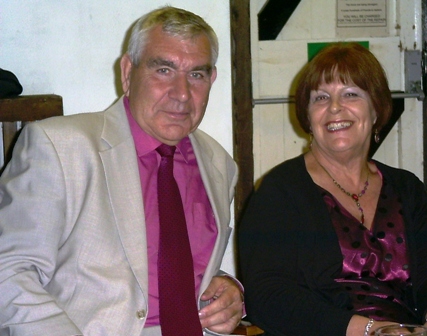 Tony (Brummie) & Carol Crawford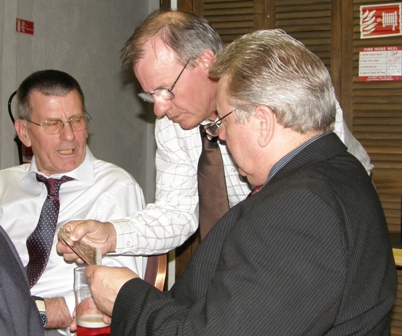 Fred John (yacky) Ray

Shiny 7 reunions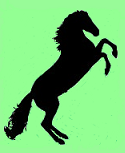 The Ramside Hall Hotel Durham April 2010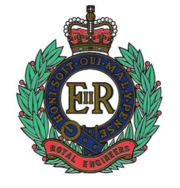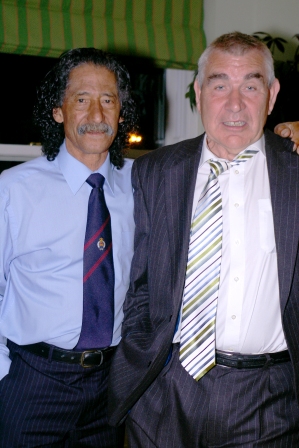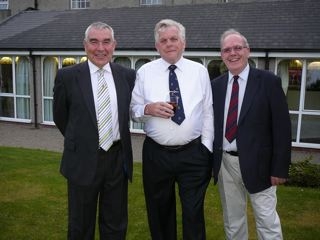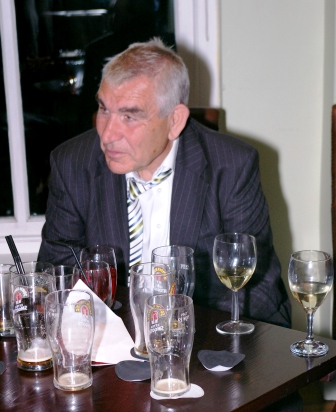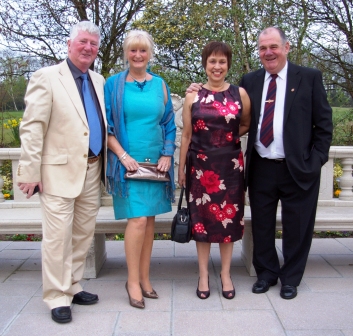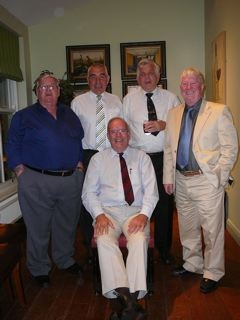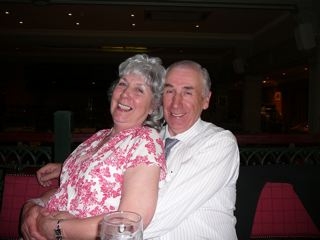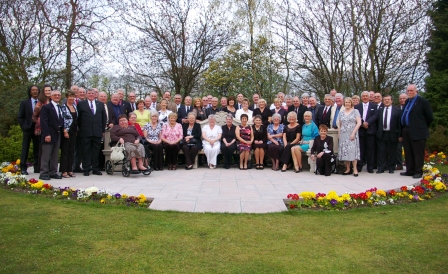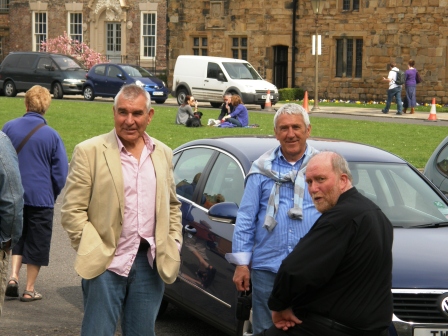 2011 The Olde Barn Hotel Marston Lincolnshire 8/9 April 2011
2012 The King Charles Hotel Gillingham Kent 20-23 April 2012
2013 Royal Clifton Hotel Southport 19-21 April 2013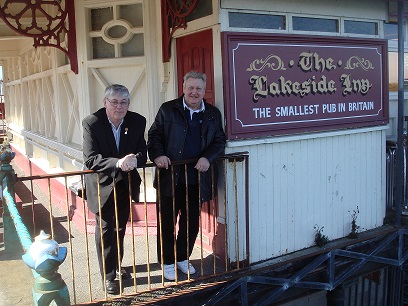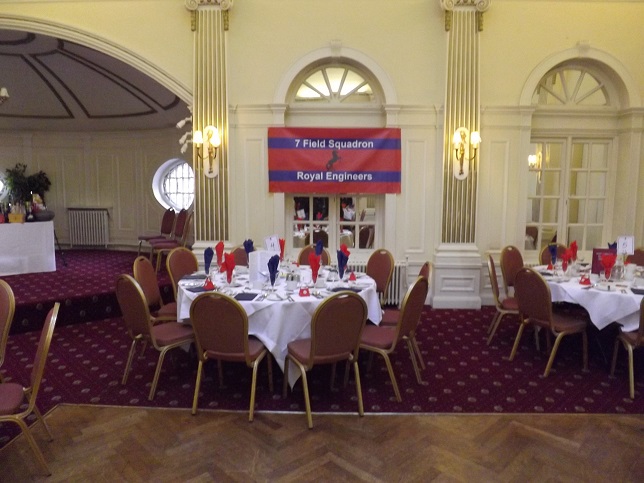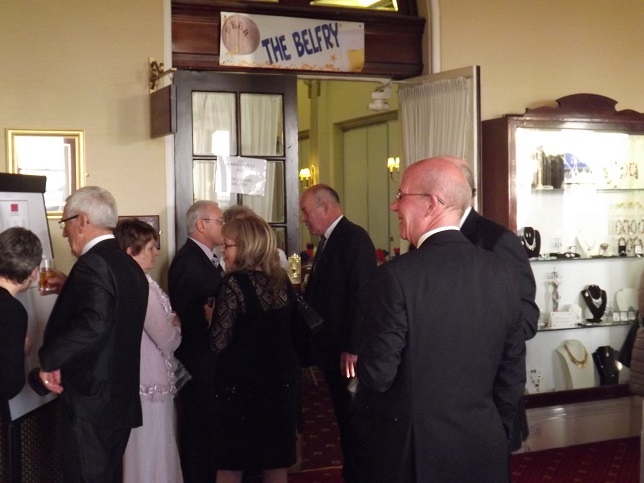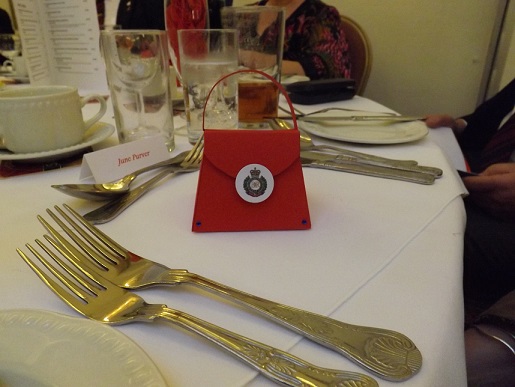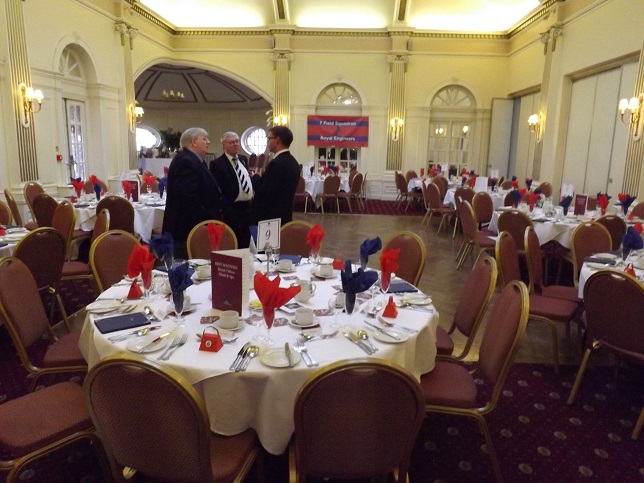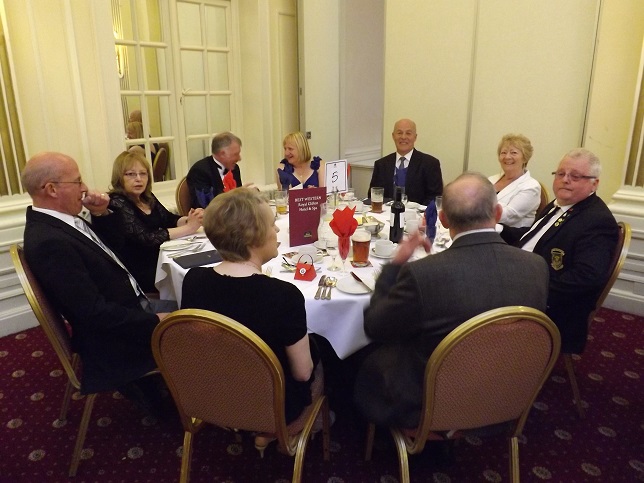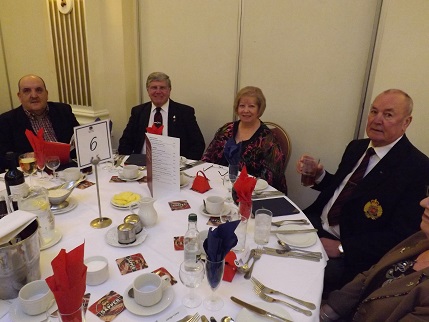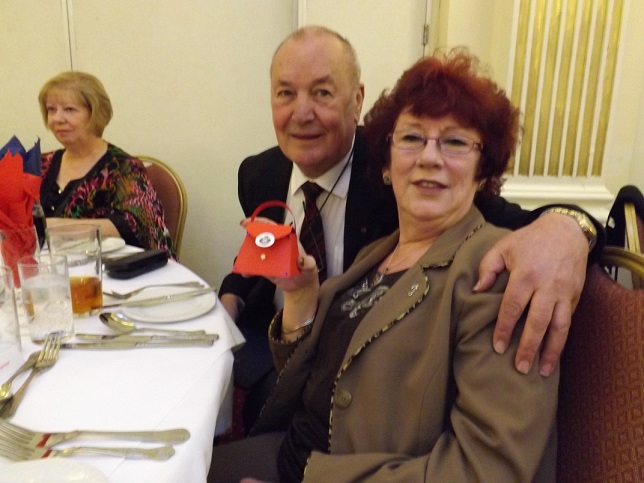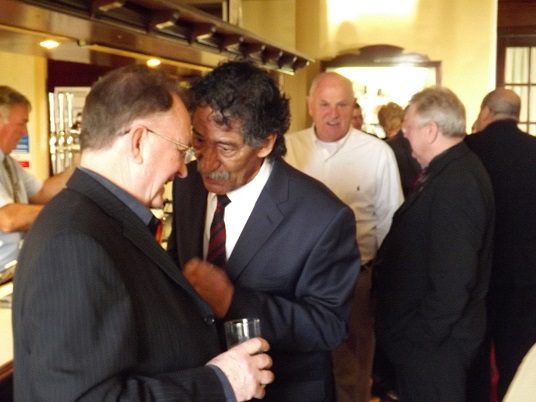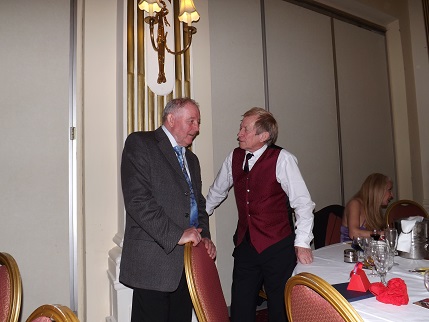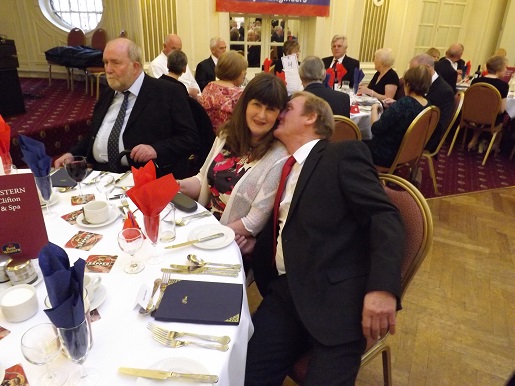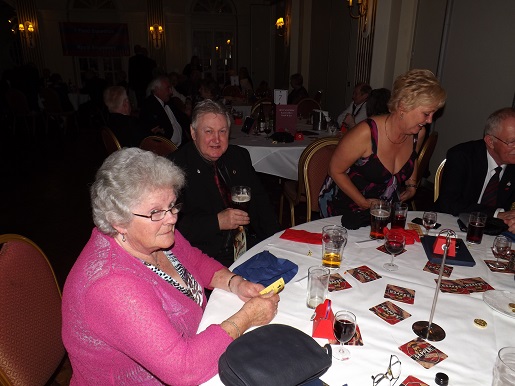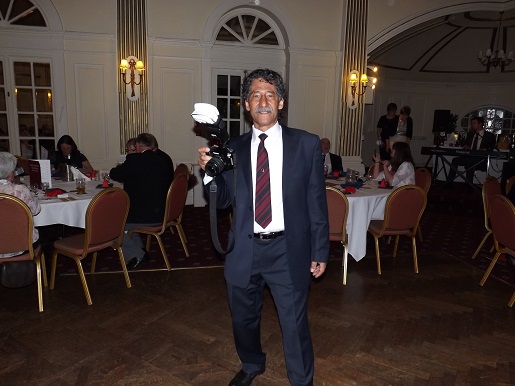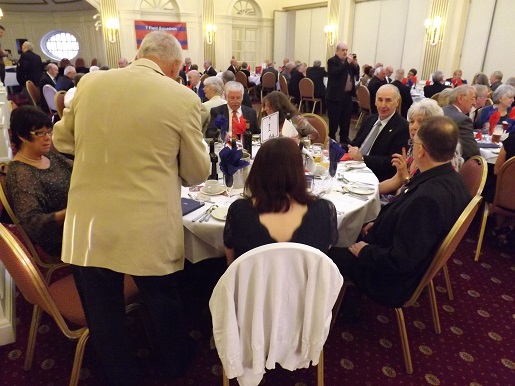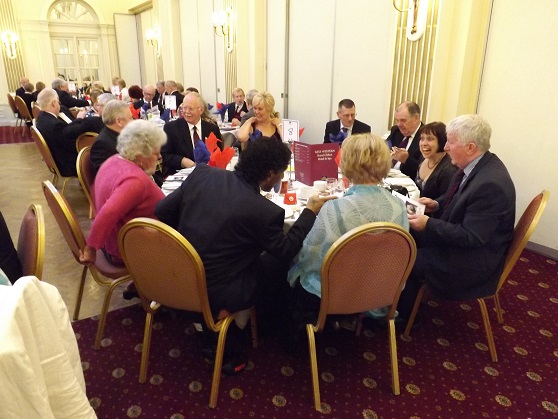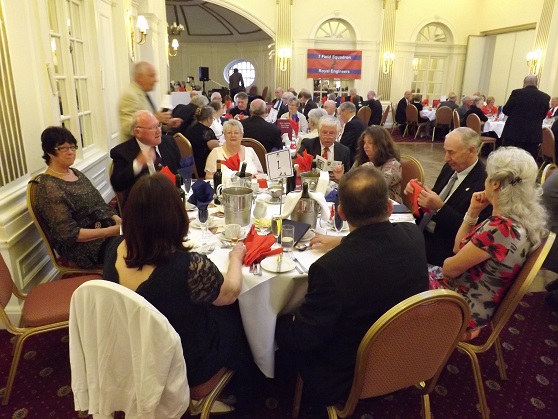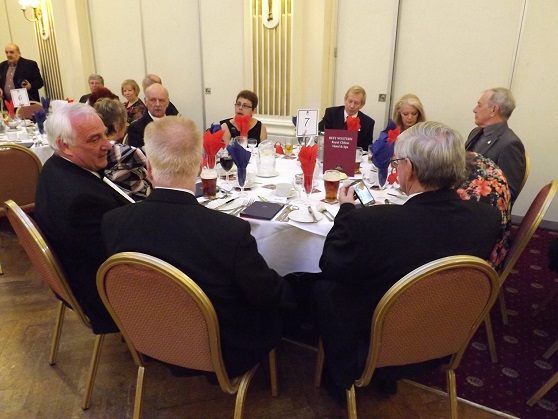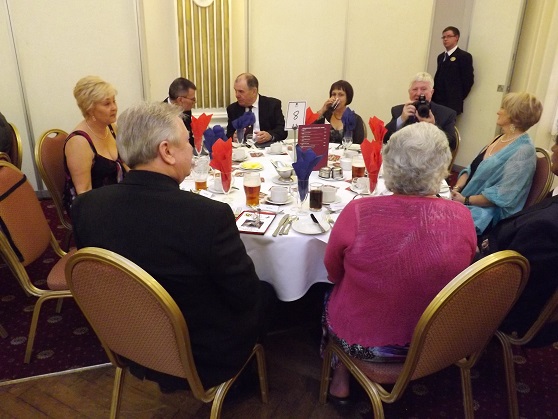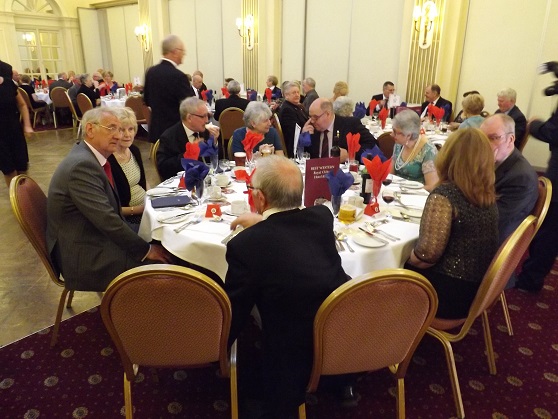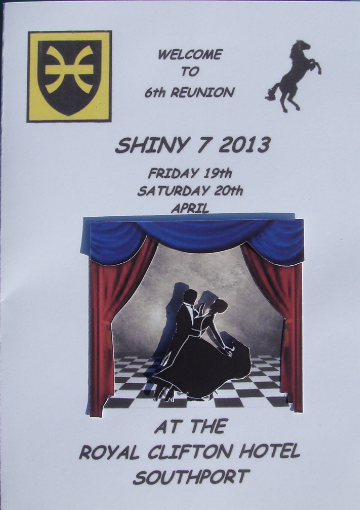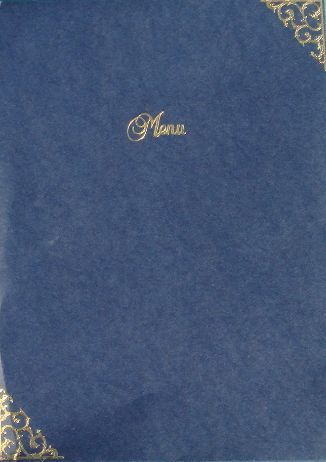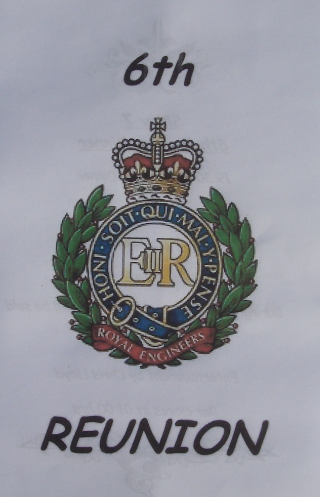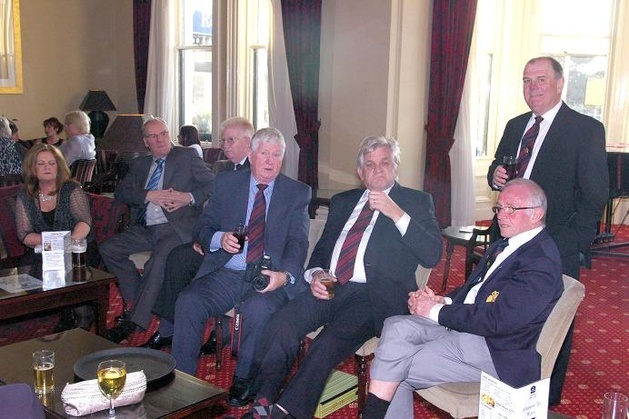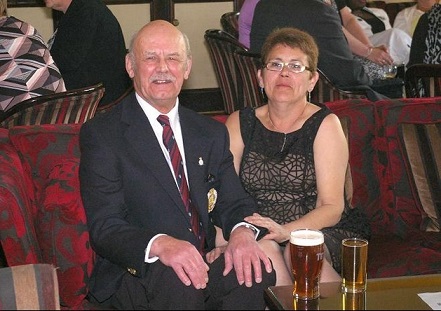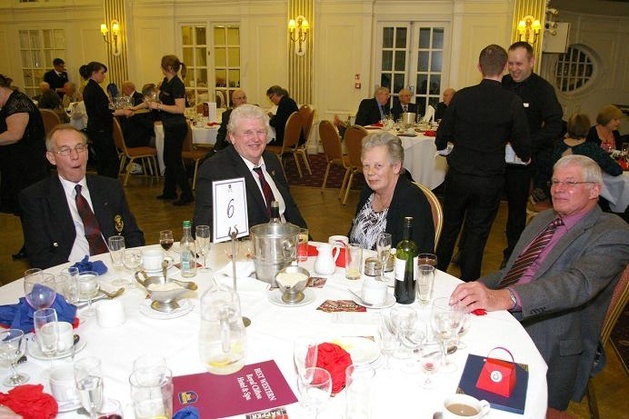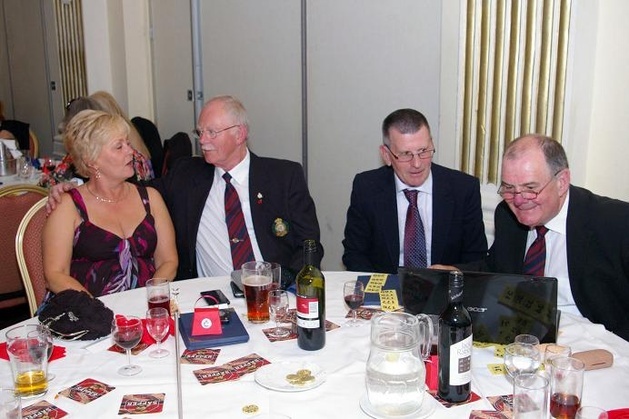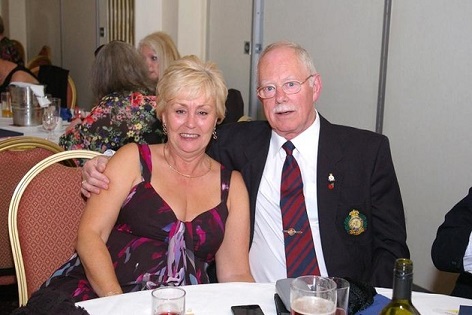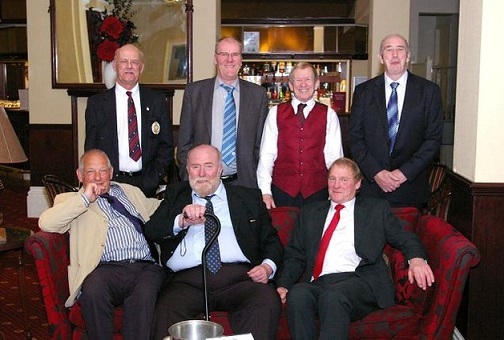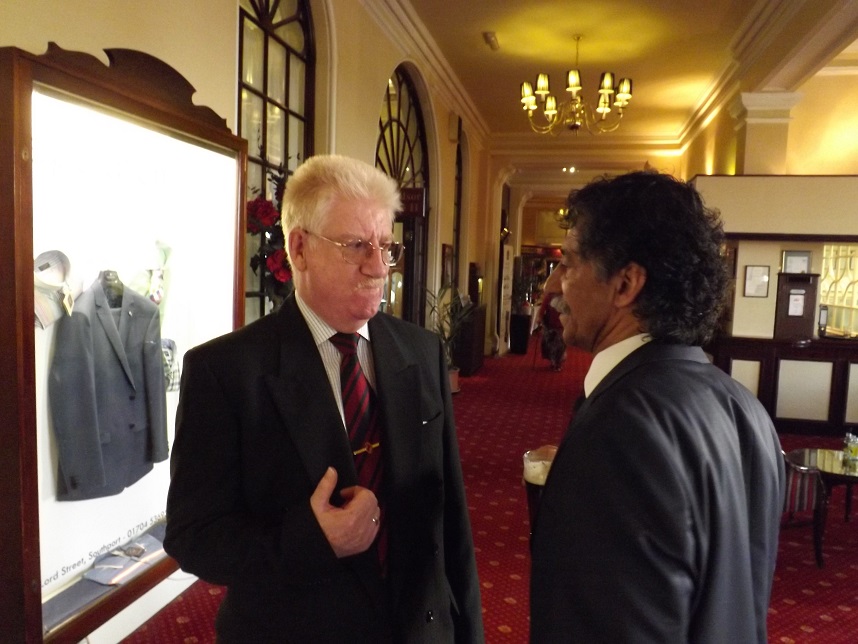 Click on the link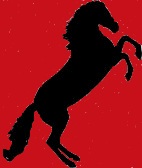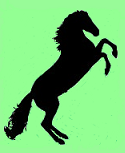 The Shiny 7 Reunion The Palace Hotel Buxton 4-6 April 2014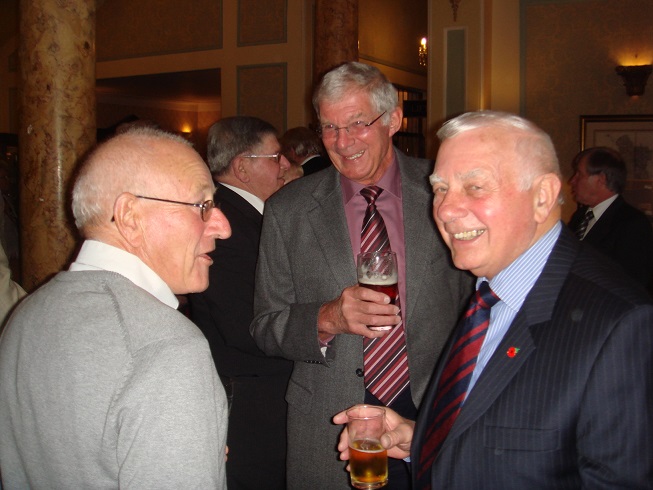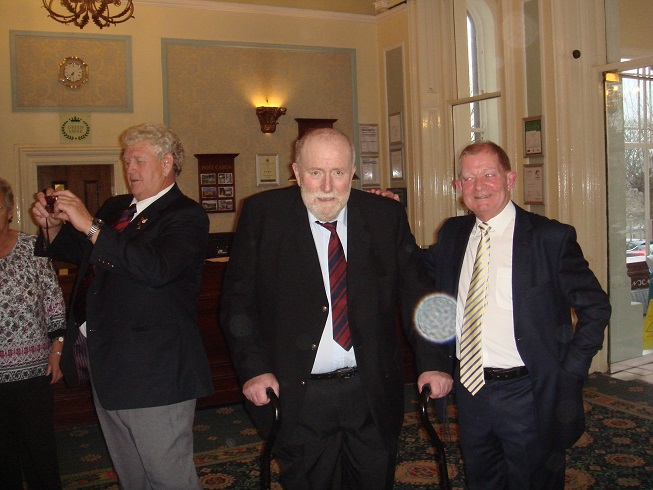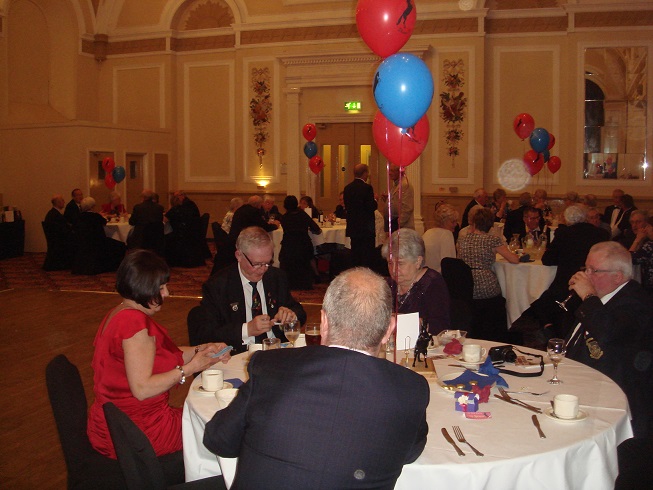 +++++++++++++++++++++++++++++++++++++++++++++++++++++++++++++++++++++++++++++++++++++++++++++++++++++++++++++++++++++++++++++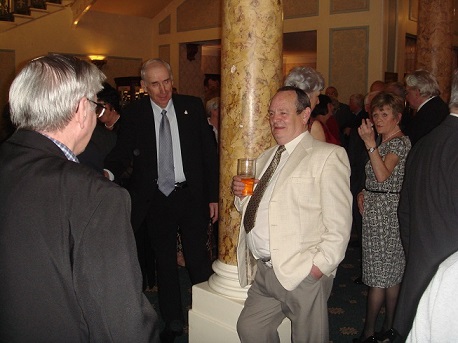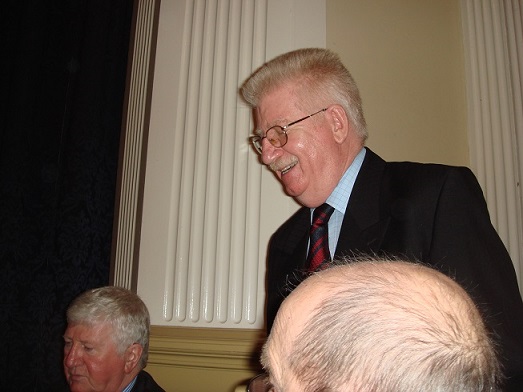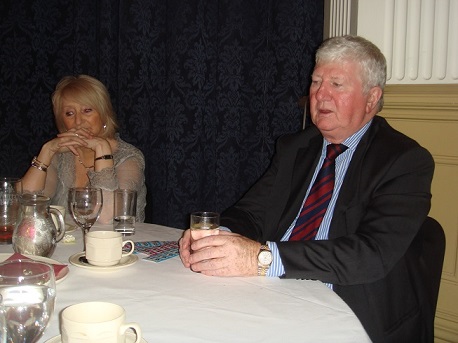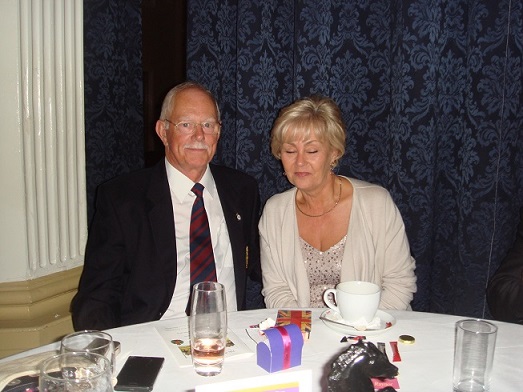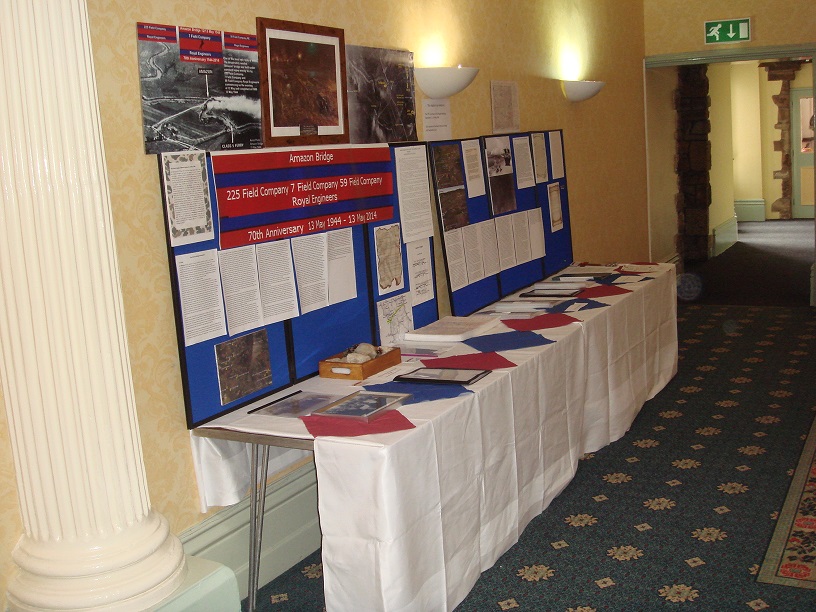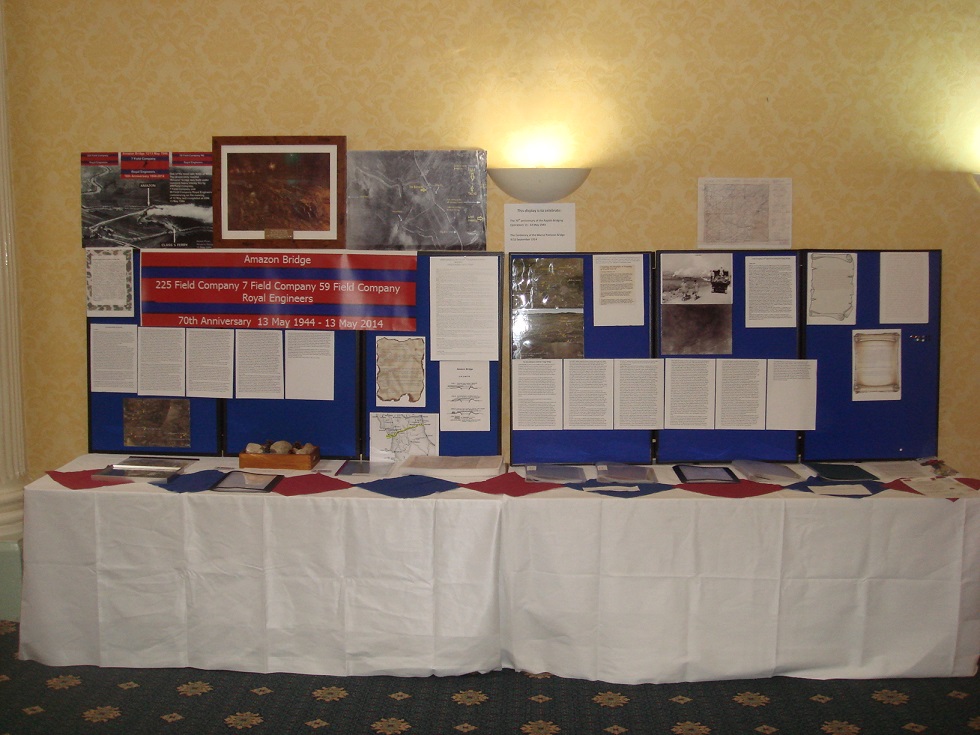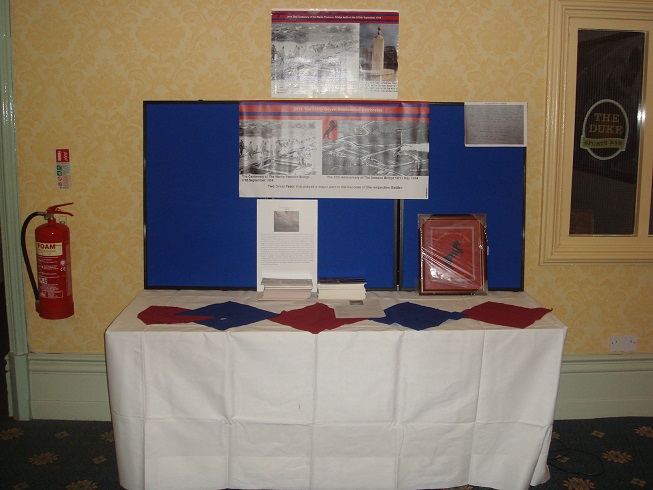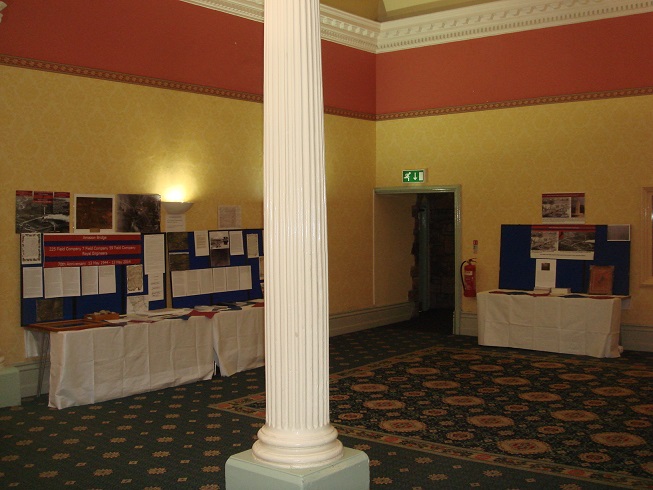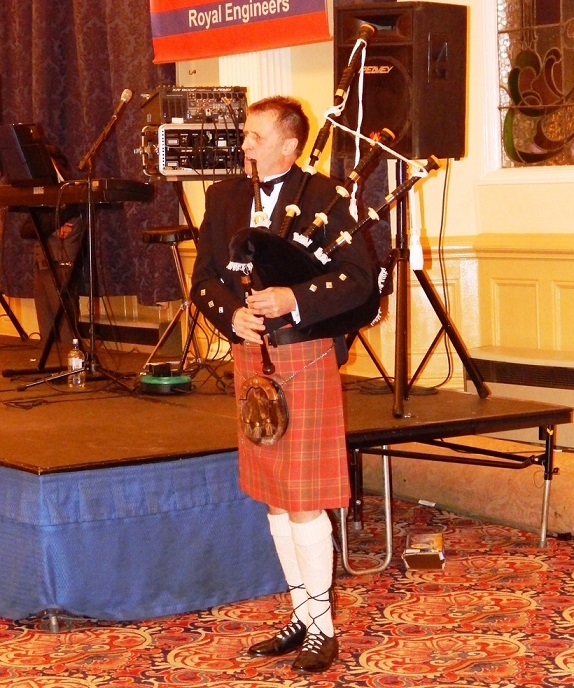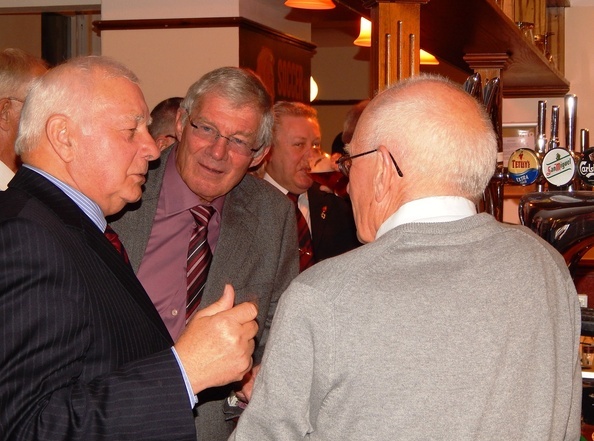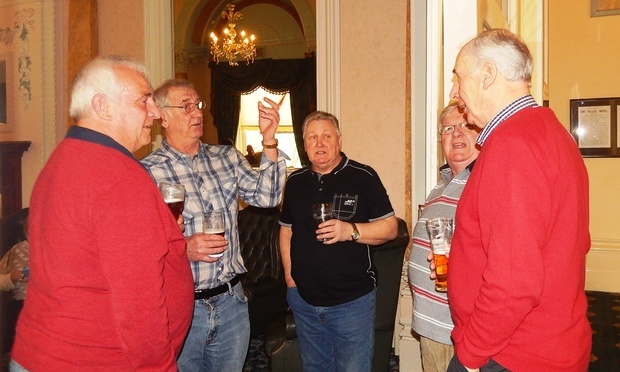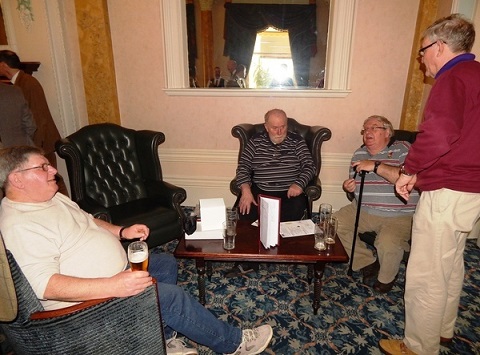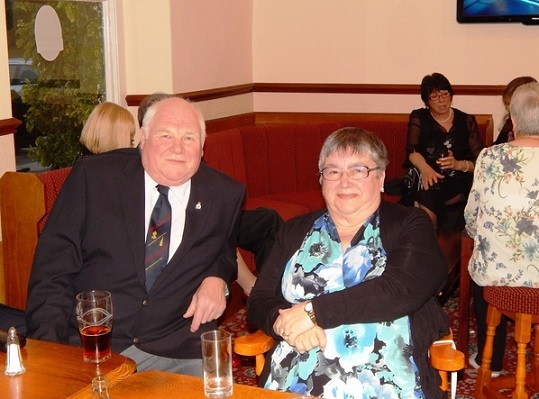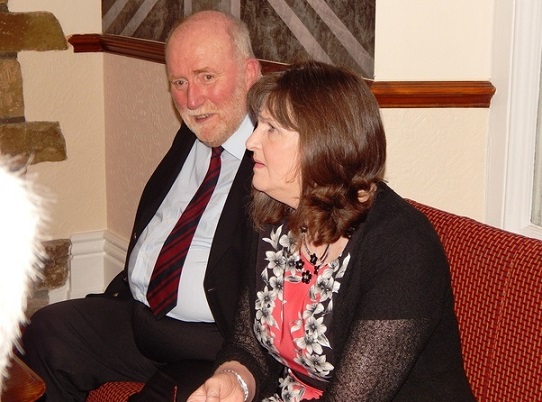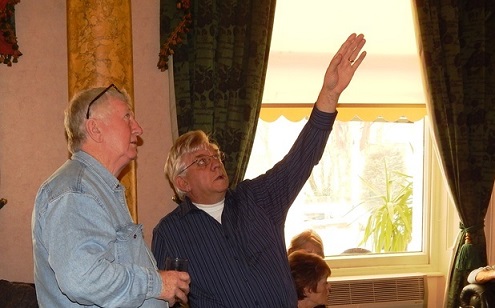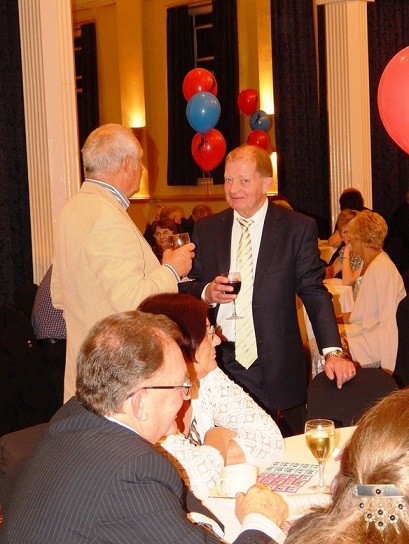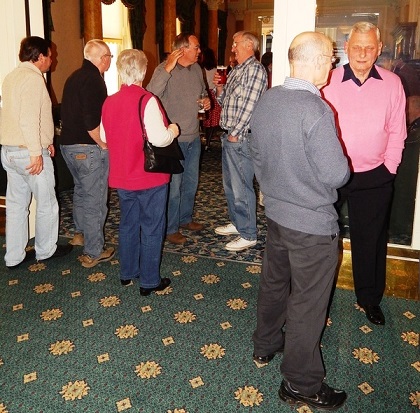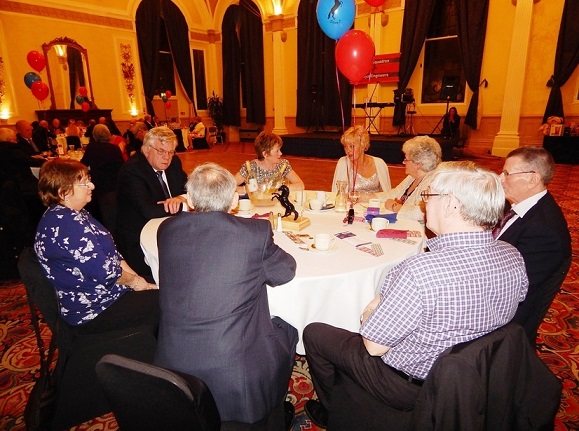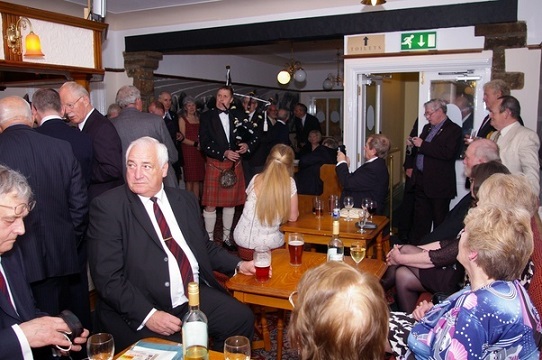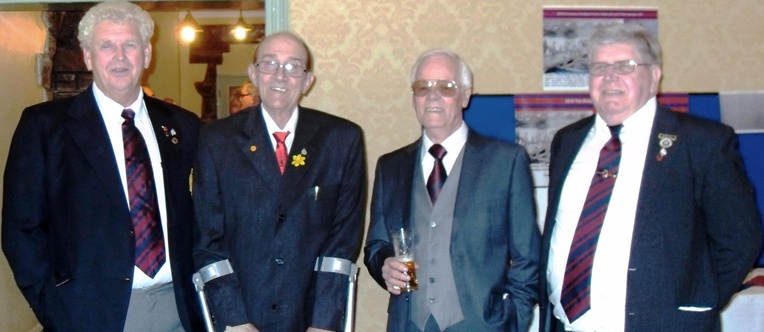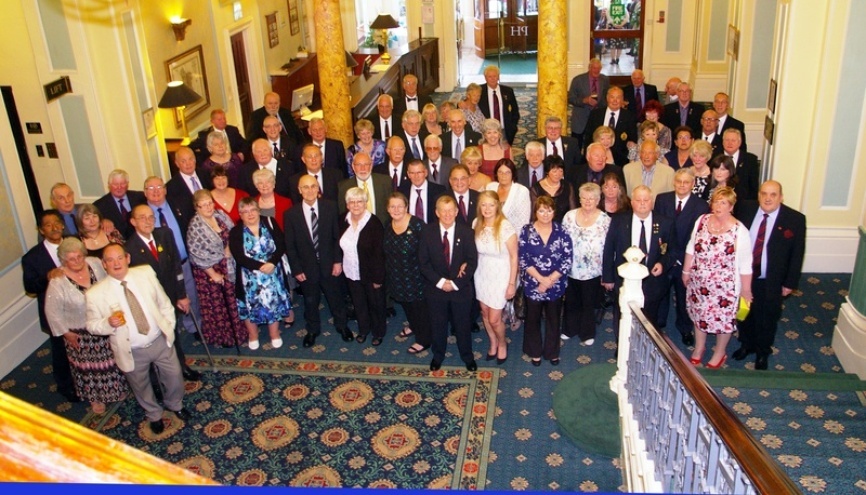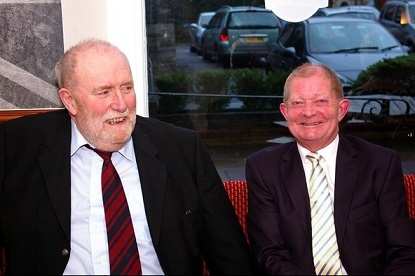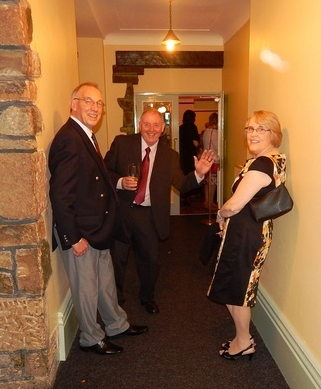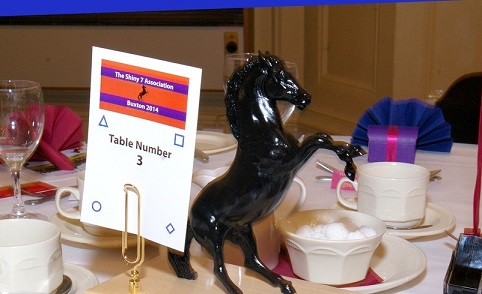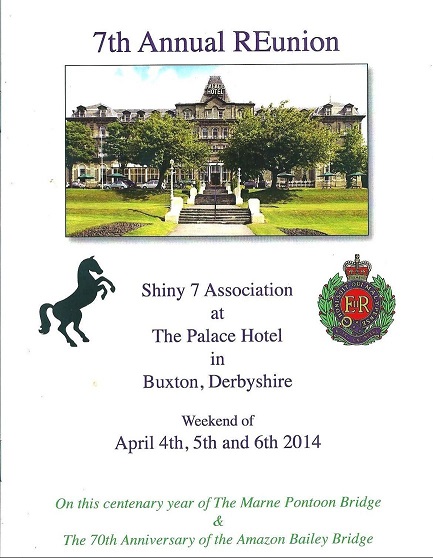 The 2014 reunion exhibition, celebrating the Marne Pontoon Bridge Centenary and 70th Anniversary of the Amazon Bridge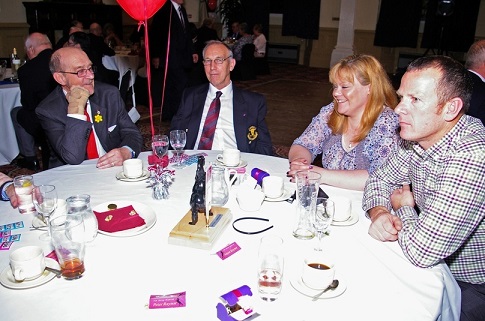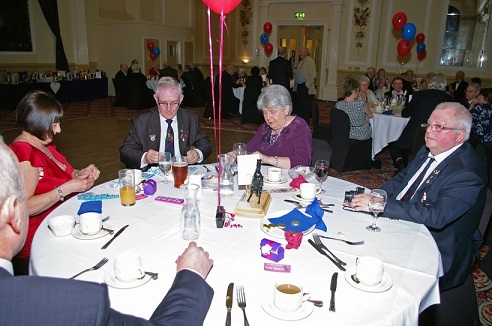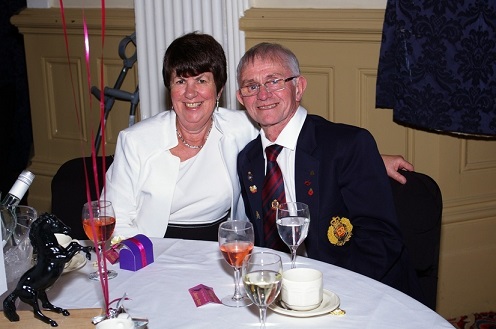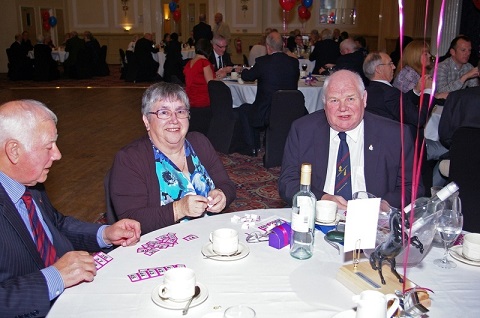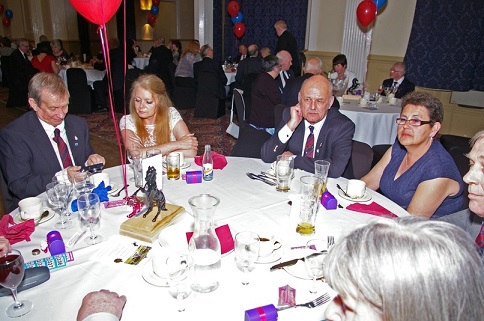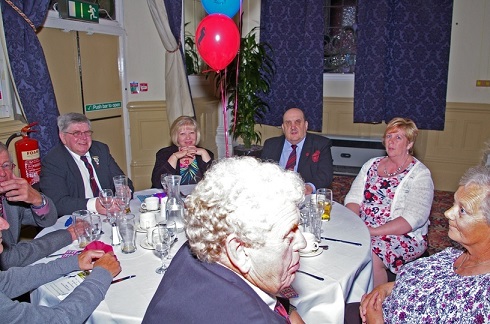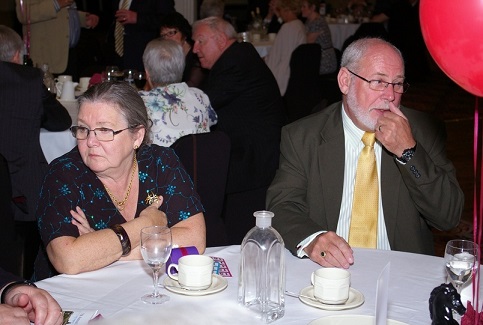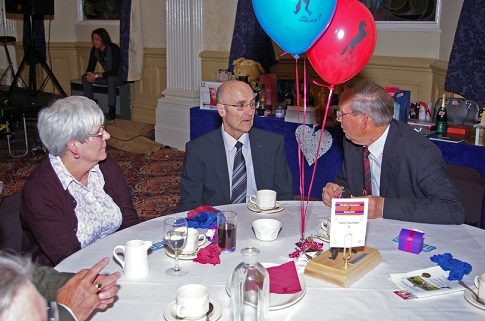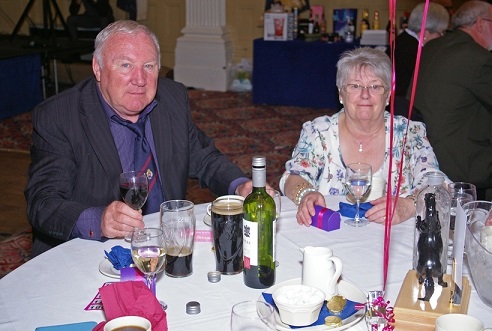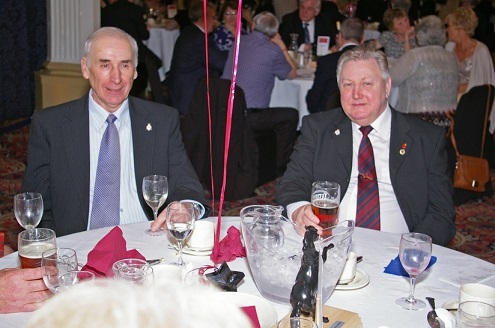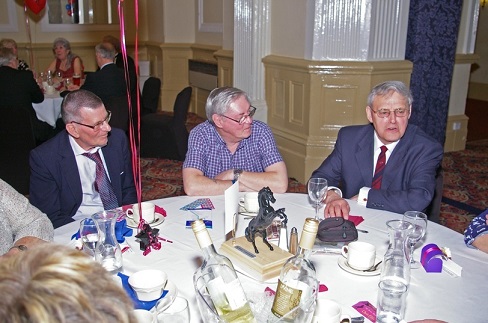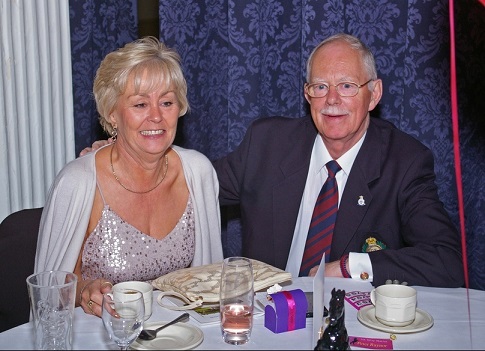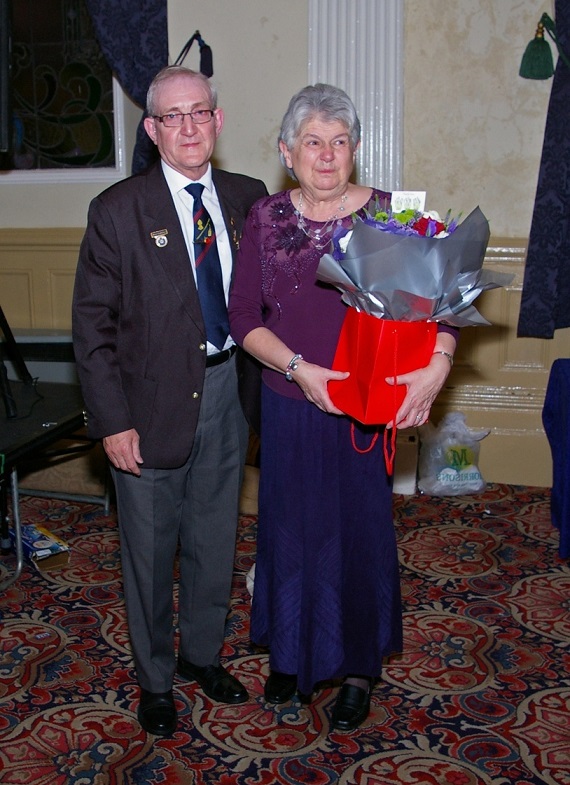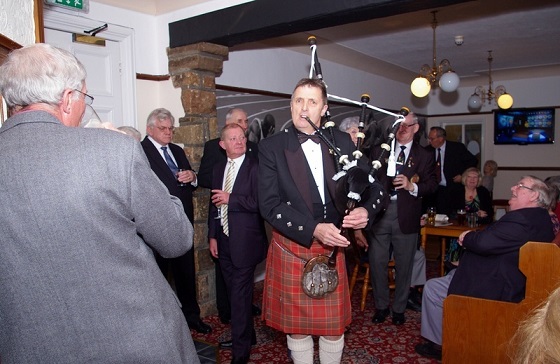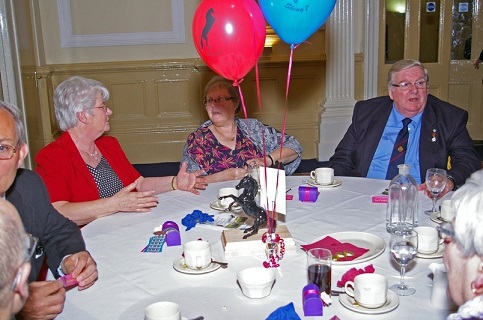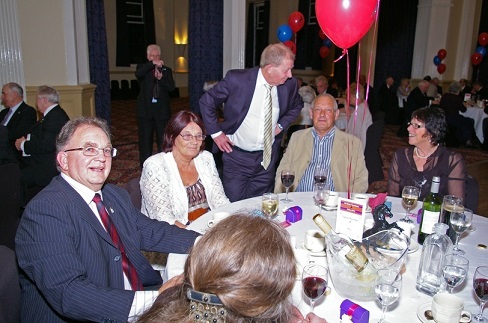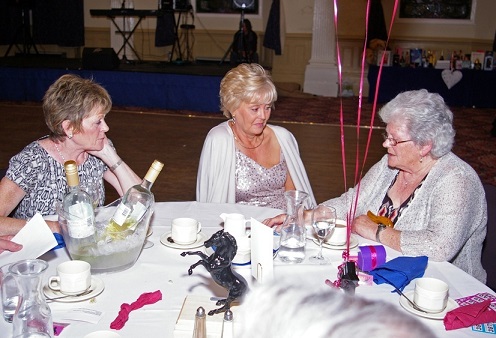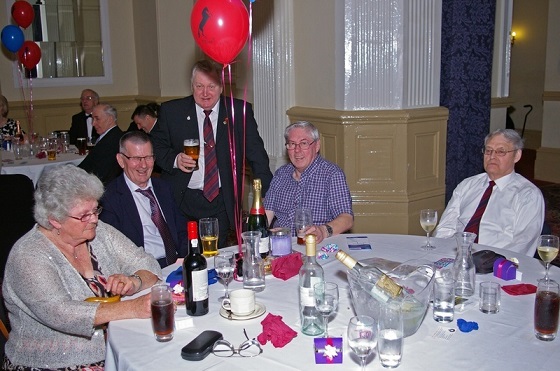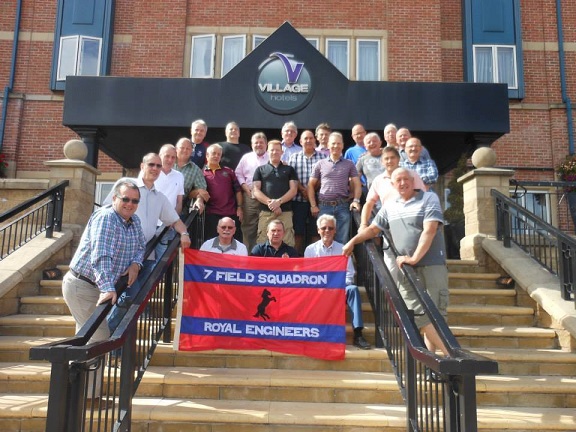 Pic from Dave ( Paddy ) Armstrong.
With Bettina U. Paul Wilson, Richard Bowring, Bill Milne, Tony Halliwell, Mal Gill, Kevin Highfield, Ken Cumming, Malcolm Arfa Askey Louie, Stephen Bruen, Paul Chappie Chapman, Scottie Borthwick, Monica Ken Murphy, Chris Jackson, Paul Boswell and David K Davidson.Calvin Hopkins

Shiny 7 reunion Buxton April 2014








Shiny 7 reunion of members from the 1970s

at Walsall 2014
Click on the link for
Reunion 2015