My Memories 1967
Shiny 7
January

All of January, I was in Zwiesel and Oberjoch, Bavaria, training and competing in 2 Division's, and the British Army Ski Championships. The regimental team won the novice team award at the 2 Div Championships, and also qualified to compete in the Army Championships. We returned to Osnabruck on the 3rd of February and I remember that evening, catching up with Fred Lasham in the Belfry, and over a few beers, telling him about my skiing experiences.


Exercise in Randers Denmark

Each year a troop from the squadron would go to Denmark for an exercise with the Danish Engineers. In 1966, 2 troop went in June time. This year it was 1 troop's turn, and were scheduled to go in September. For some reason, to which, I don't remember, at short notice, the exercise was brought forward to April. The vehicles were prepared and the G1098 was loaded. Later, we loaded the vehicles onto the rail flat beds at Osnabruck railway station for transportation to Randers in Denmark. A few days later we too went by rail, dressed in No2 dress. We stayed in the Danish Engineer's barracks, in Randers. The barracks were modern though we did sleep in bunk beds. We ate in the relevant messes and we thought the food was ok. I remember they had urns of milk that we didn't usually have. The Danish Engineers were mostly conscripts, and when walking around the camp, on passing a conscript, he would pull from his pocket, a 'days to do' measuring tape. Each day they would cut off a cm, which represented a day. The shorter the tape the less time he had left to serve in the army. The guys with short tapes always donned a big happy smile. Whenever we passed through the main gate, the guard would always salute us. We did a morning muster parade with them and I remember some of their guys being presented with something. Not sure what that was all about. The exercise lasted about a week, where we did bridge demolitions and bridging. On the exercise, one of our APCs broke down, so a replacement was sent, that too broke down, a bit embarrassing! Our hosts arranged for us to go on a sight seeing tour, which included a military museum and castle. Whenever the Brits went to Denmark, there was always a tour of a brewery arranged, this time was no exception. A visit to the Thor Breweries was arranged for us. We were shown around to see the various processes. As always the visit would conclude with a light meal and trying the various beers they brewed. I remember when we arrived in the brewery restaurant, there was a tramp sat at a table tucking into the freebees. He was politely asked to leave by our guide. We managed to go out down town a couple of times, where we went to Maxims club. Some of us met some girls, danced and had a good evening.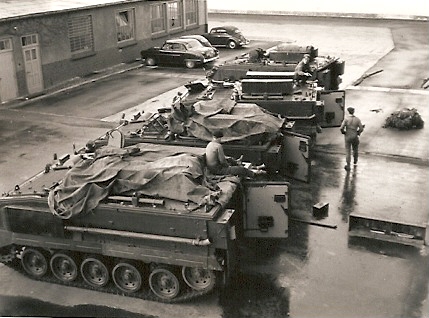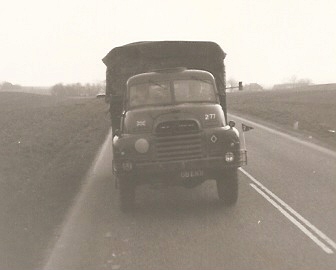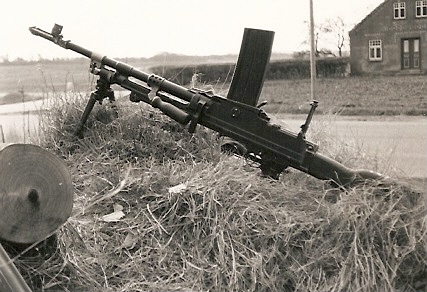 Behind 7 Squadron block preparing and loading the vehicles for Exercise in Randers, Denmark
Pete, Me and Mushy Turner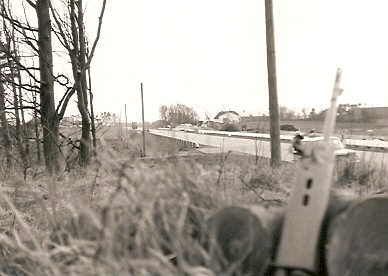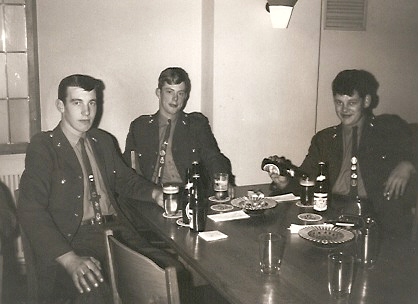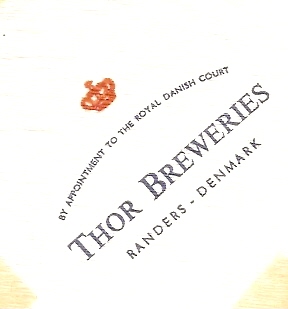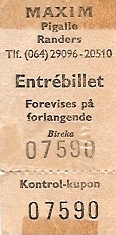 On exercise in Denmark
A SLR of the bridge guard overlooking a bridge prepared for demolition somewhere in Denmark
LMG of the bridge guard
Me, Pete Rayner & Pixie Pickles sampling the beer at the Thor Brewery Randers Denmark
A serviet from the brewery which I still have in my scrap book
Another item from my scrap book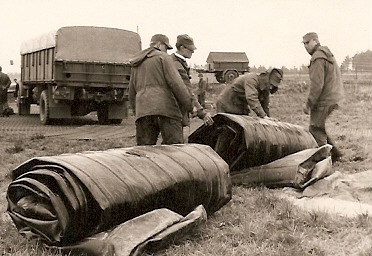 Danish Engineers & their equipment on exercise with us
Pre Para Course

Being young, fit and enthusiastic, I applied to join 9 Parachute Squadron Royal Engineers. The joining instructions for whatever reason, stated that I must have taken all my leave entitlement before I started the course. This meant a long leave, which I found boring. I just wanted to get on with it. Anyway, I arrived at 9 Parachute Squadron barracks at Church Crookham, about June time. The barracks were wooden spiders as that of Southwood camp. There was a room for the Pre Para course students. The course Cpl, Henry Morgan, occupied the NCOs bunk within the room. There must have been about 6-8 students on my course. The course only involved fitness training, some gym work, but mostly running in boots and denims. One very hot day we were out running when we passed this pub, and I remember some guy sat outside the pub with a pint of beer sparkling in the sun. We were very thirsty, what would I have given for that beer! I felt I could have downed it without it touching the sides. I'll always remember that scene. Another time we were out running we were taken to this bridge, which we were to climb and walk over the top to test our vertigo status. None of us had any problem with that. I was very comfortable with the running and gym work. Unfortunately the 'bunny hops' caused blood vessels to burst in my legs. Each training session would start with 'bunny hopping' over the old air raid shelters in the camp. After a few sessions of that, my legs started to hurt and stiffen. I tolerated it for awhile, but my legs got so painful, I ended up, unable to crouch down for the 'bunny hop' action. I was unable to sleep at night because of the pain in my legs. I had to leave the course. The next day I reported sick at Aldershot medical centre. While I awaited RTU, I had to do amendments to the stationary in the office. I also had to scrub pots and pans in the Sgt's mess. I fully intended to return for another course the next year, however, that winter I was to excel in cross country skiing and biathlon, which I would have to give up if I made it into 9 Sqn. I was too hooked on my new found sport to go back. Some time later, the army banned 'bunny hopping' because of the injuries it caused.


August block Leave

In the August myself and Ray Rowe went to Copenhagen for the August block leave. We stayed in the hotel we had previously stayed for Christmas 1965. This time, we could add another country, to the list of countries we had visited, by taking the Catamaran boat to Malmo in Sweden. The crossing was about 20 minutes. We spent a day in Malmo, and at the time, there was road works everywhere as Sweden was preparing it's roads to drive on the right hand side. They were at that time, driving on the left side. We enjoyed our stay in Copenhagen but we found it expensive. I had to get some money telegraphed from home as we had run out, even that didn't last. We ran out of money again, our last day we had no money for food. We didn't eat until we got back to Osnabruck. By the time we got back to camp, we were starving, so we rushed to the block and borrowed 15 marks from Paddy Heron. We then headed straight for the Schnell Imbiss,just outside of camp and 'pigged' ourselves. Thank you Paddy !!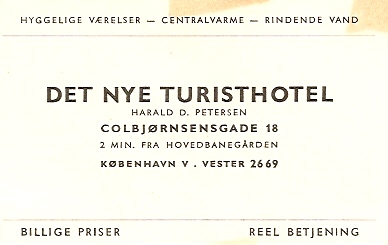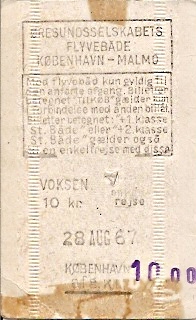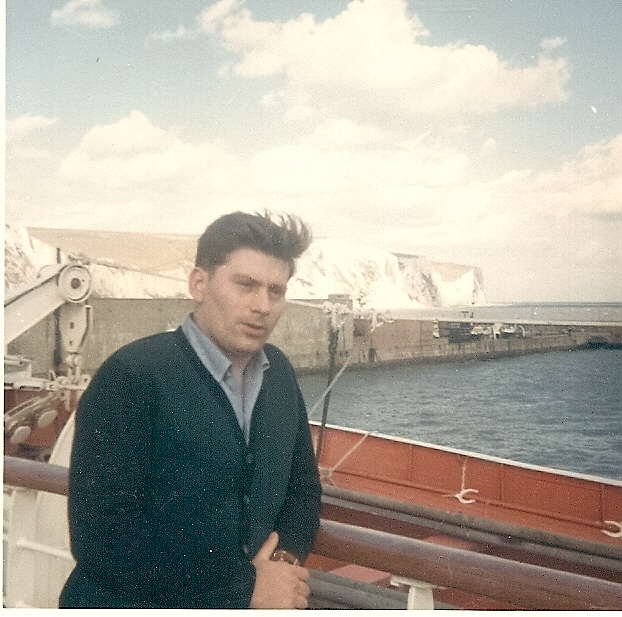 Ticket Copenhagen-Malmo, Sweden
At one stage in 1967, Me, Fred, Pete Rayner & Chy went on UK block leave together in my car. Fred is pictured above leaving Dover.
Execise Paddle Duck and Channel Link 1967

1 & 2 Troop spent about a week on non tactical floatation training, possibly prior to Ex Channel Link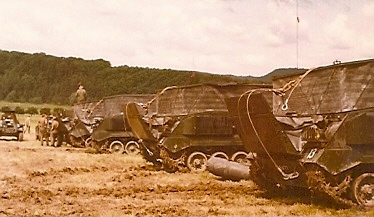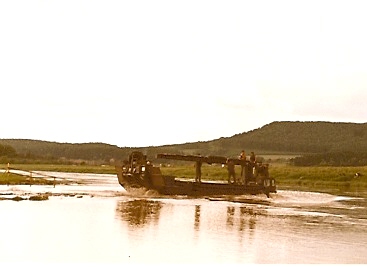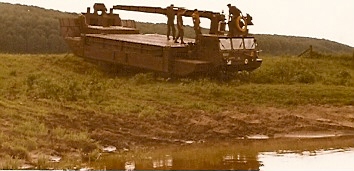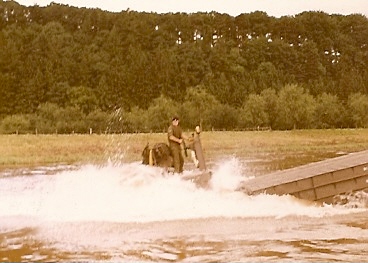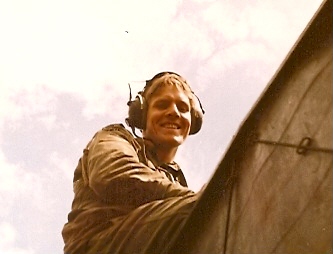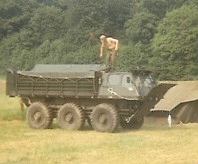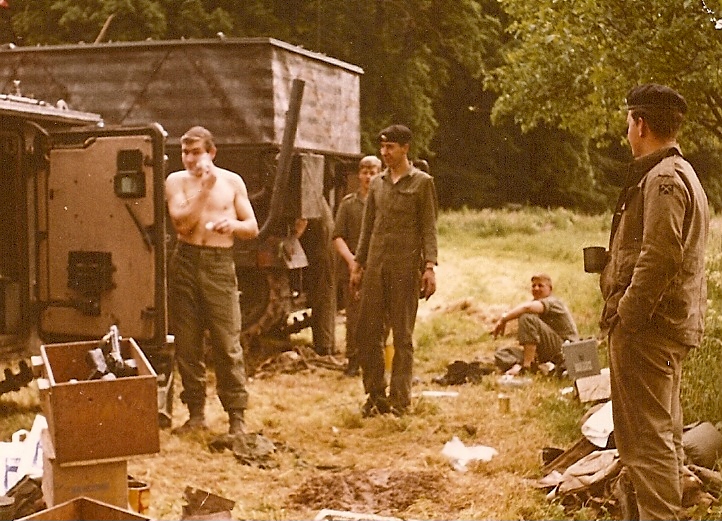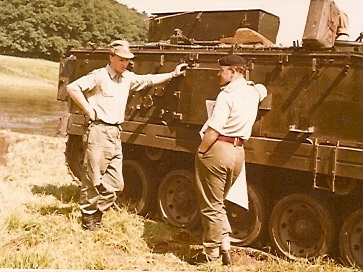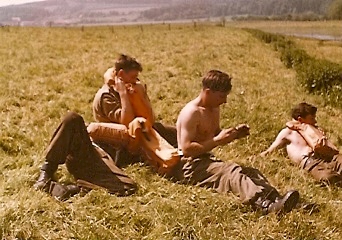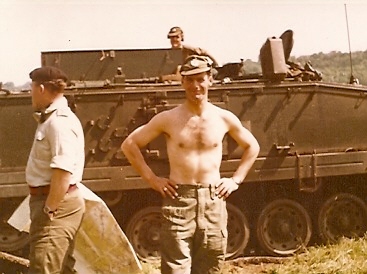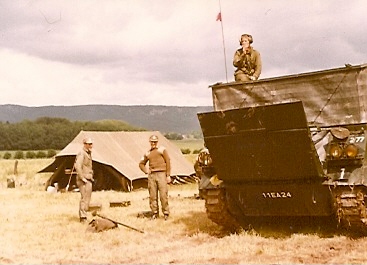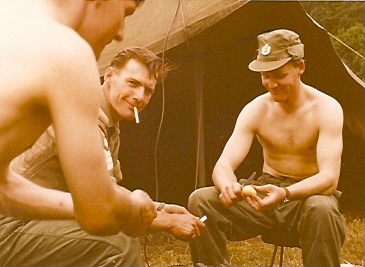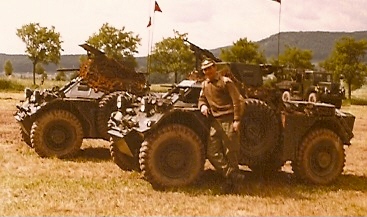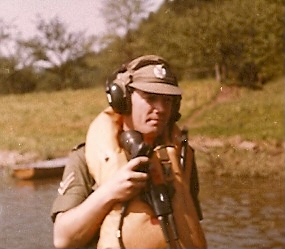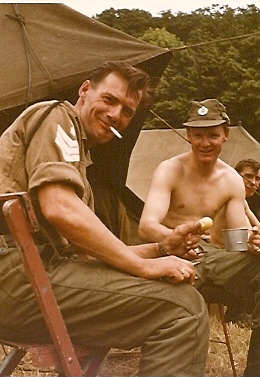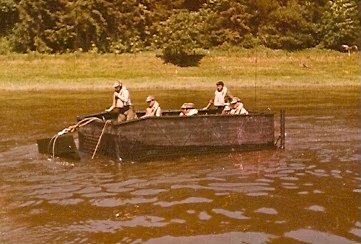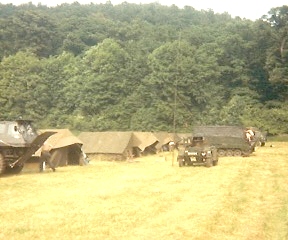 1 Troop Lines
APCs prepared for floatation
Pete,Raynor,Pete Broadbent, Mick Turner
Paddy Mackin
Lt Clements, Pete Broadbent and Mick Turner
Lt Cobb & Lt Clements
Mushy Turner 1 Troop's Pronto, on radio stag
Call Sign 11 in the Weser, Pixie driving Mack commanding
Mushy, Pete and LT Patrick Cobb peeling spuds
2 Troop. Brummie, Arthur, Alan,Joe and Buster?
Pete, Lt Cobb and me
Mack the Track. Paddy Mackin
Pete Broadbent, 1 troop Staff Sergeant 1967
23 Amph Squadron were also at same location
While we were on exercise, we heard two major pieces of news; it was announced that 6 Infantry Brigade would return to the UK as part of the Goverment's Defence Spending Cuts. 7 Squadron was to return to UK as part of 6 Inf Bgde. Shiny7 was to be relocated to Ripon.

The same day we heard on the news that Elvis Presley was to marry his girl friend, Priscilla.
Bridge Camp 1967
Me at Bridge Camp doing laundry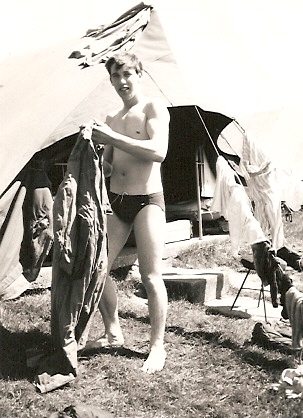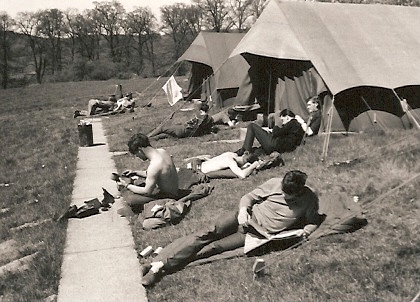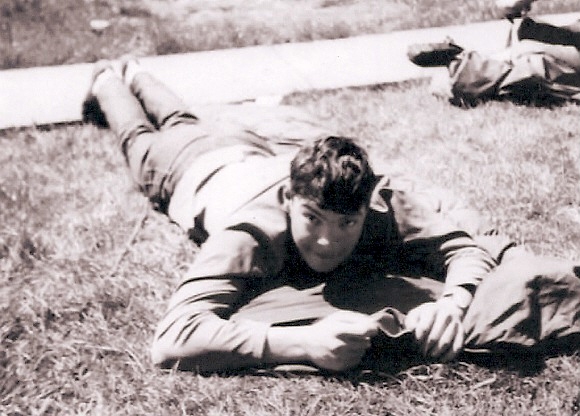 Ian, Frank and Dick
1 Troop enjoying a day off. The same evening we went out on exercise
Trogg relaxing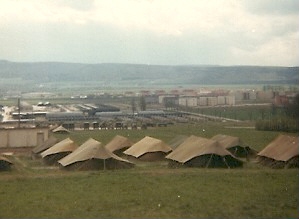 Bridge camp Tented Camp site. Now with housing estates either side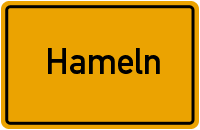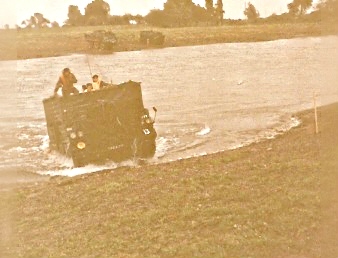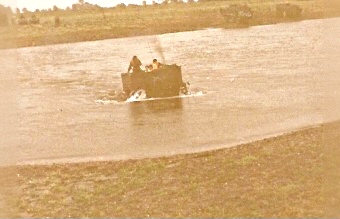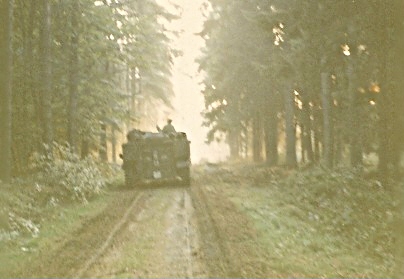 Exercise Glen Corse 1967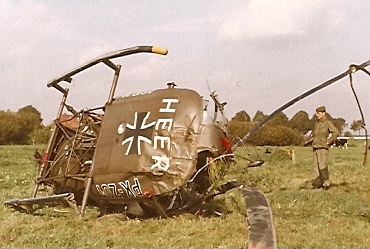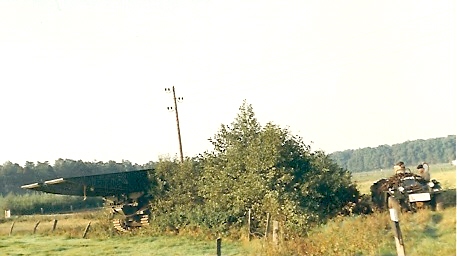 Geordie Johnson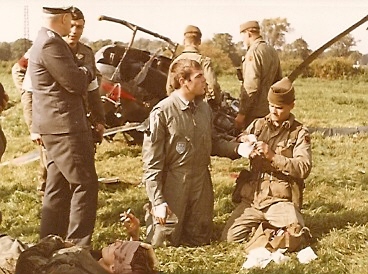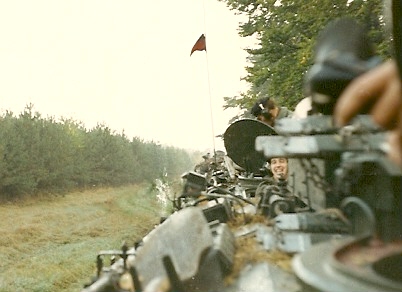 In Barracks

At this stage, I had cut down on my drinking. I had on several occasions previously, driven my car while quite drunk and on one occasion I was actually stopped by the German police who asked to see my documentation. I remember I was quite nervous and I wasn't sure exactly what they wanted. I gave them a handful of documents I had, and much to my relief, they let me continue. One day I thought of the consequences of maiming or killing someone while drinking and driving and never mixed the two again. I occupied myself by keeping myself fit with regular running. When in barracks, nearly every evening I used to run 7 miles in denims and DMS boots through the wooded area to the top of the quarry and ran back along side the canal. Most evenings it would be dark but I enjoyed it.

Ski Training

In November the Regimental cross-country ski team was confirmed. Capt Lipscomb had gone and was replaced by Lt Mercer, 16 Squadron. Taff Galsworthy had also left. In the evenings we went out on collective fitness training. The 'on snow' training started early in December. I set off a couple of days earlier in a landrover with all the team kit. The team came down by train. I broke down enroute, got recovered and repaired by the nearest British unit. I continued my journey, only for the alternator to pack in. I struggled in freezing fog with no heater to de-ice the windscreen. To conserve the battery power as much as possible I couldn't use anything electrical, so when darkness set in I had to stop and park on top of a hill till morning. In the morning I bump started, running it down the hill. What a journey!! The team got to Zweisel before I did. After a couple of weeks in the ski hut the paraffin heaters started to emit black smoke, we couldn't sort them out so we had to move into a local guest house until spares were sent down.

The river crossing was at Petershagen
Call sign 13 leaving the harbour area
Ex Glen Corse
9th/12th Lancers not quite managing to hide the Bridgelayer

This German army helicopter crashed next to our location
The Royal Scots arrived quickly and administered first aid
Pete Broadbent as usual, cracking Jokes with me over the intercom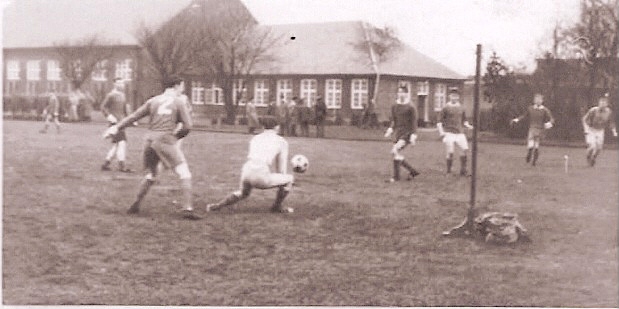 1 troop playing football against our Danish hosts I'm on the left with back to camera, Fred in the middle