The Black Horse Trail 2016 - 7 Field Company RE 1916 Revisited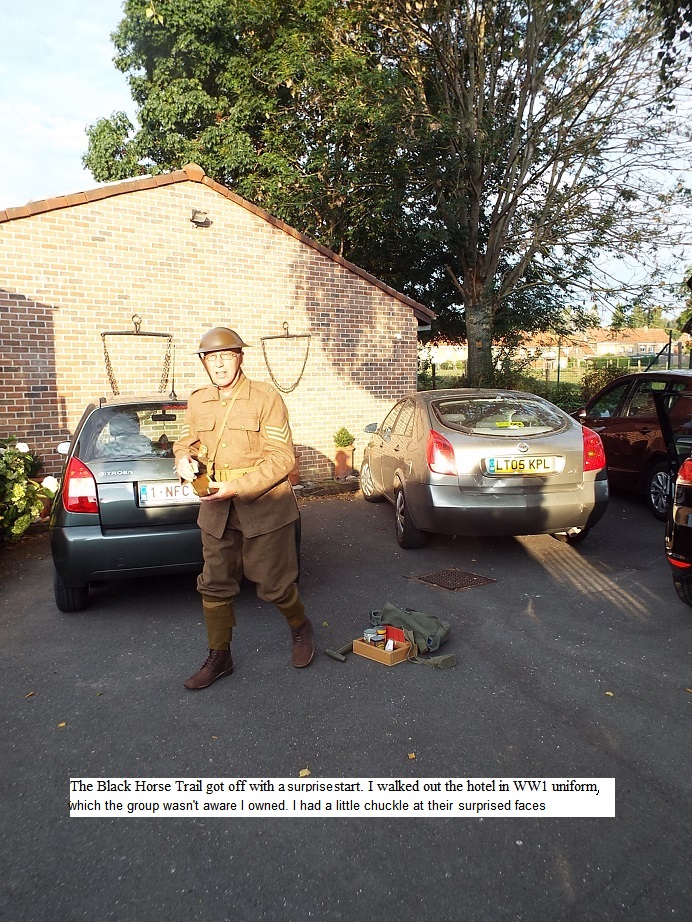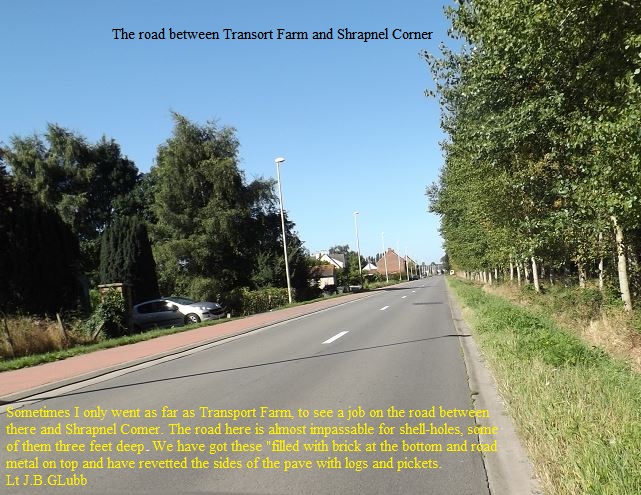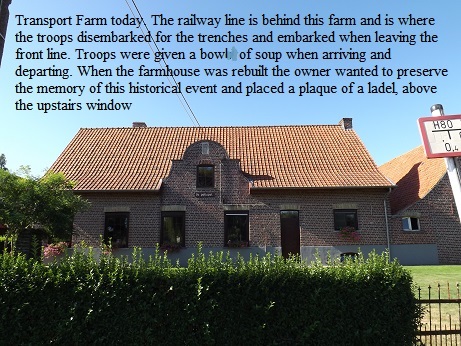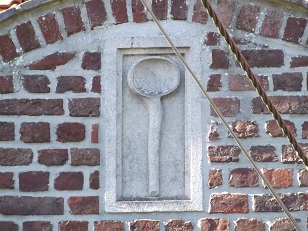 Sanctuary Wood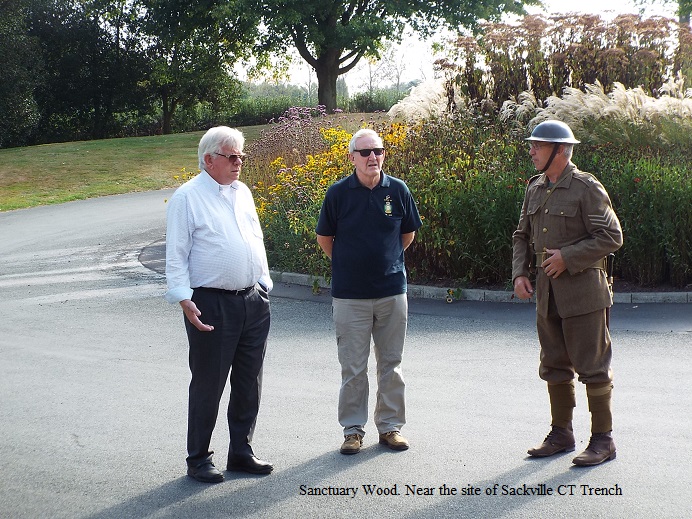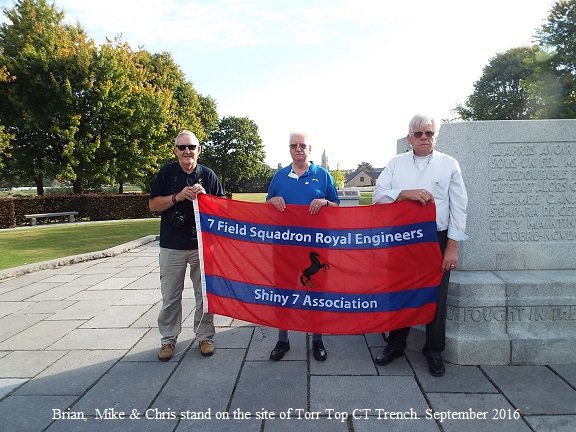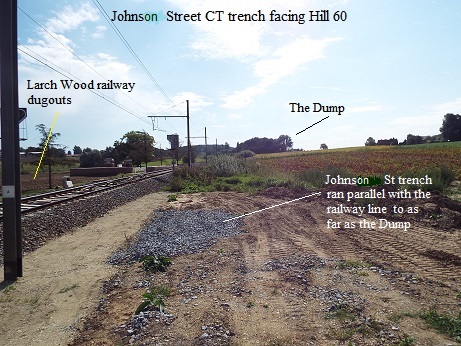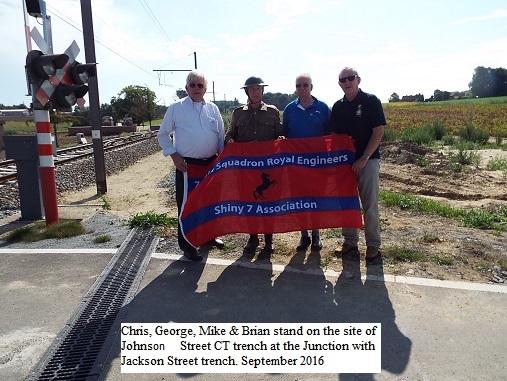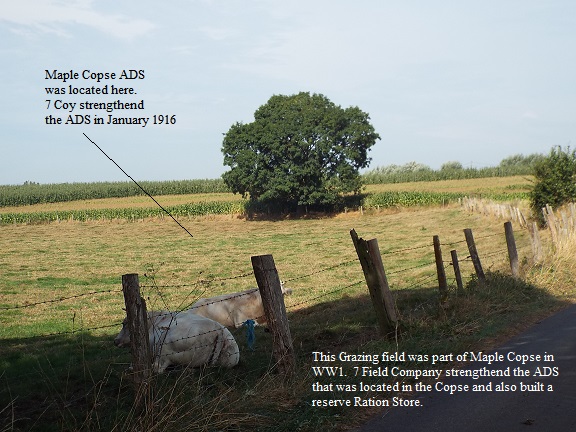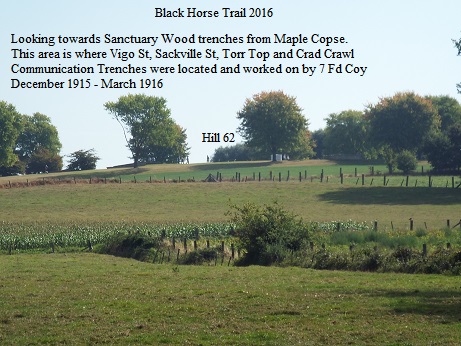 7 Fd Coy War Diary 1 - 31 January 1916

Throughout this month the disposition of the Company remained the same as at the end of December. 2nd Lt Glubb who was wounded on 20.12.15 went into hospital at Hazebrouck on 1.1.16 from which he has returned to duty on 25.1.16. This left the Company with 3 officers, 2 of whom lived up at Zillebeke, the OC living at the back billet.
The chief work undertaken was as follows:-
Left Section (trenches B1 to B7 inclusive)
Flooring and revetting the back of the 'LOOP'
Revetting and defilading Gourock Road.This continued throughout the month.
Maintaining in a usable state of repair the wooden trench tramway. This later was in a very bad condition owing to the mud and broke in several places every night, it was therefore decided to lay a steel track beside the wooden one but out of the mud zone. This was started on the 7th, and was nearly completed at the end of the month. Right Sector (trenches A7- A12 inclusive) Flooring and revetting the front line. Honing and revetting SACKVILLE ST. Reclaiming support point RE.
In addition to the above several dugouts were erected in both Sectors, and 6 strong machine gun emplacements, many minor works were also undertaken, such as repairing the road through Zillerbeke, strengthening the dressing station at MAPLE COPSE, keeping the main communication trenches in good order etc. On the 11th Nos 1 and 2 Sections relieved Nos 3 and 4, the next relief occurring on the 29th. On this date 2nd Lt Baker came down from Zillebeke with his Section (no 2) after spending 6 weeks in the trenches.
The back Sections were employed:
1. At reclaiming the supporting points HO and HQ behind DICKEBUSH
ii. At improving advanced Divisional H.Q.
Iii. At making up trench stores in the billet.
2nd Lt Aldin was temporarily attached to the Company from 9.1.16.
6 March 1916
As per the 5th, MG emplacement put in immediately east of Zillebeke in the "switch" also reserve ration store in MAPLE COPSE
Received orders from CRE at 8pm to get in touch with O.C. 104 Coy RE to hand over all work on the line to that unit and all of Sections loaned be returned on nights 8/9th. List of "recommendations" called for and submitted - these include names finished at my request by Major Symons for period April-December 1915

7 March 1916
Owing to Germans having handled front line trenches somewhat severely of late the battalion in the front line unable to find any working parties for work directly superintended by RE, only work parties obtainable being those from Battalion in reserve. O.C took Major King RE (O.C.104 Coy RE) over the line and handed over all information respecting the work, details of which on the 8/9th arrived.

8 March 1916
Work on H.O & H.Q as usual, work on Bde's DHQ completed. Nos 3 & 4 Sections relieved by 104 Coy RE. (2 Sections) and returned to back billets. 7.40am 2nd Lt Glubb and 2nd Lt Baldwin took officers and NCOs of 104 Field Coy over the line during the morning prior to handing over

9 March 1916
Received orders 9am to put in hand certain urgent work that and following nights viz - (a) reclaiming disused Johnson Street C.T. from Jackson Street to (B)
"The Dump" by Hill 60 (400 yards) Lt Baker with No 2 Section and works party 120 men Northumberland Fusiliers worked on it's draining and trench tramway. Good progress considering the very bad state of the trench (Sapper Levine wounded, bullet in arm) (b) making barriers and carriageway across railway at Jackson's St. (c) Making MG emplacements and dugout near LARCHWOOD dugouts. (b)+(c) put in hand by Lt Chaplin and No1 Section + W.P. 60 men 8th D.L.I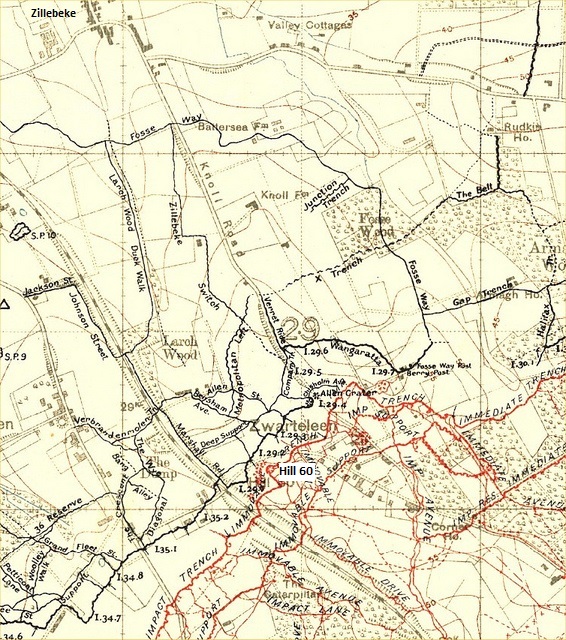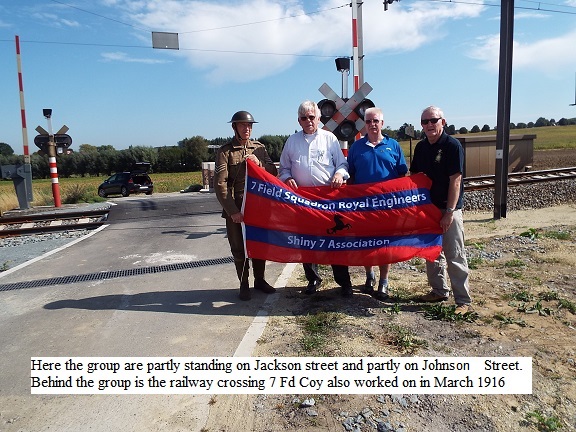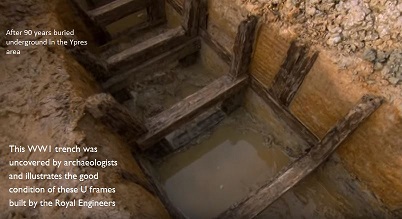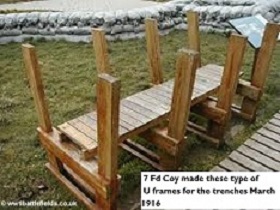 10 March 1916
Same as 9/3/16:- (a) drained throughout length (500yds) and about 50yds trench boarded, (b) little progress for want of men, (c) MG dugout completed with solid steel roof
10 March: Sappers are never allowed to rest. We have a new job. We have got the wind up that our trenches at Verbranden Molen (just on the right of our old sector) are. mined near Hill 60, and so we are digging out some old trenches just behind, to be occupied in case the .mines go up.
I went up with Chaplin and Baker, to help them start work on remaking Johnson Trench, just behind Hill 60. When Baker and I reached the back of the railway cutting behind Hill 60, the 'overs' from the front line were· coming over quite fast, and hitting into the tree stumps and the ground with a whop. We had several casualties.

11 March 1916
No work done- Johnson St CT and railway cutting + Jackson St C.T. Shelled every quarter of an hour for a period of 5 mins - from 4.45 pm till 4.15 am 12/3/16. Sapper works.party keep low till 11pm then marched back
11 March: The Boche must have discovered we had worked last night, as Johnson Trench was strafed continuously all tonight.

11 -20 March: We continued the work on Johnson Trench, having two or three casualties every night among the sappers and the infantry working parties. I was up at the work myself, two nights out of three. Sometimes I only went as far as Transport Farm, to see a job on the road between there and Shrapnel Comer. The road here is almost impassable for shell-holes, some of them three feet deep. We have got these "filled with brick at the bottom and road metal on top and have revetted the sides of the pave with logs. and pickets. Apart from a very rough night of shelling on 11 March, things were fairly quiet. On the way to work and back, we were shelled at Kruistraat on 15th, and Belgian Chateau on the 18th. It was all very hard work for the sappers, especially as they had to march there and back every night from Germaine's Farm. We set out each evening at 6 p.m . and got back as dawn was breaking. Nevertheless the boys usually used to sing on the road from Kruistraat to home. We have succeeded in disposing of poor old Sergeant Macey of No1 Section. His name was sent in to be put in charge of a coffee-stall in Kruistraat. How are the mighty fallen! An R.E. sergeant too! But we could not get rid of him any other way. He had been out since August 1914 and was too war-weary to be any good in the line. The joke was that, having been sent to Kruistraat for a quiet rest, the place was shelled to blazes a few days later and his coffee-stall was completely demolished. The old man was lucky to come out of it alive. This is the third week of the Battle of Verdun, with huge events in the balance. The Boches are running this attack on a gigantic scale. The losses on both sides and the artillery preparations are colossal. I believe it was touch and go at the beginning, until a certain General Petain arrived, who is the latest soldier to become famous. I don't think we can say the Boche has no sense of humour. At Loos, for example, we used gas for the first time. This was done with huge secrecy, even the infantry in the line, and the sappers who made the emplacements, were not supposed to know what for. The generals were patting themselves on the back for their cleverness and anticipating the complete surprise which would come off . Two or three days of unfavourable wind preceded the attack. On the third morning, a notice was seen stuck up over the Boche trenches - Wind still wrong for your damned gas!
They used to be quite amusing about our old Very lights, which were no use compared to theirs. These, especially on Christmas Eve,1914, provided great butts for Boche ,wit, and used to be greeted by cheers and shouts of 'Why not try a match?' When we got our new Very lights, a German voice called out from their trenches at Armentieres, 'That's a b- -y good light, sir.' However, all this has been stopped now by us . If the Boche shout, we open rifle and machine-gun fire, while for one of us to shout is a court-martial offence. The Corps and Divisional summaries which we get each night are getting quite blood-thirsty too. For instance, a few nights ago, they told of a trench mortar strafe. After describing the shooting, they went on to say, 'when fire ceased, cries of pain were heard from the enemy's trenches, as if someone had been hit. Fire was immediately re-opened. At 8 pm. our Lewis guns played on the road at BLANK--­ Apparently the enemy were considerably inconvenienced, as numerous shrieks and groans were heard.'
All this frightfulness seems to me regrettable. After all, they are experiencing the same sufferings as we are. If we exchange a few witticisms, it does not mean we are going to betray our trust. We are in this job until we win. But occasional intervals of humour bring brief relief to the savagery.
Hill 60 & the Bluff - 9th March to 1st April 1916

Early in March heavy fighting took place round the Bluff on the sector immediately south of that held by the 50th Division where the Germans sprang a large mine and temporarily gained the Bluff, the mine crater and most of the captured trenches were retaken the following day by the 7th Division and remained in its hands. The 50th Division side-stepped into this sector on the 7th March. The two forward Sections of the 7th Coy (remaining at Zillebeke) worked from the 8th to the 21st on the construction of communication trenches and of a large barricade across the railway cutting immediately opposite Hill 60. Working parties were furnished from the 149th (Northumberland Fusiliers) Brigade, with one Company of the 7th DLI Pioneer Battalion co-operating. All the C.T.s were revetted with wooded U frames and good progress was made despite the enemy's nightly harassing fire. Their whizz bangs shooting was remarkably accurate, but casualties were few. The chief enemy was the mud, which was of a particular sticky nature. On the 22nd March Nos, 1 & 2 Sections moved from Zillebekke into dugouts at the North end of the Bluff itself and No 3 Section was sent up to join them. Work mainly consisted of clearing and reconstructing the forward C.T.s destroyed in the recent heavy fighting. These trenches were partly flooded and owing to the numbers of enemy dead, of which the parapets appeared to be chiefly composed and to the torn nature of the ground, the work was difficult and trying. Good all round progress was made in this work and also in constructing the "loop" trench to restore lateral communication in the front line, and in fortifying the far lip of the big crater at the foot of the Bluff. On the night of the 30th the large British mine, opposite St Eloi and one mile east of the Bluff, was sprung. Confused fighting for possession of the crater followed. The next night the sector held by the 151st Brigade was severely shelled. As reliefs were then in progress casualties were heavy. The three 7th Company Sections were however, withdrawn with no greater loss than the destruction by shells of the Dixies and other gear of the two Sections.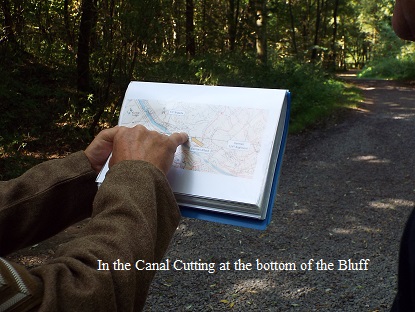 22-23 March 1916
Orders received on 21/3/16 to stop work on Johnson Street and barrier (in RV Cutting by hill 60) and to rest Sections prior to taking up "the Bluff" Sector with 151 Bde on night 23/24. The O.C revisited "the Bluff" with O.C East Riding Co RE on 21/3/16 - this area had lately been the scene of serious fighting viz:- the Germans captured the Bluff and 600 yards front line trenches in February and we retook them in early March - consequently all trenches were nearly obliterated by shell fire on both sides. Much work since recapture done by 3 Div, but much remained to be done. O.C at request of G.O.C 151 Bde submitted on 22/3/16 proposals for working the line viz:- Infantry at front line work and covering RE, cleaning, draining and revetting all important CT's, Pioneers (2 Coys promised) reclaiming 31S, 30S, 30R and C.T from 30S to 29 - 1 & 2 Sections with 2nd Lts Glubb & Baker on "the Bluff" on night 23/24.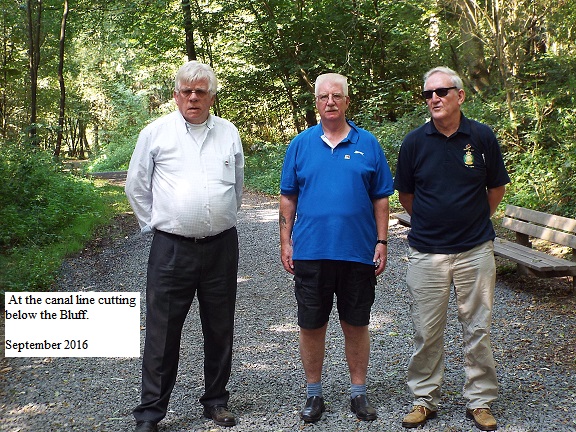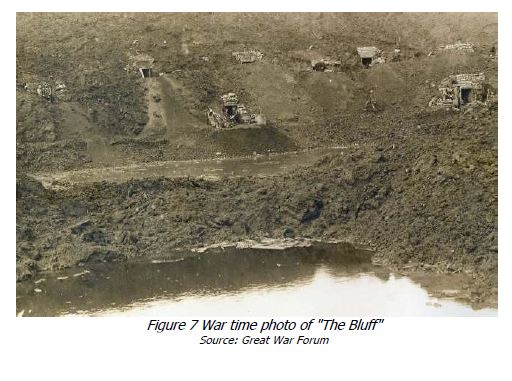 The photo above showing dugouts on the Bluff. 7 Coy were in dugouts on the Bluff 23 March -1 April 1916.
Photo courtesy Great War Forum.
http://www.longlongtrail.co.uk/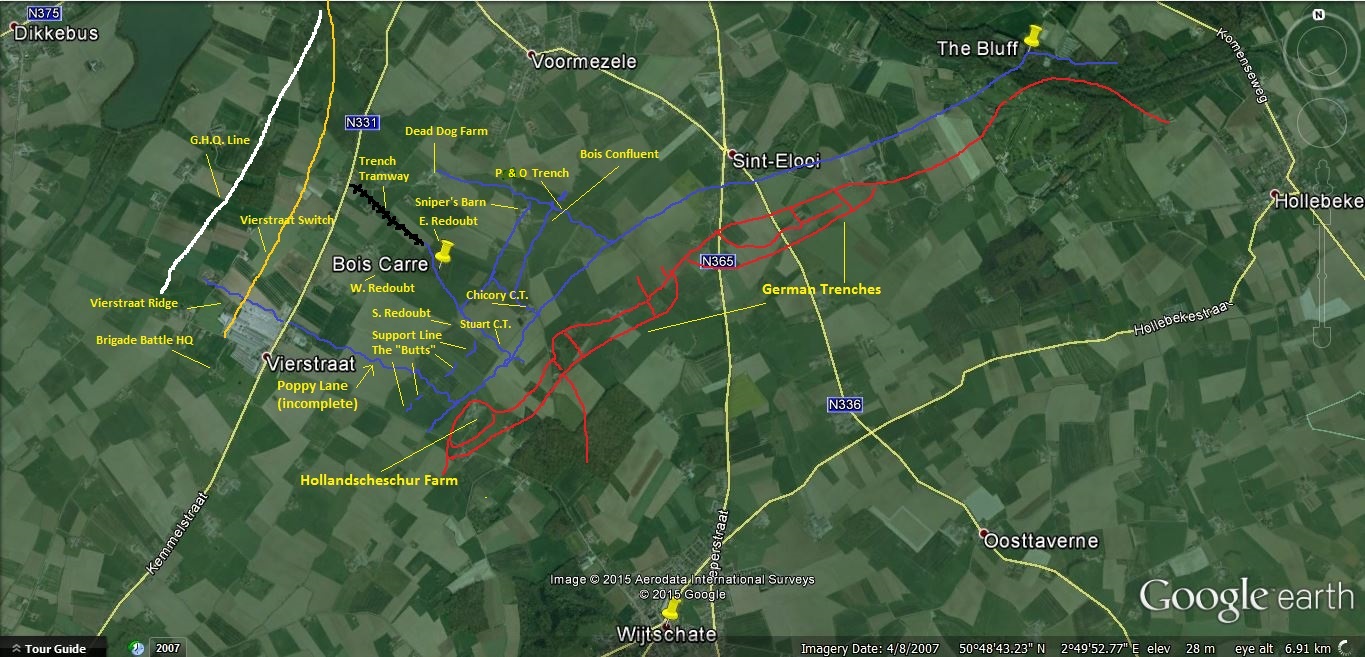 Opposite Wytschaete Ridge Trenches 4 April - 21 July 1916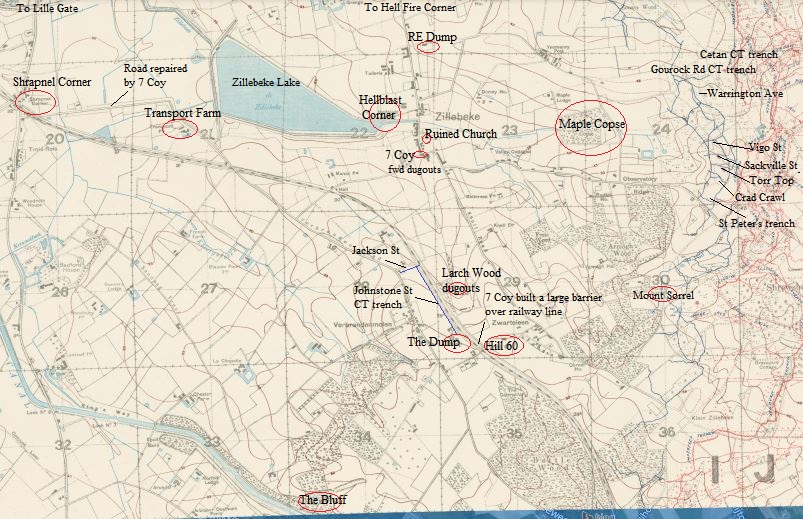 7 Coy lost Five me killed whilst working at this location, all of them by small arms fire.
Our first stop was to the nearby Ridge Wood Military cemetery to pay our respects.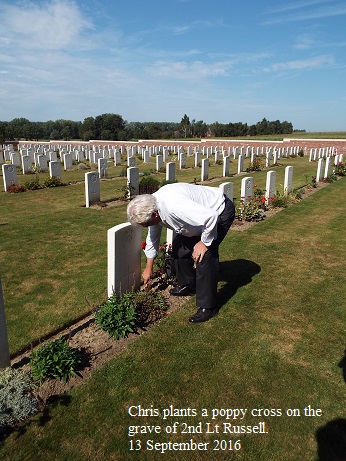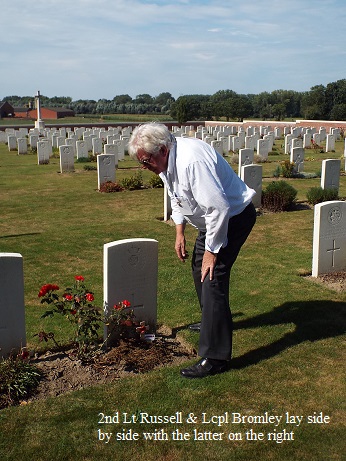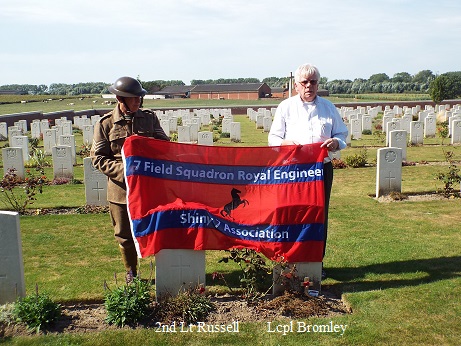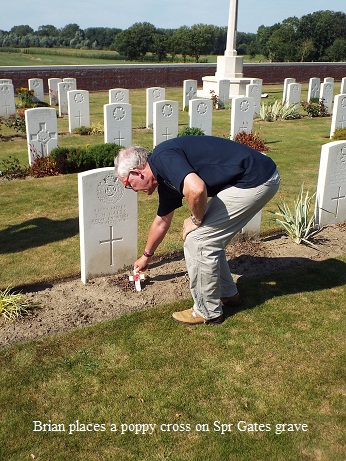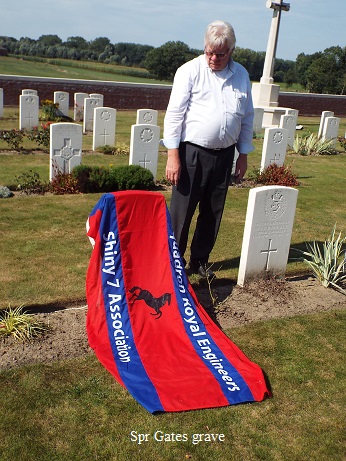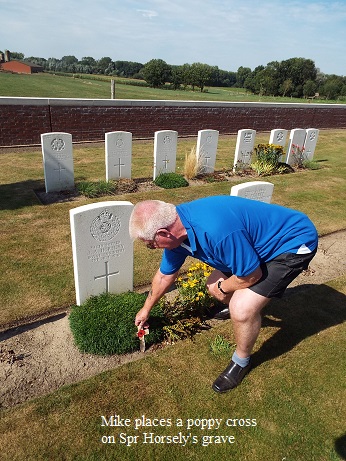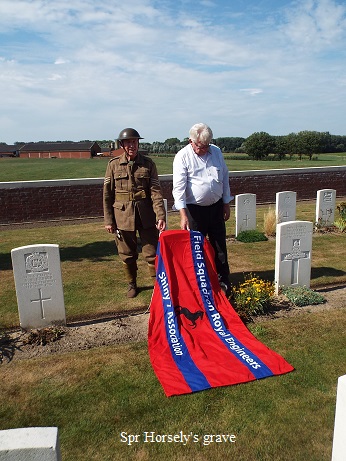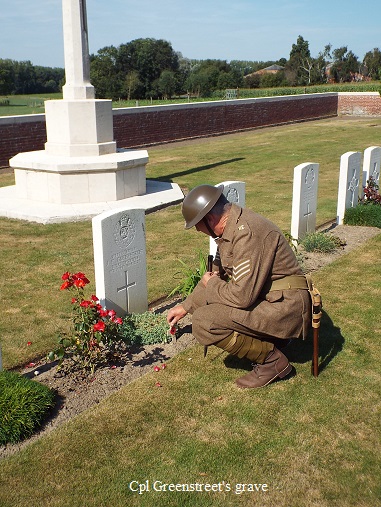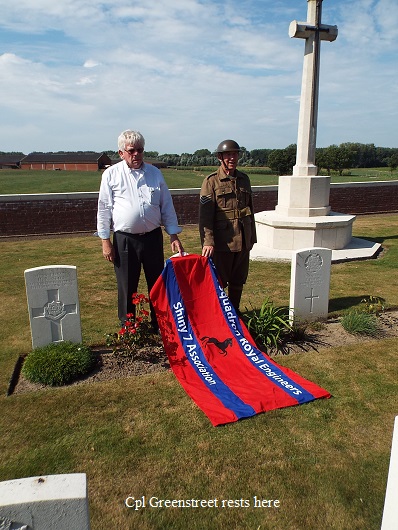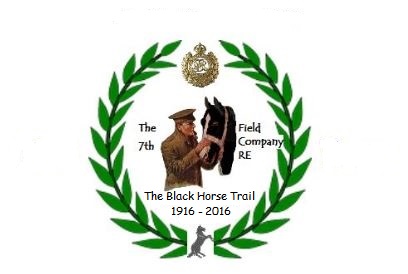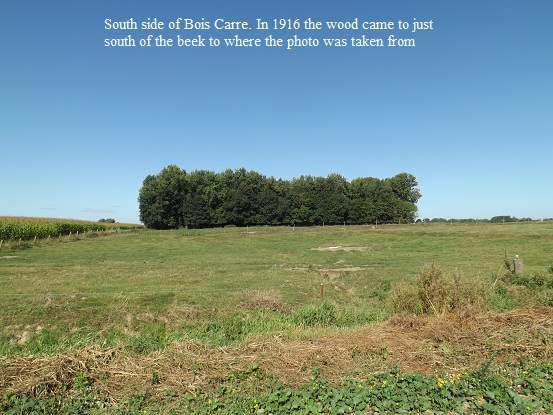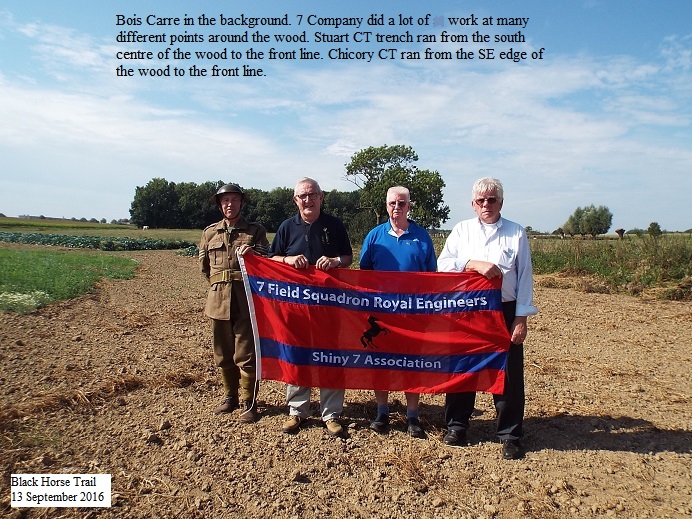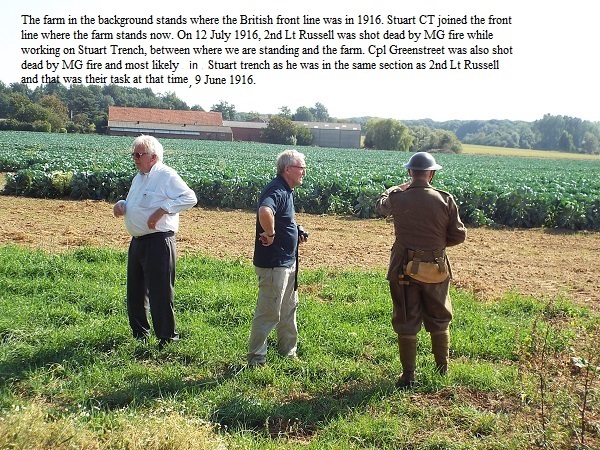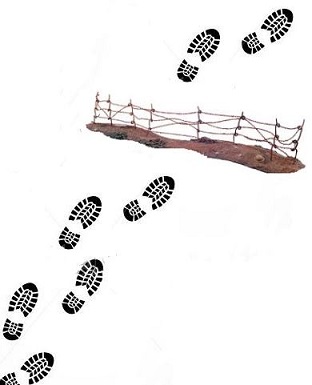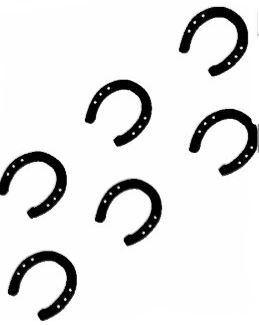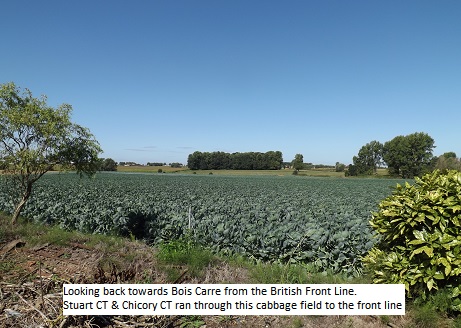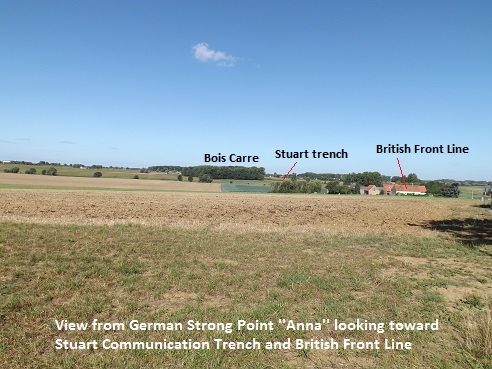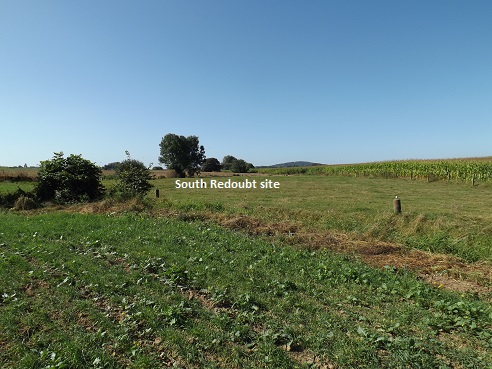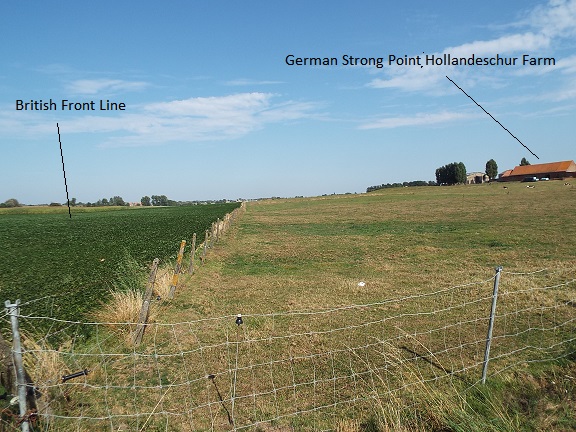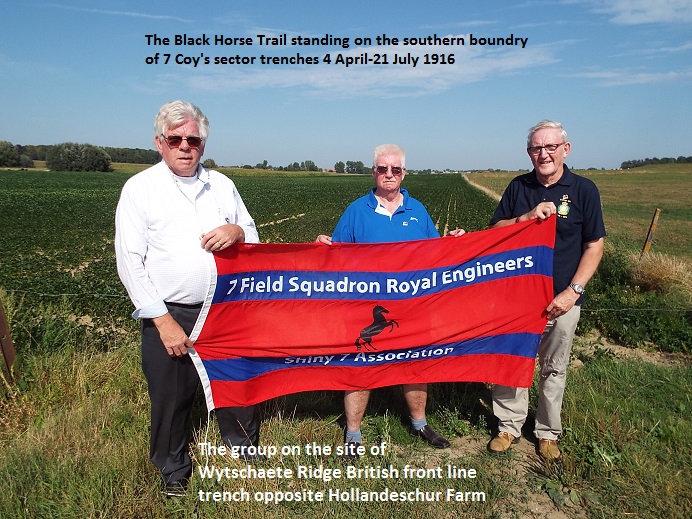 Opposite the Wytschaete Ridge 4th April - 21st July 1916

On the 4th April the Company marched to hutments at La Clytte and commenced work with the 151st Brigade in the sector immediately opposite the Grande Bois (Wytschaete Ridge). Two and later three sections were moved up into shelters in Ridgewood (one mile north of Vierstraat). The Company was destined to work on this sector from now until the end of July, with the exception of two welcome periods of rest 23 April-11 May and 21st - 27 May. This proved to be one of the most testing times experienced by the Company and contains features of marked interest. Description of the task and its performance is, therefore, given in some detail. The front line held by the 151st Brigade consisted of a continuous sand bag breast work and parados (1,600 yards in length), with shelters built into its reverse side. A small stream - the Haringhebeek ran through low lying marshy land 200 yards in rear of and parallel to the breastwork. Trench communication had as yet only been established with the extreme northern flank of it by means of a single C.T. running from Brasserie on the Vierstraat Ridge through Bois Carre. The whole length of the front line breastwork and the entire ground between it and the Vierstraat Ridge in rear was overlooked from the enemy's positions on the forward slopes of the opposing Wytschaete Ridge. In the breastworks was a deep mine, one of a series of six constructed along the front of the Messines Ridge a much coveted position by the 11th Army and eventually taken by it in June 1917. Hitherto the enemy, who was working hard on his own defences and wanted to be left in peace, had treated the long exposed breastwork kindly, but the springing of the huge mine at St Eloi - whose existence he had not apparently suspected put a very different aspect on things and henceforward the enemy did his best to hinder in every way, the work of deep mining in this sector and all other works threatening his occupation of the Ridge. Shortly before the 50th Division relieved the Canadian Division on this front the breastwork had been heavily shelled and flattened out in several places. Altogether the picture in this sector was not an attractive one. The Canadian Division had put in hand a C.T. running from the neighbourhood of Vierstraat (1700 yards in rear) called "Poppy Lane" in order to effect communication with the southern flank of the breastwork, but shelling had caused falls and consequent flooding and the C.T. had to reach and cross the difficult and marshy ground near the Haringhebeek. Its continuous revetment throughout was entailed. The capture of the Messines Ridge in the summer of 1916 was contemplated and the rapid development of good communications, of works giving cover to assaulting troops, supports and reserves, and of works protecting the deep mines, was considered urgent. After thorough reconnaissance by divisional staff, C.R.E. and Brigade staff it was decided that the existing breastwork was to be remade and strongly wired, that a support line was to be constructed parallel to it, about 150 yards in the rear, that the C.T. "Poppy Lane" was to be carried through and a fresh C.T. constructed from Bois Carre to the front line (this C.T. was later named Stuart C.T.) Numerous dugouts, shelters and shell slits were to be added to the defences of Bois Carre for the accommodation of support troops etc. The organising and carrying out of these works (other than work in the front line breastwork itself) fell to the 7th Field Company, large working parties of 100 and the assistance of a Company of the 7th D.L.I. Pioneers. As had been anticipated, the construction of some 1.200 yards of exposed support line (half-breastwork on account of water lying at 2' 6" below water level) proved difficult, as the whole was clearly visible and enfiladed by the enemy. His six machine guns in the Grand Bois and Hollandeschur, assisted by heavy trench mortars and well placed rifle batteries, were scientifically used to frustrate the scheme. In addition, every bullet aimed at the front line and going over the breast work went over the working party at a dangerous level. This entailed work being carried out simultaneously at many places and the support line soon had the appearance of a long row of lengthening grouse butts. These were at once most appropriately named "the butts", and soon acquired an evil reputation. The working parties, mainly furnished by the reserve or 'resting' Brigades at La Clytte, soon looked forward to a return to the comparative comforts of their unhealthy front line. Revetment with U frames darkened with creosote, was adapted. Carriage was mainly overland and tracks soon became visible to the enemy, whose machine guns and rifle fire batteries made the operation hazardous. Altogether the casualties amongst the sappers and the working parties averaged double figures nightly for some weeks, a fact which caused both Divisional and Corps HQs to consider matters carefully from time to time. The importance, however, of the ultimate objective - the capture of the Messines Ridge was the overruling factor and the work was carried on despite difficulties. By July, when the Division was again relieved by the 4th Canadian Division, the work was within sight of completion. Relations with the infantry working parties was excellent throughout, the latter realizing the difficult task the smaller engineer sections were performing as a nightly duty for many weeks without relief. The appreciation of their work expressed from time to time by Brigade and other commanders greatly encouraged all ranks of the Company, many of whom were feeling the continual strain of night work under these conditions. By the middle of June the enemy's machine guns in Bois Quarante and Hollandscheschur Farm, which enfiladed the support line work from both flanks, became so effective as to make work almost impracticable. To meet these, two sections of field guns stood by throughout the night and by means of a system of lamp signalling from the front of the breastwork, were able to send a salvo at once in the neighbourhood of any machine gun fire, and repeating salvos as long as necessary. This prompt form of retaliation proved very effective probably owing to the annoyance this caused the German working parties in the particular neighbourhood. After receiving a few such salvos an offending machine gun would generally keep quiet for 20 minutes or more. This arrangement was kept going for some weeks encouraging the working parties and greatly improving matters except on misty nights when lamp signalling failed. An unusual incident occurred one night. A certain NCO received a bullet through his cap and it eventually made parting through his hair without more than scorching his skin. The NCO was quite unconcerned and carried on as nothing had happened. During this period the Company lost one officer (2nd Lt Russell D.C.M.) and 9 O.R.s wounded, losses which, though heavy in fact, appeared numerically to be extremely light under the circumstances. 2nd Lt H. Russell DCM,. Russian Order of St George was killed by machine gun fire on the night of 12th July near Stuart C.T. a particularly difficult bit of work he had just completed. His loss was deeply regretted by all. He came out with the Company with the rank of Sergeant in 1914, became CSM in December 1914, and RSM 50 Division RE in July 1915. On being commissioned in May 1916, he was again, by request, posted to the 7th Field Company. He did excellent work throughout. His gallant conduct and cheery disposition coupled with strong personality and all round efficiency endeared him to all. Engaged on difficult work he inspired the working parties with confidence. Although he only worked with the 151st Brigade for a short time, all Battalion commanders of that Brigade took occasion to express their sense of loss incurred. Another markedly severe loss to the Company was that of Cpl W. Bromley of No 3 Section, who was killed on 19th July. This NCO had also served with the Company in the field since August 1914, and was conspicuous for marked ability, coolness and devotion to duty.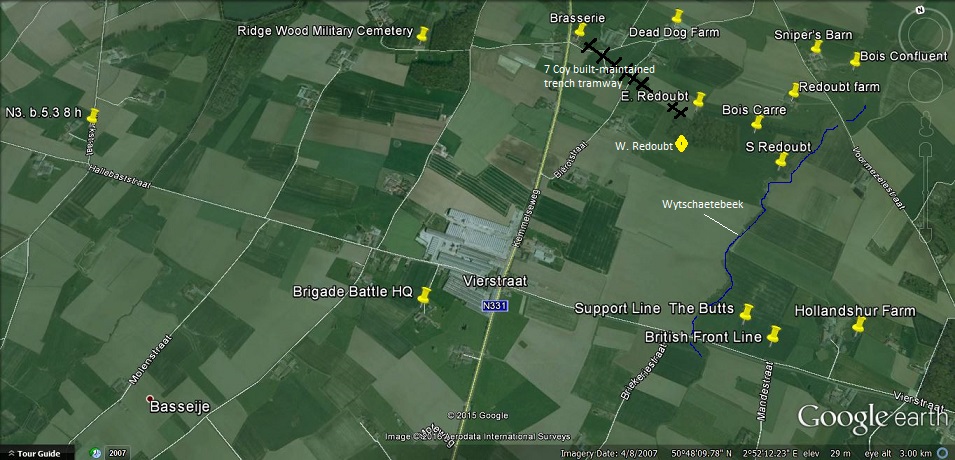 Mont des Cats 23 April - 11 May, 21 May - 27 May 1916

Two breathers experienced at Mont des Cats were spent in an excellent farm billet just north of the monastery, and were devoted to close order drills, general overhaul, route marching and football. An excellent afternoons mounted sports was carried out, somewhat different to the detriment of the farmer's best pasturage but, as the attendance of himself and neighbour had been invited and all evidently enjoyed the show, no question of "degats" arose. The Divisional RE (with 3 players from 7 Coy) won the 50th Divisional football league. During this time also, Brigadier General J. Shea C.B. D.S.O. commanding 151st Brigade, came, at his request to see the Company and expressed his appreciation of the work done by it whilst working in affiliation with his Brigade from June 1915 to May 1916. General Shea spoke in warm terms and the Company was much gratified by his action. The C.R.E. (Lt Col C.W. Singer D.S.O.) also formally inspected the Company on 29th April. On the 23 May the Division was inspected at Fletre by the G.O.C. 11TH Army (General Hubert Plumer) when second Lieutenants Baldwin and Russell were presented with D.C.M. Sergeant F. Armstrong, Section Sergeant Mounted Section, became C.Q.M.S. on 30th May, Corporal T. Church becoming Mounted Section Sergeant. Both these NCOs were later awarded the meritorious Service Medal.

War Diary excerpts:

8 August 1916
The Coy marched at 4.15 am to Montes des Cats (same billets as occupied in May 1916) via Mont Rouge, Mont Noir over steep hills which gave a good test for team sport.
arrived in Mont des Cats 7.45 am.

9 August 1916
Morning practised rapid wiring, practised rapid bivouacing. Interpreter M. Rimboy (late with 82nd Field Coy) posted to unit by CRE. 2nd Lt J.B.Glubb rejoined from sick leave at home and took over duties of acting Captain. Training program received ordering entrenchment of 50 DIV.

11 August 1916
Entrained at Godewaersvelde Station at 5.15 pm, destination Candas Station. Entrained quickly, good loading parties.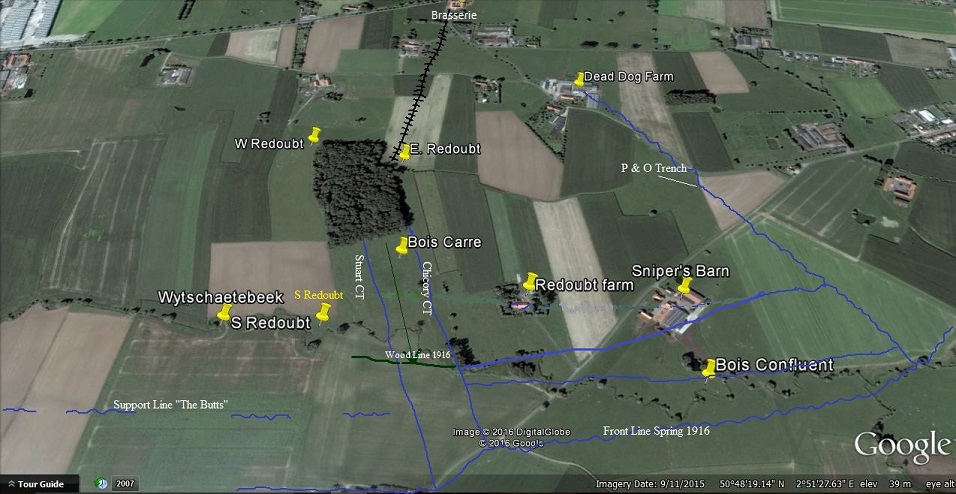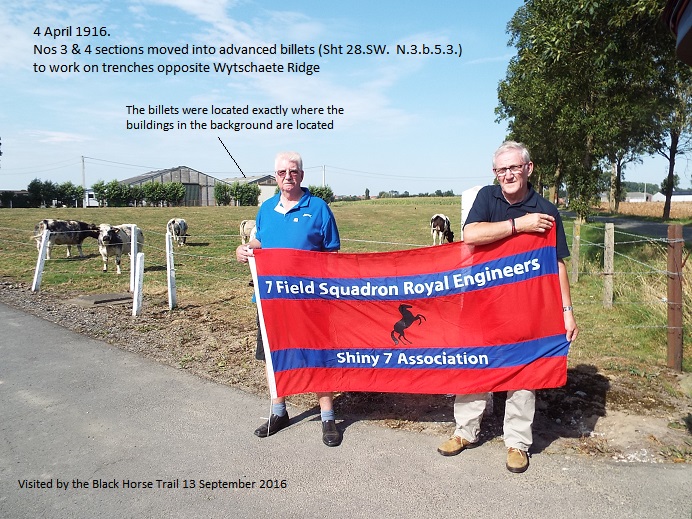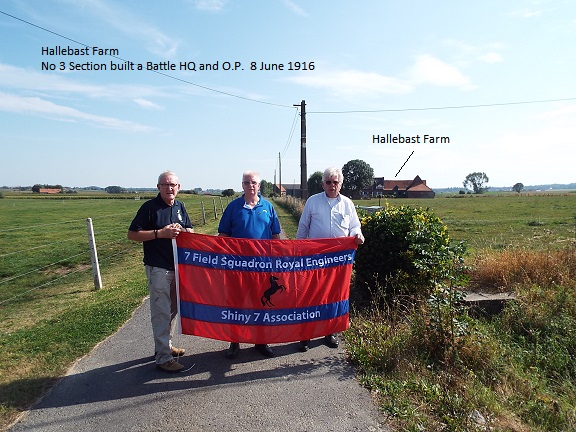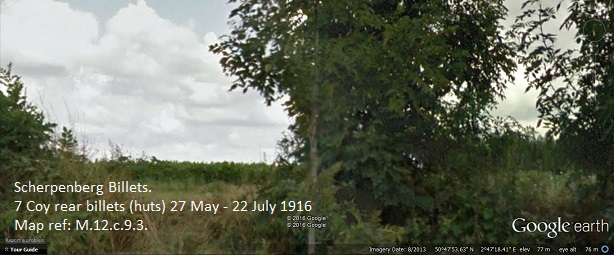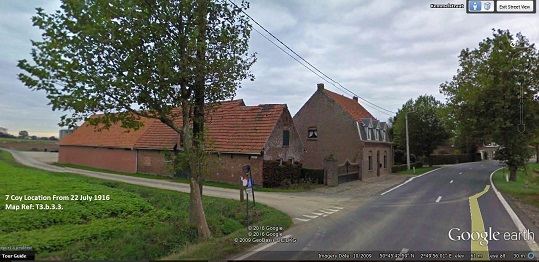 Visited on Recce only, not visited by the group
Visited on Recce only, not visited by the group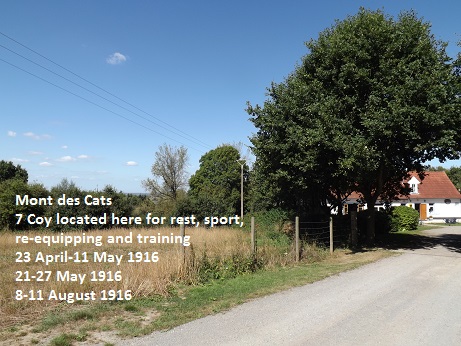 Visited on Recce only, not visited by the group
U frames. Developed by the Royal Engineers, these were used for the first time by 7 Coy in 1916 in Johnson Street, where hundreds were placed.
Above: U frames uncovered in a trench excavation near Ypres, 90 years after the great war, as you can see they are still in remarkable good condition. If Johnson Street trench was to be excavated, it is highly probable you'd find remnants of U frames placed by 7 Fd Coy.
Map showing; Jackson St, Johnson St,The Dump, Larch Wood, Hill 60 and The Caterpillar.
7 Fd Coy War Diary 6-9 March 1916
Excerpts from War Diary in green text
Excerpts from Lt Glubbs Diary in black text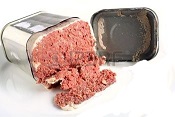 The Company was troubled by MG fire mainly from German strong points
at Piccadilly Farm, Strong Point Anna and Hollandeschur Farm.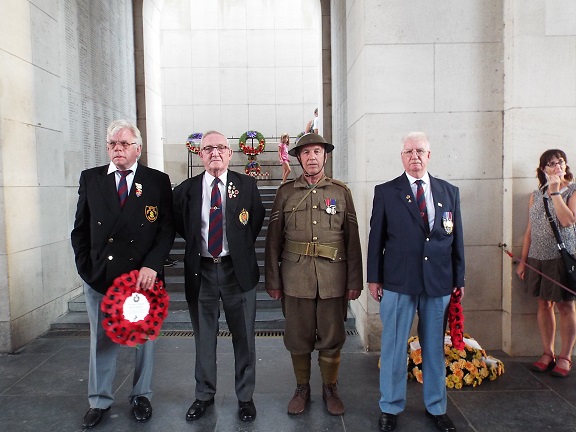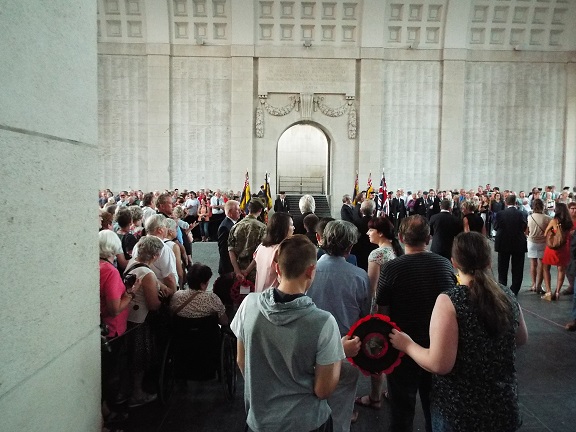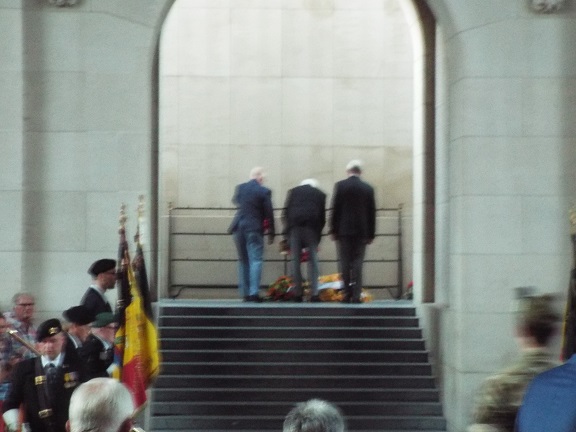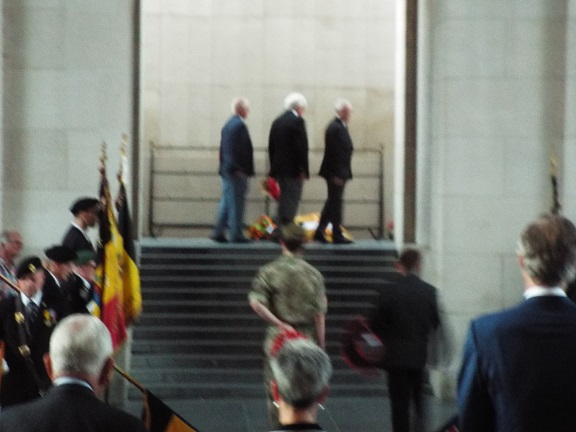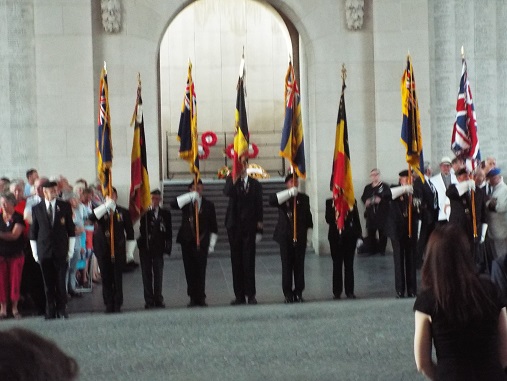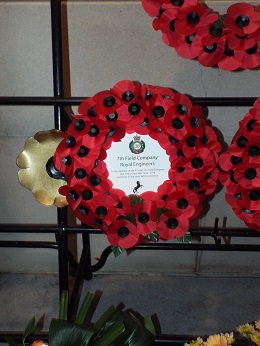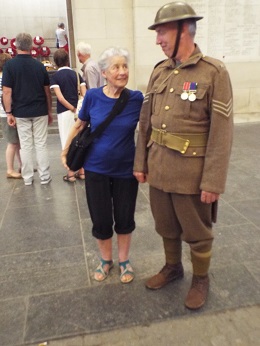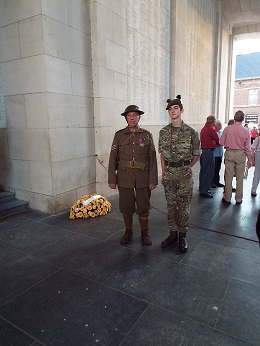 Menin Gate wreath laying 13 May 2016. Spr E.C. Matthews of 7 Field Company is commemorated on the memorial.
The Black Horse Trail September 2016
Following the footsteps of
7 Field Company's 1916 trail to commemorate their contribution
and achievements in the Great War

Excerpt from Lt Glubb's diary

31 August: Marched to Becourt. A bad march owing to the throngs of traffic on the main Amiens-Albert road, and to the fact that it rained continuously all day. The men have nothing but their greatcoats, which are too heavy and hot for a long march in summer, and their waterproof sheets, which keep you moderately dry from the shoulders to the hips, and wetter than ever below that. McQueen rode on and made me go with him, just before we reached Albert. We reached what appeared to be the map reference allotted to us to camp and found the 281st Army Troops Company there. So we selected a rain-swept sloping field next door, as the only open spot. Here McQueen. and I stood disconsolately, while the wind blew the rain down past us in sheets of grey, till the company arrived. There followed one of the most miserable nights I remember, everyone was wringing wet, with no cover but waterproof sheets, and lying on the muddy ground saturated with water. The last straw was when we discovered that there were two 8-inch howitzers in the valley just below us, which fired all night at three-quarters of an hour intervals. Each shot seemed to hit one in the face and wrap the whole bivouac in flame. We are bivouacked on the old British reserve line before the 1 July push. There are enormous numbers of guns here, 9.2-inch howitzers and 60-pounders stand in rows on all the hillsides. The sappers are making a cruciform redoubt in Mametz Wood. The infantry of our division is still out at rest and the sappers are working under the Corps.

7-14 September: The sappers have taken over a job in the front line in front of Ba'zentin-le-Petit. We tried to take High Wood, just in front of .this part of the line, on 8 September, but failed. On the night of 11 - 12 September, Wade with No 2 Section, was making some shelters in Bethel Sap, in the front line to the left of High Wood, when they were nearly all gassed by gas shells. Some were sick, but most of them did not want to go back but were made to do so by the doctor. Corporals Martin, Maclaren and Rogers and one or two others survived. Sergeant Collings was sent back but returned soon afterwards and so did Wade. The other sections are making deep dugouts in a quarry in front of Bazentin-le-Petit, to take Brigade and Battalion Headquarters in the coming battle. They work in reliefs day and night, aided by some miners whom we have borrowed from the Northumberland Fusiliers for the job . The Boche are in High Wood, which commands all our lines. Our trenches are very deep and narrow, to give more cover from the whizz-bangs which, from High Wood, play fearful and accurate havoc on our trenches. The result is it is almost impossible to move along the trenches. It took Wade and his section two hours to get up the communication trenches ·to Bethel Sap. Our division has now relieved the 15th Scottish Division, who are rather demoralized by the shelling. On the right, the lst Division are very exhausted also, from making constant unsuccessful attacks on High Wood at huge cost . They have now been relieved by the 47th London Territorial Division. These look very clean and smart and march well. This front must have been a haven of rest before our attack on 1 July when the III Army were nicknamed the Deathless Army! Our camp is only 300 yards behind our old front line and is almost. without a shell hole. Becourt Chateau, about 1/4-mile from the old front line and in full view of the Boche, has only two or three holes in it. Compare Zillebeke ! The really marvellous thing round here is the number of guns. The bare shell-pocked hillsides are covered with rows and rows of 9.2-inch and 6-inch howitzers, 6-inch guns and 60-pounders. Another marvellous thing is our air superiority. Every day we have up to twenty-five to thirty-five kite-balloons in the sky, observing the Boche. Occasionally they put up three or four, but soon haul them down when our planes go over.
This is the spot where the event pictured right took place
For more information on 7 Field Company's 1916 history
http://www.shiny7.uk/7Coy1916-2.html

HRH Prince Charles attends the New Zealander's Somme 100
https://youtu.be/LQ-_azGJCfs

More info on Bazentin le Petit area
http://www.ww1battlefields.co.uk/somme/highwoodarea.html
WW1 tank drives through London. 100 years of tanks
https://youtu.be/XDXdcSXJ1hg

British Legion WW1 centenary rememberance
http://www.britishlegion.org.uk/remembrance/ww1-centenary/somme-100/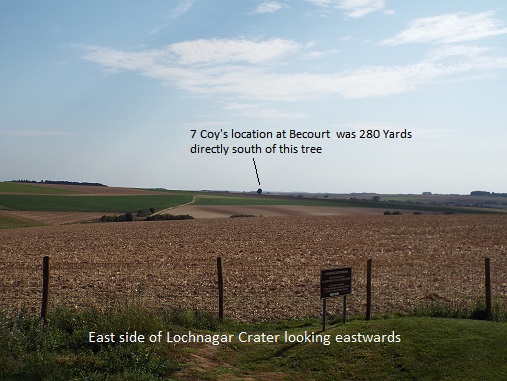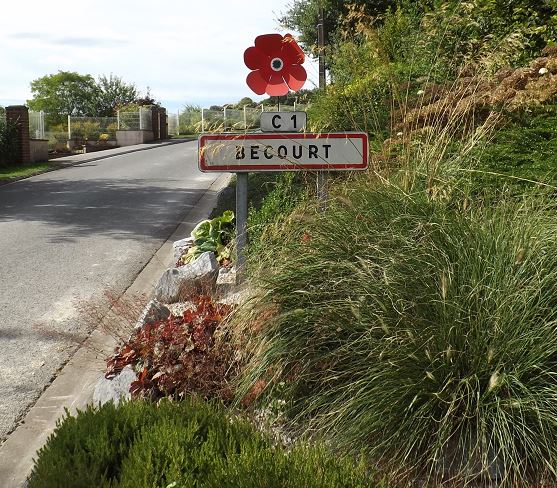 War Diary excerpts August 1916

12 August 1916
Detrained Candas 2.30 am. Took nearly 2 hours to unload vehicles.
The accommodation very bad, marched 5 am to Bois Berghest then bivouacked. No casualties to horses during the march

15 August 1916
Marched 3.30 am to Wargnies via Auteux-Fienvilles-Naours, joined up with 149 Bde at "Sterling Point" (81/2 mile from Bois Bergues) which was reached 5 mins before schedule time. Distance 13 miles, no man fell out enroute though 5 "sick" men marching. Outbursts of heavy rain brought men in from bivouacs.

16 August 1916
Marched 9 am to Mirvaux via Naours-Thelmas-Septenville- distance 9 mile. No man fell out on march- 3 or 4 sore footed men. Reached Mirvaux 12.15 pm. Good billets. Received orders to march following day with Bde to Henencourt but later received orders to proceed to Franvillers marching with Bde as far as Bethencourt.

17 August 1916
Left Mirvaux-5.45am through Pierregot-Ans-Bois-Montigny-Behencourt. Distance 12 miles, no man fallen out. Reached Franvillers 10 am-town full of troops but few billets. Town Major placing infantry of 34 DIV elsewhere to make room for the Coy. 5 tents loaned by Town Major.

18-29 August 1916
During this period the Coy was employed purely on "training" consisting of making strong posts (cruciform pattern), rapid wiring, deep dugouts, sappering, physical drill, route marching. Useful 10 days work in many ways. Orders received on 29th to move to E of Becourt on the 30th to work under C.E.III Corps. Transport paraded for inspection on 29th by G.O.C 50 Div, but was cancelled owing to bad weather. A very good turnout by our Sections.
Excerpt Lt Glubb's Diary

18 - 30 August: In Franvillers. The whole division, including ourselves, are well up to, and even over strength now, all ready fattened for the slaughter. We spent these days training. The problem in these trench battles is that the artillery preparation is so intense before an attack, that when we take the enemy's trenches, we find ourselves in an area of featureless mud and trenches. Everyone in the enemy's front line has been killed, but he has kept his reserve troops under cover, and they deliver a counter-attack two or three hours after our attack. Meanwhile our troops have not had time to construct trenches, and are driven out by the counter-attack . As a result, the latest theory is that sappers should follow immediately after our infantry attack, and dig defences and strong points instantly, to enable the infantry to resist the enemy counter-attack. This is what we are training to do. The fact is that making a line of defensive posts behind the advancing infantry is very difficult. It involves a great deal of work, and enough men are never obtainable. Moreover the enemy keeps up very heavy shelling, precisely to prevent you digging trenches before he makes his counter-attack.
We were warned of an inspection of our mounted section by the G.O.C. of the division on 28 August . The drivers worked very hard for it, and were up half-way through the previous night. We waited on parade for two hours in the rain and then received a signal postponing it until the next day. The next night and morning, the same thing was repeated. We were all completely fed up . McQueen presented prizes and gave two francs to every man on parade. The first prize went to Driver Cannon and the second to Driver Christie.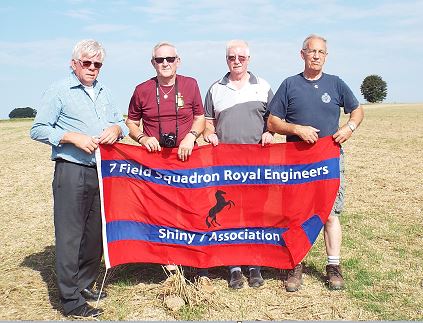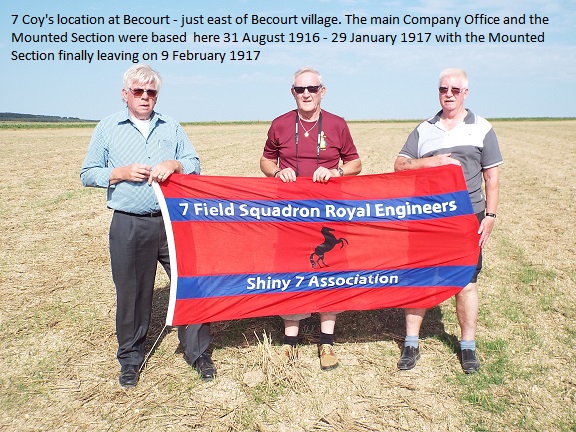 Becourt is a small village with a Chateau and is surrounded with small woods. Several army units were based around the village for the support and preparation for the battle Flers - Courcelette, which was to begin 15 September 1916. 7 Field Company main office and Mounted Section were based here for a much longer period owing to the Coy being tasked to construct and maintain the trench tramways after the battle.
War Diary excerpt:

31 August 1916
O.C. with Capt Mainghy RE, visited site of Strong Post in Mametz Wood and later with all Sections. Officers and training party from each Section started work and made preparations and collected materials for work on the 1st. C.E III Corps (Brig Gen Schreiber CB) visits camp 4 hours and approved plan and site of work.
C.R.E (Lt Col Singer CMG DSO) visited camp.

Left and Right
7 Coy's location at Becourt
Map ref: Sheet 57D. X.26.c.7.0.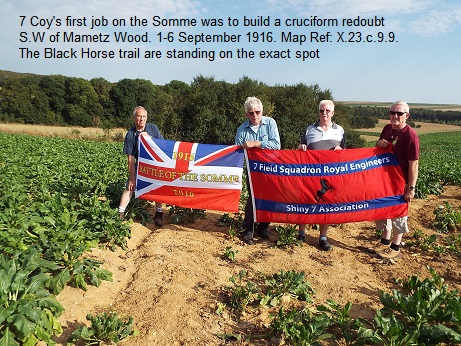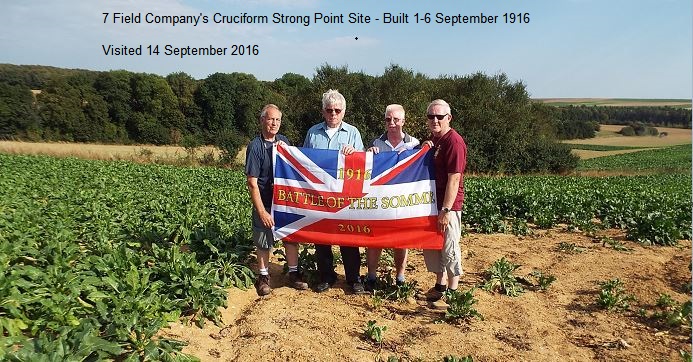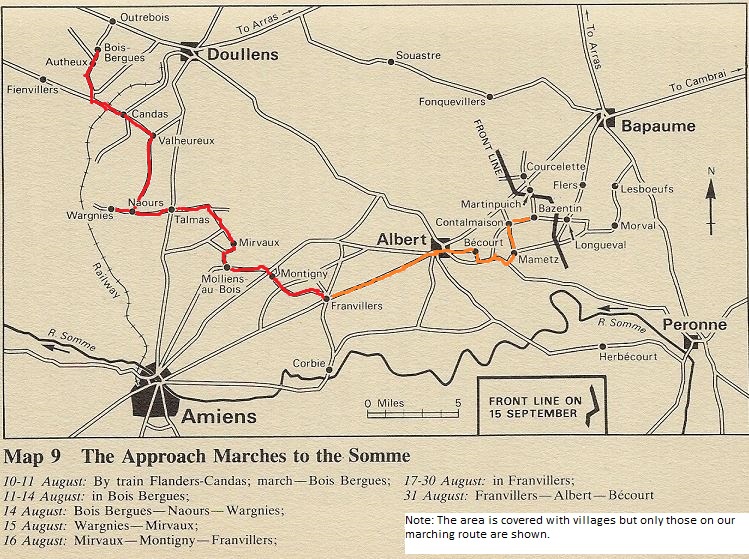 7 Field Company's route to the Somme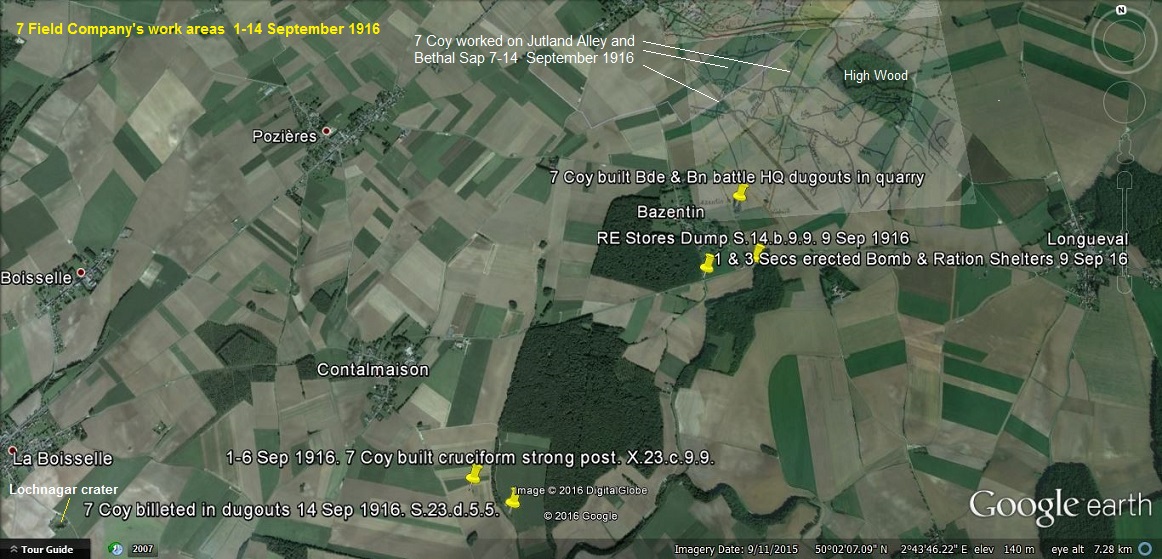 Excerpt from Lt Glubb's diary

14 September: We marched up with the sappers to some dugouts behind Mametz Wood, so as to be handy for the show, which is to take place tomorrow .. We took section wagons with us, but most of the mounted section waited at Becourt. Zero hour is 6.20 a.m. Tomorrow. This afternoon was to me one of the rare occasions when the war has been dramatic and exciting. I was quite thrilled watching the long streams of troops and wagons pouring up the Mametz road. Then, all of a sudden, I heard a strange noise, accompanied by shouts and cheers, and saw the most extraordinary-looking vehicles approaching, with men sitting on them cheering. They were a kind of armoured car on caterpillars and each towed a sort of perambulator behind it. They are said to be the new assault wagons, called tanks. I don't know if the Germans knew about them, but the secret has been very well kept on our side. None of us had any idea of their existence. During the night, a high-velocity gun suddenly opened on our bivouac.
Wheut-bang wheut-bang - wheut -wheut-bang-bang-bang! They were bigger than field guns and made deafening crashes. This was awkward, as we had the section wagon horses picketed outside. I yelled, 'Stand to your horses', and the drivers turned out with alacrity. Fortunately our horses are used to shellfire, they only give a plunge when a nearby explosion frightens them. It was shivering cold and dark and I felt a bit scared, Next morning in the semi-dusk, all the landscape was utterly silent and still. Then, all of a sudden, pandemonium burst. The hills were everywhere lit up with the darting flashes of the guns and the noise was deafening. I was quite thrilled.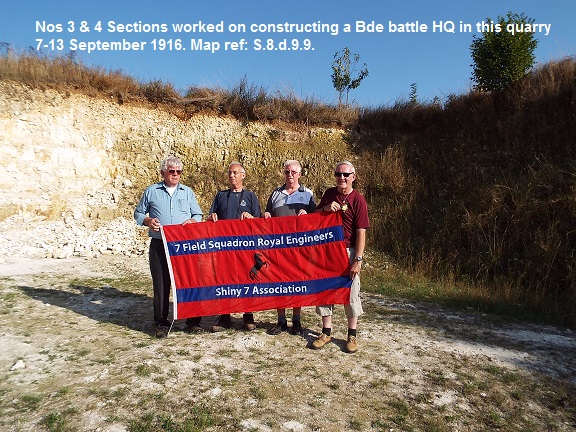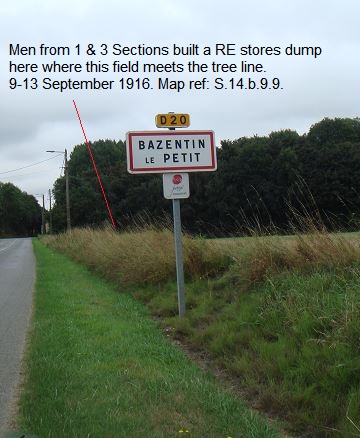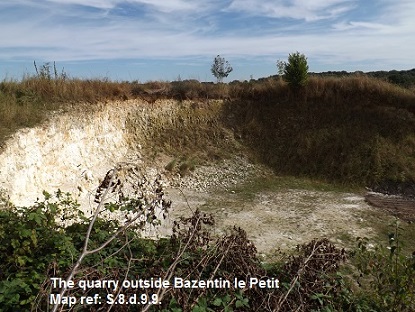 War diary excerpts

8 September 1916
No 1 Section (2Lt Chaplin) Bethel Sap not being sufficiently advanced to take dug outs the Section was put to making dugouts for a Battalion HQ. In small quarry by the cemetery at S.8.d.9.8 Sheet 57c.SW. Two dugouts each 6 x 10 well sunk into quarry face with circular steel roof. No 3 & 4 Sections continued on Bde HQ making very good progress. No 2 Section rested. 2 Lt Wade reconnoitered Jutland Alley and sited bomb and ration stores.

9 September 1916
Work as for the 8th but 8 men were taken from Nos 1 & 3 Sections put on erecting a series of shelters S.E corner of Bazentin Le Petit Wood for bomb, ration and other stores. Lt Baker took direct charge of this work and also generally superintended of No 3n Section and dump of RE stores being formed by C.R.E at Pt. S.14 b. 9.9. No 2 Section excavated 6 out of 8 dugouts in Jutland Str extension and carried up roofing material.

11September 1916
Work as for 10th. No 2 Section (2nd Lt Wade) proceeding up Jutland Str by night were heavily shelled by all kinds of shells including mortar shells. This C.T was at the time guarded by infantry parties who suffered heavily and the consequent delay (the C.T being crowded) it took the Section nearly 2 hours to traverse the 1000 yds of trench.apparently some of the shells also contained phosphorus gas. In the dark this was not recognised. At Jutland Str many men of the Section complained of feeling ill. Although smoke helmets had been worn for sometime, about the same time large numbers of infantry were taken ill. 2nd Lt Wade decided it was best to withdraw as he saw no chance of getting useful work done that night. On arrival at dressing station 2 men in state of choking were admitted and M.O making further enquiries on condition of the men, he insisted on retaining a further 1 NCO and 7 men. On the following day 12th, a further 7 men taken ill and had to be sent to dressing station. The Section thus losing 1 officer, 2 NCOs and 14 men with others not fit for duty for a few days.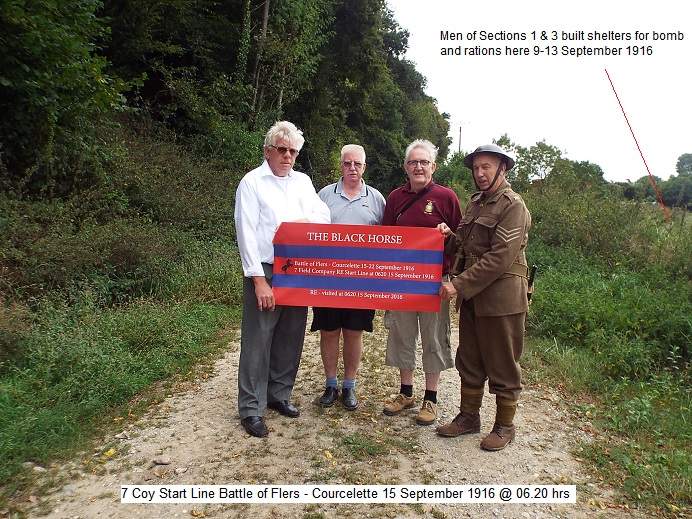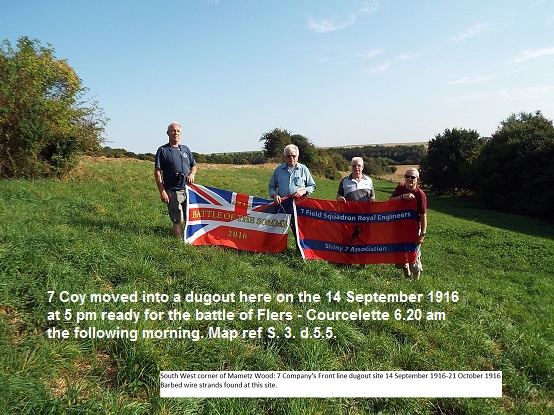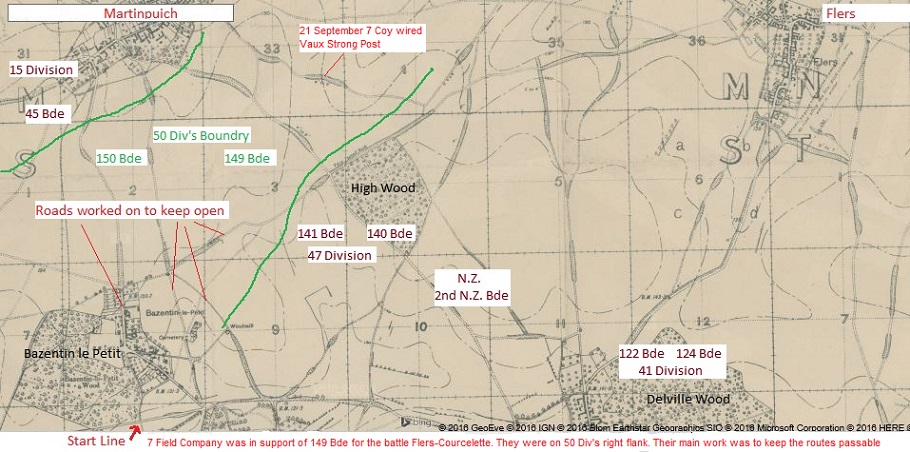 War diary

15 September 1916
Under CRE 50 Div. Open Order No 3 df 12/9/16 The Company (less remains of No 2 Section who were employed as orderlies and other duties) left camp 5.30 am and proceeded with 2 Platoons (C Coy) 7 D.L.I (pioneers) to work from about "zero hour" of attack 6.20 am on the road from Pt.S.14.b.1.7 (Sheet 57 B SW) through village of Bazentin Le Petit and thence heading to High Wood (N.W Corner) The attack commenced at zero hour the 50 Division attaining its objectives viz, line running from N edge of Martinpuich village to about 500 N of Highwood, both of which localities who before the attack were in the hands of the enemy-as anticipated up to 12 noon the work on the road was but little disturbed, after 12 noon a good deal of 5.9 and 4.2 shelling on Bazentin Le Petit village. Work continued till 1 am, with a break from 1pm-2pm for rest and food and then till 6pm - all Sections as with Pioneers worked excellently. The road was, in the village, a series of long shell craters but with use of 4 forage carts, 2 hand carts, 20 wheel barrows and with plenty of hide to hand, a passable road was made as far as the X roads immediately N of Bazentin by 2pm, and at 6pm a track had been cut (down to road existing metalling) to a point 400 yds on the High Wood Road. The 1 N.F took on the work at 6pm. Then Company returning to dugouts. A very satisfactory days work.
Lt Glubb's diary

15 September: One of the chief problems of these big attacks is that the infantry go forward, leaving behind them a belt of country two or three miles wide, which consists solely of soft, spongy mud, churned up by endless shell bursts, and crossed by no roads or even paths. No sooner have the infantry gone forward a mile or so than they begin to call for ammunition, rations , barbed wire, sandbags and other requirements, while the' wounded somehow have to be got back. As a result, it is absolutely vital to make some sort of roads forward just behind the infantry, so that wagons can get up to near the front line as soon as it is dark. Moreover, if the infantry have gone forward a couple of miles, the guns have to be rushed forward also, in time to support them when the enemy counter-attack is launched, perhaps four or five hours after our attack. The enemy having gone back, his guns are close to his infantry, while our guns are two or three miles too far back. Thus the guns and ammunition limbers have also to be moved forward in those precious four hours after Zero.
All this great amount of traffic - infantry stores, guns and ammunition - have to be transported over a two-mile belt of country, consisting of a uniform muddy porridge, from which all features - roads, trees, buildings and villages - have been obliterated. This is our job today. The sappers and their forage carts left at 6 a.m., to mend the road from Bazentin-le-Petit to High Wood, as soon as the latter should be taken. I had to sit all day in Mametz Wood, in case messages came in for company headquarters. The sappers were not disturbed for the first few hours, as the enemy guns were concentrated on our infantry. In the afternoon, a fair number of shells came over, but we only had three men hit. Prisoners kept coming down in batches all day, and the air was electric with rumours of victories. We took all our objectives, but High Wood again proved a hard nut to crack, and cost the 47th Division a lot of men. It was only taken because the troops on either side of it went forward past it and left it behind. There seem to be two opposing theories on the subject of major attacks on a wide front, like that of 15 September on the Somme. One theory wishes to take in advance all the enemy 's strongest points - like High Wood - by means of local attacks, so that nothing will hold up the main attack. The opposite theory is to do nothing until the main attack . Then, by breaking through the weak places and going forward, we leave the enemy's strong points behind us, and eventually force them to surrender.
Those in the front line, who had seen the losses incurred trying to take High Wood, were convinced that the second theory was the right one. And indeed soon after the 15 September attack, an instruction was issued by G.H.Q. adopting it.The sappers worked all day and all night of 16 and 17 September, together with the lst and 2nd Northumbrian Companies. They have been carting bricks from the ruins of Bazentin-le-Petit, to fill shell holes in the road up to High Wood. We are using all our wagons, including the pontoon wagons fitted with improvised bodies. I hear we took Martinpuich and Courcelette on the 15th, which was good. We ought to attack again immediately to try for a break-through.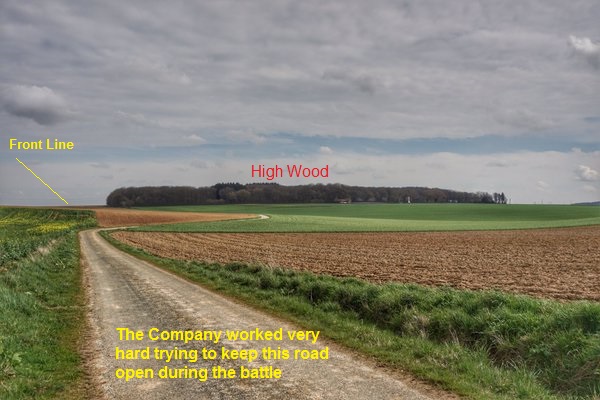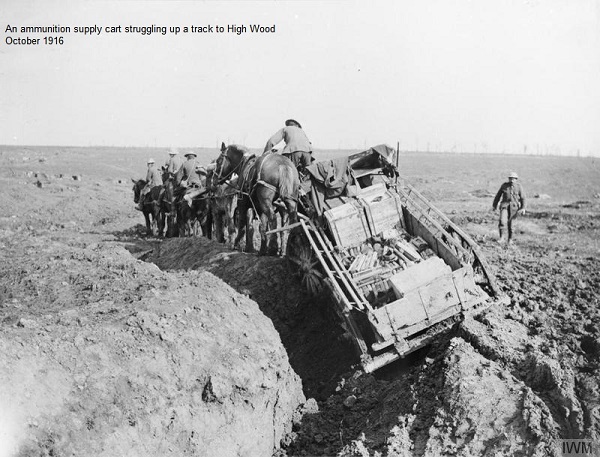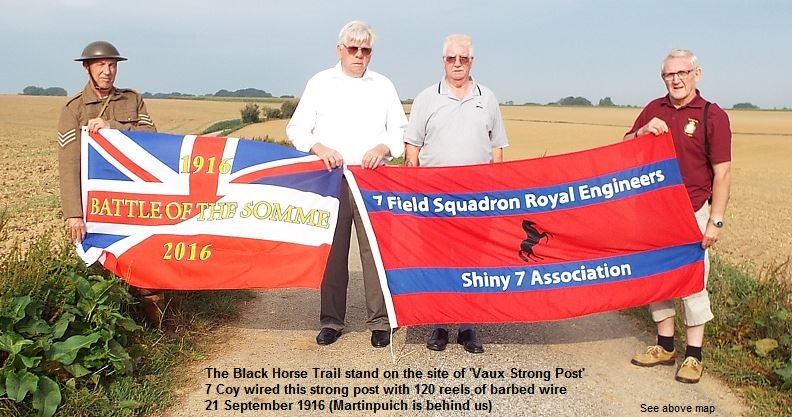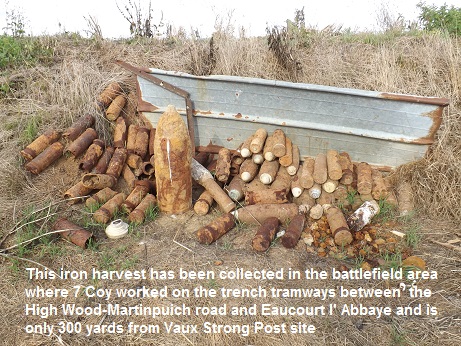 The 149 Bde axis of attack north of this road, (High Wood-Martinpuich) encountered mobility problems due to the lack of metalled roads and the few existing farm tracks being heavily shelled. Heavy rainfalls that started on the 17 September compounded the problem even further. It was decided that the best method of re-supply was by a light 'decauville' railway.
War diary

23 September 1916
Line selected for tramline from point above mentioned (S.3.b.5.5) to Prue trench (Pt.S.34.a.10.7) distance 1,400 yds. O.C and Lt Baker taped out 700 yds of this line. About 300 yds of tramline brought up to rail end during the day. No 3 Section (Lt Thompson) with 10, 9 D.L.I. works party laid 160 yds of line, No1 Section (Lt Chaplin) with 100 men W.P from 9 D.L.I. cleared 350 yds of track across ground much broken with shell holes - the work was shelled with Whizz Bangs pretty consistently, and carried on with some disruption. Casualties: 1 NCO killed, 2 wounded (all of works parties) 1 RE wounded - Parties returned okay at about 5 am.
Lt Glubb's diary

23 September:The Boche has retired a little way on our Corps front and we have temporarily lost touch. We were above him on a forward slope beyond High Wood, and he doubtless did not like to remain overlooked. We cannot immediately follow him up, as the country sloping down from High Wood to Eaucourt is simply a wilderness of shell-holes almost impossible to cross and is in full view all the way. Not a fly can cross the High Wood ridge without being seen by the Boche. The whole country is rolling downs, looking in the distance like a ploughed field,·but in reality a continuous series of shell-holes and mounds between them. The area is thickly dotted with specks of black and grey, lying motionless on the ground. When you approach, the black patches rise into a thick buzzing swarm of bluebottles, revealing underneath a bundle of torn and dirty grey or khaki rags, from which protrude a naked shin bone, the skeleton of a human hand, or a human face, dark grey in colour, with black eye holes and an open mouth, showing a line of snarling white teeth, the only touch of white left. When you have passed on again a few yards, the bluebottles settle again, and quickly the bundle looks as if covered by some black fur. The shell-holes contain every debris of battle, rifles, helmets, gas-masks, shovels and picks, sticking up out of the mud at all angles. One cannot see these ragged and putrid bundles of what once were men without thinking of what they were - their cheerfulness, their courage, their idealism, their love for their dear ones at home. Man is such a marvellous, incredible mixture of soul and nerves and intellect, of bravery, heroism and love -it cannot be that it all ends in a bundle of rags covered with flies. These parcels of matter seem to me proof of immortality. This cannot be the end of so much.
24 September: It seems hopeless to overtake the front line by building roads across this vast waste of mud. The latest idea is to lay down a hasty 'decauville' light tramline, from the left of High Wood towards Eaucourt L'Abbaye. The company has stopped work on the roads and is to lay these tramlines. This, however, presents me with a new headache, for we have to carry the tramlines on our wagons from Becourt to High Wood. The big gauge railway has now been laid up to Becourt, where the guns were a week ago! Half a mile of big gauge railway was laid in forty-eight hours, and the trains began to run before the line was ballasted.
War diary

16-20 October 1916
Work on tramway track of making numerous "crossings" grading line to max gradient 1/40 (to take petrol deliveries) -- This completed by 18th, widening, cutting, wiring in the track. On account of damage being done by Artillery using the track for wagons and also "tanks" crossing it.
On the evening of the 17th orders received from the Corps notifying that the Company was "selected" to maintain, extend and entirely control all III Corps Tramways -- Permanent parties of 200 Pioneers, 200 Infantry, 50 heavy artillery attached to the Coy. - For this purpose it was considered that appointment of a senior officer in general charge of the work would be required but CE directed O.C to perform these duties. Making of new huts for the Coy at point immediately N E of Mametz Wood put in hand (No 3 Section 2nd Lt Thompson) on the 16th -- Billets shelled intermittently throughout the night of 16th and 18th, no casualties which was lucky. S.O to CE III Corps visited O,C on 19th reference tramway work and give details of the numerous requirements to enable the new system to operate early.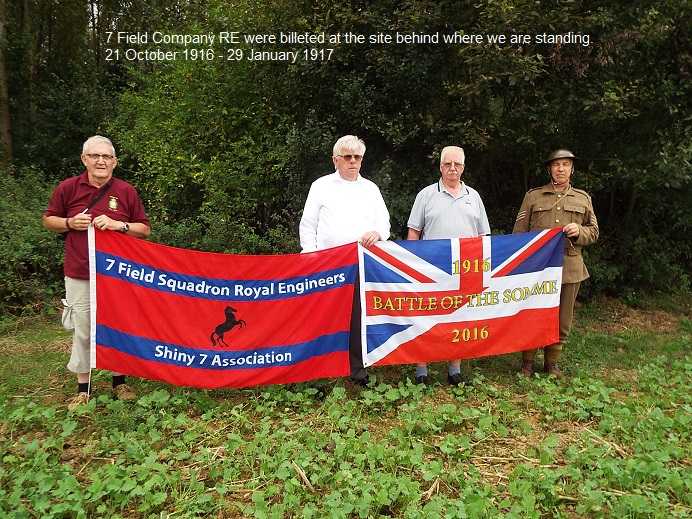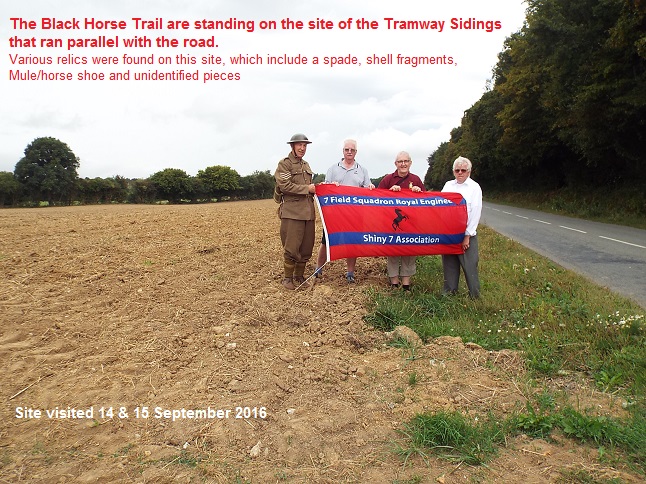 Site visited 15 September 2016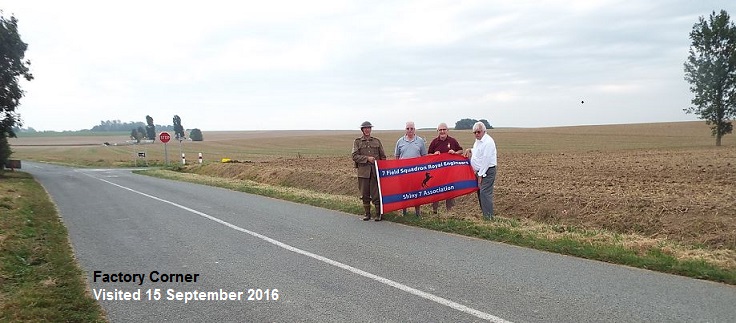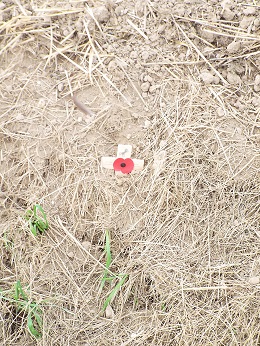 A poppy cross was placed at Factory Corner in respect of
Spr Henry Reynolds
K.I.A. 27.11.1916
2nd Lieutenant H.A. Baker

Special work on III Corps light railway in the Somme area 17th October 1916 - 29 January 1917.

On the Division being relieved early in October the 7th Field Company was retained to work on the forward 60cm tramlines or "Light Railways" whose rear ward extension to meet the heavy gauge line south of Bazentin village was undertaken together with the construction of a number of branch lines for artillery service. Similar lines were now in hand by other Divisions of III Corps. The appalling state of the roads caused by the immense concentration of troops in what had been a comparatively road-less agricultural district, and enormous mass of artillery which had to be supplied with ammo and food, rendered the problem of supply very difficult and critical. Add to this the continual rains which converted roads into streams of liquid chalk and it will be realized that the only solution to the problem, if the offensive was to be continued was the rapid development of a network of light railways under Corps control, with proper movement control, staff operating and maintenance personnel. On the 17th October 7 Company was detailed to maintain, extend and control all III Corps tramways. The receipt of the following letter from the C.R.E. dated the 19th October 1916, was very gratifying to the Company (at this time it appeared that the Company might be leaving for good the 50th Division, with which it had served since June 1915)

O.C. 7 Field Company RE.

Now that the 7 Field Company RE is shortly leaving this Division, I wish to take this opportunity of bidding farewell to the Company and of thanking all ranks most heartily for the manner in which they worked under my command during the past 15 months. During this period the Company has constantly earned ungrudging praise from the G.O.C. Division and from the G.O.C. Brigade to which it has been attached. The work of the Company has always been carried out with cheerfulness and efficiency during often very difficult times, more especially in the spring of this year and during recent fighting here. No task has been too hard, nor have difficulties ever been raised. I am proud to have a Company with such a record under my command and how I can only deplore the fact that for good of the service it has been found necessary to take you away to other work, and most heartily congratulate you on being selected out of the Field Companies of 4 Divisions for this special work. Will you please pass on to all your officers and to all ranks of the Company my warmest thanks for the past and my good wishes for the future, with the hope that you may soon return to the 50th Division.

Signed;
C.W. Singer Lt Col RE C.R.E. 19.10.16. 50TH Division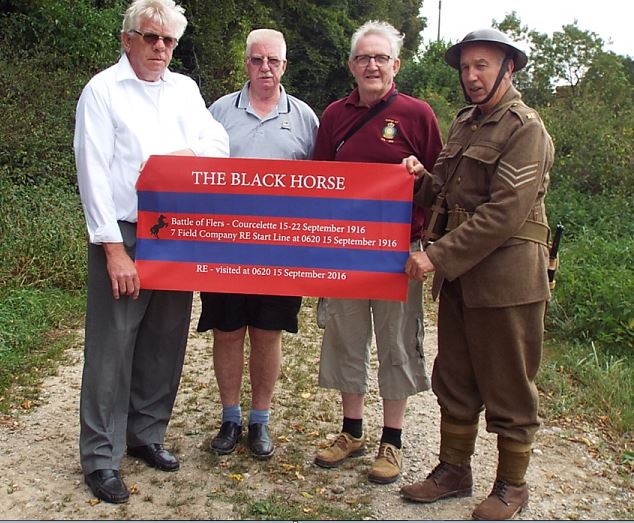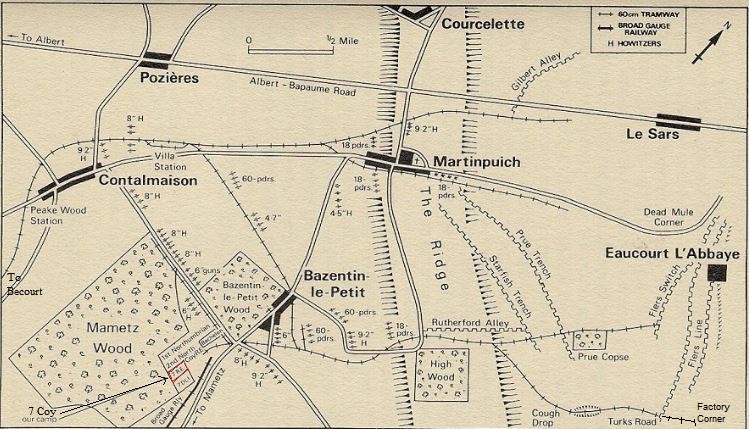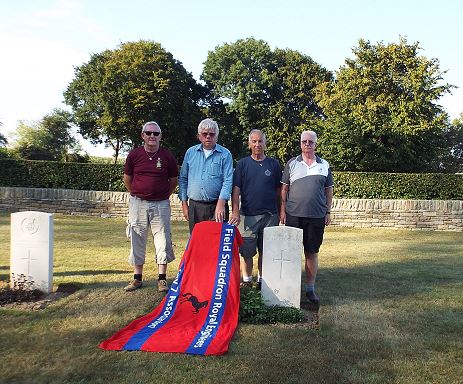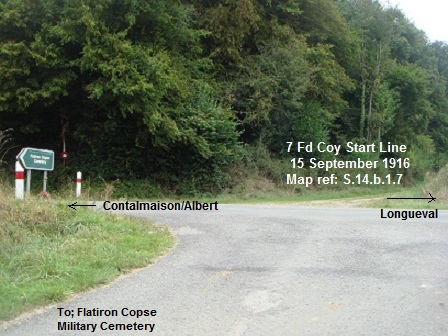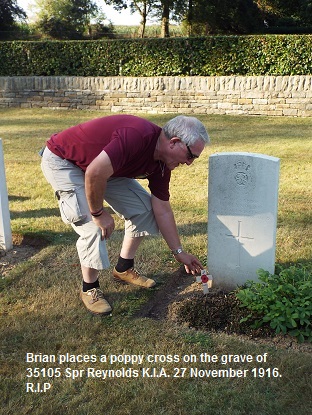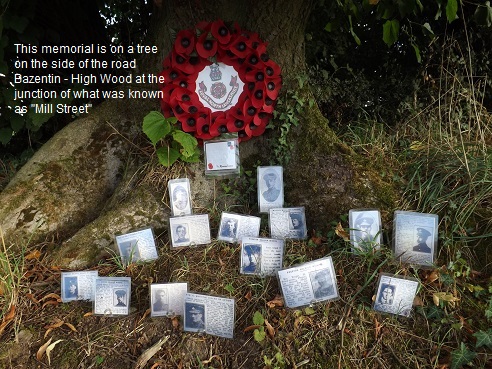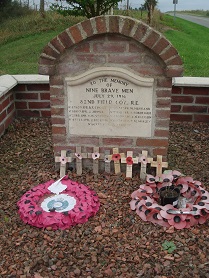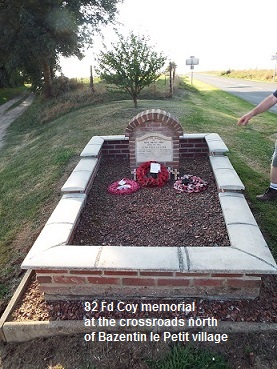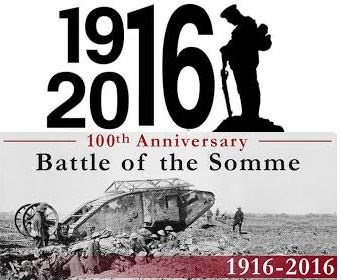 War Diary

7 September 1916
No3 & 4 Sections (No 3 Sect 2nd Lt Thompson RE No 4 Sect 2nd Lt Slattery RE) commenced work on a Battle Bde HQ in the quarry at Pt.S.8.d. 9.9 near Bazentin Le Petit village. No 3 Section had to deeply excavate in quarry face for 2 French Steel Sector dugouts each 12' by 10'. No 4 Section commenced a deep underground dugout in the quarry consisting of 2 entrances (lined with 6' by 2' 6" mining cases) stepped down to 15' below ground level, connected by 24' gallery
(6' by 4') of which 3 dugouts 6' by 10' were to be located. To assist No 4 Sect in this work, 25 miners (7 N.F) was placed at our disposal, thus enabling 4 x 6 hour shifts enabling work to go on continuously. Excavation in the chalk was comparitively easy but in doing the gallery it was found necessary to keep walls timbered up to avoid falls in the roofing..
Bazentin le Petit
Bazentin le Petit
Bazentin lePetit
Above: Trying to photo this banner in the dark wasn't possible due to the reflection of the flash so we did a retake in the afternoon. We were at this location (just off the main road) when Prince Charles convoy came past. This means HRH Prince Charles visited 7 Coy's start line and drove past close to other 7 Coy's sites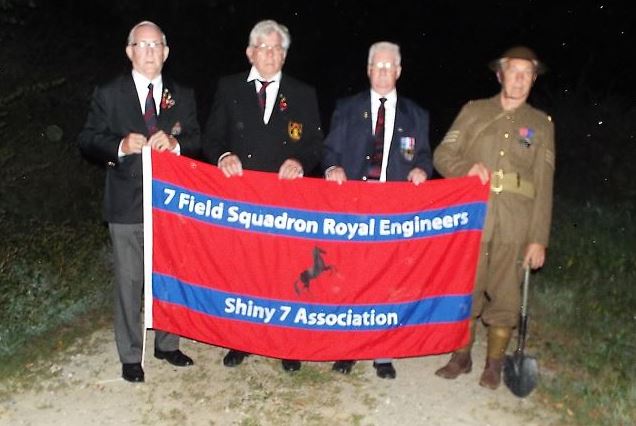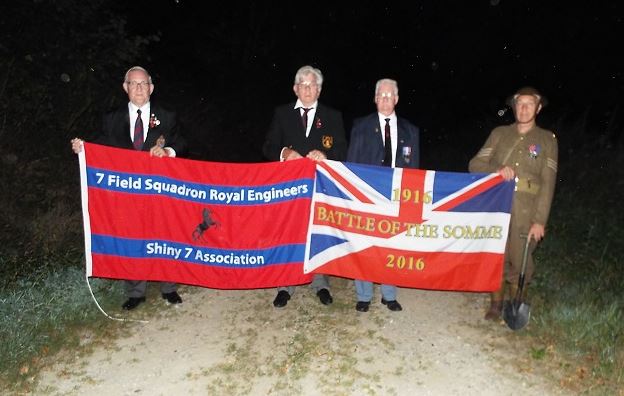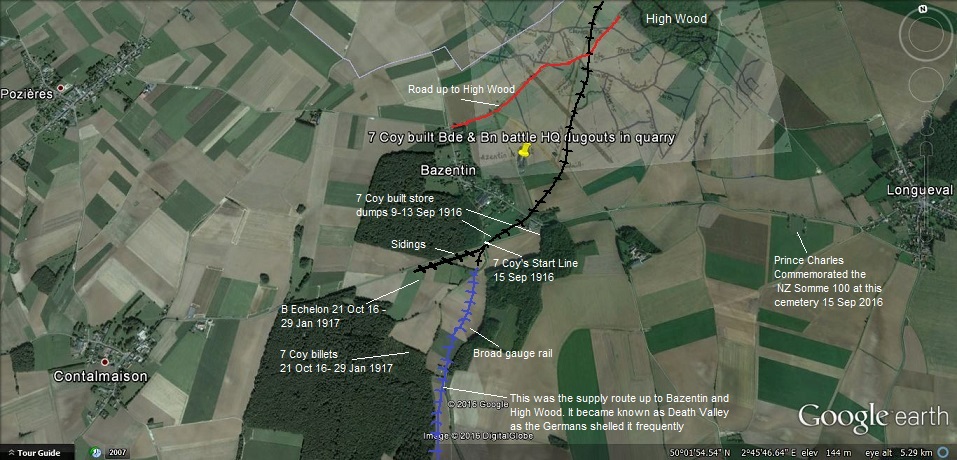 Bazentin Military Cemetery

This memorial was originally made with bricks from the village, and was renovated in 1989; it commemorates men from the 82nd Field Company, Royal Engineers, who were killed on the 29th of July, 1916. Men were sent on wiring parties to Bazentin, with three killed one night and another six the next day. Another 19 were wounded on the second occasion, from a party of 40.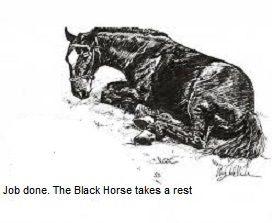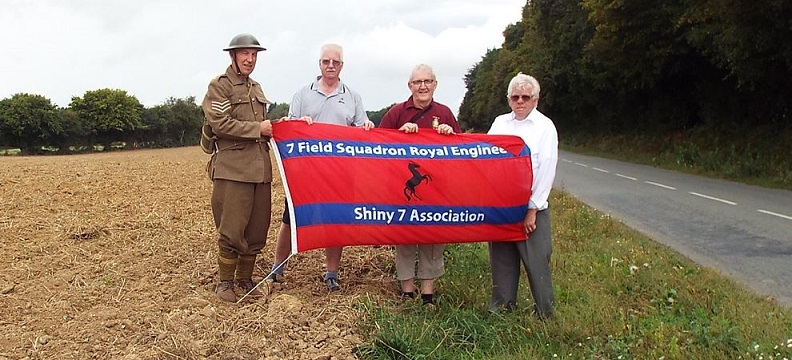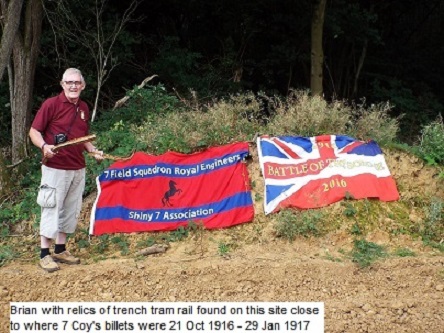 The Black Horse Trail on the site of the tramway sidings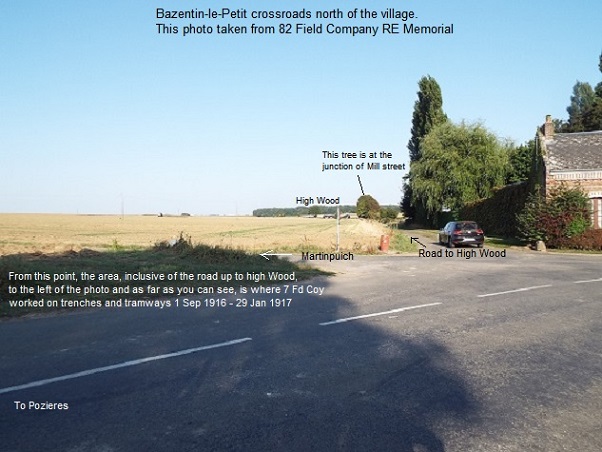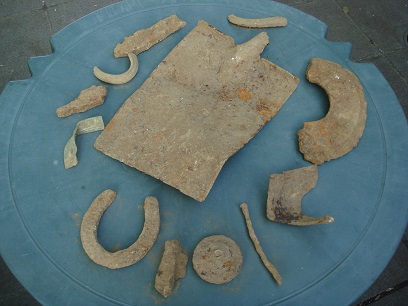 These relics and shell fragments were found
on the tramway sidings site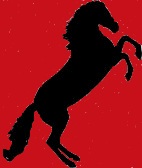 Tramlines

Notes
1. The left hand tramway system from Peake Wood to Villa Station and then east of Martinpuich

2. Right hand system Bazentin le Petit to High Wood and down to trenches and Flers Line.

3. Note the frequent branch lines taking artillery ammunition to batteries

4. A ridge of high ground extended from High Wood to Martinpuich and Courcelette. Everything east of this ridge was in view of the enemy.

5. Notice the concentration of guns and other installations west of the ridge and hence invisible to the enemy.

6. By January 1917 the daily tonnage on the Peake Wood - Martinpuich line was 103 ton
and on the Bazentin - High Wood line 170 ton
The Black Horse Trail 2016

The Black Horse Trail did plod, where 7 Company once trod
we have seen where they toiled, dirty and soiled
in the extremes of weather they did it together
their tasks were a plenty, often dangerous and hefty

No task too great, no task too small,
with pride and care they gave their all
they were needed here, they were needed there,
in section strength they did it everywhere.

Their prowess and skills that were on demand,
often earned them praise from high command
On the battlefield their comrades were lost
but the work had to be done at any cost

Sadness and sorrow, home comforts amiss,
why oh why did they have to go through this?
with the advent of war their fate was sealed,
and now we remember, their actions in the field.

For king and country they did serve
so let us remember them as they deserve
the Black Horse Trail did just that
and for what we saw we raise our hat.