7 Field Company RE 1941-1942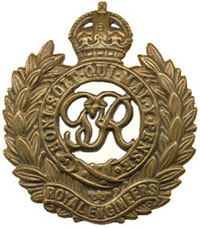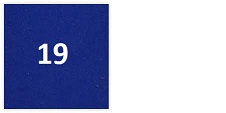 1941

January. The Company demonstrated bridging equipment to the divisional infantry Pioneers who were impressed with what they saw.

February. During exercise No 4, a Class 9 bridge was built over the Thames at Moulsford covering 160' wet gap and 50yds of marsh on the far bank. Because of the marsh, the job needed some improvisation on the far bank. The 'Beetle and Wedge' pub was situated on the approach to the bridge on the near side, and the OC treated the whole Company to a beer. The pub was almost dry at the close of business.

March. At Crawley Court, the company built a sports field, cutting the grass and levelling off bumps and dips. Competitive rugby and football were played regularly. Inspections by the Director of Economy and the Inspector General RE were followed by mobilisation, which was completed accept that 50% of the rifles and the Boyes A/T rifles needed zeroing and a range test. A demolition exercise was carried out along the river line at Romsey and other towns. Umpires inspected the sites to see how effective the work had been. The Home Guard came along and took great interest in the demolitions involving craters blown. 'Monty' ordered exercise No 5 to prove that 3 and 4 Divisions were ready to take on the Germans anywhere at any time. The exercise took place at Bovington Camp. 1 section was captured on the last night of the week-long exercise.
Lt Clarke was promoted to be 2i/c of the 59th
Howbery Park near Wallingford in Oxfordshire
The Shiny 7 attended Bridge Camps here in 1940/41

The grounds of Howbery Park is a 65 acre site, illustrated in this aerial view between the top line of hedge and the bottom line of hedge. Troops were billeted in Nissen huts, which were located in different parts of the estate. My guess is that the bridging took place in the lower half of the camp as the top half has rows of trees close together, which would have been there at the time the REs had their bridging camps. The lower half now belongs to a farmer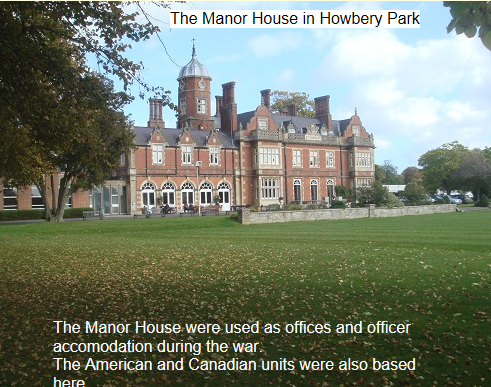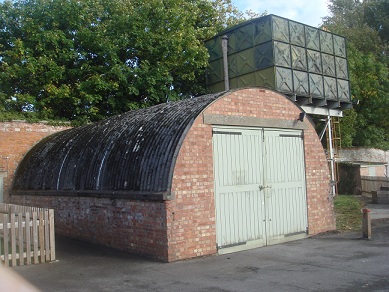 A Nissen hut and water tower are two of very few remains of military structures left in Howbery Park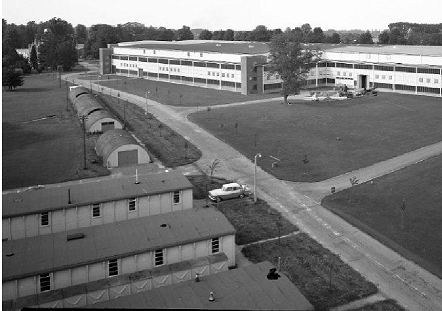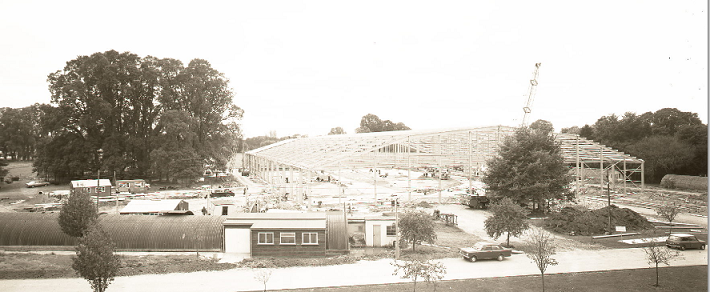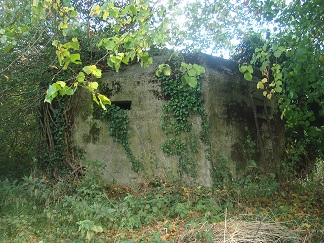 A Pill Box sits on the bank of the River Thames in Howbery Park
These photos were taken sometime in the late 1950s or early 60s. The Nissen huts are no longer there. Construction of one of the many new buildings in the park can be seen above

Howbery Manor Park was used by the military in WW2. The Royal Engineers ran Bridge Camps in the grounds
April. The Company officers were: OC, Major J C Walkey, 2i/c, A/Capt p l Bradfer-Lawrence. Sections: 1, Lt Rees, 2, Lt H W. B. Stephens, 3, Lt J R Barron.
On 27th April 'Monty' took command of XII Corps SE Command the most threatened area of Britain. Lt-General Schreiber now became GOC VCorps.
May. Shiny 7th went to the tented 'bridge' camp at Wallingford from 9-18th of May, to train with pontoons using the 'Inglis' bridge, a WW1 bridge. The GOC of the Division inspected the '7' drawn up on the sports field in battle-dress order. He was delighted so everyone could relax a little. The 7th was at their best and he singled out one OR for special praise.
June. The 7th was selected to give further bridge and assault crossing demonstrations to the Senior Officers School and the Scots Guards Training Bn. 2 and 3 Sections gave demos on Bangalore Torpedos cutting through thick barbed wire obstacles
July. Due to developments of events, airfield security was a major concern. Infantry and the RA needed to be housed nearby. Sections began working on quarters and services for defence forces guarding airfields. The main locations were Langstock, Chilbolton and Danebury. Roads, drains, services and 20 Nissen huts were built by the end of August. This did not stop training, which concentrated on booby traps, gapping minefields and tank hunting. Many methods were used to gap minefields. At this time there were no mine detectors. The job had to be done by hand. There were experiments involving fastening bangalores. They also tried winding Cortex nets on a light axel and firing across the minefield with an empty mortar. This had possibilities but caused some problems for the mortar operator. Corps HQ put a stop to the experimentations.
Three weeks were spent using the new 'Inglis' Assault bridge, which was a scaled-up version of the bridge designed by Major (professor) Inglis, OBE, FRS. The bridge was not easy to assemble and there were also problems with other components making it difficult to handle and manoeuvre. As a result of a report handed in by the 7th, the 'Inglis' Assault bridge was discarded.
13 August. Major Walkey was posted to SME Ripon, Capt Bradfer-Lawrence became OC until Major M C Richardson arrived to take command on 25th August.
September. The local WVS set up a good canteen in the village, which was very popular in off duty hours. Each Sunday when in camp the 7th attended the village church for morning service. At harvest time a large number of volunteers helped bring in the harvest. Darts matches and sports helped break down a sense of isolation. Small plots in sheltered areas around the camp produced good crops for their owners. Exercises followed one another quickly. 'Locust', 'Stampede' and mighty 'Bumper' on 27th September lasting eight days apart from the days of preparation. it covered many counties in southern England. The 7th toured from the south coast to Anwell north of London. The exercise was reported as being the biggest ever held in the UK. The Corps band made a visit to Crawley Court and played at an RE Divisional 'Sports Day' held at Northwood Park. The 7th provided three challenge cups to bring two back home, losing the cup in the tug-of-war event. The band then attended an all ranks dance held in Winchester attended by the GOC 4 DIV, Brigadier Coxwell-Rogers CE V Corps and Brigadier Briggs. This was a great change from the normal routine. 76 Nissen huts were completed on the airfield camps by the end of the month.
14 September. The OC and the CRE attended a demonstration of the 'Bailey Bridge' by 17 Fd Coy RE. The first Bailey Bridge equipment was issued to RE Field Companies for training in October 1941. The bridge was popular with the Sappers due to the ease of construction and its great versatility, which was exploited to the limit. Many bridges were built while under fire, an example being the 'Amazon Bridge' over the Rapido at Cassino, which is the subject of a painting by Terence Cuneo. It is appropriate that Donald Bailey the inventor of the bridge was knighted for his contribution to this outstanding 'War Winner', produced from scratch in record time.

October. Mobilisation orders were issued 'M' Day was November 18th. Weapons were fired, samples of explosives tested. Reinforcements arrived, medical and dental inspections were carried out. Half of the Company at a time went on embarkation leave. 565 Coy RE, prepared to take over work on the airfield camps. There were strong rumours that the Company may be going to Russia. The Cabinet was discussing sending 2 Divisions to Russia.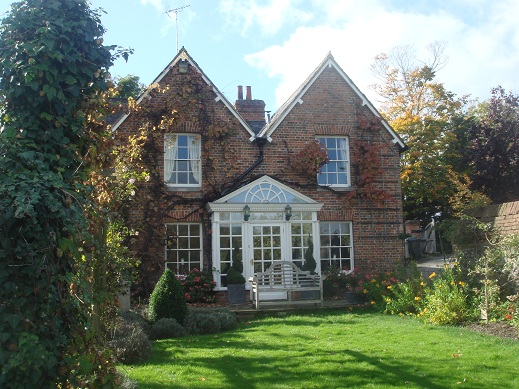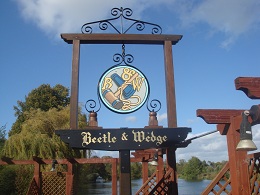 The original Beetle & Wedge pub where the Shiny 7 almost drank dry in February 1941. It is now a private house. The old boat house next door was converted to the current 'Beetle & Wedge' restaurant and hotel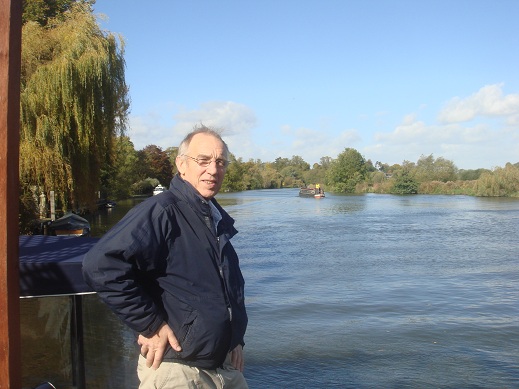 I'm standing next to the 'Beetle and Wedge'. Just either side of me was the site where the Shiny 7 built their Class 9 bridge in February 1941
Right:
In February 1941, the 'Shiny 7' built a Class 9 Bridge on this stretch of the River Thames next to the 'Beetle and Wedge' pub. When completed the OC bought the whole Company a beer in the
the 'Beetle & Wedge'.
The pub almost ran out of beer that evening.

1942
January. The GOC of the Division led in the new year with inspecting, personnel, billets and the MT. At Inveraray, Sections lived on board HMT 'Etterick' with other units of the Bde working as a team. 'R' boats were used to land infantry and recce parties and MLCs, TLCs for vehicles and guns. Sappers quickly learned to shin up and down rope ladders and drop on the deck of landing craft. There were various lectures and films attended onshore. At Cove, there was a two-week exercise mainly working in the evenings, an exercise that bore the 'Monty' stamp. One day in freezing weather a party cleared snow from Farnborough airfield and ice hockey was played on Hawley Common. Each day, irrespective of the weather, the day started with PT in the open.

23 March. The Shiny 7 would now support 11 Bde Commanded by Brigadier Cass. The infantry were no strangers, 1 E Surreys, 2 LF and 5 Northants. The company was to move to Hoddam Castle in Scottish command.

4 April. Easter Saturday at 0545 hrs '7' left Cove in convoy less 2 Section who were on leave.
6 April. Easter Monday. After night halts at Lutterworth and Doncaster racecourse, the 7th arrived at a POW Compound at Catterick Camp. Two days later at 0800 hrs, 3 Section marched off through Richmond heading towards a farm 3 miles east of Bowes on the A66. Exercise Bruce had begun, which involved low flying aircraft attacking the Section.
12 April. The Company arrived at Hoddam Castle at 1215 hrs. 3 Section were detached to Langholm to build a camp for the 2 LF and 5 Northants mainly constructing Nissen huts. The Section lived in tents by the river flowing down to Langholm. After exercise 'Percy', 1 Section built a sewage system with filter beds, roads then later, tank standings at Hoddam Castle. From 6th to the 30th April, 2 Section worked at Inveraray under CTC as a demonstration party for engineering beach work. Regular marches on Scottish hills with infantry using live ammunition were a feature, the slogan 'Brains saves sweat and sweat saves blood' was learned to the full.

May. The Division became one of the first to be reorganised as a 'model' into a mixed division of two infantry Bdes, 10 and 12 and one Tank Bde, 21ST. 11 Bde left the Division to join the 78 DIV. 'Shiny 7' would support 21 Tank Bde. The tank units were 12 and 48 Bns RTR and 145 RAC. The Bde was equipped with 'Churchill' tanks weighing 40 tons, Class 40. Bridges were recced to ensure they could take the weight of a tank.
30 May. Shiny 7 left Hoddam Castle for an abortive exercise 'Schuyt III' and then went to a new location, Kershopefoot Camp arriving at 1900 hrs. This was a small railway halt on the England-Scotland border. It was ideally situated with more than adequate accommodation and had a sports field. Kershopefoot burn ran alongside the camp and had plenty of Salmon adding to the fare. The local people could not have been more hospitable and a number of the 7th married local girls.

June. Thirteen truckloads of Bailey bridge arrived at the station. A few days later 1 and 2 Sections built a 110' DS on a dry training gap in camp, and a 140' TS on a virgin site using the whole of the equipment. It would be a long time before '7' built a longer Bailey bridge.

12 June. Kingsholm Quay, Dumfries, a disused dock with a gap of 70' was used for an inter Section competition between 1 and 2 Sections. 1 Section won building their 80' DS in two hours eighteen minutes. 2 Section took a few minutes over three and a half hours and considering their bridge over-balanced into the gap this was a very fast time. The Company wireless operators were attached to 21 Tank Bde in readiness for the arrival of the company's first wireless sets.






Below: 7 Field Company War Diary typed out as per how it was written
Below: 7 Field Company War Diary typed out as per how it was written
Below: 7 Field Company War Diary typed out as per how it was written
Below: 7 Field Company War Diary typed out as per how it was written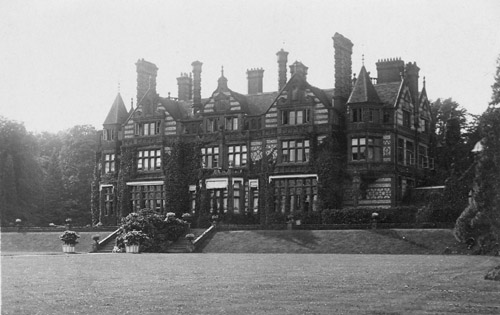 Crawley Court used by the military in the 1940s. It was demolished in 1970
The Shiny 7th were billeted in the grounds November 1940 - December 1941
7 Field Company War Diary typed out as per how it was written


Each Sunday when in camp the 7th attended the village church for morning service.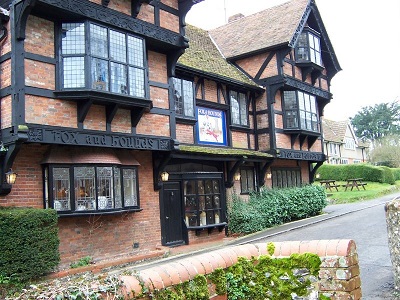 The Fox and Hounds pub in Crawley village was the local pub and would have almost certainly been frequented by members of the Shiny 7th during their 13 month stay at Crawley Court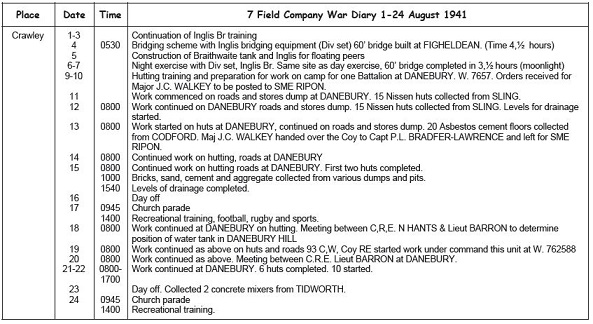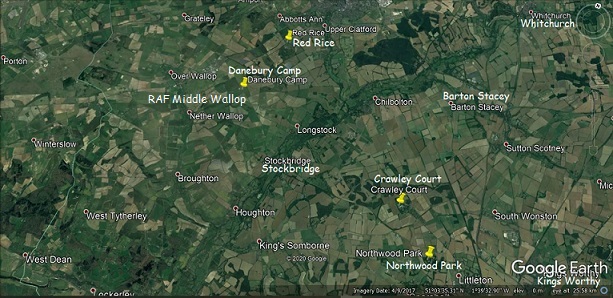 Note: Major J.C. Walkey RE, went on to be Chief Engineer XIII Corps 1943-1947
(7 Fd Coy - 4 Division was part of XIII Corps during Op Diadem/Honker when they broke through the Gustav Line at Cassino May 1944)
1949–1951 Assistant Commandant of Royal Military Academy Sandhurst
1951–1954 Chief Engineer Middle East Land Forces
1954-1957 Engineer in Chief, War Office
1957 Retired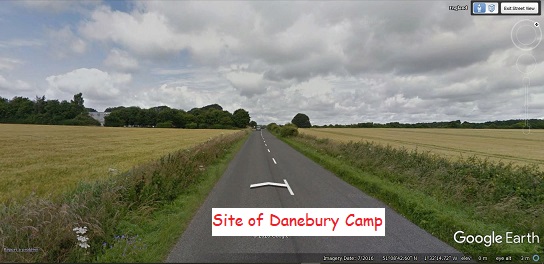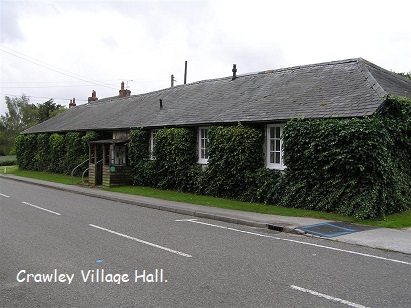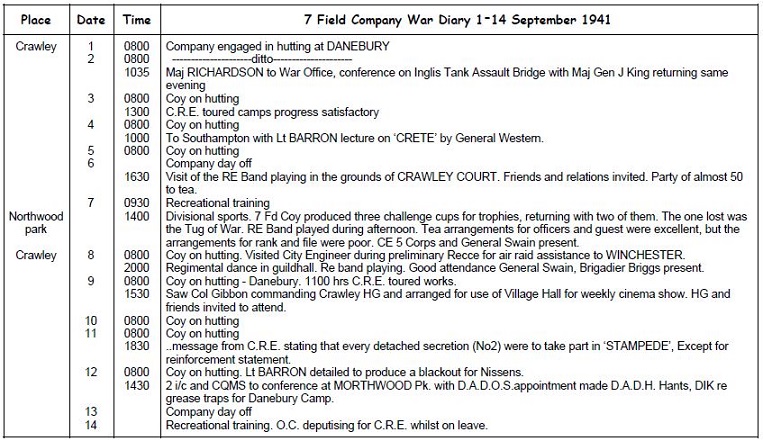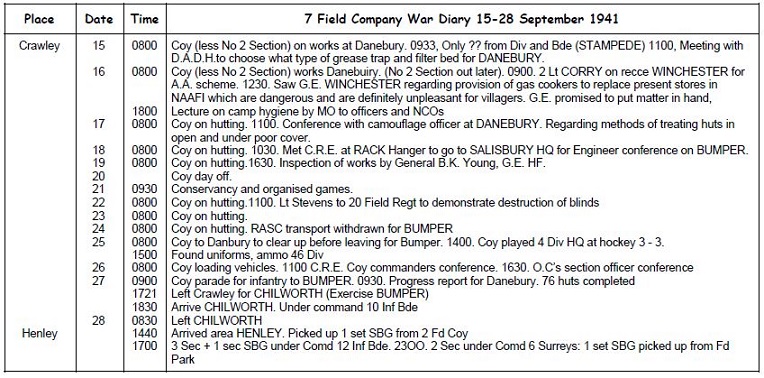 November. It was now a case of 'Flap Off', and of course all the bets. The Division would move to Aldershot Command in the role of mobile reserve for SE Command, of which, 'Monty' was GOC in C. At the same time, it would form part of the '110 Amphibious Force'. Combined operation training began. The Shiny 7's introduction to combined ops training was an exercise on land somewhere on Salisbury Plain due to a shortage of landing craft. Parties were attached to the infantry to supervise BTs being blown to cut gaps in heavy barbed wire.
02 December. '225' took over the AA scheme at Winchester and at 1100 hrs the 7th moved out of Crawley Court for Elles married quarters at Cove. The new billets were private quarters in a high state of maintenance. The OC told the Company that the Army had now moved on to the offensive and training would be organised accordingly. Hawley Common nearby and its pond was used for field engineering and bridging. The 7th continued in support of 10 Bde and partnered 2 DCLI demonstrating a combined assault on A/T defences. No mechanical means were available to dig the A/T ditch so a series of overlapping craters were blown. Lt Stephens was posted to the War Office, and 2nd Lt Hodgart arrived from 51 Highland DIV as OC 2 Section. Parties went to lock Fyne, Inveraray for combined Ops training. Christmas was celebrated in the traditional style.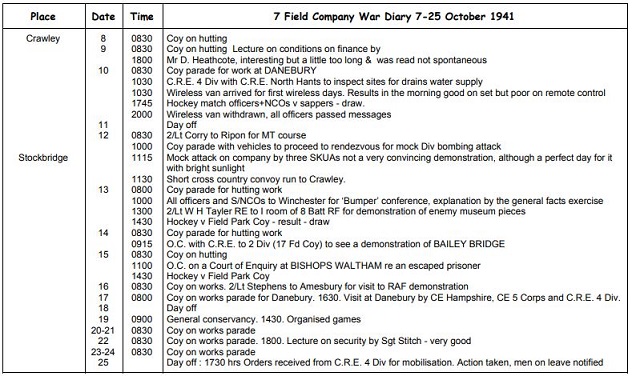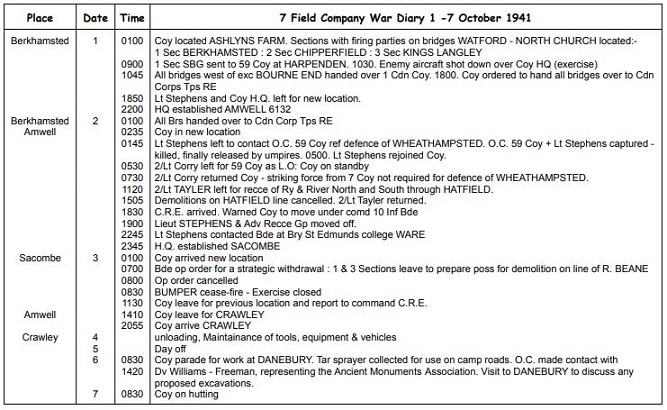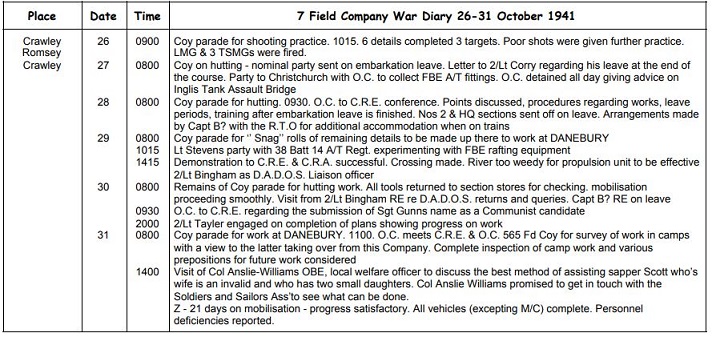 7 Field Company watched movie and training films in the village hall
Photo 1946.
RAF Middle Wallop, was an active fighter and night fighter aerodrome in the Battle of Britain.
Danebury Camp billeted the aerodrome protectors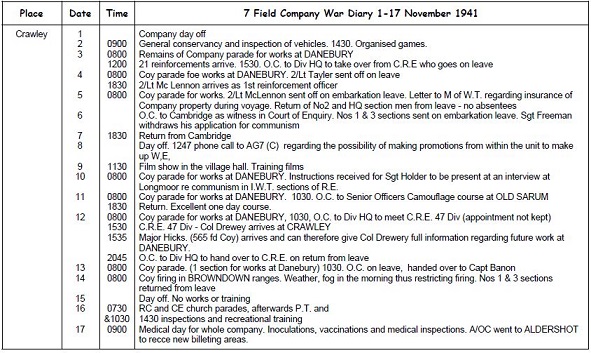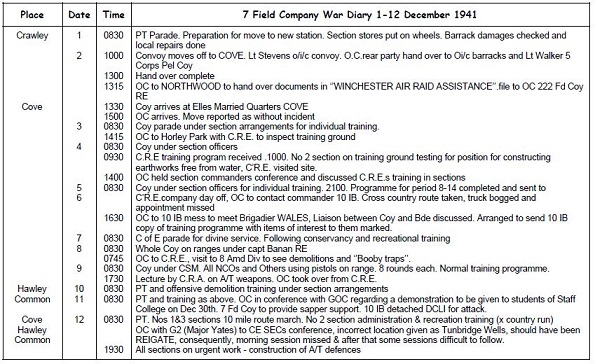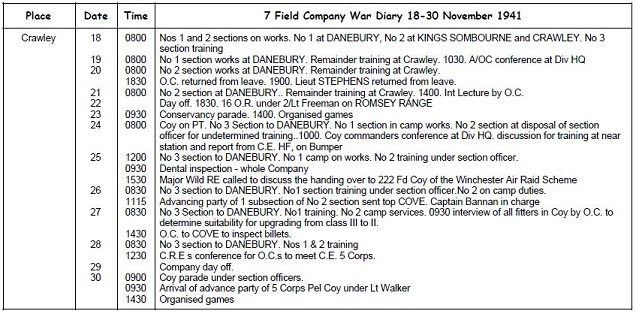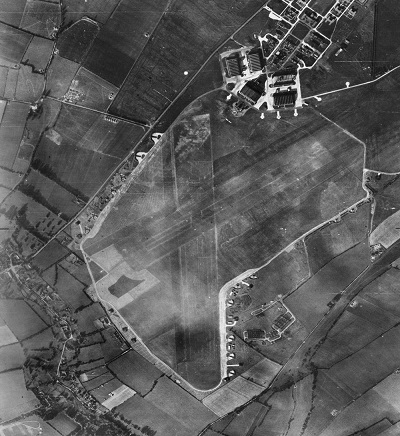 7 Field Company War Diary typed out as per how it was written
7 Field Company War Diary typed out as per how it was written
7 Field Company War Diary typed out as per how it was written
7 Field Company War Diary typed out as per how it was written
7 Field Company War Diary typed out as per how it was written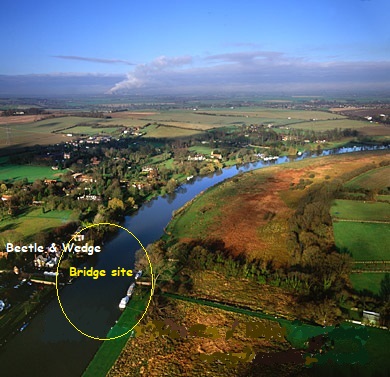 13 July. An endurance test began in the morning. The dress was marching order and one blanket. The walk across country 70 miles to Coldstream taking only three days rations. MT would lift the Sections five days later, no buying, begging or theft of food was permitted. Wild game and fish could be caught.
31 July. The 7th moved out for ex 'Dry Shod' aptly named as it poured down the eight days. A rum ration was issued at the end of the exercise.

August. By this time the allies had decided on 'Gymnast' later called 'Torch', the attack on NW Africa. '110 Force' would take part in the assault. During one week the GOC General Alexander went to the Middle East. 'Monty' became GOC only to take command of the 8th Army. '110 Force' became the 1st Army commanded by Lt-General Anderson.
In the desert at the end of the month, the 8th Army stopped Rommel's last bid to take Egypt.

1 September. The Company moved to Halton bridge camp on the river Lune. Within days the river flooded requiring great care ferrying Churchill tanks across the river.
3 September. At 0900 hrs a voluntary church parade was held on a day of National Prayer. Britain's war situation had plummeted, with a catalogue of failures against the Germans and the Japanese in the Far East. This did not affect the morale of the 7th which was, and had been at a high pitch for a long time.
15 September. The Company returned to Kershopefoot.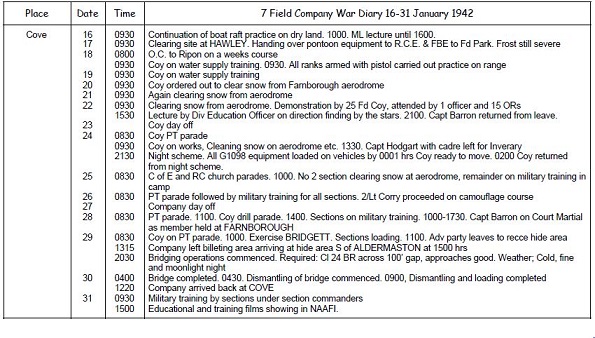 7 Field Company War Diary typed out as per how it was written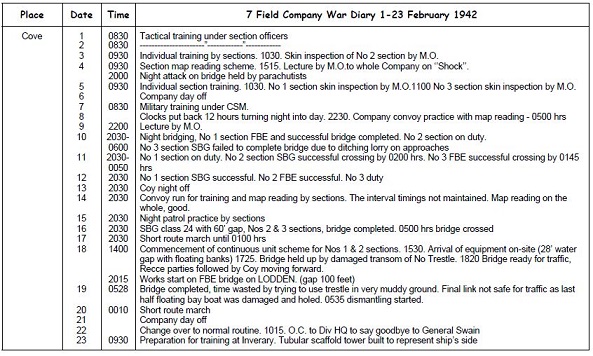 7 Field Company War Diary typed out as per how it was written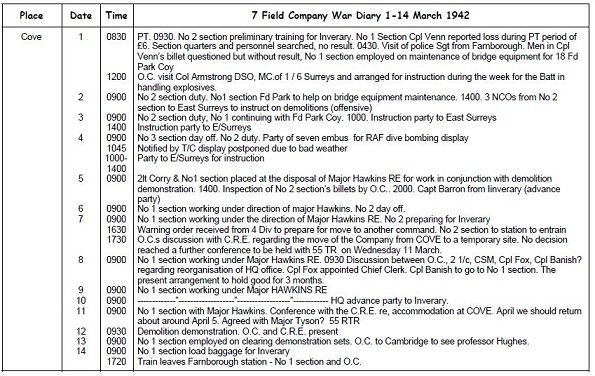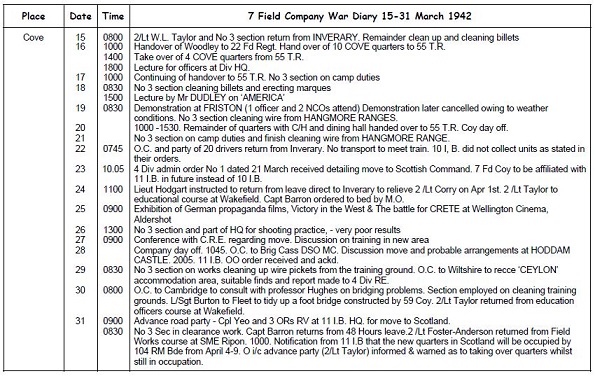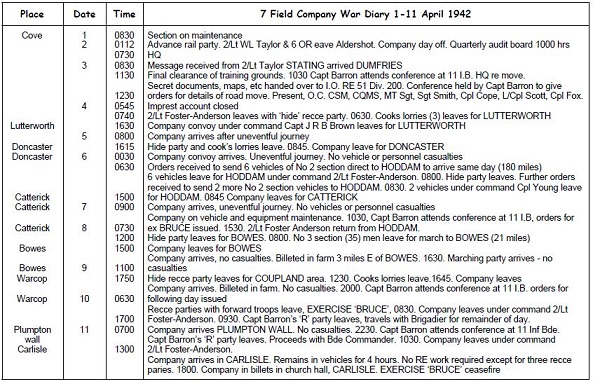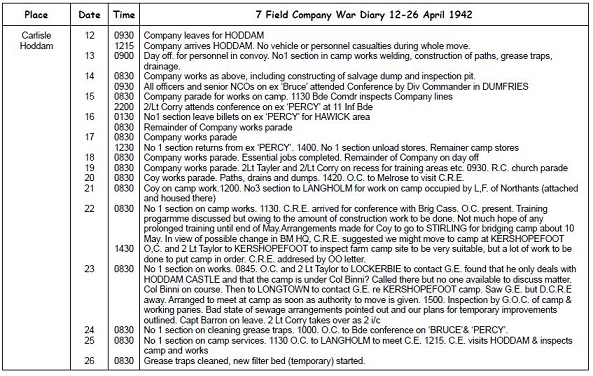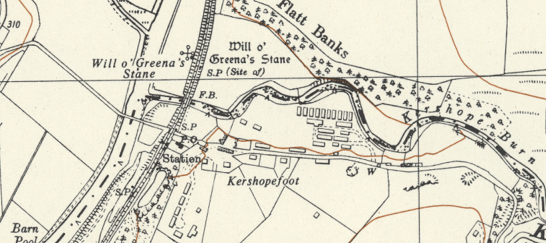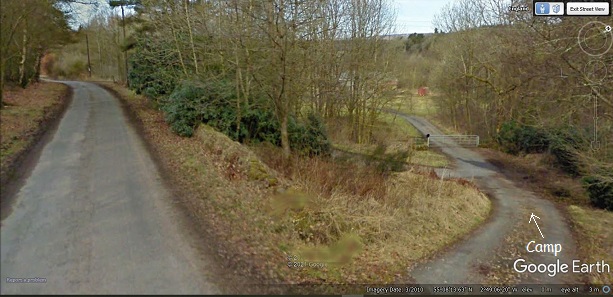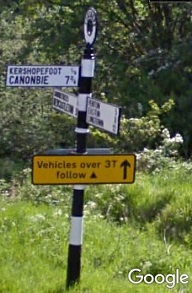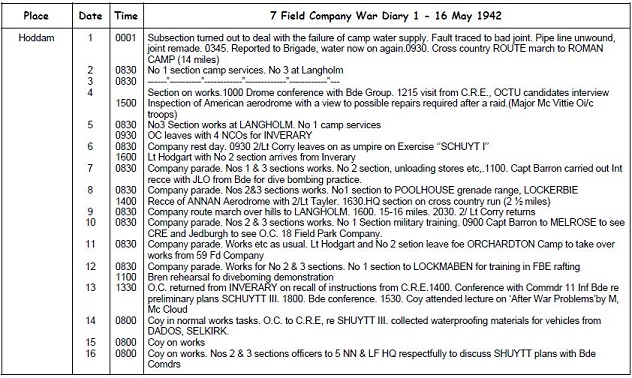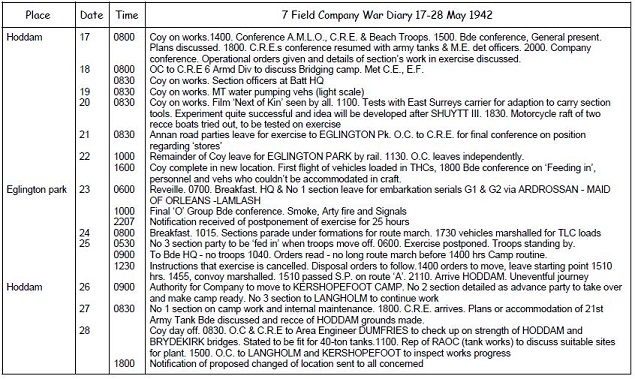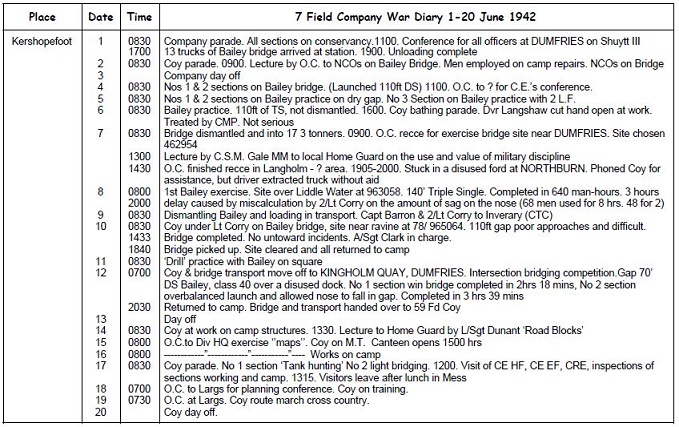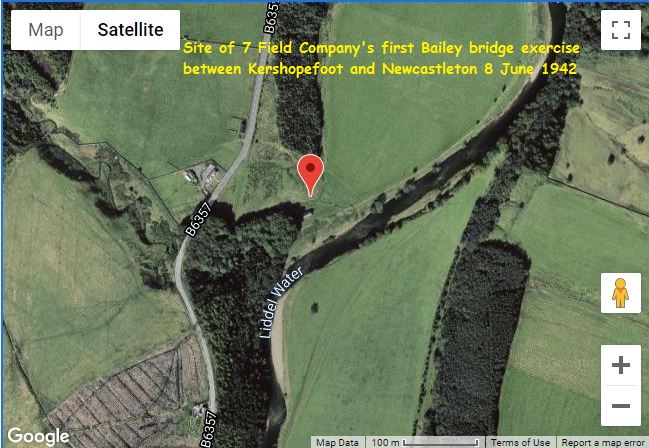 Extract from the 7 Coy's War Diary 8 June 1942:
1st Bailey exercise. Site over Liddle Water at 963058. 140' Triple Single.
Completed in 640 man hours, 3 hours delay caused by miscalculation by 2/Lt Corry on the amount of sag on the nose (68 men used for 8 hrs 48 for 2)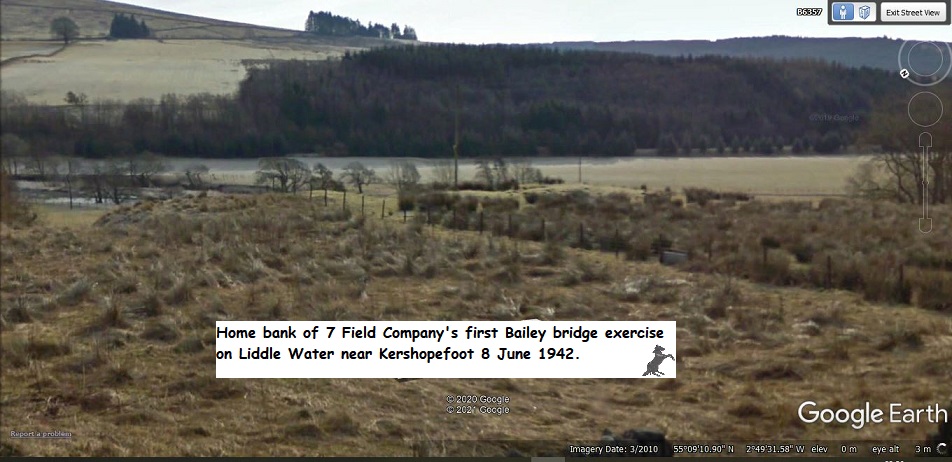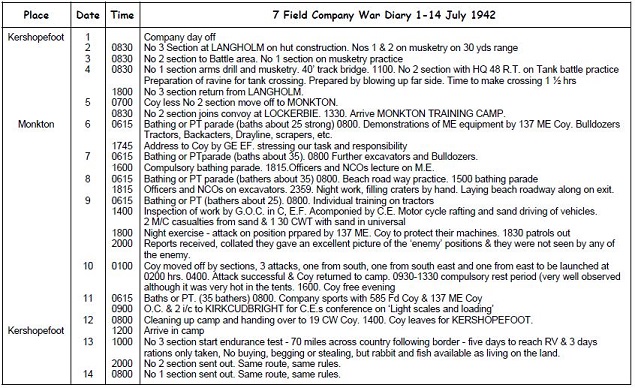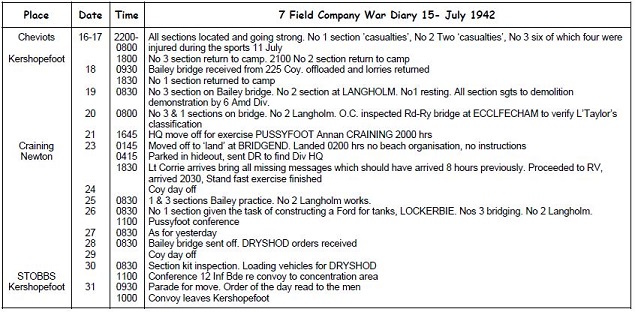 15-31 July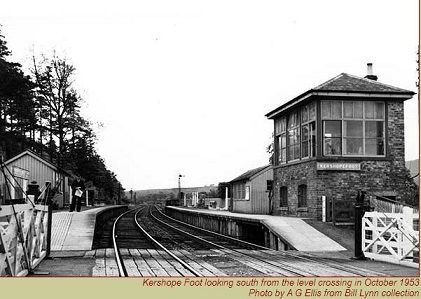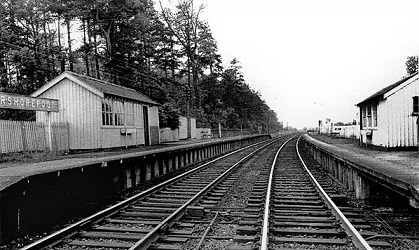 Kershopefoot railway station, Company personnel arrived and departed. Stores including the Bailey bridge was sometimes delivered by rail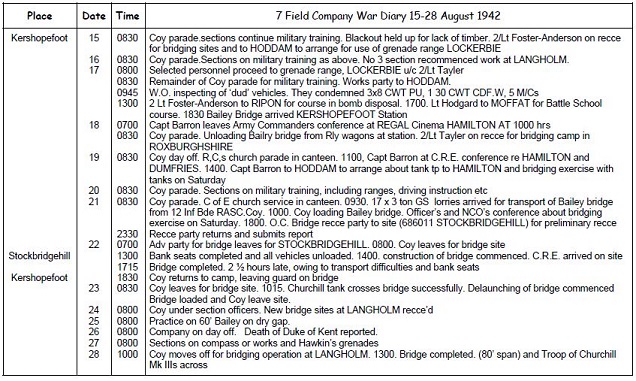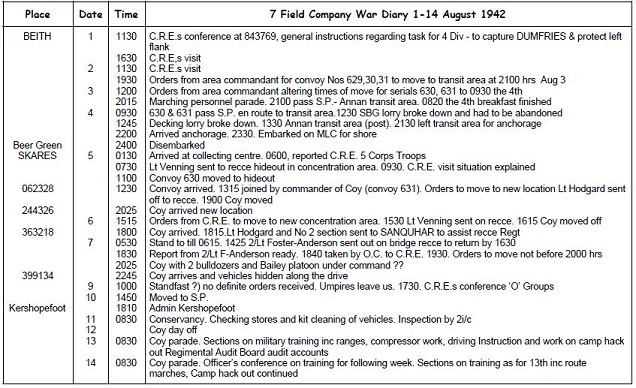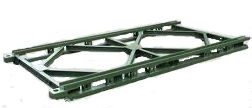 During 7 Field Company's stay at Kershopefoot
they were introduced to the new Bailey bridge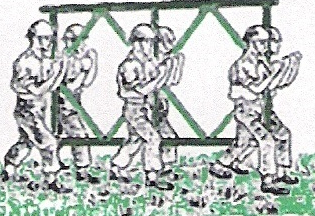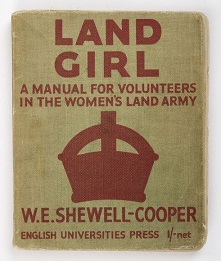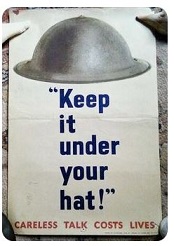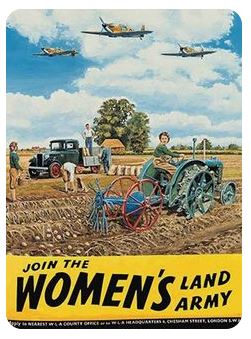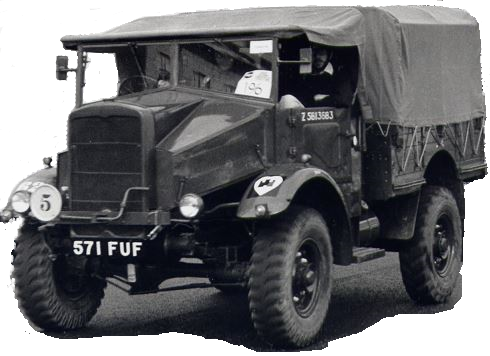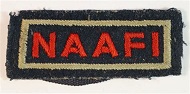 Morris 15 cwt truck.
One of the vehicle types on 7 Coy's MT at this time
British army emergency ration chocolate
October. Topical lectures, visits by high ranking officers, and the arrival of No 21 wireless sets indicated that something was afoot. The sets were quickly installed in Section PU's and two in the HQ vehicles, and put to test on exercises 'Flaxman' and 'Moss Trooper'. Sections were detached along Loch Fyne. Lt Wake RN was attached to advise on suitable landing places. Troopships came into the loch disgorging American troops in a rehearsal for 'Torch'. Sections were employed improving landing areas. On October 24th the Company left Ardno arriving the next morning at Kershopefoot not without casualties. A 30cwt CDF left a moor road in open country. Cpl Scott and Spr Spelman were injured and evacuated to Moffat Cottage Hospital. Spr Spelman sustained a fractured skull. Next morning the hospital advised both were comfortable. For the first time in 'Corps' history Sections were now being lettered, A, B, C. Numbers were discarded. This was to bring it in line with the infantry and tank units. The 8th Army won the battle of El Alamein on November 4th after twelve days of heavy fighting. A curtain-raiser to the 'Torch' landings. After a short stay, Lt R P Hutchinson was posted to the 59th.

December. B and C Sections went to Ripon for a wet bridging course lasting two weeks. On return to Kershopefoot B Section made successful experiments for the passage of Churchill tanks over the boggy country using 2" tubular matting. An 'All Ranks Dance' was held on Christmas Eve and Christmas Day was off duty. The New Year was celebrated in typical Scottish fashion the 7th being the guests of the local people.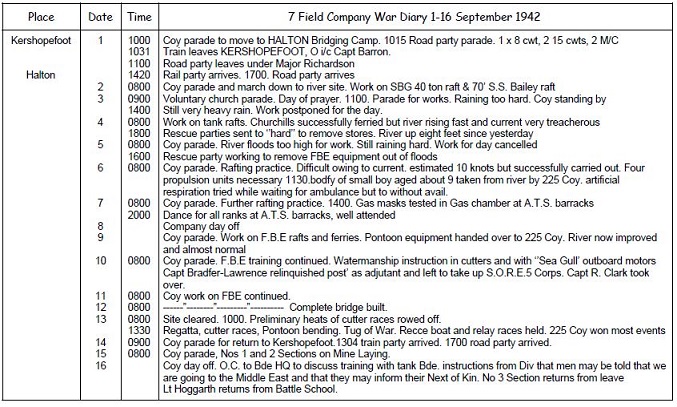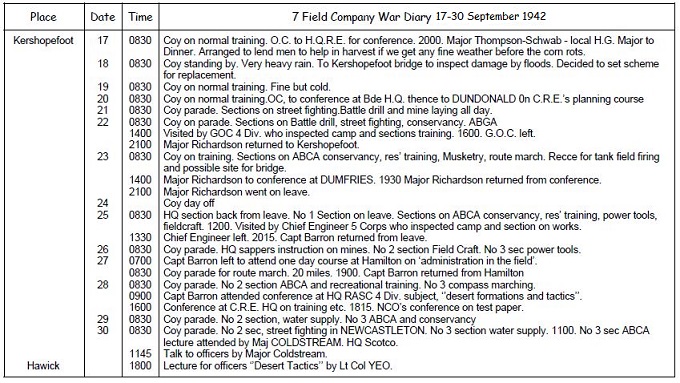 The Company trained to use the prismatic
compass including on marches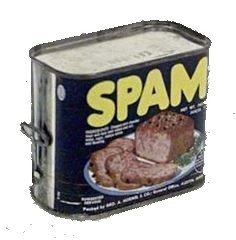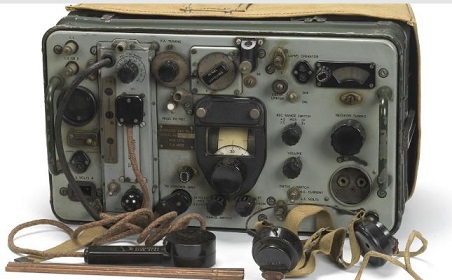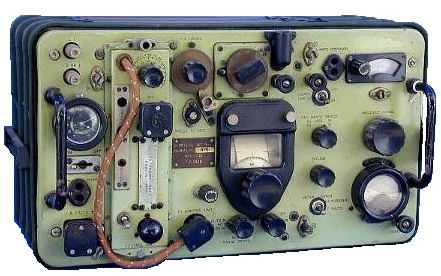 Wireless set No 21. 7 Field Company took delivery
of these in October 1942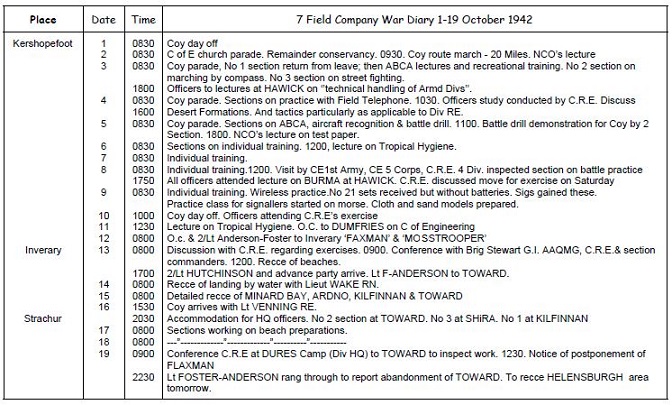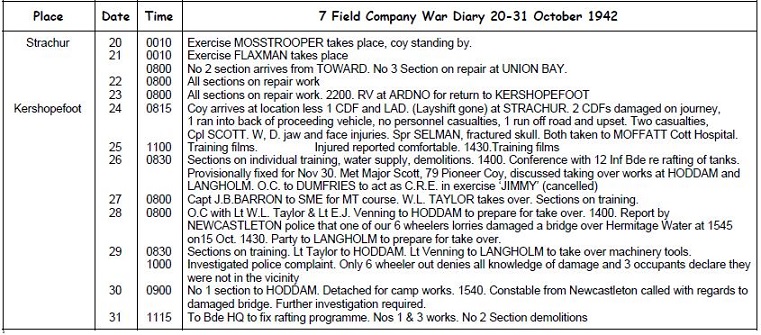 Morris CDF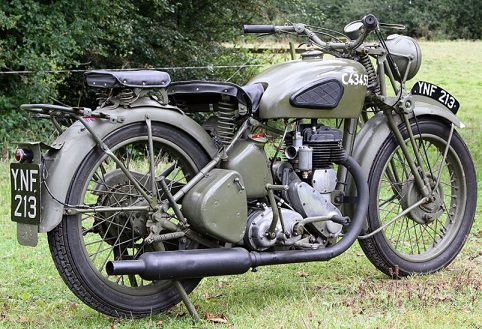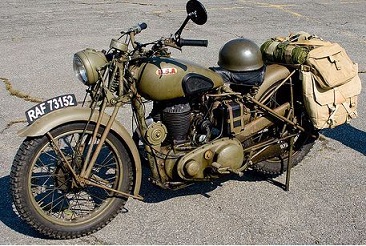 BSA M20 Motorcycle used by the British Army.
7 Field Company had several on their MT Shedule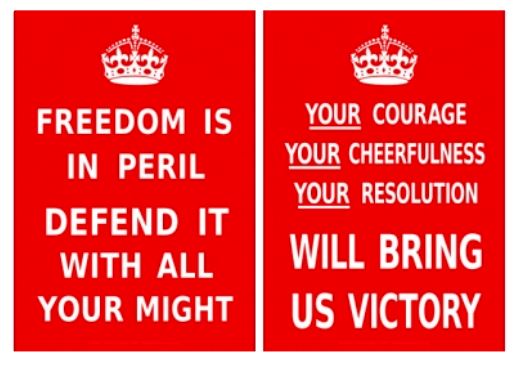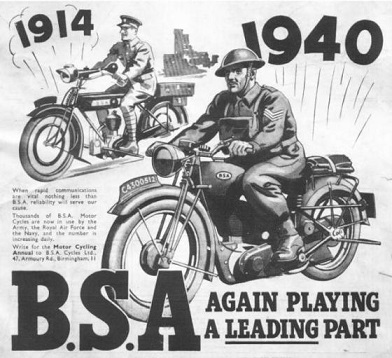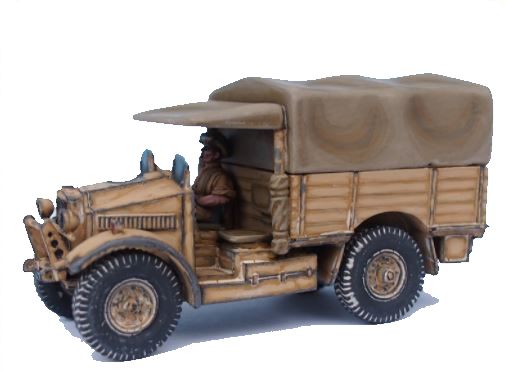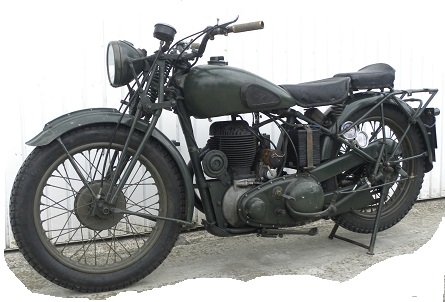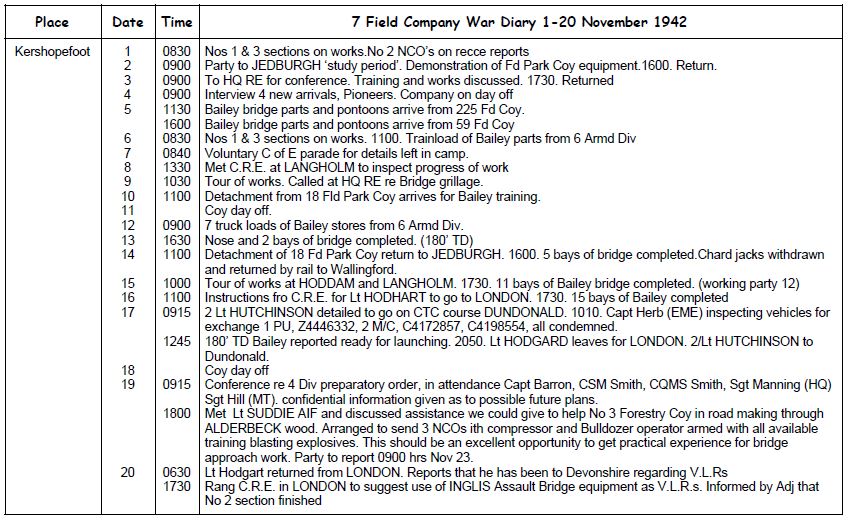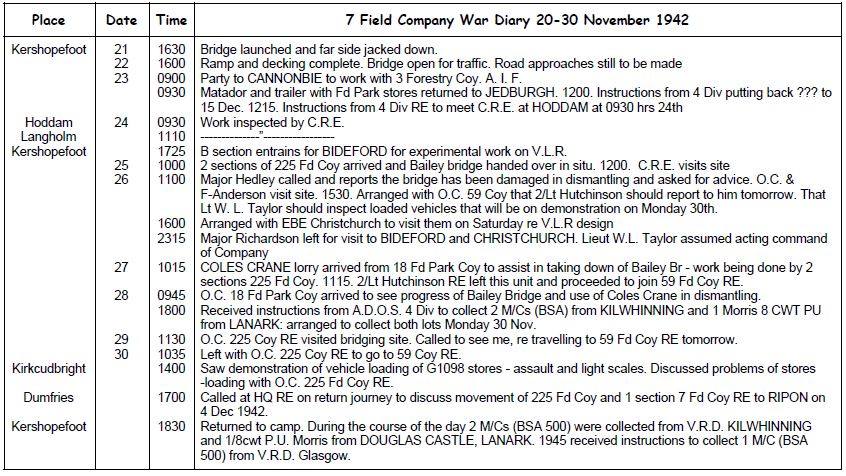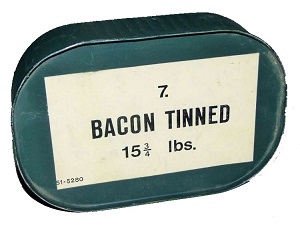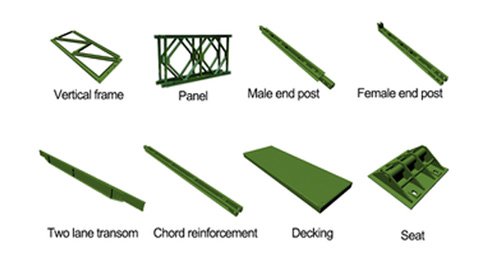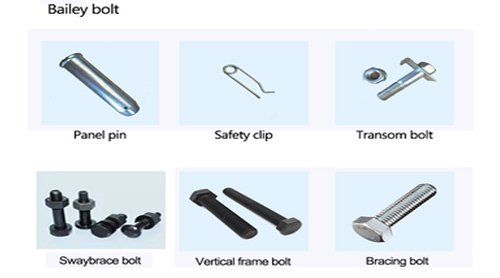 7 Field Company RE started training with the newly introduced Bailey Bridge in 1942 and did a lot of training on it before rejoining the frontline in 1943
7 Field Company War Diary typed out as per how it was written

7 Field Company War Diary typed out as per how it was written
7 Field Company War Diary typed out as per how it was written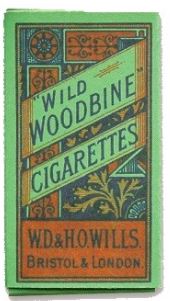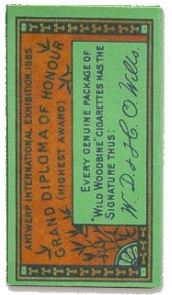 Between the 20 and 23 November, sections, for the first time in the 'Corps' history, became known by a letter, A, B and C. The number was dropped. This was short-lived as later, in 1943 it would revert back to numbers.
Daily items from the 1940s
An 'All Ranks Dance' was held on Christmas Eve and Christmas Day was off duty. The New Year was celebrated in typical Scottish fashion the 7th being the guests of the local people.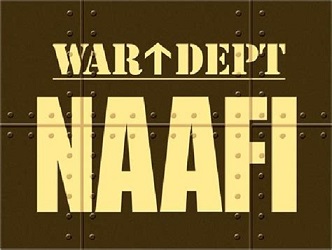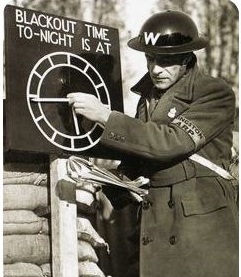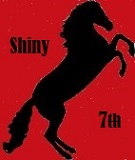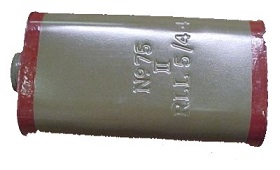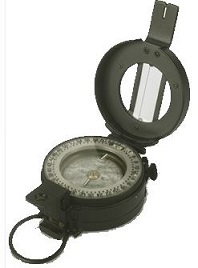 Kershopefoot station sidings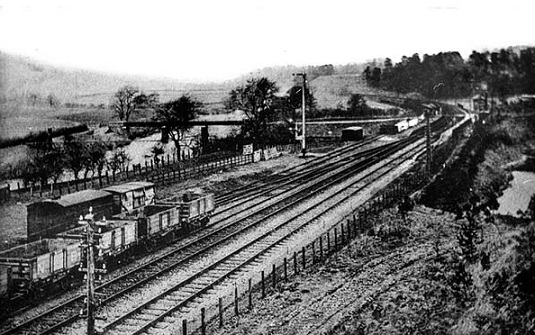 At Kershopefoot the Company
trained on the Hawkins mine
Kershopefoot camp. Photo taken at the time 7 Fd Coy occupied the camp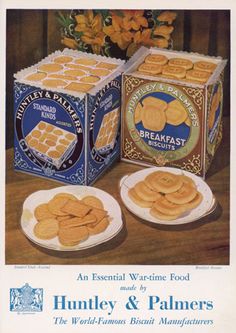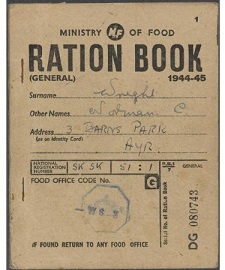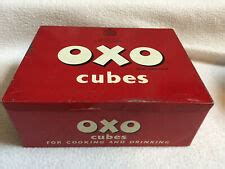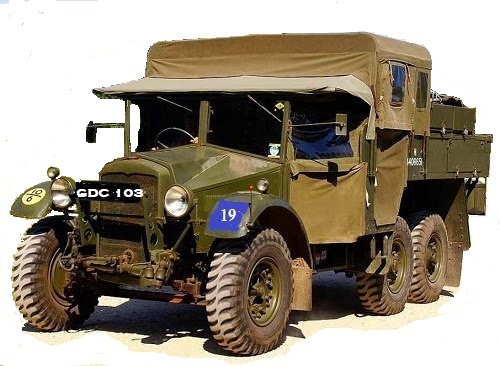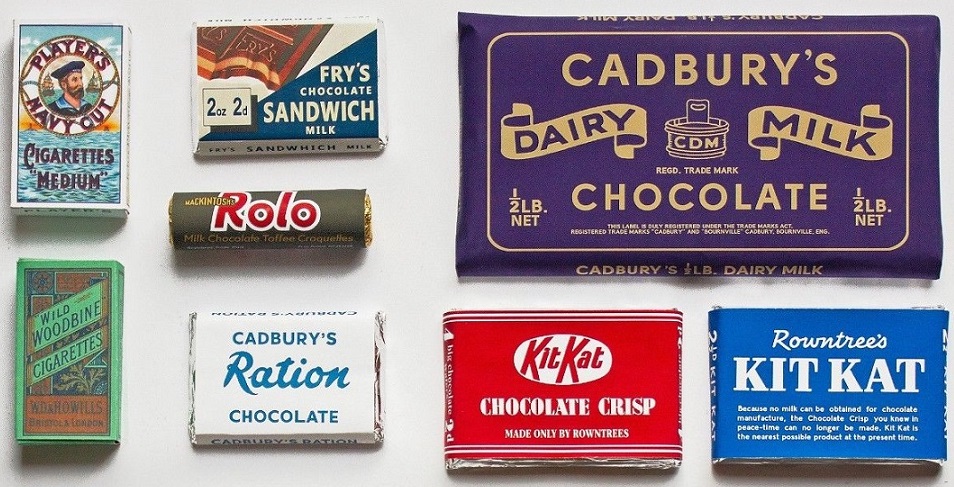 Inveraray, Combined Operations Training Centre

WW2 land, sea and air forces of the Allied Nations planning, training and working together as a unified force on amphibious raids and landings against the enemy.
Throughout 1942, sections of the Company was detached at different periods for works and training on Loch Fyne, Inveraray. They were accommodated in either Chamois Camp or in HMS Ettrick off Inveraray. In October the Company returned for Exercise 'Moss Trooper' and 'Flaxman'. Repairs were also carried out at some of the various locations.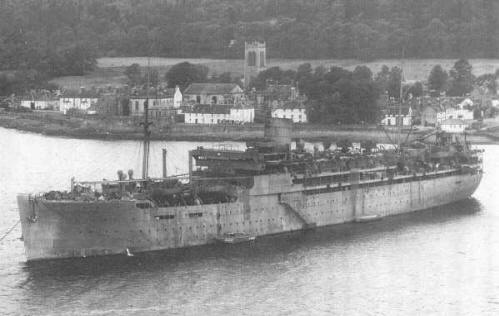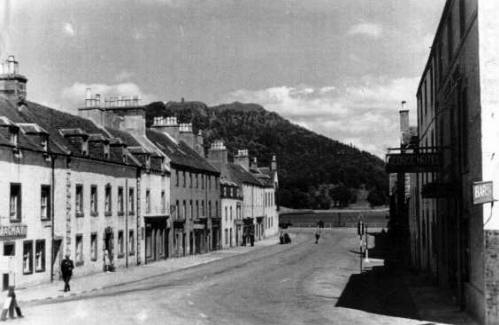 HMS Ettrick anchored off Inveraray
Inveraray main street 1940s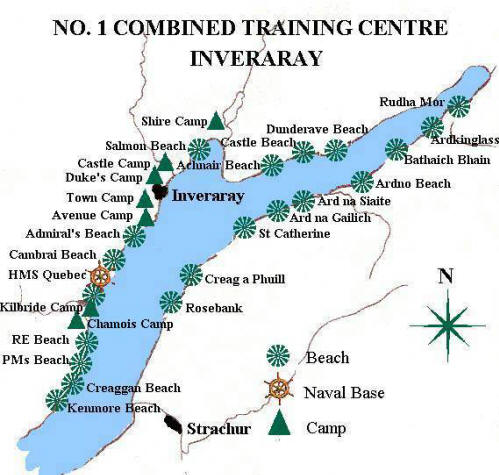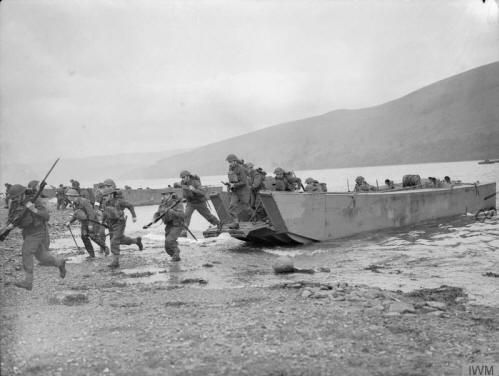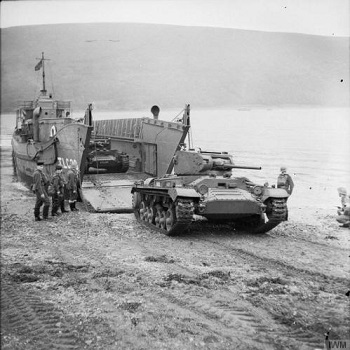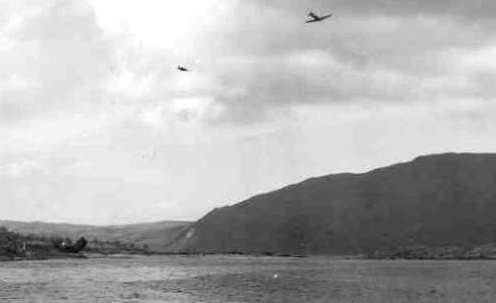 Tank Landings Loch Fyne
Troop landings training Loch Fyne
Hurricanes taining Newton Bay Loch Fyne
Maps and photos on this section courtesey, Combined Operations website:
https://www.combinedops.com/Training%20No1%20CTC.htm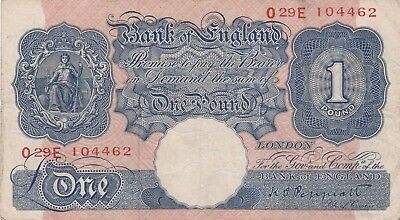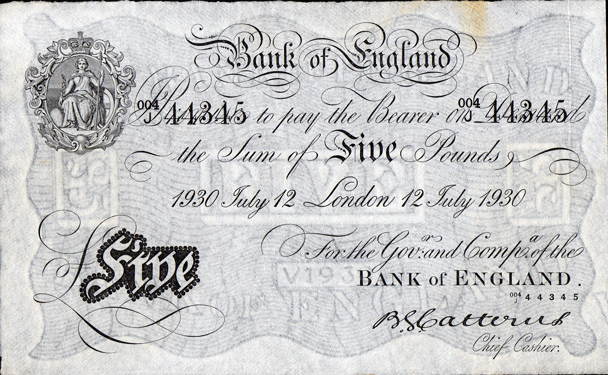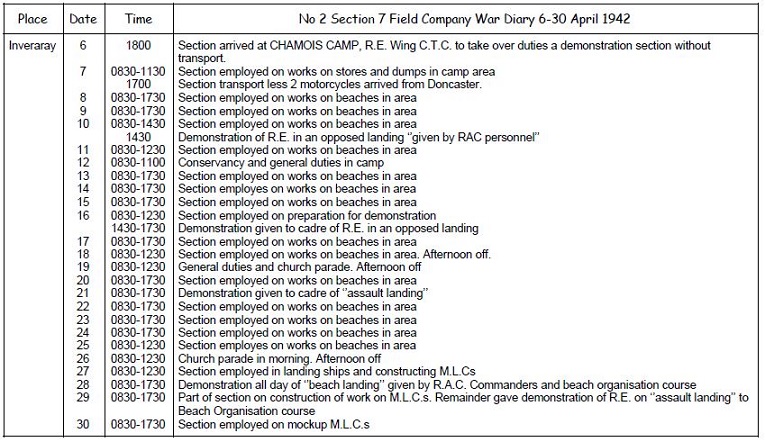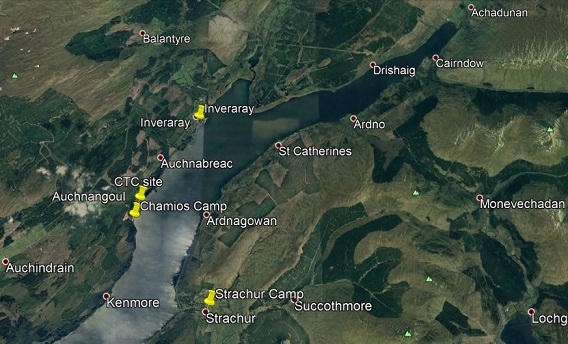 Above: The war Diary written by No 2 Section during their stay at Inverarary April 1942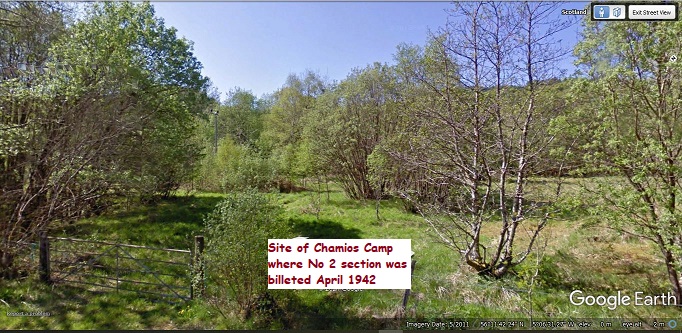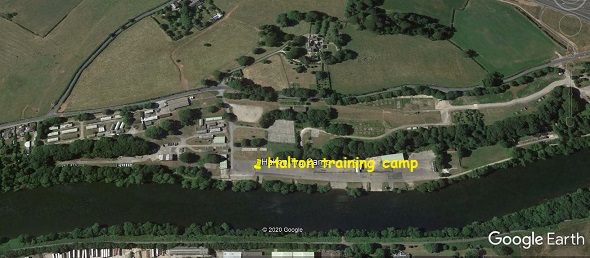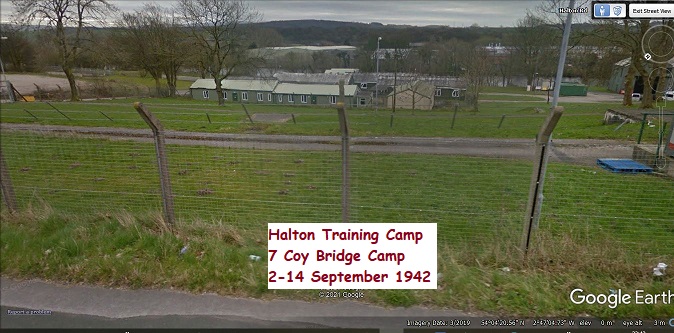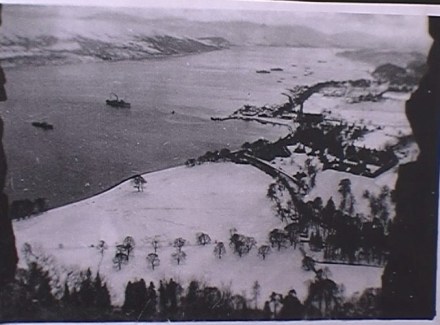 View from the watch tower of Inverarary 1942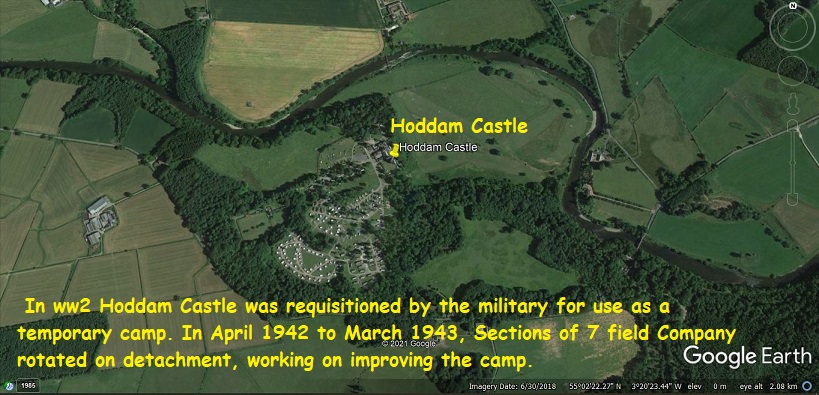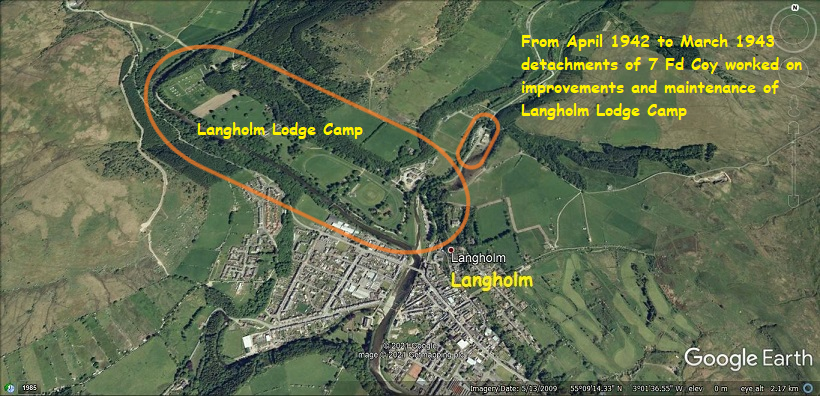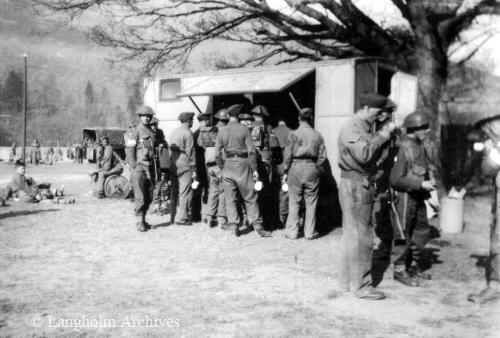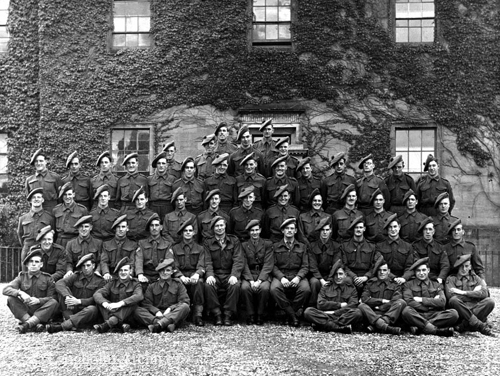 Photo; Langholm Archives.
County of Dumfriesshire ARP and Allied Services canteen manned by members of Dumfries 34 VAD at Langholm Lodge Camp: April 20-May 8
Photo; Langholm Archives
Commandos at Langholm Lodge.
Little remains of the castle today. The grounds used as the camp is now a caravan park
1942, the Company spent many weeks working on inproving the temporary camps
A short personal account by Ray Horne who served in 7 Field Company from 1941. The notes were written in the 1990s and shorter than we would like them to be, however, they are invaluable as they portray the conditions and training routines of that mentioned above.
With thanks to Andrew Whyte, grandson of Ray Horne.

I enlisted at Newark, Nottinghamshire on the 22nd February 1941, I was 20. I went to the 3rd Training Battalion, Royal Engineers where I completed the first part of my recruit training, rifle drill etc. We then had a weekend leave after just six weeks service. This took us into March 1941 which lead into my second part of recruit training finishing this at the end of May.

This training had included various engineer duties; bridge building(metal and wood), demolitions, mine laying and clearing, roadworks and water supply, pick and shovel, drill and various types of barbed wire. I then had seven days privilege leave before returning to the Training Battalion and being posted to the 7th Field Company Royal Engineers at the end of June.
This was my parent unit but I, like most sappers seemed to spend as much time on detachment as with them.

More training and yet more training, plenty of route marches and anti-gas drills. Towards the middle of August I went home for 10 days embarkation leave ready for overseas service. This order was later rescinded.

About the middle of September, another seven days embarkation leave, which once again this overseas order was cancelled.

Later it was stated the "chiefs" expected the Germans to come through Vichy France and Franco's Spain to attack Gibraltar, so we were held in reserve ready to be shipped out, with other units at a moments notice.

After this we went to a "Bridging Camp" on the River Ribble near Lancaster. The thing I remembered most about this camp was the incessant rain, it never stopped raining the whole month I was there. (I almost had webbed feet!).

From this camp I went home for another seven days leave with a chap named HURFORD who lived in the West Country. I never saw him again after we returned to camp.

This was about the middle of November. I thought in September something "big" was going to happen, with so much leave.

At this "Bridging Camp" I trained for the first time on the Farrow Bailey Bridge, it was invented by Donald Bailey, later Sir. I thought, great it goes together like meccanno!

At about the beginning of December I went to a Combined Training Centre (C.T.C) on Loch Fyne, Inverary, Scotland to begin Combined Operations Training. I thought maybe for invasion across The Channel.

This centre was a hutted camp, inside a wooden stockade with big wooden entry gates. More rain and mud up to ones knees!

There was lots of training, especially beach landings on the Isle of Arran....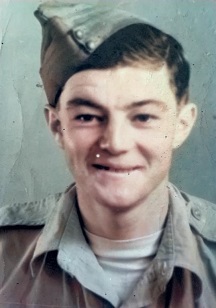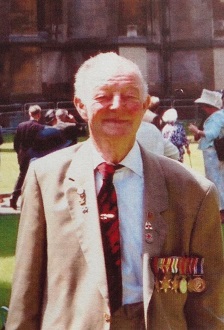 Raymond Horne in the 1990s

Photo credits: Andrew Whyte
Sapper Raymond Horne