7 Field Company War Diary 1917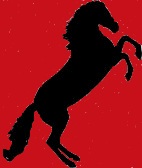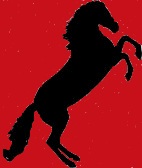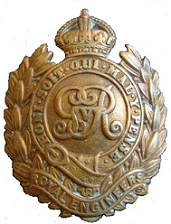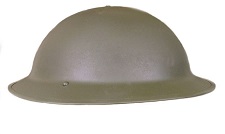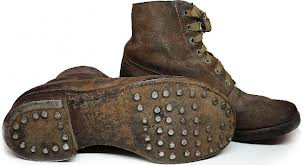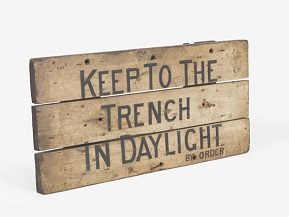 Source: 7 Field Company War Diary in blue text
149 Inf Bde War Diary
150 Inf Bde War Diary
151 Inf Bde War Diary
Capt J.B. Glubb's Diary - in black text
Capt H.A. Baker's Diary- in brown text
From the 17th June 1915 until the end of WW1, 7 Field Company RE served with the 50th (Northumbrian Territorial) Division. The Division's three Brigades were 149th,150th and the 151st. At different stages of the war 7 Field Company had supported each of the Brigades. There were three Field Companies RE in the Division:
1st Northumbrian Field Company RE - later changed to 446 Field Company RE
2nd Northumbrian Field Company RE - later changed to 447 Field Company RE.
7th Field Company RE - The only regular unit in the Division
1-14 January 1917:

During this period the Company continued to be employed under the III Corps on III Corps tramways with permanent 450 men working parties (B Echelon 7 Coy) a No of petrol tractors up to GL all had been received towards the end of December, enabling further daily tonnage to be carried. Peake Wood - Martinpuich line 103 tons, Bazentin-High Wood line 170 tons. Beyond High Wood all traffic remained hand pushed for the want of tractors. Construction work was much delayed for want of both materials and men. Work carried out by Sections during this period was as follows:-
No1 Section (Lt Chaplin) - general repairs and improvement to the line between Bazentin-High Wood. The heavy hand pushed traffic combined with continued wet weather caused this portion of the line to get in a bad state. Making sidings at Bazentin for loading of stores brought by road. The continuation of the line under construction to connect the Bazentin- High Wood line system to the Peake-Martinpuich line was resumed.
No2 Section (Lt Baker) continued to work as before on the Peake Wood - Martinpuich line Ballasting from Sale Street siding - Martinpuich - Boarding to Gilbert Alley from Gun Pit siding, Ballasting Peake Wood - Bailiff Wood - trench siding at Villa Sta - dugouts at Martinpuich Sta.
No3 Section (2nd Lt Littlewood) preparing line between Flers Switch Dump and Boast trench junction for petrol traction (i.e. Wooden Sleepers at 2' intervals) Straightening the line etc, Loops put in at Flers Switch Dump and 200yds N of Boast Trench Junction.
No4 Section Preparing the line from High Wood station northwards as far as Boast Trench Junction ( i.e. same as done by No3 Section) Loops and general improvement on the Boast Trench Junction - Turks Lane section. On the 15th the O.C. Proceeded on leave, Capt Glubb commanding in his absence.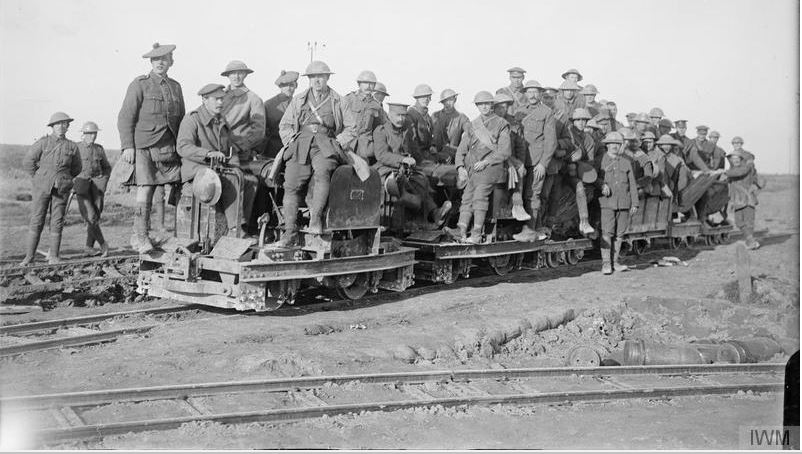 14 - 28 January 1917:

During this period the Sections remained employed on the same work as has been given above for the first half of the month. A large number of loops were put in between High Wood and Eaucourt L' Abbaye and between High Wood and Factory Corner, with a view to running regular motor engine traffic to the above rail heads with rations for the trenches with the same object, the line through Martinpuich station was relaid, ballasted heavily with brick Ballast, and extended to two hundred yards in front of Dead Mule Corner. A certain amount of annoyance was caused in camp during this period, by the attentions chiefly nocturnal, of the 4 inch high velocity gun, which however caused no casualties. In the Company a more serious development was the arrival of two 13.5 inch naval gun shells one of which on the 25th fell beside the officer huts completely destroying the latter and ripping large holes through all the huts in camp, luckily the Sappers were all out on their works so no casualties.

29 -31 January 1917:

The Company marched out of billet near Bazentin Le Petit to Rue des Illieux, Albert, the officers being in Rue de Bapaume being already In the best area.The mounted Section remained on their old billet near Becourt, profiting by a few days rest. Time was immediately devoted to drill marching, and Section field work, practice as hard as the hardness of the frost would allow.

9 - 12 January 1917: Very cold, north wind, trying to snow. We attacked at Beaumont Hamel. Heavy bombardment ever since. McQueen has been gazetted a major.

14 January 1917: We were woken up at 1 a.m. By shelling. A 15-cm high-velocity gun kept dropping shells around, for three-quarters of an hour. One landed about twenty yards away and another on the next camp, occupied by the 7th Durham Light Infantry. This gun simply drops shells around anywhere, so there is no use changing one"s position. One landed twenty yards away in the 2nd Northumbrian Field Company's camp, and a dud entered one of the 7th D.L.I.'s huts about twenty yards on the other side. The drivers stood to their horses. I went out to look round while the shelling was going on, and noticed that the sentry did not seem to be about. On further investigation, I found him sitting over a fire in the guard hut. It was Sapper Harman , a boy in No 2 Section. I spoke to him at office next day, put dismissed him without a punishment after a (probably very laughable) harangue . These young fellows with a month or two of training and just come out to France, do not realize the military importance of sentry duty, especially when not in the very presence of the enemy . ·
The Somme battlefield has been very badly cleaned up as compared with some. Off the tracks, one frequently comes on old corpses all through the winter. There used to be a lot of corpses lying in rows on a piece of ground a few hundred yards to the left of the Bazentin -Martinpuich road. When an officer from Army Headquarters came down to see our work and I was obliged to show him round, I took him past the place. I thought it would do him good to see that there was a war on.
The sappers paraded for work all through the winter at 7.45 a.m., so I was called by Donaghie, my batman, at about seven, when he would stumble into my hut and light a candle, and try and break the ice in my tin washbasin. It was no·easy matter to keep warm in bed, and I always slept with all the clothes I possessed heaped on top of me.Dressing was accomplished at full speed,for the longer one took, the more numb did one's fingers become, so that it was impossible to do up buttons. Often my boots were frozen hard as boards, and had to be thawed before I could get into them. About 7.30 a.m., I rushed into the mess for breakfast, to find nothing ready . Then Baker would come in,' vainly trying to buckle his belt with frozen fingers. Eventually at 7.40 a.m., I got a greasy piece of bacon on a tin plate. Sometimes the bread was frozen so hard that it could not be cut with a knife and tasted cold in the mouth like ice-cream. Suddenly the sergeant-major outside blows two blasts on the whistle - five minutes to parade. The sappers gather in a crowd, waiting to fall in. Just at this moment, the tea comes in too hot to drink. From outside, the voice of the sergeant-major calls 'Markers', and then, 'Fall in'. We step out of the hut, assuming stern and martial faces suitable for parade.Section sergeants call their sections to attention and call the roll, and then the sergeant-major collects reports. Sergeant Watkinson, who is always in a bad temper, says surlily, 'All present, sir!' Sergeant Farrar who stammers, after violent contortions of the face, suddenly blurts out, 'Er-dy-all present, sir.' Sergeant Bones, quietly and sedately, 'All present, sir.' Corporal Cheale , who always roars like a bull of Basan, 'ALL PRESENT, SIR.' The sergeant-major turns to Ilfe and says, 'Company report all present, sir. ' I repiy, 'Stand at ease, please, and then give the order, 'March off, please '. Section officers salute like crossing sweepers receiving a sixpenny tip, except for Littlewood , who has just come from Chatham and salutes like the Grenadier Guards.
On the conclusion of this grand military spectacle, I look into the company office dugout, to find a tray piled with papers.Rum jars, Return of Mark it, quarter-master- sergeant to note. Very lights, Return of Dubbin, Indents for. Mark it C.Q .M.S.
Then divisional routine orders, The G.O.C. notes with regret ... Mark it for company orders.Then a document from His Majesty the King, to Sir Douglas Haig, 'It is with the greatest satisfaction that the news of . . . gallant troops .. . road to final victory.' Then Sir Douglas Haig's reply. 'I desire to tender the thanks of the army under my command blah, blah, blah . .. to final victory.' Mark it company notice board. At length, fleeing from the office, I seize my steel helmet and gas mask and set out for my morning walk. Sometimes I look at both tramlines, by walking across on the road from Martinpuich to High Wood, but as a rule I take alternate days for each sector.
Firstly, however, I probably look in on the tramway office, between us and Bazentin-le-Petit, to see my old friend, Good, the most good-natured old man I ever hope to
meet. He wants me to explain the use of some weird pasty yellow mess in a tin with a high odour, which Rimbod has just bought for their mess. Good is in charge of traffic up to High Wood, and has his whole time-table worked out like a real Bradshaw. Often he could be seen hastening out and inscribing in chalk on an idle-looking truck 2 p.m. train.Three hours later, he would stroll out and rub it off, the local wits having meanwhile written underneath I don't think or What abaht it? Nevertheless it was really marvellous the number of trains he sent up the line, the tons of ammunition, engineer stores and rations. His two or three little tractors were going up and down nearly all day. The line in front of High Wood was all pushed by hand, because it was all in full view after Rutherford Alley, and was only used after dark. Rations for the brigade in the line would now come up on the broad gauge to Bazentin and here a covey of quartermasters would collect every afternoon, while the rations were loaded on to the tramline. At 4 p.m. out would walk old Good, full of importance, to start off his 4 p.m. ration train, consisting of a couple of big well-wagons, drawn by a petrol motor tractor. The quarter-blokes would all climb innocently on top, hoping to get a ride. But the tractor invariably stuck as soon as the line started climbing the slope to High Wood. The steep gradient was accomplished at one mile an hour, especially if there was a frost. All the quarter-blokes finished up pushing like mad behind, while a man walked in front putting sand on the lines. A source of never-failing recreation to the infantry push­ing parties was to sit on top of the trolleys and run down­ hill. They used to tear down the slope from High Wood at a huge speed, shouting and yelling like school children. This was a most dangerous and illegal performance, at which I remember at least one man breaking a leg. Good luckily realized the humour as fully as anyone. How we have laughed together. The traffic on the forward portion of the line was under a certain Lieutenant Rudge, who dwelt at High Wood. He was a voluble talker, and, on the arrival of the ration train, would be heard to hold forth something as follows, rushing up and down all the time: 'Hello, what are you doing there with those trucks? .. . Oh yes, you 're the 5th Borders ....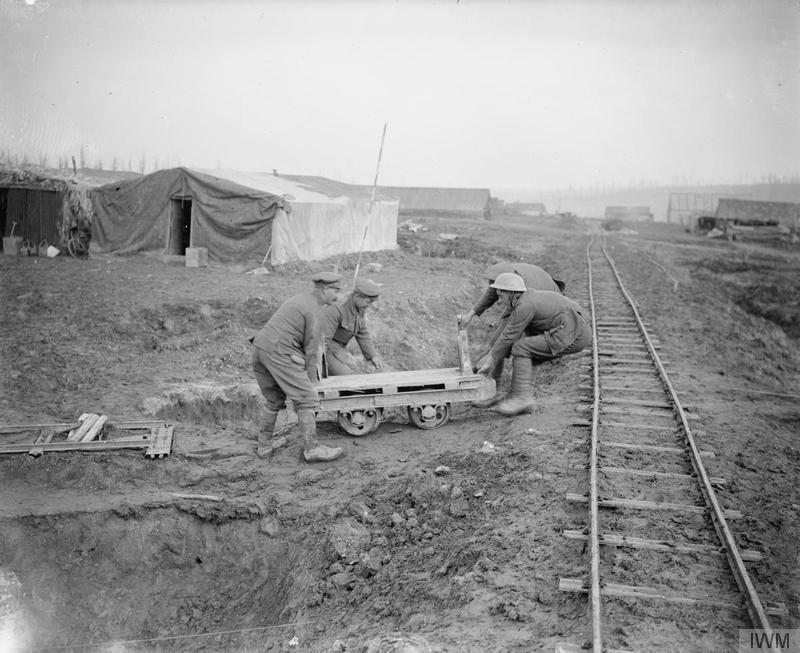 Allright .. . . Yes . .. . Splendid .... What? ... Some- one's got one of your trucks? ... Yes, you're the 6th D.L.I. Oh, that's quite all right. Yes, let the 8th have it. Splendid. Yes .... [The 8th was his battalion] Here hi! Hi there! What are you doing with that truck? Put it in here . . .. Oh no. As you were .... You're Beer-one­ five-0 battery ....All right, yes splendid . Take it away, my lad.' A vivid imitation of which style was given later at a battalion concert when out at rest, and brought the house down. All the poor devils who had been on ration party fatigues at High Wood, applauded enthusiastically Our officers' mess is really very bad at present, no one having the time or the energy to take it in hand. Old Sapper Smart (most unsuitably named) is cook and crawls about with a curved back by way of having rheumatism. Geard, the mess-waiter, is really a good fellow at heart but a bit idle. The only thing they could do was to sing in harmony, the cookhouse being constantly enlivened by the strains of 'Old Folks at Home', or 'My Home in Tennessee'.
At Christmas, we presented them with a bottle of port, which Geard bore away from the mess. On getting outside, however, he apparently thought he had not done the honourable by us, for he appeared round the door again and shaking the bottle at us, as though he were laying us under a curse, he said,, 'Your health, gentlemen', and vanished again looking much embarrassed. Rather touching, I thought. The name Bazentin-le -Petit is a fearful stumbling block to the British army. I have heard it called Bazenteen, ­Bazentin, Bazentin-le -Pettitt, Petty Bazentin, and Petty­ basentin. Sergeant Bones always insists on calling it Petty Benzenteen.
Leaving the tramways office at Bazentin, I would walk up to High Wood and then down the slope to Flers switch, and the front line by Eaucourt L'Abbaye, or down the right fork line to the Coughdrop and Turks Road, or alternatively, I would take the track to Martinpuich, and follow the forward tramline to Gilbert Alley and up to opposite Le Sars. A ridge of high ground runs from High Wood through Martinpuich, and everything east of this ridge is in full view of the enemy. Thus throughout most of my walk, I am visible to the Boche. But the distance is too great for a rifle sniper, and their artillery did not normally think it worth while to shoot at two men - my orderly and myself. Having looked at all the men at work, inspected the state of the tramline and perhaps thought of some new ideas, I would get back to camp at about noon, warm at last after a four-hour walk. One day, having visited the northerly line in front of Le Sars, I walked back through Martinpuich . The village was merely an area of vast mounds of debris of earth and broken brick, with wooden beams, shattered bits of furniture or smashed weapons, sticking out at odd angles. The whole countryside was a vast sea of grey mud, over which trailed low grey clouds, discharging a persistent drizzle. No words of mine can describe the dreariness and hopeless desolation of the scene, wrapped in mist and rain. I sat down on a heap of broken brick and rubbish for a few minutes rest. A cold gusty wind blows the driving rain in my face. Just behind me, a torn strip of old curtain, caught between two splintered roof-beams, flaps wearily in the icy wind. Looking away to the left, I can just see through the rainy mist the splintered trees of Eaucourt and further to the left those of Le Sars. The distant ridge is invisible. owing to the grey drizzle . The middle of the picture is occupied by the huge mound of crumbling white stone which was once Martinpuich church. Two tanks, covered with green nets, are hiding just outside the village.
Every now and then, a distant boom is followed by a low whistle, a spurt of grey and, after a few seconds, by a loud incisive Kr-rump, as the 8-inch sail over and burst on the Albert-Bapaume road. Nearby, a green upholstered sofa, stained and soaking, lies on its side, a large hole in the seat allowing the stuffing to hang out. An infantry party, their waterproof sheets glistening on their shoulders, and the drops of rain trembling round the edges of their helmets, slops past with shovels in their hands. They flounder through the mud or try to jump from stone to stone in the ruins, grunting and grumbling in the most abusive language to themselves. Their legs and thighs are encased in sand bags as is the winter custom. They disappear into Gunpit Road and once again there is dampness and silence, except for the flapping piece of curtain and the distant booms.
Back at company headquarters after a hasty lunch, I would put on my spurs, my British-warm coat and my gloves, and mount my horse. Minx was utterly dejected by the daily ride to Becourt. It was only about four miles each way, but the cold, the deep mud, and the slippery roads full of holes made it an agony. Running the gauntlet of the guns on the Contalmaison road was a daily terror. There was a battery of 8-inch howitzers there, enormous great old-fashioned guns -the newest 8-inch are about half the size. Owing to the impossibility of moving these heavy guns across country, they had taken up their position beside the road itself. Skirting the edge of Mametz Wood and out on to the Contalmaison road, I was sure to see the noses of the huge howitzers just rising into the firing position and hear a voice like one crying in the wilderness - 'No 1 Gun ready, sir!' Thinking they were just going to fire, I would halt . There
the four guns would sit, their noses. stuck up into the air like frogs, for minutes on end, while I froze colder and colder, and my horse backed round and round and bored at my hand to try and get on. Finally I decide to chance it, and trot rapidly up to get past, blinking madly all the time for fear the thing would suddenly go off. Just as I get up to the first gun, a man appears from a burrow in the mud on my left, raises a megaphone, and shouts, 'No 1Gun, fire!' For a second I see the man on the gun as he pulls the string.Then there is a roar and a flash of flame and the huge old gun seems to rush back about five yards on the recoil. My horse pounds into
the air, and I catch the cry, 'No 2 gun, fire!' just as I get opposite the next one. Eventually I escape at the the end of the four guns, my horse tearing wildly at my numbed fingers, and my ears buzzing. Already the noses of the guns are slowly rising into the air again, and the monotonous voices are again chanting. 'No 1 gun . Two-oh [letter o] minutes more left .' 'Two-oh minutes more left, Sir!' answers the echoing sergeant.
As I vainly try to persuade my horse to come back to a walk down the slippery slope by the corner of Mametz Wood, a still small receding voice comes after me from the distance, 'No 1 gun ready, sir!'
It is my experience that, no matter how warm I start.out, my hands are frozen in five minutes, and my fingers numbed and powerless. If I can find some reasonable ground and can keep trotting, my circulation gradually returns, after a certain amount of painful tingling, and a feeling as if my hands would burst. The mounted section has had an easier time since the tramways have really begun to function. In September, they had a very exhausting period, working literally day and night on the road up to High Wood. A day's work for the wagons meant starting in the dusk before dawn, usually in icy cold, and returning to camp just before dark . They suffered misery all day in the cold weather.The wagons could only move at a walk and frequent traffic blocks kept them halted for long periods. The idea of ever being warm was out of the question. When they came in, horses, harness and men were literally plastered all over with wet, yellow mud. To clean the horses and harness after such a day necessitated about twelve hours work. Each driver had two horses and two sets of harness. Next time the driver's turn came, he was expected to turn out with clean shining horses, and spotless steelwork and soft oiled leatherwork. Inevitably at times, when teams were working every day, horses, harness and men remained coated with wet clay for days on end. The Town Major of Becourt is John Coates, a famous singer. A most conscientious town major he seems to be . A story is told of how he zealously placarded the Becourt camps with neat notice boards To the Latrines, Ablution Benches, Incinerator, Brigade Headquarters and so on, preparatory to an inspection by a senior officer. Unfortunately, the night before the inspection, a humorist of, I believe, 281st Coy.R.E., erected a rival set' of notice boards in a lighter vein, such as This way to the War, pointing up the Contalmaison road, This way to Blighty, pointing along the road to Albert. Arriving at the camp at Becourt, I would probably say a few words to the C.Q.M.S., who lives there, and sign some indents for him, after which I would go down to the stables and talk to the drivers and to my dear old, ever-sympathetic equine friends. Then I remounted my horse and set out once more to return to company headquarters. I was usually cold again by now, and often failed to get warm at all on the way back, as it was now about four o' clock and the evening was drawing in. Then came the pleasant part of the day, when I burst into the mess at about half past four, to a roaring fire, and the others sitting round it, after coming in frozen from their work.Then steaming tin mugs of hot, strong tea from our old tin tea pot, a veteran of many months of war. Plates piled with thick slices of toast (usually wet or burnt, it is true)and ration jam, make a royal meal. Often we also had a cake, either McQueen's, Baker's or mine, sent out by post by loving families at home. After tea, I retired to my little hut, to compose the work tables for the next day, together with lists of stores to be drawn, indents, orders for transport and other routine affairs. Then I would adjourn to the company office to.wade through more trays of administrative routine and sign company orders. Those who have never taken part in wars imagine them to be full of fears, danger and excitement. In reality, such things are comparatively rare interludes: More than anything else, war is work - day and night, wet and dry, cold or hot, monotonous, back aching work. Next to work comes;discomfort, especially to be always cold and wet - at least when the war is in France and Belgium. These characteristics apply as much to the infantry as to gunners and sappers. Every now and again, infantry may be involved in an attack and suffer intense danger and heavy casualties. But, year in year out, infantry also spend most of their time working, repairing their trenches, carrying up rations, stores and ammunition, mending roads to allow their horsed-transport to come up, and endless monotonous, cold, wet and back aching fatigues. Dinner in the mess is not exactly a gourmet repast, but it is enough. Soup made of powder, meat, potatoes and peas out of tins and milk pudding. Sometimes the pudding is varied with one or other of our two savouries - cold sardines on toast or toasted ration cheese. These meals sound good, but they were always the same. The food was usually not hot and everything was dirty. I always ate largely and nobody minded much, except McQueen who was much older than any of us, and Rimbod, the interpreter, who, being a Frenchman, attached more importance to food. In point of fact, there was really nothing for an interpreter to do, as there were no civilian French people within many miles of us . Rimbod spent most of his time trying to get a lift back to the inhabited area, where he could speak French. He justified these forays by returning with a load of gastronomic delicacies, and useful articles - for example he bought me a little iron stove, burning wood, which most efficiently heated my tiny hut. Rimbod was a character in his way. In peace-time he lived in London, and was a member of the Serpentine Swimming club. At one time, we used to drink port wine in the mess. This habit was started in June 1916, when I was in England with my appendix, by the arrival of a case of port wine, as a gift from 'Charlie' Chaplin's father. Just before we came to the Somme another case arrived, but this time it was rather unpleasantly followed by a bill! However, we had by then become accustomed to it and used sometimes to get some from the Expeditionary Force Canteen, The trouble was that everybody used to drink so much of it. Powell, of the Northumberland Field Companies, once came in and drank a tumblerful at 11 a.m.!
One of the vital questions in this bitter cold weather was fuel. The coal and coke issued with the rations was enough for cooking, but no fuel was issued for heating. At first we helped ourselves freely from Mametz Wood, till an order came round to say that no woods were to be touched by troops on any account, on pain of Court Martial. This was a most inhuman order, doubtless issued by some Q. authority, sitting in a comfortable office at the base. The troops were perpetually wet through and could never get warm or dry. To be constantly cold is terribly depressing to morale. All the woods had been well shelled, and a little organization would have made it feasible to issue plenty of wood in the form of splintered branches, twigs and odd pieces. Soon after, however, an officer came with a party of men to cut and remove any serviceable pieces of timber remaining in Mametz Wood. We approached him cautiously on the subject, whereupon he said, 'Oh that's all rot! Send your fellows to me and I'll give them all they want from my choppings every day.' So hence forward we all had roaring fires every night, and the troops were able to get warm and to dry their clothes. In villages further back, the military police will not allow wood to be taken, although the villages are razed to the ground, but the heaps of rubble contain many old broken roof beams or shattered windows. This is said to be because the French will not allow us to touch them, in case there may be a few bits of timber there, which might be useful to them after the war. No-one has any bowels of compassion for poor numbed and shivering Thomas Atkins, knee-deep in mud, in the driving rain on the - Somme. Casualties in the front line from trench feet were at this time enormous, and much more serious than losses from enemy fire. Orders are constantly coming round about it, telling how to grease the feet and socks, and how to rub the feet and dry the socks. Socks must be removed once a day. Funnily enough, a captured German order shows that they are suffering the same as us, but their regulations are exactly contrary to ours. They say that the boots will on no account be removed during the whole period of a spell in the trenches!
18January, 1917: Bitterly cold, and a north wind. Black frost all day long. We were shelled again all night. Just as you are going off to sleep, you wake with a thumping heart, as the shell passes just over your head with the roar of an express train. Then there is a loud bang, a few hundred yards away, somewhere in Mametz Wood. B Echelon had eight casualties.
19January: A heavy fall of snow. Bitterly cold. The ice in the shell holes is bearing. Dressing is almost unbearable agony. Fortunately Chaplin has built a brick fireplace in the officers' mess, so we have pleasant evenings with a fire and a gramophone. The III Corps is to move out to rest. The Anzacs are going to take over. We do not know if we shall come out, or be left to run the tramlines.
25January: When I returned from Becourt this afternoon, Donaghie said to me, 'You've just had a narrow escape, Sir !' On looking at the camp, I saw my own hut in complete ruins, most of the officers' huts damaged, and holes through some of the men 's. Where my hut had been was a colossal shell crater. At 2.30 p.m. there had been a tremendous explosion, identified as a 13.5-inch high velocity gun. Luckily everyone was out working and we had no casualties. B Echelon had one killed and some wounded. The 7th Durhams had three killed and three wounded.
26-27 January: We are going out of the line. I spent these two days in Albert, trying to get billets. Luckily I found that Firbank, whom I knew at Cheltenham, was assistant Town Major, and I succeeded in getting some very good billets. On 28 January, No 2 Section marched in to Albert, as I wanted to get the billets occupied , before anyone else moved in to them, especially as the Anzacs are arriving to take over the front line. On 29th, the remainder of the company marched into Albert. They marched very well and looked fine, considering they have been five months in the forward area, knee-deep in mud.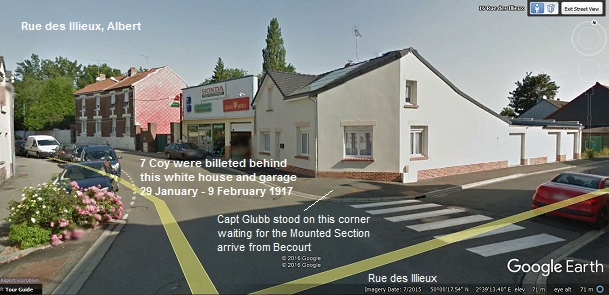 30 January - 8 February: In billets in Albert. The sappers doing drill and route marching. They drill extremely well, considering that it is their first attempt for five months, and that during that time we have had many casualties and many reinforcements. All buttons and equipment have been polished up, and the troops are very cheerful. The cold all this time was bitter, the north wind simply cutting off one's nose and ears. The ground is frozen as hard as iron, and all water is solid ice. There is still a little powdery snow in the streets and on the north side of houses and walls. The drivers are reduced to exercising every morning in a ring in a field behind the stables. Horses exercising are not allowed on the roads , which are always jammed with t raffic, and the earth tracks, which were deep in mud in December, have now frozen into cast iron ruts and holes, so as to be almost unrideable. The drivers also played a few games of soccer, the first this year, though the ground was rather hard for falling. I was sporting enough (!) to play myself once, much against my inclinations, though I actually enjoyed it a certain amount. However I made a complete ass of myself being opposed to Driver Nixon, who was much too good for me, seeing that I have practically, never played soccer in my life.
The cold all this time was bitter, with a cutting north wind. My daily ride from Albert to Becourt and back to see the horses was agony. The camp at Becourt, however, is really much improved since the frost as, instead of literally sinking to one's knees in mud, one walks on ground as hard and dry as iron, though it is difficult to stand up on it, as it is frozen into the ridges and ruts formed in the mud.
I tried to get two Nissen huts for the drivers a month or so ago, but was told it was not worth while, as we would be moving soon. We had two company concerts in Albert, both of which were good. At these entertainments, the correct procedure is for the officers to go for the first half of the programme. They sit on broken chairs or ration-boxes, sipping beer out of tin mugs, though sometimes champagne is provided, locally purchased at three francs a bottle. The songs, while the officers are present, are usually of the sentimental variety, such as, 'Sweetheart when I lost you', 'Thora', or 'Some­ where a voice is calling. ' Or a few rousing old; l stagers like 'John Peel', sung this time by Sapper Clarke, a Cumberland man. Sometimes we have 'There is a tavern in the town', or a good old army rouser, like 'Three cheers for the red, white and blue'. At one of the Albert concerts, Sapper Manning, the company tailor, very refined and late of, Selfridge's, sang 'Kathleen Mavourneen'. We have hardly been able to get any beer the whole winter on the Somme. The nearest place where it could be got was Corbie, a forty-mile round trip for a wagon, and all our transport was working day and night up the line. However we got some for these two concerts . When the officers had left, things warmed up, judging by the roaring sound of singing, perhaps due to the unaccustomed joys of free beer, paid for out of the canteen fund.
One of the troubles about concerts is how to get away. Finally the officers make up their minds that honour is satisfied, but their first attempt to retire is prevented by a nervous sergeant, who haltingly offers the conventional thanks to the officers. Then comes the awful moment when an equally nervous officer has to stand up and reply. It was allright at the first concert, as McQueen was there and 'said a few apt words', which I believe he quite enjoys. Then, to my horror, Corporal MacLaren stood up and called out, 'Three cheers for the captain.' But as McQueen was just going out, I merely blushed and fled. I was so embarrassed at being cheered that I stayed away from the second concert, lest it should happen again.
On one occasion, the officers actually made a contribution. Baker and Chaplin brought the officers' mess gramophone and played 'I want to be a sailor', sung by Harry Lauder, a really fine tune. The officers had a fairly decent billet in Rue de Bapaume in Albert - or at least it seemed so, as we had not been in a house for nearly five months. The billet was in a large house, part of which had once been an estaminet. We had our mess in a small room behind the estaminet, where we erected a stove made from an oil-drum. Baker, Charles (Chaplin) and I commenced by sleeping in the estaminet, which had a brick floor and a broken plate-glass window covering the whole street front. The cold was unendurable, so we moved to a once rather smart salon in the other part of the house. Here there was a fireplace and we had a good fire at night, Baker running out for fuel when it got low. Before we left the billet, we had burned most of the back stairs. Luckily the weather was dry as, though there was a ceiling on our room, a shell had burst in the room above and blown off the roof of the house. The house had once been used by the Town Major, who had left it in a filthy state - he whose chief job is to see that other people leave clean billets. The back garden is honeycombed with deep dugouts, constructed to harbour the gallant Town Major, in case Albert was shelled last July he had it most elegantly fitted up with gilded furniture, mirrors and green curtains. Our batmen decided to sleep there, as we preferred to be above ground, even if frozen, owing to the rats who had moved in when the Town Major moved out.The upstairs rooms in the house present the usual desolation of such apartments in these abandoned towns. The floor is strewn thick with every kind of debris, ladies', dresses, books, newspapers, toys, hats, beams blown down and splintered from the gaping roof, broken chairs, mixed and ground up with plaster and dirt. The only furniture left is a shattered chest-of-drawers, and a jagged-holed wardrobe lying on its face. We imported some green garden chairs into the room we occupied and, with Baker and Chaplin ministering to the fire, we managed to sleep unfrozen, and even to have an occasional wash. Getting up in the morning, however, was bitter, and, going out of doors, the north wind came blowing fine dust along the frozen street, stinging one's nose and ears until they ached.
The company was billeted in the Piffre factory, which had a large yard, where the troops drilled. Normally we had drill and training lectures on one day, and a route march on the next. These marches were highly scientific affairs. In front strode McQueen, his hands behind his back. As he is unable to take a pace of less than a
yard and a half, he finds it extremely difficult himself to keep in step with the men
'Behind McQueen paced Charlie, who commands No 1 Section, holding a watch in front of him, and counting out loud, 'Twenty, twenty-one, twenty-two' and so on. 'we're only doing 106 to the minute now, sir,' Charlie would say. 'Quicken it up to 110 then,' says McQueen. 'That 's what we ought to be doing. ' So No1 Section swings at another four to the minute, Sapper Donnelly, as usual, leading the singing:
What's the use of worrying? It never was worth while. · So pack up your troubles
In your old kit bag,
And smile! smile! smile!
Damn,' says Charlie to himself under his breath, 'we're still only doing 108.' Then 'Quicken up the step a bit,' to Lance Corporal Bates or Corporal Virgo, who is leading the section behind him. A few minutes later, up runs Slattery from No 4 Section, panting, very red in the face, and considerably short in the temper, from having run the whole length of column, with his haversack and water-bottle beating against his legs. 'What the devil do you think you're doing?' gasps Slattery angrily. 'I suppose you know we've all been at a steady double at the back of the column, the whole way up the hill. 'Charles looks embarrassed, adjusts his glasses and says mildly, 'Well, I'm only doing 108 as it is.' 'Well for Heaven's sake go slower,' retorts the irate Slattery. 'It's all very well for you in front.' He had, indeed, hit upon one of those natural phenomena, which science seems powerless to explain - if the front of a column is marching at four mile, per hour, the rear is always at a steady run!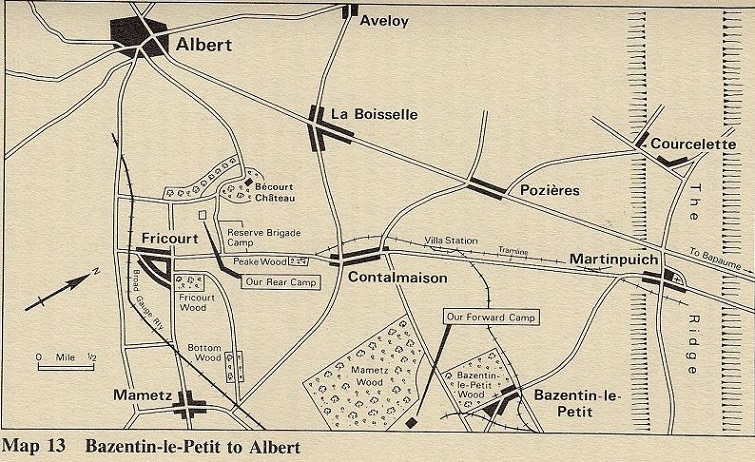 4-8 February: Route marches and drills on alternate days - Ground frost bound and no Coy training done, except as above. Lectures by O.C. Sections and by O.C. On work in general, demolitions, bridging. Orders received on 3rd for Coy with B Echelon 7 Co (300 men working party moving under orders O.C. 7 Field Company RE) to be prepared to take over maintaining and operate the "forward" portions of 60 cm Light Railway, at that time in the hands of the French in the area to be taken over by the III Corps immediately S. of the R.Somme. O.C with Lt Sidebottom and Lt Glubb went over all these lines (about 16 miles) on the 4th and 6th and arrangements made to take over as soon as possible after the 9th - on the 7th O.C visited III Corps HQ seeing C.E. (Bde Gen Schneider) + G & Q staff. The forward lines operated entirely by French Corps Artillery for artillery supply purposes. 3 petrol tractors brought from the III Corps area sent to La Flaque for use later instead of horse draught.
8 February: Fatigues and loading up for marching on 9th
9 February: Marched Chuigmes arriving 2pm. Huts taken over from French Battalion in the Bois Des Lapins.
10 February: O.C. took certain officers of B Echelon over the forward lines, all the maintenance and control districts acquired dugouts to take 3 platoons of B Echelon - returned to camp at 6pm to find that Capt Glubb had received orders to march 7 Field Coy and B Echelon to Mericourt Sur Somme at once. Information received on same day to effect that III Corps had decided to form under the A.D. Transportation operational Coy & 2 construction Coys. Possible railway and other personnel taken from the Corps - using existing personnel of B Echelon as far as possible -- Officers and other personnel of B Echelon recommended for permanent assignment on Lt Railways.

Merricourt Sur Somme, 11 February: O.C ordered to attend course for RE Field Company Commanders at Hesdin 13-24 and left same evening - Coy remained waiting orders.
12 February: Drills, kit inspection etc.
13 February: Route March, Mounted Section - Mounted drill.
14 February: Marched 8.45 am, reaching Foucaucourt. 11 am, to rejoin 50 Division - Sappers to huts immediately E of Foucaucourt, Mounted Section temporary at Proyart.
15- 16 February: Improvements to billets, rifle inspections etc. Mounted Section moved to near Rainscourt and work commenced on new stables.

17 - 19 February: Div order received, Coy placed at disposal of O.C. 7 D.L.I. (pioneers) for work on road making, work commenced on new Divisional Baths 1 mile. W of Foucaucourt - 2 Sections employed, 1 Section remained for work on tramways.

20 February: No 2 Section to Estrees work on dugouts - move later cancelled - work on Divisional Baths, Divisional hutting.
21 February: No4 Section Divisional Baths - No 2 Section commenced making huts in Foucaucourt (trench huts containing 120-130 Men each) Long trench steel shelter dugouts put up for Driver Section (No 3 Sect)

22-23 February: as above - inspection and certain work at ? under Lt Bruce RE
24 February: as above also erection of Nissen huts at P.C Gabrielle at Div HQ (No1 Sect)
25-26 February: as above Nissen hut erection completed 26th.- Officers hut at Foucaucourt (No 2 Sect) completed 26th - O.C. returned from course of instruction at Hesdin 26th
27-28 February: as above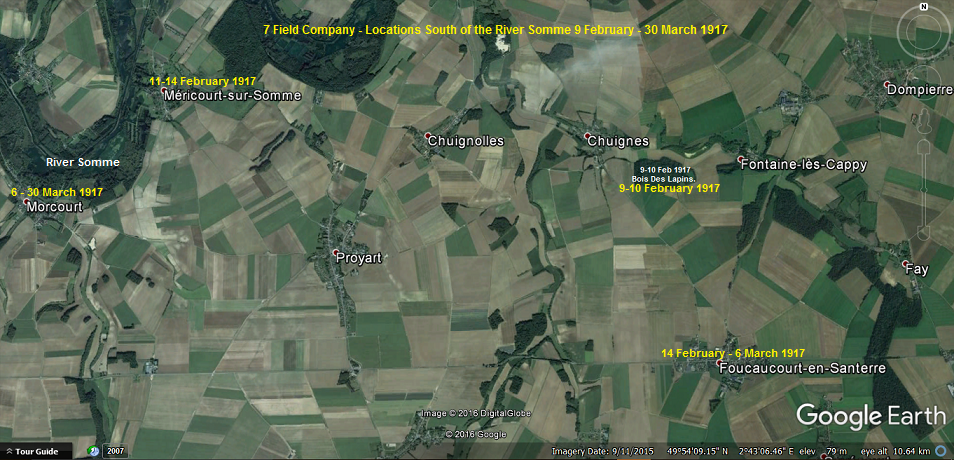 6 February : Went over with McQueen, Sidebottom and Rimbod, to see the French trench tramlines, which we are to take over. McQueen had been over before and, after going round the line, had a meal with a French Captain in his dugout. When they were going away, this officer asked Rimbod if he would send off a telegram for him on his way back. He handed him a telegraph form, saying, 'Arrive home tomorrow night' , and addressed to his wife in Paris. Rimbod congratulated him and asked him how much leave he had got; 'Well,' he replied, 'I'm not exactly going on leave, but now that I have shown you people over, no one will miss me for a week or so!'
We were promised 'al car by the corps to take us over to see the French, but, when it rolled up, it turned out to be a water-tank lorry! So while McQueen sat in front by the driver, Rimbod, Sidebottom and I clung precariously on top of the water tank, frozen perfectly stiff. Drove over via Bray-sur-Somme to Chuignes!(Our camp is to be in Adrian huts, in a wood called the Bois des Lapins, just beyond Chuignes. It is at present occupied as a reserve camp by a battalion of French infantry. A tall fair-haired commandant with long fair moustaches showed us round. Their men, I noticed, were very untidy and dirty, and showed no respect for their officers, even talking to them sitting down with cigarettes in their mouths. The commandant addressed me as 'le jeune homme', and refused to believe I was a captain, as I looked so young.
Albert, 1 - 3rd February: Route marches on 1st & 3rd.- drills on the 2nd, lectures by Section officers, after drills.

The French tramway system is, of course, entirely different to ours, which does not facilitate taking over. The French tramways are solely used for artillery ammunition,
whereby they miss an enormous field of utility in supplying their infantry. Hence their lines run up only as far as the guns. The tramway personnel are all garrison gunners, organized in companies. These are composed of professional railwaymen and the lines are organized like a little railway system. We, who have been told to take over, have not a single officer who has ever been on a railway, no tools, equipment or skilled men. We were originally chosen for our rapidity in laying down and bolting together ready made rails, in the dark and under shell fire. Square pegs in round holes aren't in it. .
Of course in our future camp there is no stable. It makes me angry when people say of the horses, 'Stick them out there in the field', but horses cannot speak and so get no consideration. Yet we are constantly receiving orders about, the shortage of horses and the need to care for them. After seeing the camp we went round some of the French lines, and looked into a couple of dugouts occupied by French N.C.O.'s. On the way back, we called on a lieutenant, who lived in a little hut which was wall papered, 'furnished and hung with pictures. He insisted on speaking English, almost unintelligibly, though he thought he spoke like a native. It is lucky for our peace of mind that we can never tell how badly we speak a foreign language. After this, back to Albert on our icy water tank .

8 February: We leave Albert tomorrow. The horses are still at Becourt, but I have had the wagons all brought in here during the last few days. The sappers washed them in the river, and they were then painted all over with wagon preserving oil, so we ought to look nice on the march tomorrow.
9 February: The horses came in from Becourt this morning, and hooked into the wagons which were waiting for them in Albert. I stood waiting for them at the bend of the Rue des Illieux, when I suddenly heard the clicking of hoofs and the jingling of harness coming from the Rue de Bapaume. I don't think I shall ever forget seeing them come round the corner into view, Enderby in front with his pair of horses, Michael and Farmer, the steelwork of their harness gleaming like silver, a new green canvas bucket swinging from his saddle. Behind him the long line of horses, their chains and traces swinging in and out. Here they come, my old pairs of horses and my boys! The company looked perfect, swinging out on to the bleak, bitter downs on the road to Bray, the sappers with lean shining badges, the horses with glossy coats, almost black-looking oil-softened leatherwork, and steelwork gleaming like silver.
Soldiers are notorious for the number of pets they collect, and we are no exception, especially the mounted section.The oldest inhabitant in this category is a little Yorkshire terrier called Nobby, having been the property of Nobby Clark. He is a funny little fellow, though very plucky and used to lead the company last autumn, trotting along about ten yards in front. This time the lead was taken by Monty, so called because he was born at Mont des Cats, a little brown and black dog. Another old stager is a little fox terrier bitch called Nellie, who belongs to the drivers. In spite of orders circulated at intervals for the destruction of all stray dogs, Nellie invariably marches with us, perched on top of the front of one of the pontoons, where she has been much admired. Though the old boats sway a good deal, she never seems to lose her balance, but stands looking at the view, her ears alertly pricked all the way.A rumour having reached us that the camp allotted to us at Bois des Lapins was still occupied by a French battalion, McQueen took me on ahead with him to see. I hated this, because one so rarely gets a chance of seeing one's fellows on the march, and because it did not seem to me the game for the two senior officers to ride on ahead, while the boys slog it along the road in a biting wind. Arriving at Bois des Lapins, the rumour proved correct, the French not intending to move till next day. They were vastly amused at our being on the road, and said something ill-mannered about British staff arrangements. They were not keen to be of any assistance, but pointed to two
unoccupied huts, one of which had only half a roof and the other large holes in the walls and a gap of six inches between the walls and the floor. They did not seem ready to offer any help to our officers. The French do not go in for looks, and in fact are usually filthy. Similarly, taking practical results as their object apart from any sentiment, self-respect, gallantry or display, they are of the most extraordinary caution. Today when we were parking our wagons in the snow, the commandant rushed out horror-struck, begging us not to leave our 'voitures' there, but to conceal them beneath the trees. Heaven knows how many miles we are from the Boche here. However we moved them, so as not to hurt the old boy 's feelings. Rimbod talked to the Frenchmen while we were marching in. He was in conversation with our friend the commandant when the sappers arrived. Seeing them halt by word of command, ground arms, lay down their marching order, and then 'right turn, quick march' to unload the wagons - he said, 'By jove,' (or the French equivalent) 'that's good! I wish we could get our fellows to do that! We can't keep hold of them at the end of a march.'
Another of Rimbod's anecdotes was of a group of French privates watching the company march in, guessing which of us was the officer commanding. Opinion was almost unanimous in favour of the company sergeant-major, with his portly and authoritative air. A French battery of 75's passed us, going to the rear. They certainly weren't much to look at. The men wore woollen mufflers and coats and odds and ends of all sorts of makes and colours - sent presumably by loving female relations- but which made them look like a scratch lot of tramps. Their harness was black with rust and filth, and they had the most horrible little wire snaffles, so light as almost to cut the horses' mouths. Their guns and limbers were piled high with every kind of odds and ends, like a curiosity shop moving house. The troops had a miserable night in the two ruined huts offered us by the French. They might as well have bivouacked in the snow. For the officers' mess, we found an unoccupied two room cottage. Here, by using the door, which was off its hinges, laid across two boxes as a table, and sitting round on other boxes, we managed to eat a meal.
10 February: The French having left early, we spent the rest of the morning making ourselves extremely comfortable. All hands worked really hard, making latrines, cookhouses, sump-pits, carrying out the foul straw on which the Frenchmen had been lying, and carrying in and laying out their own kits. By midday we were feeling a bit tired, especially after such a cold sleepless night, but we were contented at the prospect of comfortable quarters. At 1 pm, however, a battalion of Northumberland Fusiliers arrived, large as life, and were much annoyed at finding us here. We did our best to put them up, and were, I trust, highly helpful and sympathetic, having been in the same boat ourselves the day before. McQueen had gone off somewhere and I was in charge. Judge then of my alarm and despondency on receiving a telegram, from Headquarters III Corps which said, '7th Field Company R.E. will march immediately to Mericourt ­ sur-Somme, and apply to Town Major for billets.' Now it was the turn of the N.F.'s to say, 'Bad luck, old man, awfully sorry, but we thought you must have made a mistake. By George! It's an ill-wind, what!'
As it was already 2 p.m. and we had a seven mile march to do, I saw we must be off at once, so I broke the news to the sergeant-major, who received it with his early Christian martyr expression, and in an hour and a half we were parading in full marching order. To say that everyone was fed up is absurd! The air was blue. The men had already done a hard day's work, following on a sleepless night. I had sent Baker on to Mericourt at once on receiving the telegram, to try and make sure we got billets for this night at least. Just before we reached Mericourt, we found Baker, standing like an angel in the way. He had got huts for all the men, with bunks too. There was a small hut for the officers' mess, and the horses were in a stable. So, in the end, we did not do so badly.
11 February: We heard today that the curious evolutions described above were due to a change of intention in the powers - that - be. We are to give up the tramway work, and are to be a field company with the 50th Division once more. I danced a pas seul in the mess when I heard the news. Meanwhile McQueen has gone off somewhere on a course, and I am the Rajah of Bong once again. We rested for three days in Mericourt. Baker and I had a red - letter day, riding into Corbie for tea. The blase inhabitants of England can form no idea of the childish joy of a day of festivity in a real town with shops and women. There is no such joy for those who live in civilization! There are many French officers in Corbie, and also the 8th British (regular) Division, a very smart one. They played retreat through the streets in great style. It is curious that the French, with so long a history of military glory, have no panache like this any longer. Rimbod also went in on a push-bicycle, and we did some exciting shopping, a football, a primus stove and such like. I longed to go into the shops and buy everything! What a wonderful day! On our last night before re-joining the division, I got up a little dinner of farewell to the Tramway officers of B ·Echelon, profiting by the absence of McQueen, who does not approve of such frivolities. The ever-ready, cheerful Rimbod excelled himself, and went shopping in Bray.The result was excellent.

MENU
Soup Roast Beef Vegetables Creme de M arrons (tinned)
Whipped Cream and bottled cherries
Savoury - Toasted cheese Champagne
Coffee Port wine Creme de menthe

I proposed the health of the Tramway officers, which was drunk with cheers. Good replied with an amusing speech, all delivered with the solemnity of a judge. Finally, a couple of tunes on the mess gramophone and 'Auld Lang Syne'. A most convivial evening.
14 February: We marched at 8 a.m. from Mericourt camp to Foucaucourt. The company marched well. On the way, we met a French infantry unit, marching back from the line. On approaching them we marched to attention. An officer leading them delivered some sort of exhortation to his men, but with no visible effect. They were straggling along, roughly in file, but with no two men in step, some were riding on their cooker, and ones or twos were straggling a long behind the column. I think I am right in saying that every man in our company was in step, properly at the lope, and cleanly and uniformly dressed. (Map 14) Our transport was parked in Proyart, rather a tumble­ down dirty little place, but containing civilians and a few poky shops. So the drivers were quite happy there, shops and even girls (of sorts) being still quite a novelty after Becourt. After six months, we are leaving the old III Corps and are to be launched out into fresh woods and pastures new. For nearly four months, this corps consisted of the lst, 15th, 48th and 50th Divisions. Of these, the lst Division was pretty good, but had suffered terrible punishment since the war began, such as the shambles at High Wood. The 15th Division were Jocks and very smart. The 48th Division, South Midland Territorials. We remained nearly three weeks in Foucaucourt, during which, among other things, we began to dig a Corps Reserve Line on the line Estrees to Assevillers. However when we had worked on it for a few days, the plan was abandoned. These were rather a futile three weeks. On 6 March 1917, we accordingly bade farewell to the old III Corps, and embarked on an entirely new era for the company.The old slogging misery of the Somme', shivering with cold and knee-deep in mud, was transformed into an epoch of rest, polishings, inspections, reforms, marchings and training for open warfare and the march to Berlin. Meanwhile, however, the 50th Division was in the front line, when we rejoined it, but was about to be relieved. As a result, we remained in the back area, doing. odd jobs, including the siting and digging of the corps reserve line. When the division came out of the line, we joined them and,on 6 March 1917, set out with them to face whatever new adventures fortune might bring
Foucaucourt 1 March 1917: No1 Section siting and marking Corps Line immediately E of Estrees. Nos 2 & 3 Sect'ns - building Adrian pattern huts in Foucaucourt ( rate 180 bunks per cabin) No4 Sect'n - work on Div Baths and with 70 pioneers and 30 RAMC commenced making 3 Adrian (120 bunk) huts from La Flaque to Proyart (11/2 mile distance) for use of Field Ambulance.

2 March: No1 Section fixing road at D.H.Q. & making mortar standings, repairing road drainage at D.H.Q.
Nos 1 & 3 Sections as of the 1st
No 4 Section as of the 1st
3 March: As of the 2nd
4 March: Nos 1 & 2 Section as of the 2nd. No3 as 2nd. No4 Section as 3rd.
5 March: All Sections as the 4th - 1/2 of No 4 Section completed the removal and re-erection of 3 Adrian huts. Complete including flooring.

Morcourt 6 March: Marched from Foucaucourt at 9.30 am, reached Morcourt 12.00 am - All billets in Morcourt (barns) in very bad condition work commenced to mend barns throughout the village, and other work for Town Major.

7 March: Work on billets in Morcourt - cleanliness inspection, overhaul of wagons commenced.

8 -9 March: as for the 7th, information received: that the Company likely to be in Morcourt some time - training programme drawn up, lecture by O.C. (discipline as affecting RE work in the field) Requirement, working party of ardent Sappers 2 N.C.O.s and 16 men told of special works required by Town Mayor in Morcourt. Erection of Nissen huts and latrines etc,

10 March: am, route march Morcourt - Cerisy - Sailly Luarette - return. PM Lecture by O.C. "RE work in advance".
11 March: am, 1 hours drill, kit inspection, church parade all denominations.
Pm, Officers bridge demolition reconnaissance - football.
12 March:
am, 3/4 hour Sec - drill without arms, 3/4 hour Sec- drill with arms. 3/4 hour Company drill,
Lecture by O.C, Pontooning. pm, Lecture by O.C. "RE work in attack" -- LT 1/2 Coy football
- RT 1/2 Coy loading bridging equipment
13 March: Rt am + pm Bridging on R Somme, W of Cerisy
Lt am 1/2 Coy route march with Bridge Demolition Scheme -- pm football.
+ N.C.Os reconnaissance on Harty bridge site.
14 March: As for 13th - work of 1/2 Coys reversed.
15 March: Rt am+pm 1/2 Coy bridging on R Somme W of Cerisy.
Lt 1/2 Coy 3/4 hr Sect'n drill without arms, 3/4hr Sect'n drill with arms
- lecture by Section officers on "Rapid Wiring" - 3/4 hr 1/2 Coy drill with arms,
pm lecture by O.C. "RE work in trench warfare No1" - football.

16 March: as for 15th - work of 1/2 Coy reversed.
17 March: Rt 1/2 Coy am + pm Bridging on R Somme W of Cerisy
Lt 1/2 Coy am, route march combined with "Strong Point Scheme"
pm, lecture by O.C. "RE work in trench warfare No 2" - football.

18 March: Sunday clean arms parade,Gas Drills, Divine services (with 7 D.L.I) - football,
all Officers and Sappers included.
19 March: fatigues for men not inoculated.
20 March: fatigues also drill without arms and lectures by Section officers for inoculated men.
21 March: Work as for the 17th - work of 1/2 Coys reversed.



22 March: Rt 1/2 Coy Bridging W of Cerisy (final day of preliminary bridging practices -- complete bridge of 2 (?)
& 2 Pontoons put in across bank of R. Somme with good stream, steep banks, 8' depth water, all material already unloaded
- time - 1 hour and 25 minutes). Lt 1/2 Coy am, 1/2 Coy drill with arms - bombing instruction and practice -
pm, lecture by Section officers, from REs Trench Warfare, recently published - football.

23 March: work as for 22nd, work of 1/2 Coys reversed. -- O.C attended 50 Div Staff Aide though area lately mortared by enemy -
Lt 1/2 Coy bridged same as above in 1 hour 20 minutes
24 March: am + pm route march combined with Heavy Bridging Scheme at Bouzincourt. O.C attended 50 Div Staff Aide on route Genermont - St Christ - Tertry.
25 March: Sunday - am - short drill without arms, Gas drill, clean arms inspection, medical inspection, church parades. pm. Football - final of Inter-Section, No3 beat No1, 2 goals to 1.
26 March: am. Coy drill - lecture by O.C. "RE Work in Open Warfare" pm, 3 Section marched to Bridging Site - loaded up and returned Bridging Stores.

27 March: am. Coy close order drills - lecture by O.C. - pm. Night work. 9pm Scheme, cross country march by Sections on compass bearings to selected sites for Strong Posts.- training S.TS and wiring team.

28 March: am. Route march.pm. football
29 March: am. Fatigues preparatory to all vehicles marching on 30th. Pm. Full marching order inspection. During period 10-29th Mounted Section - carried out training in all mounted duties under Capt Glubb - this training throughout hampered by inoculation of O.Rs and all bridging vehicles being withdrawn for work under III Corps.

30 March: Mtd Section under Capt Glubb marched 7.30 am, with 151 Bde Group transport to St Gratien (16 mile) - Dvrs Mtd Sections - route march and fatigues.
31 March: Mtd Sect marched St Gratien - Las Vicogne - Dvrs Mtd Sect 7.30am by horses and march route with 151 Bde Group to Las Vicogne - all vehicles thoroughly overhauled by this date and equipment brought up to the late testaments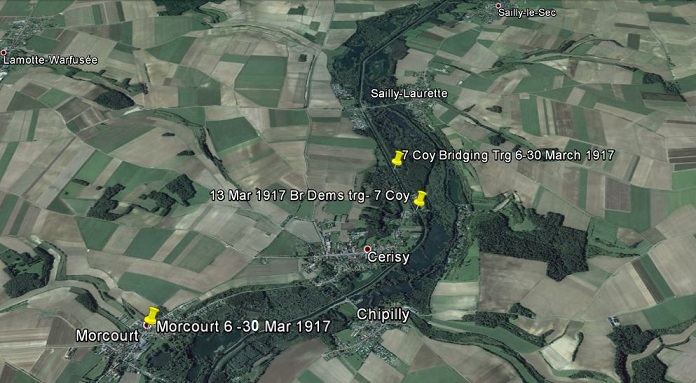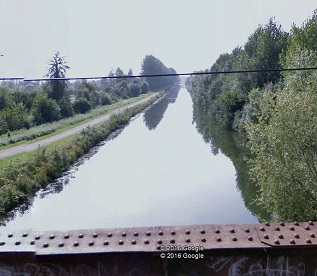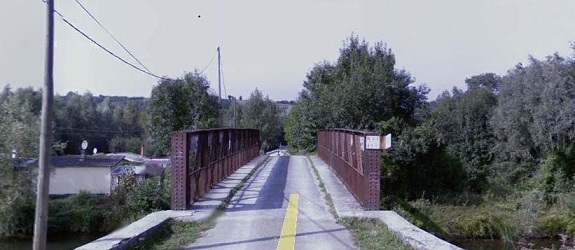 6 March 1917: Yesterday we finished handing over to the 59th Division. I had the horses up in plenty of time, and hooked them into the wagons, this morning, in case we had difficulty in pulling out the pontoons, which are the deuce to move on soft ground. As a matter of fact, all came out very well, and we formed up in plenty of time. It warms one's heart to see the big horses working.
We had all three pontoon wagons hooked in, and then told the drivers to mount. 'Are you ready, No 1 Pontoon? All right, get mounted then.' The drivers untie their reins, climb up, shorten up their reins, take their stirrups, get their whips free, and look round expectantly. 'Now,' I say,' when you start, pull out to the left to avoid this hole, then take a sweep to your right and then over on to the road . And keep them going all the time, once you get started. Is that clear? Reagy ? All right, fire away then!' The leaders glance over their shoulders at their wheel­ driver and ask, 'Right?' Then over go the three whips on the off-side horses, and the drivers ply their spurs with a shout. Forward lean the old horses on to their collars; for a second they struggle and strain, the great muscles stand out on their quarters and thighs, then the big wagon and its boat comes out with a heave and a sucking noise from the mud, and away they go. They describe their wheel, sweeping round to the left, the horses straining forward in standing plunges, their quarters so low as to bring their loins and thighs into a straight line. The drivers shout hup! hup! and ply whip and spur and the great wagons crawl stickily along, the pontoons on top swaying to left and right. Then , amid shouts of 'keep 'em going, keep 'em going!' and flying turfs from the horse's feet, they swing round on to the hard road. The drivers dismount from their panting and heaving horses. 'Well done indeed, No1. Get mounted, No 2 pontoon!
The officers' mess baggage is, in my opinion, a disgrace at the moment, and I think should be drastically cut down. It makes me feel quite wretched when we are moving to see an unfortunate loading party of sappers staggering under the goods of the mess. Rimbod, who of course has no idea of soldiering, will keep buying stores of weird foods, so that when we come to move we find boxes and boxes of tinned food to be loaded up. But my worst thorn in the flesh is a huge iron cooking range, which the poor mess-cart mules have toiled and struggled under since August 1916. Whenever I am in command, leave it behind, as I did at Mericourt. But when McQueen comes back, he always sends for it again and my poor mules and my soldierly spirit are both burdened once more! Fortunately we have five spare horses on our strength and we hardly ever have a horse sick. Incidentally, the O.C. signs a weekly certificate , surpluses in horse transport for week ending . . . . 'Nil.' But as every field company has a surplus and the C.R. E. knows we have, this is considered a white lie!
Our destination was Morcourt, where Baker had pre­ceeded us to arrange the billets. The drivers were billeted in the village school, but on going there we found it occupied by the 8th Durhams. Assisted by Baker, we found one Gould, doing adjutant to the 8th, who cleared his men out. Sergeant Church entered the building, just as some of the Durhams were carrying out their kits. The latter murmured audibly to one another, 'We don't remember anyone wanting to pinch our billets when we were in the trenches.' But Church, who was an Old Army regular, was equal to the occasion . 'You 're lucky to get any billets at all, my lads,' he said. 'We didn 't have no billets in 1914.'
10 March: The scene is changed. It is a perfect sunny spring morning. We are in the little village of Morcourt, on the River Somme, almost out of sound of the guns altogether. The sky is light blue, speckled only with a few fleecy white clouds. This village is only half-populated as regards civilians, but is crammed with troops, the 7th Durhams, the 8th Durhams, a company of Army Service Corps and ourselves. All the same, it is quite picturesque. On one side is the valley of the Somme, flat marshes half a mile wide. Through the centre of the swamp runs the canalized Somme. On the other side of the village rises the steep grassy slope of the downs. Between the hills and the swamp lies the village, long and irregular. The charms of an inhabited village were not lost on the troops, after six months in the uninhabited wilderness. The first night, there was some rather uproarious singing before 'lights out', induced by the genial vinordinaire of the village, none having been obtainable for the past six months.
We are still in Corps reserve here, and are afraid of being called upon hourly to march up to the line again should the Boche retire from this front, as we have just heard that he has done from the Ancre. March orders have been issued in case the division should be wanted, so we are only waiting for zero hour. Troops are to, march in fighting kit and pontoons and heavy transport to be left behind, (just when you would think they would be wanted to bridge the Somme). Heaven grant it may not come off, just when we are enjoying a rest in a pretty village.
11 - 30 March: The sappers commenced their training course with some drill and marching, after which we seized the opportunity of being so near a good-sized river, to do a little bridging with the pontoons, a thing which has not been done for years. The route marches are now carried out on the 'intelligent interest' principle. For instance, the com­pany is halted on the Sailly-Cerisy Canal, the men fall out and sit on the canal bank. Baker then delivers a harangue on how to demolish the bridge over the canal or, conversely, how to build a bridge across it, or something equally useful. The N.C.O.'s are then turned loose to prepare a scheme for the demolition of the bridge. McQueen also gave a number of lectures to the whole company, but made the mistake of delivering them every day after lunch, which made it very difficult to keep awake. The C.R.E. being on leave, McQueen then disappeared to divisional headquarters, as acting C.R.E. There he attended a lecture given by our new Corps Commander, XVIII Corps, Sir Ivor Maxse. The latter was evidently a man with strong ideas of his own, as to how things should be done. In order to make sure that his points were remembered, he made use of his own special rhetoric, often vulgar, to ensure that what he said lodged in the minds of his hearers. He began his speech by saying that the 50th Division was joining his army corps of selected divisions to be trained for pursuit and mobile warfare. 'Gentlemen,' he said, 'you know all about trench warfare, of course. Well, forget it! It 's finished! Put it right out of your minds! We don't want it any more!' He then proceeded to pour scorn on the inefficiency of all
battalion commanders in the British army, saying that they knew nothing of outposts, advance guards, pickets, march discipline or anything else. 'Look at my corps how ,' he said. 'They're up near Arras. They don't know where they are. They're all twisted up and can't find the enemy. And whose fault is that? Yours, gentlemen! The battalion commanders!' He then started damning the R.E. field companies and, addressing himself to McQueen, he asked, 'When your companies advance, do they ever have a piece of rope with them ? Has it ever occurred to your officers to carry rope? ' McQueen replied drily his company never stirred without rope of all sizes. Then he turned to the subject of putting villages in a state of defence, but again the major knew all the answers. After the meeting, Colonel Karslake, the chief operational staff officer on the division (G.S.O.1) said to him, 'By jove! you stood up to him splendidly, McQueen!'
There can be no doubt that McQueen is an extremely able officer, and one totally dedicated to his duty, to the exclusion of any idea of relaxation or amusement. To us, his
only failing is that he must be approaching forty years of age, whereas we are all in our teens or early twenties. [I myself was nineteen at this time.]
This opening gambit from our new corps commander has been followed by a shower of pamphlets, all apparently drafted by Maxse himself. One was called Intensive Digging, and was written in a kind of facetious tone, like a schoolboy's letter. Each man must dig, it said, 'till the sweat standing on his brow was seen by all his pals'. The pamphlet concluded: 'Motto. No DIG, No DEC !
Note Dec is short for decorations. '
Another pamphlet on march discipline and men who fell out on the march, contained a sentence in large block capitals, legible five yards away, 'HAVE NOTHING TO DO WITH THE DIARRHOEA EXCUSE.'
We have all been infected with the idea of a great victory and then of a decisive pursuit by our new army corps. I even went so far as to deliver two lectures myself to the drivers. One was on moving warfare in general, on sudden alarms, bivouacs and night marches. I spoke also of short rations, no hay for the horses, and the necessity for grazing whenever it was obtainable. Horses would have to be rested as much as possible, owing to the long marches and hard work which would be expected of them. On another occasion, I told them how a beaten army could be destroyed by a vigorous pursuit, and that we should have to march day and night to effect this object. I added that, though I could not say when the war would end, there was certainly a feeling of impending victory in the air. By thus explaining the importance of pursuit, I hoped to secure the loyal and enthusiastic support of every man when the crisis came, for all would understand what was happening. I never spoke for more than half an hour. I also resorted to such stratagems as 'Do you understand?' t intervals, to which I must admit they all responded 'Yes, Sir!' very unanimously and cheerfully.
The subject of march discipline seemed to be endless. All units in the army when on the march halt for ten minutes in every hour - from ten minutes to the hour till the hour. I have arranged for all vehicles to carry 2-gallon petrol cans full of water, so that, as soon as the column halts, every driver can slip out his horse's bits, and water them from a bucket. He also eases the girths, and inspects his horse all over for sores and galls. If there is grass on the verge of the road, he will allow his horses to graze, or possibly he will pick up handfuls of grass and give it to them. In order to enable the drivers to pull off the road on to the grass verge, two blasts on a whistle will be blown all down t he column, two minutes before the halt. A single blast is blown to halt the column, to enable each driver to pull up, instead of merely running into the people in front. The more we practised, the more small points arose for the perfection of march discipline, a subject of immense importance for the comfort of horses and men alike. A disorganized and irregular column is exhausting alike for horses and men. In this training all the men were invariably willing and cheerful.
From August 1914 onwards, the Old Army had largely neglected smartness. Anyhow the war was expected to end in three or four months. Then came two years of trench warfare, knee-deep in mud, cold and misery, combined with the arrival of vast numbers of new men under untrained officers. But in the Spring of 1917, there was a great revival of smartness and discipline, and a new spirit of hope. In 1914, when the war was expected to be over in a few months, anything would do to get through it. But by 1917, war had become a way of life, and we wanted to be fine professionals. There was a feeling of train-to-the-greatest­ efficiency-for-the-expected- advance- which- will-this-summer-end-the-war. I determined to make my men as nearly as possible like my ideal of what a perfect unit should be. At Morcourt, we had stables at 7 a.m. every morning to water and feed. After breakfast, I paraded the mounted Section for exercise, sometimes with one horse per man, sometimes with pairs. The hills above Morcourt were light-soiled, rolling downs with no cultivation. We could ride for miles across the hills without touching a road, up and down steep slopes, through beech and oak woods hanging on the slopes of little valleys. Sometimes I extended the drivers into a long line and trotted down precipitous slopes, crashing through belts of woodland. Both men and horses enjoyed these rides across lovely, unspoilt open country.
It must be remembered that no horsed transport is allowed to move out of a walk on the roads in France, with the result that these men had ridden for long hours every day, some of them for years past, yet the number of times they had ridden at a trot in the previous year could be counted on their fingers. Some days, when we had only one man per horse, we did a little mounted troop drill. At the end of the morning's exercise, we did some jumping over a hurdle I had had made. Many of the men had no idea of how to sit over a fence, but we did not have more than three or four falls, though a good many finished up embracing their horses' necks. Another example of the extraordinary thoroughness needed to prepare a big offensive was told us by McQueen, who had visited the Bridging School at the base. A steel girder bridge had been prepared, he told us, made in portable sections to be bolted together on the site, to fit the exact gap of every important bridge behind the German lines. Thus if the enemy demolished all the bridges when he retired, new bridges of exactly the correct span would be ready to replace them. Unfortunately, however, the great minds at the Base Bridging School had overlooked one factor. Special heavy duty lorries had been built to carry up the sections of girders to the site of the demolished bridges, but the roads in the battle area were so bad, that the lorries all stuck. It so happens that the enemy has just voluntarily withdrawn on a broad front from Arras to Soissons, and in the process has blown up the bridge over the Somme at Brie. The appropriate bridge to repair the gap was, sure enough, ready at the base and was sent up right away on its own special lorries, but, when crossing the old front line area, all the lorries had stuck. So the Chief Engineer bethought him at once of the old wagons, which had so frequently saved the life of the British Army before, and called for a grand concentration of pontoon wagons from all field companies. This sounded a nasty job and I felt obliged to go with our wagons.
We were loaded at railhead with sections of a main steel girder, eight feet high. The loading was done by a unit of the South African Labour Corps. They quickly had our wagons loaded. It was nearly three in the afternoon before we reached Brie, having passed many of the special Foden bridging lorries, sunk axle deep in the road. The road into Brie was choked with wagons, and I had to leave my people and thread my way on horseback through the immense traffic jams, to look for the officer in charge ef the bridge reconstruction.
The demolition of the old masonry arched bridge had been carried out with German thoroughness. The sappers of the lst Division had constructed a light trestle bridge, over which a few battalions, some cyclists and a cavalry detachment had crossed, but had been unable to get in touch with the enemy, who had vanished. The light trestle bridge was to be replaced by a heavy trestle, after which the girder bridge would be built.
I struggled backwards and forwards through the crowd; of traffic. It was one of those times of chaotic crush and confusion, and I felt inclined to weep from exhaustion and frustration. At long last I found the officer in charge of construction of the girder bridge, but he had no men to unload our wagons. I raked together a few men, but they could not get the girders off. Some optimist then told me that we should not be able to get back anyhow, as the road was to be closed to returning traffic to allow the guns to come up. Eventually we got away and arrived back at Morcourt at 10 p.m. after fourteen hours on the road, and covering thirty-five miles. This day's work was an eloquent commentary on our airy dreams of breaking through the German lines and pursuing him at full speed to Berlin. The almost impassable roads, the huge traffic jams and the demolished bridges, held up the pursuit for days, during which the enemy had ample time to dig and wire a new front line at his leisure. Then the old routine would recommence, the massing of artillery and stores and the devastating bombardment, which would make the next stage of advance as slow as ever, over roads blown to pieces, and the whole country reduced to pulp. The job of carrying the girder bridge up to Brie lasted six days and destroyed any hope of further training or rest for the mounted section. I met streams of cavalry, both Indian and British, going up the line. A trifle late one would have thought, as the Boche had already established a new line of wire and trenches. One other event occurred at Morcourt. I suggested a concert for the mounted section, for which we obtained beer from Corbie. It was a great success. All the officers attended, and Corporal Rennie made a speech, to which McQueen replied. The officers then retired amid loud cheers, and the singing of 'They're all jolly good fellows.'The show nearly ended with a reprimand, as it was. ordered to cease at 10 p.m. At that hour, the mighty choruses were still swelling in the barn across the yard, while I looked anxiously at my watch. At 10.2 p.m, however, they struck up,
Three cheers for the Red , White and Blue; Three cheers for the Red , White and Blue; Oh, the army and the navy for ever,
Three cheers for the Red , White and Blue.
This was followed by roars of applause. Then at 10.8 p.m, they all solemnly stood up and sang 'God save the King'. They then filed out and dispersed quietly to their billets.

30 March: This morning we marched out of Morcourt at 7.30 a.m. (see Map14). This was the first time my scientific march discipline was put to the test, and the boys did very well, really remembering most of the points I had given them. I had to speak once or twice about the distance between wagons, which I never allowed to vary by more lhan two yards. I noticed many other units with intervals of a anything from one yard to twelve between their wagons. The result is that they kept alternately checking and closing up at a trot. At Querrieu, we passed a large chateau which was the headquarters of the Fourth Army, with its black and red flag hanging at the entrance gate. We spent the night in the village of St Gratien. Littlewood and I were given a small bedroom off an attic, about six feet by ten but very nice and clean, and with a bed. The stairs up to it led from a kind of old henhouse barn. Here we sat rather disconsolately, while my batman prepared a truly loathsome meal of cold Maconochie stew in a mess tin.
We wandered out again into the village in search of food, and found a great crowd of the boys, struggling to get into a tiny shop. As we got there Driver Cullen emerged from the crowd with packet of biscuits, like a rugger forward coming through the scrum with the ball. We presented him with money and besought him to get some more, whereupon he cheerfully plunged into the fray again. He must have been an expert, for he re-appeared in no time with a little packet of biscuits for each of us, which we departed munching although they were very nasty.
On sitting down again in our henbarn, however, an old gentleman appeared wearing an astrakhan fur hat and in his shirt sleeves. He apologized profusely for not knowing we were there, and ushered us bowing into a typical French country parlour. It was spotlessly clean, with a floor paved with coloured tiles, a stove projecting into the middle of the room, a dresser covered with waxen images of saints in glass cases, and in a frame on the wall, marvellous horse shoes in silver and gold and certificates . for various horse-shoeing exploits.
Monsieur was the village blacksmith, with a roaring furnace and a large bellows in a shed in his yard, which was full of rusty scrap iron, harrows and ploughs. With his help, Sapper Houston, our wheelwright, was repairing a broken spring from one of the pontoon wagons. In voluble French, the blacksmith assured us that we had only to say the word, and Madame would prepare us bread, eggs and coffee. This seemed too good to be true and we hastily closed the deal, sat down at the table and stretched our weary legs. The good blacksmith returned to his forge, and the Fat Boy (as I used to call Littlewood to chaff him) and I shook hands with one another. ·
When a knock came on the door, I shouted 'Entrez! entrez!', thinking it was madame, but it turned out to be Corporal Bates, grinning broadly at being addressed in French. A bottle of white wine from the village shop completed our bliss, after which, having looked round the horse lines again to see that all was well, I turned in, Next morning we held stables at 4.45 a.m. I left the cordial blacksmith's house at 5.15 a.m., when he and his good lady were still in bed. I was a little embarrassed to know what to offer our host for the meal and our use of his parlour. (The bedroom, of course , was a billet for which he would be paid by the government.) So I wrote a note of
thanks, and left 4.50 francs on the parlour table.
Our destination that day, 31 March, was La Vicogne, a tiny hamlet in a narrow llttle valley, just off the main Amiens-Doullens road, and bowered everywhere in trees. It consisted of a few neat little cottages in the valley, one or two big farms and a chateau in the trees at the top of the valley. It would have been lovely had not the weather been cold and windy, with driving snow showers. Owing to the present emphasis on marching (to Berlin!), the sappers now have, daily feet inspections..
Whilst at Morcourt the Company did bridging, pontooning and demolitions training, something they had not done for over two years and was a welcome change. 50th Division was selected for the new VXIII Corps under the optimistic, Sir Ivor Maxse, who had ordered all units to train vigorously in mobile warfare. It was believed that after the Somme battles the Germans were weakened and the planned forthcoming, British and Empire forces battle at Arras and Vimy, with 32 Divisions, and simultaneously the French attacking on the Aisne with 64 Divisions, would see the Allies march to Berlin. Included in their training were lectures and the role the Company was to take part, in this new era of optimism.
The Company did bridge demolition training on this bridge March 1917
7 Coy training on the River Somme
6-30 March 1917
The Company did bridging on this section of the Somme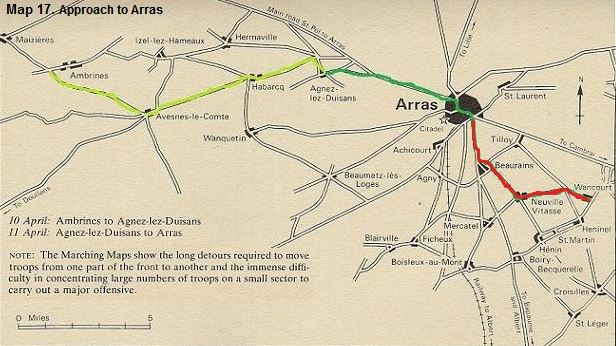 13-26 April: Following is general account of work of Coy 13-26 April - The work being continuous and changes of work necessarily frequent, daily entries not practicable -
1. General instructions received from C.R.E night of 12th that during impending operations Coy would be working in forward area (neighbourhood of Wancourt) carrying out certain specified jobs as detailed by C.R.E and at same time at the disposal for tactical requirements of the armour brigade Jobs indicated by C.R.E as follows (1) Cleaning road through Wancourt principally for passage of artillery (2) maintenance and if necessary strengthening of existing bridge immediately E of Wancourt (n.23.b.8.2) (3) making 2 routes and making Infantry bridges at selected points for passage of infantry= immediately S of bridge at N.23.b.8.2 (4) Making an alternative bridge and approaches near existing bridge at N23.b.8.2 for purposes of (a) alternative passage for artillery should existing bridge be rendered useless (b) providing a 2 way route at this point to facilitate traffic in the event of an advance ( it was obvious that if such a bridge could at the same time be constructed to take heaviest field loads, subsequent operations would be much assisted) (5) Reconnaissance of roads leading to Cherisy from Wancourt ( in the event of successful advance) (6) Reclamation of existing dug outs and cellars in Wancourt and generally increasing accommodation there)
13-26 April continued

(7) Reconnaissance of German dumps of material in Wancourt, Wancourt water supply and generally reclaim existing wells, pumps etc. (8) Meeting special tactical requirements of the armour brigade - All the above was carried out during the period 13-26th April with the exception of No 5, Operations of 14th and 15th not resulting in an advance and subsequent operations on 23rd and 24th this duty was delegated by C.R.E to 446 Field Coy RE - owing to 7 Coy RE being by that date somewhat depleted of personnel and fully engaged in other work in hand.

In addition to the above during this period the following work was required by the C.R.E and carried out: (1) provision of steel sector shelter accommodation for 170 men ( accommodation for 90 men was completed and ? Made by remaining 80 men during the 24 hrs. This work remained in 7 Coy charge and materials connected to site for shelters for further 160 men - work was then handed over by C.R.E's orders to 447 Coy RE ) (2) Collection of material for 100 knife rests and construction of 40 knife rests, also collection of wire for use by 7 D.L.I (Pioneers) + carriage of knife rests and wire to site. 2 tactical requirements of brigades - other than the foregoing as follows:-
(1) 151 Brigade (13th to 14th) Clearance of road through Wancourt - G.O.C considered this very urgent. No W.P could be given consequently 2.1/2 Sections so employed from 8pm 13/4/17 to 8.30am 14/4/17. By 4 am heavy tree blocks, debris cleaned and shell holes filled with brick sufficient for easy passage of guns and all limbers from Pt 500 yds W of Wancourt to 200 yds E of Wancourt bridge (subsequently confirmed) - heavy tree falls occurred due to shelling on 2 occasions, which were cleared at once.
(2) 151 Bde - requested at 10.15 pm 13/4/17 that "marching off line" be traced that night for are by 6 D.L.I and 9 D.L.I - 1000 yds such line traced by compass bearing due N from Wancourt Tower (by Lt Baker RE) between 2 am and 3 am (in conjunction with O.C 9 D.L.I)
(3) 149 Bde requested on 16th that strong MG emplacement at farm immediately N of Wancourt Tower be destroyed that day as hostile attack of this point expected - this was carried out (Lt Littlewood) 70 lbs G.C being used and effective demolition secured by 5 pm ( Hostile attack captured this emplacement that night and enemy subsequently evicted which operation was as? Much facilitated by previous destruction of M.G emplacement.)
(4) Small consolidation (tracing) party held in readiness by request of 149 Bde on 16th & 17th for use if required. (not called for)
(5) 150 Bde (after 19th) requested construction of Battalion Battle HQs and 2 Regt Aid Posts about N.23.d.10.5. for subsequent operations (the Battalion HQ to be possibly used later by Bde HQ). Proceeded to sink 2 mine shafts 20' apart and connect up to serve for Bde Headquarters ? 2 sprinter proofs in bank such 12'x6' for ? and 2 similar splinter proofs to serve as R.A.P.
All material (Bosch mining cases) had to be removed from W of Wancourt to Pt: N.c.0.9., thence by daylight to N.20.c.1.0, thence by night to site, in all 450 men loads requiring triple shift (it was not feasible to get large carrying parties to carry though Wancourt by night on account of shelling and to secure work getting done the triple shift was necessary) - The 4 Splinter Proofs completed by 4 am, 22nd, (steel arches on timber frames on sand bag walls) - Lt Chaplin (O i/c, 2nd Cpl Nunn, 7 Sappers killed and 8 wounded by shell at close to this work - The deep dug out (16' cover) was completed. (Continuous shifts of Sappers) by 10 pm night 22nd.- These occupied night of 22nd prior to attack on morning of 23rd.
Work carried out by order of C.R.E. (detailed in 1 above) (1) Cleaning route through Wancourt - after 14th except for tree falls, this work was done by 7th D.L.I Pioneers.
(2) Maintenance and strengthening of existing bridge at N.23.b.8.2 - owing to this bridge being under direct view & M.G. fire from Guemappe, it was only considered admissible to collect materials to E end of Wancourt prior to morning of 23rd - When the work was carried out ( 9 hours 2 of reconnaissance of 1 Section, bridge was twice hit during the work but party was working under fair cover but in contaminated by Gas Shells - only 2 casualties.
(3) making 2 routes and making 2 loops = bridges over R. Cojeul - carried out by Lt Littlewood on nights 16/17 and 17/18. Work was attempted on night 15/16 but owing to consistent shelling of neighbourhood. Lt Chaplin, see 2, was, I consider rightly, withdrawn as the work at that time was not urgent.
(4) Making alternative bridge and approach (to carry heaviest field loads) immediately N of Wancourt bridge for same reason stated in (2) above up to night of 23rd it was only possible to collect and mark down material. Any work done would certainly have led to heavy shelling of that area ( under direct observation from Guemappe) and probably the existing bridge would have been destroyed. The ? Of the heavy trestles, 18 steel joists (12' x 8" x 3") for the 2 bridges entailed (1 of 22' span, 1 ? of 15' span) were obtained from the Bosch Dump on R. Cojeul - work commenced 6.30 am, 23rd ( No 4 Section Lt Slattery on bridge construction) No1 Section ( No1 Sgt Wadkinson) carrying also platoon (1 officer 28 men) 8 D.L.I - carrying (superintended by Lt Baker RE) was disrupted by 1 pm. The work by this time was hit direct by light gas shell. The work was retarded somewhat owing to men leaving most of the time to wear their gas helmets. The scent of light gas shells, the shell barrage being continuous ( 3 casualties, a bridge and 2 with carrying party) The work was resumed at 4pm-6pm by same party by which time out pier had been built and trestles fitted to carry the decking and all joists in position on main bridge. Work was renewed on 24th, 3 Sections
(nos 1,2 & 4) being employed - very quiet and undisturbed day and all bridge work completed by 4.30 pm (commenced 6.30 am) The carrying of mining cases and placing of decking took longer than I anticipated as mining cases previously connected to W end of Wancourt destroyed by shell fire and large pile of debris on route. 4 Sections (at weak strength) from
7 am to 4pm + 1 Coy 7th D.L.I. (7am -1pm) 120 yards roadway with drains completed 25th. On conclusion of which, 4 Sections marched into Arras (a distance of 7 Miles) same evening - bridge will take heaviest field loads. (5) Cellars and dug outs cleaned in Wancourt to take a battalion (800) and 7 wells reclaimed + pumps repaired - work slow for 3 days as dug out entrances damaged at same rate as repairs made -
G.O.C.s 149, 150,.151 Bde were pleased to express to O.C. satisfaction with work done at their request. C.R.E 50 Div (Lt Col Rathbone RE) instructed O.C. to convey to all ranks of the Coy = his entire satisfaction with all work carried out during this period and regret of the somewhat heavy casualties incurred.
The casualties (detailed in attached) 1 officer, 1 NCO, 6 Sappers killed. 1 officer, 5 NCOs, 14 Sappers wounded. 2 Sappers gassed. The loss to the Coy of Lt Chaplin (killed) Lt Baker (wounded) Cpl O' Connell DCM (wounded) and Other Ranks will be much felt. The O.C. brought notice for immediate awards on account of gallantry and good work the names of: 2nd Lt Baker RE, 2nd Lt Littlewood RE, Sgt Farrer, Cpl Cutts, Sappers Southern and Edwards.
26 April: Remained in Arras.
27 April: Coy marched to Humbercourt arriving 2 am 28/4/17
28-30 April: Rested in Humbercourt - inspections etc. Orders received on afternoon 30th to be ready to march to forward area again on 1st or 2nd May. Lt Chaplin and 7 O.R.s buried near Wancourt.
The Battle of Arras (13th to 26th April) and after 27th April -23rd May By Capt H.A. Baker M.C.

General situation: The opening phase of the battle of Arras (9th-12th April) had resulted in the penetration of the enemy's strongly fortified positions immediately east of Arras, on a front of about 10 miles and to a depth of 5 miles. No ''breakthrough'', was however, secured and the divisions comprising the XVIII Corps were used to reinforce the attacking troops, a second general attack being launched on the 14th April. One function of the British operations was to attract German reserves away from the French attacks on the Aisne and the Chemin des Dames. It was believed this result had already been largely obtained and that the German army east of Arras had been heavily reinforced. But hope of a breakthrough had not yet been abandoned and preparations were made to follow up rapidly and exploit any success gained. The C.R.E. 5oth Division ( Lt Col W. Rathbone, D.S.O. vice Lt Col C.W. Singer C.M.G., D.S.O., appointed CE XV Corps) held a conference of field company and pioneer battalion commanders at Arras on the 12th April, when the position was outlined and instructions issued regarding works to be undertaken during the coming fighting. The 50th Division was to attack on a single brigade frontage, 151st brigade leading. The 7th Company was detailed as the forward field company, and was to receive orders for work direct from the C.R.E. but keeping in close touch with the leading brigade (whichever that might be from time to time) and meeting its special tactical requirements as they might arise- at the expense, if necessary, of other work in hand. This arrangement worked admirably. The 7th Company remained the forward company throughout the operations (13th to 28th April) and was able over and above much divisional work to meet tactical needs of the successive brigades (151st 149th, 150th) These latter included: 151st Brigade,(13th and 14th April) clearance of road through Wancourt 2.1/2 Sections being so employed 8 pm 13th, to 8.30 am, 14th April. By 4 am heavy tree blocks and the debris of fallen houses had been cleared and shell - holes filled with brick to allow of passage of guns and limbers through the village to advanced positions east of the small Cojeul river. The village and approaches were considerably shelled during the work and a few casualties were incurred. 149th Brigade:(16th to 17th April), a massive concrete machine gun nest immediately north of Wancourt Tower, which it was anticipated the enemy would endeavour to recapture, was destroyed on the 16th April by 2nd lieut Littlewood, using 70lb of guncotton. The value of this work was demonstrated when the enemy recaptured the hill and was easily driven off again.
150th Brigade rapid construction of a H.Q. deep dugout
On the afternoon of the 19th the Company received orders to construct battle H.Q. for two battalions and cover for a regimental aid post in a bank on a slope east of Wancourt, to be ready for occupation by the 23rd and to be used subsequently as brigade headquarters.
The site was in direct view from Guemappe, 1,600 yards away. It was considered essential to make a deep dugout, but, as the time was very short, a very special effort was required to complete the work. Large carrying parties for mining setts and removal of spoil were required and all this had to be done at night. It was calculated that, by using day and night shifts and employing carrying parties (there were 450 man-loads of timber alone), a dugout 30'x10'x6', with two entrances 20' apart, could be made in the time available. The soil was rather loose and treacherous chalk. Work was commenced 20th/21st, carried on throughout the 21st and completed by 10 pm on the 22nd. The dugout was occupied the same night. Two cut- and -cover dugouts for orderlies (12'x6') and two for R.A.P.s were also constructed in the bank. As the working party for the latter was leaving at 4 am on the 22nd, a heavy shell burst on the party causing 17 casualties including 2nd Lt R.E.E.Chaplin, Lcpl W. Nunn, and 7 sappers killed and 8 sappers wounded, all of No 1 Section. On conclusion of these operations the commanders of each Brigade wrote, expressing appreciation of the Company's work and asking that the Company be informed. During the same period (13th-25th) the Company also carried out the following works under the divisional programme, namely,
Clearing routes through Wancourt, after the 13th the 7th DLI pioneers took over this work. The heavy shelling of the village necessitated permanent clearing gangs.
Maintenance and timbering up of existing brick bridge over the river Cojeul immediately east of Wancourt. As this bridge was under direct view and MG fire from Guemappe (800 yds distant), it was only feasible before the 23rd to collect materials in Wancourt and to arrange for work to commence on the day of the attack. The work was then completed by one Section in nine hours and was carried out under occasional M.G. fire and a steady light shell fire. Gas masks had to be worn intermittently. Although the bridge was hit twice by shells during the work, only two casualties occurred. Certain batteries galloped across the bridge later in the afternoon to take up positions on the slopes to the east, but were shortly withdrawn owing to the enemy's barrage, which included heavy shell being maintained on the line of the River Cojeul.
Making two routes with light infantry foot bridges across the valley and the River Cojeul. This was carried out by 2nd Lieut Littlewood on the nights 16th/17th and 17th 18th. An attempt on 15th/16th was stopped by enemy's shell fire
Clearing damaged cellars and German dugouts in Wancourt to accommodate a reserve battalion, reclaiming seven wells and repairing pumps. Work on cellars and dugouts was slow for three days as entrances was blown in or buried at a rate almost as equal to that of the repair. Owing to the snow and bad weather, importance was attached by the division to the preparation of the advanced accommodation for reserves as the attack progressed. Cut and cover shelters were also made for two companies of reserves in a bank site immediately west of Wancourt. Curved steel sections on sandbag revetments were used.
Making an alternative bridge with approaches, to carry heaviest field loads including tanks, immediately north of Wancourt brick bridge. Here again work could not be started prior to the attack on the 23rd, for similar reasons, beyond collecting and marking down material in the vicinity. The major part of the heavy timbers and rolled steel joists (24'x8''x 3'') for the two heavy bridges entailed (one of 22' span and one of 15' span - RS joists on crib piers with 3'' decking) were obtained from the German dump on the River Cojreul, 500 yards distant. Work was commenced at 6.30 am on the 23rd by No 4 Section, under 2nd Lieut Slattery, with the remnants of No1 Section, under Serjt Wadkinson together with a weak platoon (1 officer and 28 men) of the 8 D.L.I. as carrying party. The selection and carrying of material were supervised by 2nd Lieut Baker. As the dump was constantly shelled with heavy shell all the morning the operation demanded of the carrying party good discipline and determination. It was necessary to wear gas masks for some hours, which impeded progress. At 1 pm the work was suspended by the O.C., owing to the barrage on the Cojeul increasing in density, the work receiving two direct hits from medium shell, which caused five casualties. Guemappe, 800 yards distant, changed hands twice during the day and was finally captured in the afternoon.The bridging operation was subjected to occasional bursts of machine -gun fire from this village. About 4 pm the enemy's fire slackened and work was resumed till 6 pm. 2nd Lieut Baker was wounded by a shell splinter during the afternoon in Wancourt village, whilst endeavouring to mark the progress of the attack. The work was renewed at 6.30 am on the 24th and the bridge completed for temporary use by 4.30 pm, the 120 yards of approaches being then at formation level. On the 25th all three Sections, together with one Company 7th D.L.I., completed by 1 pm the 120 yards of corduroy road work required, together with the drains and brick metalling. The Company marched back in the afternoon to Arras (7 mile), after 13 days severe work. As a result of the attacks of the 13th and the 23rd April the enemy was pushed back two miles from the River Cojeul to the River Sensee. Heavy German reinforcements prevented any break-through being effected and the German line was generally stabilized by the end of the month. Throughout these operations Company headquarters and two Sections bivouacked in a sunken road, one mile west of Wancourt, convenient to the advanced brigade headquarters, with two Sections in concreted cellars vacated by the enemy in Wancourt. Owing to snow followed by rain the conditions in bivouac were very rough. Wancourt was consistently shelled but the good concrete cellars were tolerably secure and few casualties were suffered by the sections in the village. Total casualties between the 13th and the 26th amounted to 30, namely 1 officer (2nd Lieut Chaplin) 1 NCO, 7 sappers killed. 1 officer (2nd Lieut Baker), 14 sappers wounded, 2 sappers gassed. The following immediate awards were received:- Military Cross- 2nd Lt H.A.Baker, 2nd Lt C.W.S. Littlewood; Military Medal- Serjt J. Farrer, Lcpl R.Cutts, Sappers A.Southern and J. Edwardes.
On the 27th the Company marched to Humbercourt, a pleasantly situated village on the River Grouches, and rested there until the afternoon of the 1st of May, when it moved forward again with the 151st Brigade group to Pommier (8 mile)
Morcourt- sur- Somme (6th to 30th March 1918) By Capt H.A.Baker M.C.

General situation: During February the enemy, anticipating a renewal of the British and French offensives, and anxious to shorten his line, carried out a planned retirement to the strongly fortified Hindenburg Line, completely destroying behind him bridges, railways, dumps, etc, and and adding formidable obstacles in the form of craters up to 30 feet depth at crossroads. Under these circumstances the British divisions, some of which were newly formed and recently arrived from England, were only able to follow up the retirement slowly and with difficulty. Early in March an interesting 50th Division staff ride was conducted through Genermont-St- Christ- Tertry, i.e., across the evacuated area, from which it was seen that the rate of 'pursuit' must have mainly depended on the rate at which the formidable physical obstacles (including long stretches of shell torn and bottomless roads) were overcome by the engineers and other labour.
It therefore became the aim of future allied attacks to shake clear from the start, if possible, of any such accumulation of obstacles, and this involved effecting rapid break-through and exploitation of any success gained. The XVIII. Corps was formed, under Lieut-General Sir I Maxse, to carry out the role of pursuit during the coming operations, if opportunity offered. The 50th Division was selected to form part of that Corps and its units were instructed to carry out intensive training for open warfare.
Training for open warfare: The 7th Company now spent three weeks in billets in the village of Morcourt-sur-Somme, whose neighbourhood was well suited to training purposes. After an autumn and winter spent in the line on work outside the normal scope of a field company and having by now in its ranks a high proportion of officers and men but little experience in open warfare, these three weeks afforded a splendid opportunity for the Company to regain its former field efficiency and to prepare for the variety of work and experience likely to fall to its lot in the coming offensive. By the end of the month the Company was in excellent form.
On the March to Arras (30 March to 12 April 1917)
Leaving Morcourt on the 30th March the Company marched to Arras on the 11th April, stages being La Vicogne (22 miles bus and march), Gezaincourt 98m), Ligny-sur-Canche (12m), Guinecourt (8m), 4th-6th April via St. Pol to Averdoingt (13m), Ambrines (4m), 8th-9th (Agnez-Lez-Duisans) (11M), 10th-11th Arras (6m).
La Vicogne 1 April: Halted for the day - Inspections - Lectures by O.C to officers and N.C.Os - Received 151 Bde orders & 50 Div 00 to march on 2/4/17 to Gezaincourt
(nr Goullens) - Visited by Brig Gen Cameron CMG.DSO.- G.O.C 151 Bde.
2 April: Marched from La Vicogne 8.40 am to Gezaincourt (guilles) - Corps Commander XVIII Corps , (Lt Gen Sir Ivor Maxse) and Div Commander (Major General Wilkinson)
inspected column on march at Beauval - Corps Commander expressed satisfaction with appearance on line of march - billeted Gezaincourt (huts) 12 noon - CRE
(Lt Col Singer C.M.G. D.S.O.) Visited Coy in afternoon on leaving the Div as CE of XVI Corps - The Coy has been under his command since joining 50 Div (June 1915)
3 April: Marched from Gezaincourt 5.50 am - First 1 mile up steep uphill, very slippery from fall of snow of previous night. Blankets carried on Coy = vehicles over and above normal loads but no difficulty experienced. Reached Ligny (13 miles) 11 am. - no long halt - no falling out on march.
4 April: Marched from Ligny-Sur Canche - 10.45 am, reached Guinecourt 1.30pm 5 & 6 April 1917: Halted in Guinecourt
- inspections and football - O.C as acting C.R.E visited C.R.E's office.
7 April: Marched from Guinecourt 10 am reached Averdoingt. O.C proceeded to C.R.E's office near St Pol, Coy left in charge of Capt Glubb. O.C and Capt Glubb attended lecture by G.S.O 1 at 151 Bde HQ on the general situation, G.S.O. 1 informed O.C. That Maj Gen Bowles- G.S.O III Army complimented Coy on appearance of the line of march when passing through St Pol
8 April: Marched Averdoingt to Ambrines. O.C with D.H.Q at Le Cauroy.
9 April: Halted at Ambrines - Lt Col Rathbone arrived at C.R.E.'s HQ on appointment of C.R.E - O.C reprieved. Coy at Ambrines, snow and rain - Big attack from Arras started.
10 April: Marched Ambrines to Agnes - Duisans - Snow and rain.
11 April: Marched at 1/2 hrs notice 5 am towards Arras recalled at 5.40.pm, returned to billets, marched again at 7.40 pm - march slow with frequent halts - reached Arras about
12 April: 10.30. pm paraded to Ronville - no allotted billets owing to Field Coys of 143 Bde not being under orders to move billeted in Arras by 12.30 am 12/4/17 - heavy snow fall throughout the night march - Lost a horse from colic at Ambrines (left behind), 4th time of getting Colic. Communicated with C.R.E 50 Div, instructed to report to C.R.E for orders on D.H.Q reaching Arras - 151 Bde ( with whom Coys attached) relieved 43 Bde, 12 Div on night 11/12th and 41st Bde during the 12th, the Company remaining in Arras.
13 April: Late on 12th, instructions received verbally from C.R.E outlining work to be undertaken, role to be played by the Coy in operations from 13th briefly Coy placed at discretion of 151 Bde during attack and advance with certain special orders to be carried out as operations permitted - Received orders at 9 am by wire from G.O.C 151 Bde to follow up his advance - Marched from Arras at 10 am, loaded certain stores at Ronville dump en route, halted for dinner at Pt, 1/2 m W of Neuville Vitasse but failing to get in touch with 151Bde at it's HQ (moved) Coy was marched forward and bivouacked (men and horses) in sunken road about 1 mile W of Wancourt (pt ) within easy reach of Bde HQ. and probable work. Bivouac and neighbourhood shelled from time to time and on 16th horses sent back W of Neuville Vitasse - on same day 2 Sections No 3 (2nd Lt Littlewood) and No4 (2nd Lt Slattery) sent up to line in Boche dug outs in Wancourt - O.C reported to G.O.C 151 Bde in person at 3pm.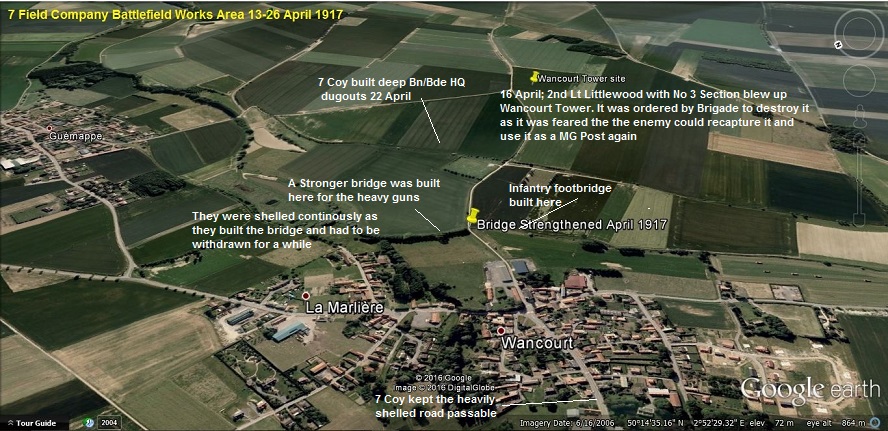 4 April: A ten mile march to Guinecourt. Again the billets were arranged by the Maire. Baker and I are billeted chez Monsieur le Maire. Most of these farmhouses consist of only two big rooms, the kitchen and the family bedroom, with a few small rooms opening off them. Upstairs is only an attic under the rafters. To get to my little bedroom I had to pass through the bedroom of the family. The officers' mess is in a big tile-floored room of the usual type. The two daughters of the house carry on a loud conversation sitting round the kitchen stove, with our batmen, Burrows and Donaghie. The girls begin, 'Soldats anglais. No bonne. Soldats Francais. Bonne.' To which the men ungallantly reply, 'Desmoiselles francais. No bonne. Dsmoiselles anglais. Tr-ay bonne', and more in the same vein.
5 April: Resting in Guinecourt, and, by great good luck, a perfect spring day, with bright, warm sun, a few light fleecy clouds moving across a blue sky, and a peaceful little country village all to ourselves. Baker and I arose with the sun pouring into our little room. After dressing, we went out through the bedroom of Monsieur and Madame le Maire. Luckily Madame was already dressed and was in the kitchen next door, but Monsieur le Maire was standing on the bed, just pulling on his trousers. But nobody worries about such things. McQueen is acting C.R.E. again, since Singer left. We knew that we were to march eastward again next day, back to the war and this horrible impending battle, and so we made the most of this last day of rest in peaceful country. And this day did indeed seem to be the embodiment of peace and quiet. The air was warm and still, the sun shining brightly, soft, white clouds drifting across the blue sky, the village silent, except for an occasional old peasant passing down the street in his straw hat, old shirt, blue trousers and clogs. The opposite slope of our narrow valley is covered by a wood full of undergrowth, and carpeted by last year's crackling dead leaves. Here I spent a peaceful afternoon, sitting with my back against a tree, reading Tolstoy's Sebastopol. Looking across the valley at the white farmhouses and barns on the opposite hillside, surrounded with tall elms and straggling hedges, I tried to forget our return to the war the next day.
Sheets more of orders for the coming operations are now to hand. The Corps of Pursuit is unlikely to go through until Z + 1 day, in other words the day after the taking of the enemy 's trenches. We are to carry only iron rations. All packs and surplus kit will be dumped. McQueen is at Divisional Headquarters as acting C.R.E. and I am in
command of the company.
7 April: We marched out of Guinecourt at,10.30 a.m, through Croisette, St Pol, Roellecourt to Le Quesnel. St Pol is quite a town, about the same size as Doullens, and
III Army Headquarters is there. Here Daly, the Brigade Major, joined us, and walked some way with us talking. At 3 p.m. on the 7 April, I had to ride into brigade head­ quarters to hear a lecture given by Col. Karslake, G.S.O.1. of the division, to all officers commanding units and seconds-in-command. He spoke with tremendous
confi­dence, to the effect that a great and unparalleled victory was imminent. He said we were attacking at Arras and Vimy with a striking force of 32 divisions. The French were to attack at Soissons with 64 divisions. Should the Arras battle be a complete success and Monchy-le-Preux be taken by Z + 12 hours, the Cavalry Corps would be poured hell-for-leather through the gap. Monchy was a key village on top of a hill, overlooking the whole area. We, the Corps of Pursuit, would march through and advance roughly on the line of the Arras-Cambrai road. 'Altogether,' summarized Colonel Karslake, 'there is something in store for brother Boche which will puzzle him a bit.'
When McQueen and I entered for Karslake's lecture, the latter called us up across the room. He told us how he had been talking to the M. G. G. S. (the Chief of the Staff) of III Army at St Pol. The General had told him that he had seen the company pass through St Pol on our way here. 'It was the best march discipline I have ever seen in the III Army area,' he had told Karslake.
8 April: Marched today a short march of only four miles to Ambrines. We could see sausage-balloons in the air ahead of us -a bad sign. I fear we are approaching the war again. It was rumoured that today was Z day for the battle, but later it proved to be 9 April. In the afternoon, a lot of cavalry passed up through the village, and everyone turned out to watch them. Most of the ones I could see seemed to be the Life Guards. I noticed that they had all their horses clipped -I fear they will feel the cold standing out in the open in this snowy, sleety weather.
9 April: By a miracle, this was a fairly warm sunny day, which most of the men spent lying about on the grass, mending their clothes or writing letters home . In actual fact, the battle had begun this morning, but we did not know it. Ambrines is a flat ugly village, with a wide dirty street, and is absolutely packed with troops. McQueen returned to us this evening, the new C.R.E. having arrived. Tomorrow we march to victory or death at .least that is the official view.
10 April: In Ambrines, waiting for orders to march at short notice. They arrived just after 12 noon, to be ready to march out at 2.30 p.m. Everything was ready, and we were formed up at the east end of the village a few minutes before time. This morning, McQueen inspected the officers' mess belongings, and decided to dump the gramophone, the sole comfort of the hearts of the junior officers on many a dreary night, although McQueen himself never listened to it. So goodbye to our dear old gramophone and no end of records, many of them my personal property. Today we ran into a tremendous driving snow blizzard which lashed and whirled past us, driven by a bitter north wind. Gradually we left the peaceful countryside behind, and entered what had been the back areas of the past two years of trench warfare. Instead of the rolling fields of stubble and grass on either side of the road, stretched dingy expanses of mud, poached up by the wheels of wagons and by horses' feet. Beside the road stood rows of stables roofed with corrugated iron. From the edges of the roofs, old corn sacks, hung up to shelter the horses from the wind, flapped wildly in the howling gale.
Further on, rows and rows of Nissen huts covered the hills. The whole dreary expanse of mud was strewn with old tins and rubbish, while outside the dilapidated stables, bundles of hay-wire stuck up half-submerged out of the muck. At Agnez-lez-Duisans we were billeted in a very large farm, two thirds of the barns of which were still in use by the farmer, one third sufficing to take the whole company. I never saw a larger farm-yard. The officers assembled in the mess, a beautiful warm, brick -floored parlour, with a red-hot stove sticking out into the middle of the room and a big ticking grandfather clock. Madame had a heart of gold, insisted on coming in constantly to stoke the fire, and on getting us eggs and coffee. We went early to bed, Baker and I being in a little room upstairs off the attic, packed with dusty sacks of grain. We are under orders to be ready to move at any hour, day or night, so we went to bed praying that it would not be before dawn. We know nothing of the battle.
11 April: Standing by, ready to move, all the morning. The sappers dumped their packs in one of the barns, retaining only their water-proof sheets and one blanket. Orders came from Divisional Headquarters to send back all aged men, who were declared unfit for long marching and fighting. At 3 p.m, orders came to be ready to march out at 4.30 p.m, and at 3.30 p.m. a steady and continuous fall of snow set in. We formed up in a steady whirl of big white flakes. As I said to Corporal Orchard, as we were sitting on our horses with our collars turned up, ready to move off, 'If this is moving warfare, I think I prefer the other kind.' Eventually we set out and marched up into the main Arras road, and then went squelching and splashing up it, heads down against the driving snow. Before we had 'been on the road ten minutes, I felt the damp through my knees, and running down my back.
When we had covered ·about half a mile, an orderly bumped and squelched past on a motor bicycle, and then everyone halted. After a short time, I rode up the column to find out the trouble. McQueen, with a bitter smile, said, 'Orders come. March cancelled. Return to billets and be ready to turn out again later on:'
Just as he was speaking, sure enough the 9th Durhams came splashing back on the other, side of the road, their shining water-proof sheets hanging over their shoulders, and each man with three rifle grenades stuck in his belt. Quite a fusillade of chaff broke out, as they passed the halted sappers. 'We've finished the war!' 'They found they don't want the Durrems!' 'Back to home, sweet home,' and so on. So we also wheeled about and 'splashed back to our farm, amid frequent blocks and checks as the various units turned round. It was about 6 p.m. when we got the horses, all dark and shining with the wet, tied up in the stable again. I called the drivers together, and said that we were to be ready to move again at any time.
The news was received in silence, except for a whisper from Pattison, 'Isn't that a - shame .' Then, after a minute's interval cries of, 'A fire! For God's sake, light a fire,' and a general commotion. At that moment, an orderly pushed into the group with a message from McQueen, which I forthwith shouted out, 'Ready to march again at 7.30 p,m.' Meanwhile, the ever-willing and ready madame of the house had produced for us another fine meal of eggs and coffee (of course we paid for all these things). There was just enough light when we formed up again to see the wet shining on the waterproof sheets, which the sappers had draped over their shoulders, in a way that always gives me a dreary retreat-from-Moscow-the-remnants -of-an-army impression. Soon, however, it was so dark that it was impossible to see anything a few yards away, though the half-thawing snow made a white sheet of the fields on either side.
The pace was terrible, consisting alternately of checks, and then dashes forward to close up, and then another check. It was still snowing and everyone was soaked to the skin. It had run down my.neck; I was sitting in a pool of water and my legs were soaking. On the road, the water could be seen by the dim light of the snow, lying in wide lakes through which the marching men splashed. No regular halts were given, but checks and. rushes succeeded one another every two minutes.
After an hour, the snow stopped, but we were all soaking wet already, so nothing mattered much then. As we got nearer Arras, occasional guns seemed to be going off near us, for we could hear the discharge and see the flash through the dark. A good deal of traffic began to pass us going to the rear, odd G.S. wagons rattling by or isolated parties of cavalry, clattering past at a trot. It became also a little lighter, so that I could recognize the individual drivers huddled up on their horses, as I trotted up the column. I also spotted Sapper Taylor, No1 Tool Cart man, taking an illicit ride on the back of the cart, for which he figured at 'office' the next day. Eventually ·we entered Arras through an old archway, and rattled over a pave street, glistening in the wet. Then we came to a fork in the road, close to what looked like some kind of monument, and halted for what seemed to be hour's. Then cavalry began trotting past, and somebody seized me by the foot in the dark and said, 'What squadron are you?' I tried to bellow above the clicking and clattering of the , passing cavalry, that I was not a cavalryman. He let go and I heard a despairing wail from beside the road, 'Is that the Royals? Have you got a spare horse there, the Royals? I've lost my horse,' but no one took any notice. Finally I dismounted, though my legs were so soaking and numbed I could hardly stand up. I walked up the column on foot, and told the drivers to dismount, one at a time from each team. They had none of them dismounted since we started as we could not get off at the checks, for fear of being left behind when the column went on. Then I walked up past the sappers, standing in the road leaning on their rifles, the points of their cigarettes glowing in the dark. Then we moved on again, about twenty yards, then stopped. Everyone was so soaking and numbed with cold and misery, that we had reached that stage when people get infected with a desperate gaiety. I splashed up through the shallow lakes which lay on the road and greeted everyone in the most cheerful and facetious tones, while the sappers actually began to sing. Then on we went again , Littlewood, still adhering to the traditions of the parade ground, called out for the thousandth time, 'No3 Section, slope arms! Quick march!'
March route from Morcourt
to Arras continued on map right

After this, we pegged along the cobbled streets, between dim rows of houses. Then over a railway bridge, then a check, then on and round a corner, and halted in an open space. Baker appeared and showed me in the pale dark­ness a space beside a railway line for the horses. Here I eventually got the horses and the wagons in, by walking in front of each wagon with my electric torch, to steer it between the water-filled ' shellholes. The drivers then shouldered their kits and splashed along behind me to find their billet. Baker showed me the officer's billet and my room, a large one devoid of any furniture except a pair of dingy curtains. I then returned to the drivers' billet, and opened the door, to ask if they were comfortable. There was no furniture in their house, but a large room, the floor of which was thick with old rubbish, heaps of plaster from the ceiling, and broken glass from the windows.
This debris they were scraping up as I came in, so as to get room to lie down. To give light a couple of candle stumps had been stuck up in their own grease.
As I opened the door, a blast of wind entered with me, and the two candles flickered low. A sudden roar of 'Shut that-door,' went up from the men who, with their backs to me, were stooping to scrape the floor. A moment of embarrassment ensued when they looked round and saw me. I foolishly retired hastily, murmuring lamely that I hoped they were all right.
Meanwhile , though it must have been long after midnight, McQueen and Baker set out once more into the night to find a signals office, to inform the C.R.E. and Brigade Headquarters where we were. I found my sleeping bag and got in, wet, cold and aching all over just as I was, heaping all my possessions on top of me.
12 April: A chilly, clear-aired morning, the water standing everywhere in sheets after last night's snow and rain. The men look a bit wretched, their clothes still soaking wet and plastered with mud. My own breeches are still sticking to me, being saturated with water, and the only pair I have. Some gunners of the 3rd Division near us, look even wetter, dirtier and colder than we are, their horses tottering skeletons with staring coats. Arras is crammed with troops of many different divisions. The town is comparatively little damaged, but there seem to be practically no civilians. I spent the afternoon walking round the suburbs, trying to find a patch of grass to graze the horses. It is perhaps the greatest joy of being on active service (to me at least) that one's mind is filled day and night with thoughts for the welfare of one's men and horses. There is very little time to think of oneself, and I know no greater pleasure than to hear the boys shouting and singing, or to see the horses prick their ears, stamp and whinny, when the whistle blows for 'feed away'. Of the progress of the battle we do not know much, indeed nothing at all until I called this afternoon on the new C.R.E, Colonel Rathbones, in his billet two streets away. He showed me the position on a map and said we had just taken a hill above Wancourt. It appears that, after the initial attack, the cavalry were put in, but they ran into trenches and barbed wire and suffered a disastrous repulse. As a result, the Corps of Pursuit was abandoned, and its divisions, including ourselves, are to relieve the divisions in the front line. We are taking over from our old friends of 1916, the 14th Division.
13 April: We marched out of Arras at 9.30 a.m. Before starting, McQueen convoked a meeting of officers and N.C.O.'s. The company is with the leading troops of the division, the other two Field Companies remaining in reserve. Our first task is to repair the bridge over the Cojeul River, which is six feet deep and twenty feet wide, just beyond Wancourt and ensure that the road up to it is passable.Then construct a series of defensive strong points just beyond the Cojeul, in case of an enemy counter-attack. When our infantry advance again, we are to follow them and make the road passable from Wancourt to Cherisy. We left the pontoons in Arras for the moment, but took a trestle wagon to help bridge the Cojeul if required. McQueen told us to fall in our men and tell them that this was an all-out stunt. I consequently fell in the drivers, and told them that we were now starting the pursuit, which we had been practising. That nothing mattered, whether we were killed or anything, provided we could keep the enemy on the move. I added that we were with the leading troops. McQueen left us to go and find General Cameron, with whose brigade we are marching. I trudged along with 'Charlie' Chaplin in front of No1 Section, led by old Corporal Virgo. We turned to the left in Beaurains and reached the old German trenches, halfway to Neuville­ Vitasse, where we made a long halt to brew up some tea and feed the horses. Luckily the weather is not bad today. Having seen the horses unharnessed, watered and fed, I rode on to Neuville-Vitasse. Then, having eaten some biscuits and dug some bully out of a tin with a clasp knife, we marched on through Neuville-Vitasse, which was razed to the ground. The narrow road beyond the village was a foot deep in thick glutinous mud, so nearly dry as to be like glue. We were said to be in view of the Boche, so we opened out the sections to a few hundred yards interval, and got through with some heavy pulling. We halted in a small road cutting in a minor cross valley and McQueen and I went over the spur to the new brigade headquarters. The latter seemed a bit surprised that we had arrived with the whole company and most of the wagons, as we were in full view of the enemy. The sappers got into a sunken lane, and I got the horses on to a picket line tied to the wagons. The 56th London Territorial Division is on our right. The little valley we were in was lined with 18-pounders and 4.5 howitzers, four or five batteries in a few hundred yards. About 5 pm, they kindly sent us a message that they were going to carry out a bombardment, to help the 3rd Division take Guemappe (which, however, they failed to do). So 'Stand to your horses' was the order of the day. We did not know if we were in view, but once or twice shells burst near by. At 8 p.m, a shell burst about six yards from the nearest horses-the men seemed more frightened than the horses. So just as it was getting dark, we moved the horses down into the sunken lane with the sappers. Luckily the horses do not mind shells very much, for there would be the deuce to pay if we had a stampede in the sunken lane, crammed with sleeping men. But it's the best we can do.Baker and I eventually turned in about 9.30 pm in a hole scooped out of the bank of the lane, with a waterproof sheet stuck over the top of it. At 1 a.m, however, we were both woken by McQueen pulling at our legs to wake Baker. The latter was wanted to go up the line at once and tape out a jumping-off line for the 9th Durhams, who were to attack at dawn. There are no trenches now, and what was wanted was a line of tracing tape, pegged out across the battalion front, so as to get the men formed up for the assault. Baker sped off up the line, with three or four sappers, as, of course, it was vital to get the job done before light. Our brigade, the 151st, eventually went over at dawn, but failed, owing to enfilade machine-gun fire from Guemappe.
14 April: The sappers are all working in Wancourt, trying to clear a road through it. The village is continuously shelled, with various stuff from whizz-bangs to 8-inch, and they had casualties. Nos 3 and 4 Sections went up to live in Wancourt, while 1 and 2 remained in the sunken lane.
On 17 April, the weather broke again, and we had nothing but whistling winds, and driving rain and snow. The sunken lane became a morass, containing huge pools of standing brown water, divided by seas of mud. Everyone was always soaking wet, and as of course it was impossible ever to get one's clothes off, one felt damp and sticky all day. Everything I possessed, living in a scoop out of a clay bank, covered only by a leaky sheet, was saturated in yellow sandy clay, as also were all my clothes. But I think the poor horses suffered the most. Standing as they were in a cutting in a muddy yellow lake, they were soon over their fetlocks in coffee-coloured water. There they stood shivering all day, their heads down and their tails tucked in, their coats matted with clay , while the driving snow whirled past.
The two sections in Wancourt found a cellar under the ruins of a big house; this cellar must have been used by German officers, for it contained a table, chairs, a piano, and a grandfather clock! Leading down from it was a flight of steps, to a little bedroom dugout fitted with two beds. The sides and the top were solid concrete .
It was almost impossible ever to see Wancourt when some part of it was not being shelled, and for about half the day it was being bombarded heavily. Baker says that when he rode on ahead into Wancourt on 13 April, it was almost undamaged. By 19th it was pretty well ruined, though most of the walls, battered and holed it is true, were still standing. It is a great junction of roads and a tempting target, though there is nothing in it except our two sections.
During periods of offensive operations, great events occur at top speed and in rapid succession - attacks by divisions and corps are decided on at a few hours notice. All the sappers' work is from hand to mouth, and the brigade or battalions constantly call for engineer help, at any time of the day or night. Littlewood at last had a chance to slake a little of his thirst for action. Near the top of the ridge east of Wancourt was an isolated building, an old farm. After 151st Brigade 's costly failure on 14 April, 149 Brigade (Northumberland Fusiliers) relieved them, and succeeded in taking this building, which was known as Wancourt Tower. The house was found to contain a solid concrete machine-gun emplacement, the gun from which had caused us heavy, losses.The Fusiliers were holding a line just this side of the building, the Boche a hundred yards beyond it.
It was feared that the Boche might attack any ,moment and re-establish their machine-gun in the emplacement. Brigade, therefore, asked us if we could blow up the whole building and Littlewood went to have a look. The infantry said it was impossible to get there by day, the whole hillside being as bare as a plate with Guemappe just beside it. It was not even certain that there was not a post of Boches behind the house. Littlewood, however, walked straight up the hill alone and into the emplacement at two o'clock in the afternoon! He measured up the whole place , then came back, fetched a party of sappers and walked back again. About eight of them walked straight up across the open, carrying boxes of guncotton, laid the charge, lit it and ran down the hill again, without a shot being fired! A very gallant performance for the enemy were only about two hundred yards away. McQueen and I went up to a battalion headquarters near Heninel. We could see Wancourt Tower on the opposite slope. We were feeling a bit anxious, when who should appear plodding along but the whole demolition party, Littlewood in front, looking as solemn as a judge. He was followed by Sergeant Bones and Corporal O'Connell. They told us all had gone off well. McQueen even warmed up so far as to congratulate Littlewood, which made him blush and look embarrassed. To my horror, I saw that not a man of the party was armed . There was so much explosive to carry, that they had left their rifles and bayonets behind. The poor Fat Boy was certainly fearless, but I think he should have been reproved for that. Nice fools they would have felt if they had met half a dozen Germans, and it was about even betting that they would.
From 16 to 19 April were days of deadlock. Constant little fights took place, but no big operations were undertaken. Everything was full of uncertainty, and one lived from hour to hour "not knowing what might happen. Both artilleries were always active.
Wancourt and Marliere continued to be perpetual artillery targets. All day long sounded the shrill crescendo whistles, as kru-umps fell into the two villages, and fountains of dust and bricks shot into the air. The sappers suffered steadily increasing losses. Once or twice I walked up to Wancourt with McQueen, or over to Brigade Headquarters, or to see our men at work. I remember one afternoon walking across from Brigade Headquarters to the back of Wancourt. The last part of the way we were followed by an infernal 4.5. At least I assume it was a case of sniping for he followed us as we moved, putting three or four shells, only a yard or two away. They came down with a great wheu-eu-eut, but fortunately the ground was very soft and the shells went deep into the ground, and the bursts did not scatter many fragments.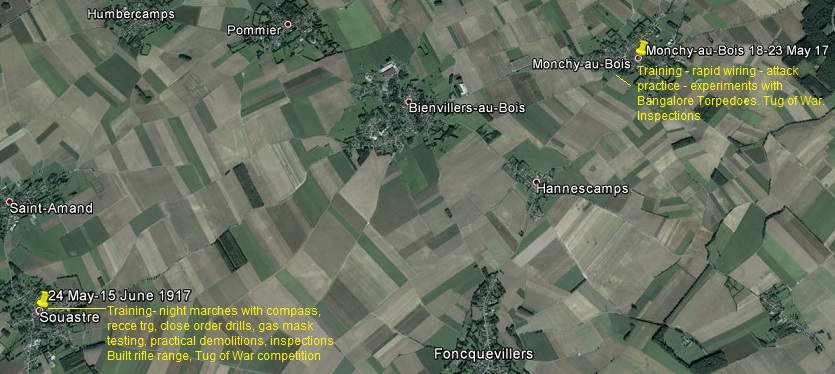 27 April: The wagons and I are marching at 2 pm today to Humbercourt, and the sappers are coming along by train at 4 pm. I bid goodbye to the other officers, who all said, 'Of course, I am afraid you will have a dull march, but we'll keep a bit of food hot for you.' To which I replied, ' Thanks very much, old man. I'll fetch up about 8 pm or half past.'
Our march was some seventeen miles, most of it along the Arras-Doullens main road. As we had not done any marching for a fortnight, several drivers seemed to have forgotten all about it, and stood in the centre of the road at the first halt. I gave them a blowing-up, and the rest of the march was not bad. Our column consisted of all the horsed transport of 151 Brigade, and was commanded by Capt. Iredale of the Border Regiment, a first rate fellow and an M.F.H. in peace time. At length we turn off the main road, through the little hamlet of Gombremetz, and across the fields by a gravelly country - lane to Couturelle. Through the little village, then suddenly the narrow road turns into a pergola of high banks and dark overhanging trees. It is already getting dusk. Then, on each side of the road, a farm or two, with high dark barns against the road. Here we meet Corporal Vane, who had gone on ahead with the billeting party. Everyone is a bit tired and inclined to swear, but we get the wagons into a yard before long and rig up a picket line. The billeting party shows me a little room off an attic, but with a bed and furniture in it. How blissful to be once more in the peaceful countryside, amid the noises and smells of the farms, and no sound of guns. I wake up to see a patch of blue sky through the skylight, and to hear the birds singing outside .
The sappers had not arrived till 3 am having taken eleven hours to travel seventeen miles by train! They would have done better if they had marched. They would have arrived tired, but at least in time to have a full night's sleep.
28 April: A perfectly lovely spring morning in Humbercourt. When Driver Pointon came in to call me, I asked him if the driver's billet was all right. It looked all right when I went to see it last night, but apparently it contained pigs in the same barn, separated from the men by a low wall. They made such a smell and a grunting all night that no one could sleep. I went round to Brigade Headquarters to see the staff captain and the Town Major. Who should the latter prove to be but my friend Campbell of the 7th Durhams, truly a quick change artist, whom I had seen three days before in front of Wancourt. Eventually, after much arguing, I got two other barns for the men.

28-30 April: The weather is incredibly perfect - our first taste of spring, coinciding with our arrival at this beautiful village. The warmth and sunshine after snow and mud makes Arras seem another world. The village lies on a single road running along a narrow valley, and consists of farms and white-painted cottages with thatched roofs. On either side rise the downs. Lying on the grass in the orchard, one can feel the warm sun and watch the little fleecy clouds slowly moving across the blue to where the latter joins the light green of the beeches on the hill. One can hear the cocks crowing in the village and the birds singing, and an occasional cuc-koo, cuc-koo far away in the hills. We only expect to be out here for a week or so, so are doing little training - just basking in the loveliness and the warmth.
Hooking a haversack on my saddle, containing a sponge and towel and Tolstoy's The Cossacks, I twice rode off into the woods, tied up my horse, and bathed in a little, stream.

30 April: Orders to be ready to move! Alas! So soon! Next day, 1 May, we marched out at 2 pm, destination Pommier, back in the desolated area . McQueen went to Divisional Headquarters for news. The division is returning to the front to be held in reserve for the next big attack. We are not so very far behind the old line of trenches here. The troops are in some very old and rat-infested-looking huts and many of them preferred to bivouac.
Returning from seeing the men settled in, I found the junior officers arguing who should sleep where. I am afraid I was irascible, and said it was the duty of an officer to look after what his men got, instead of wrangling about his own billet. Eventually McQueen came back from Divisional Head­ quarters. The division is going up to wait in reserve behind the line for the next big show. Suddenly orders came for the company to march immediately to Neuville-Vitasse . The 14th Division is doing a big attack, but our Divisional Headquarters is going there in advance to be ready to take over during the battle, and requires accommodation for a divisional headquarters in Neuville-Vitasse, by 4 pm. tomorrow. This gives us twenty-four hours to march seventeen miles and construct a divisional headquarters, in huts or dugouts. Only Divisional Headquarters and ourselves are going. The remainder of the division is remaining ·in reserve.
1 May: Received orders night of 30th April to be prepared to move forward on 1st May-a later order to march with 151 Bde to Pommiers. Marched at 4pm to Pommiers (8 miles) - O.C received orders from C.R.E at 6pm to have camp (1 Marquee, 2 Armstrong huts, 16 Allen shelters, 8 tents and Latrines etc) for 50 Div HQ, erected at site chosen immediately W of Neuville Vitasse by 4pm if possible
2 May: Marched from Pommier 7am to W of Neuville Vitasse (13 mile) - about 40 Sappers taking part of way by lorries bringing huts etc - reached camps 11-12 noon carrying utensils by hand. Had the major portion of D.H.Q camp ready by 5pm ( cookhouses etc completed by 10pm) D.H.Q moved in same afternoon. (general attack by 3rd ,1st and 5th Armies).
3-4 May: miscellaneous jobs at D.H.Q camp. Lt Amos (446 Field Company = attached since 21/08/16 placed in temporary charge of No 1 Section. D.H.Q moved back to main HQ after the 4th. Following correspondence forwarded to O.C. on the 4th:

C.R.E. 50 Div/G.N.16 dated 4 May 1917

The G.O.C. Wishes to place on record his appreciation of the work carried out by the 7th Field Company RE, during the period 12th to the 26 April and of the manner in which they established an advanced Div HQ at a few hours notice - This work throughout has been excellent.
O.C for your information and communicate to Officers, NCOs and men.

The above was published in Company orders and read on general parade on 4th May.

5 May: Dvr's Mounted Section moved to D.H.Q camp vacated on the 4th.
6-7 May: Drills and lectures - Draft:- 2 officers and 26 men reinforcements arrivals (2nd Lt H.G Pottle to No1 Section. 2nd Lt H.W. Reboset to No2 Section)
8 May: Orders received night of 7/8th to march following day to Bailleulmont - thence on the 9th to Humbercourt. Marched 9am reached Bailleulmont 2pm (14 miles)
9 MAY: Marched 9am reached Humbercourt 12 am (12 miles). O.C. reported to C.R.E at D.H.Q at Coutourelle
10 May: Clean arms inspection, baths for all Coy. pm, pay - officers Reconnaissance Scheme, and lecture t officers at 8pm.
11 May: Route march - Map reading practices - N.C.Os Reconnaissance (Bridge Site)
12 May: Drills - instruction in electric firing - Rapid Wiring
13 May: Sunday: Lecture by O.C - Baths.
14 May: 1/2 Coy route march - 1/2 Coy on construction and erection of targets for 50 Div Field Firing Practice.
15 May: Inspection of dismounted Sections by C.R.E.
16 May: 1/2 Coy Trestle bridging Lucheux - 1/2 Coy route march, pm, marching parade inspection.
17 May: 1/2 Coy route march - 1/2 Coy Trestle bridging Lucheux.
18 May: Marched Monchy Aux Bois with 151 Bde Group - bivouacked. L/cpl Cutts, Sappers Southern and Edwards awarded the Military Medal.
19 May: Practice in rapid wiring (2 kinds) - later, Sections Tug of War.
20 May: Sunday: Clean arms inspection - rapid wire practice.
21 May: Corps return with Bde in Attack practice. (wired Strong point - M.G emplacements, bunkers etc)
22 May: Baths - experiments with Bangalore Torpedoes.
23 May: Marched Gombremetz with 151 Bde Group.
24 May: am baths - pm marched Souastre with 151 Bde Group.
25 May: Cleaning billeting area, changing sanitations - weekly inspections.
26 May: Close order drills - pm night march (9pm) mainly on compass bearing, training practices.
27 May: Sunday: Rest, 'D' wire fence - officer reconnaissance (bridge construction and demolition)
28 May: Route march - NCO's reconnaissance (bridge construction and demolition) 2nd Lt H.A.Baker and 2nd Lt Littlewood awarded Military Cross.
29 May: Close order drills, C.R.E (Lt Col Rathbone RE) visited Mounted Section.
30-31 May: Notice received at 1pm of rifle range required by 151 Bde near Coigneux as soon as possible. 2 Target 200 yd range (with moving targets) constructed between Souastre & Coigneux
23 May: Marched today to Saulty. It is truly amazing the amount of rest one gets nowadays. We have only been two weeks in the line since early in March, and the rest spent resting and training, mostly in lovely country surroundings. As we stood formed up ready to march this morning, I remarked to Sergeant Church that these great battles, though they might be hot while they lasted, seem much better than the old trench warfare, when one was in the front line continuously for six months and rests were unknown.

23 - 24 May: In Saulty. Walking to my billet in the village in the evening, I met Nixon, Kirkman, Christie and Hughes, walking down the street, and thought how clean and smart they looked with their shining buttons and badges and ringing spurs. I meet no men of other units so clean and gallant as mine, and I love to see the boys off down to the village for an evening.
24 May: we received orders to march at 4.30 pm. in the cool of the evening to Souatre. In the fields, opposite La Bateque Farm, we passed a flock of sheep with a dog on guard. The latter watched them, pacing up and down on a regular beat, always turning about at exactly the same spot, always turning towards his front ( i.e. towards the sheep). He never varied his pace, but walked up and down all the time 'in a smart and soldierlike manner'. A more exact and ludicrous imitation of an army sentry cannot be imagined. He was greeted with huge cheers by the marching sappers, and by a volley of witticisms, such as 'Ask him what 'is orders is.'
We made a ten minute halt after passing the village of Pommier. On the right of the road was a grass bank and then a field of clover. Scarcely had they dismounted than almost every driver was over the bank into the field, picking great handfuls of clover for his horses. Old Driver Cannon, whose. horses had been rather sick lately, plunged into the clover and kneeling down in his eagerness pulled up great armfuls. Cannon is a London man. In peace time he used to drive one of those lovely pairs of horses you see in the streets of London, pulling brewery vans. Fortunately the farmer did not arrive! Souastre proved to be a fairly large village, built on the slopes and along the bottom of a narrow valley. The horses, though not in a stable, have a fairly good field. The officers have a very nice mess room in a big farm, panelled all round, which gives it an old oak appearance. It has casement windows; hung across with creepers, looking out on a garden behind the farmhouse. The front windows look out on to the usual yard, with a manure heap in the centre, on which wallows a family of pigs.
A pleasant story in a letter from my father, who said that he was talking to a man, who remarked that horses had much more sense than men. Dad asked how he made that out. 'Well,' he said, 'if .thirty horses run a race, fifty thousand men take the day off work to go and watch them. But if thirty men ran a race, not a single horse would waste the afternoon to go and look on!'
In Souastre, everybody got down to training. Route marches. alternated with demolitions and bridging, with or without the pontoons. Part of the object was to teach the new officers and
N.C.O.'s to take control. The man in control must stand away and in a conspicuous position, insist on complete silence by the men, decide what he means to do and use his voice, so that every man understands. Untrained officers rush into the crowd themselves, pull on a piece of rope or argue with another fellow, which results only in babel and confusion .
I decided to give the drivers a little relief from grooming and cleaning harness, and we used to ride out every morning on to the open grass hills. Here we allowed the horses to graze in a herd. They became quite used to this, kept together and fed peaceably. Then we would rig up some jumps, made of bits of timber rails, supported on oil-drums. The drivers would then catch their horses and try their hand at the jumps. I never compelled any man to jump on these mornings, but most of them wanted to do so. We did not do any serious training in jumping, but we had a good deal of fun. Church and I also invented a number of fancy races. A V.C. race, carrying a straw-stuffed dummy across the saddle, a tandem race, riding one horse and driving another in front on long reins. There was also an alarm race, which began with the men half undressed lying in their blankets. When the whistle blew, they had to dress, saddle their horses, mount and gallop two hundred yards. All this alternated with periods of lying stretched in the long grass, full of rough flowers, dandelions and daisies, the hot sun on one's back, the hum of the insects, and the larks singing overhead. The horses wandered round, munching and swishing their tails, rolling with clumsy ponderance, or. nipping one another for fun. These were some of the happiest mornings of my life.
We remained in Souastre from 24 May to 15 June, a total of three weeks. It was decided to diversify the training by having a sports meeting. The programme was the subject of much argument by a committee of senior N.C.O.'s at which I was ordered to preside. Especially heated argument was caused over the rules of the Old Soldiers' Race, everyone wanting to arrange the handicapping so as to increase his own chance.
Eventually we arranged the programme and prizes and secured the local football field for two days. The day before the show was busy with preparing the field, marking the tracks with white tapes, erecting obstacles for the obstacle race, jumps for the officers' jumping, tents for guests from other units. All this lent quite a festive air. Owing to the heat of the afternoon, we held the officers and N.C.O.'s jumping at 1.30 pm., the running events beginning at 4 pm. I had designed the jumping course and unfortunately made it too big. It was a pity we had not trained more seriously, instead of just larking about on our daily rides. None of the N.C.O.'s got round without several refusals and knocking down various jumps. Slattery rode the bay mare, Monchy, who can jump but is very wild. He could not hold her and she ran out several times. Littlewood got round fairly well on Geisha. Minx took me round the four upright fences like a bird, and as no one else had had a clear round, this looked quite well. Unfortunately I had never tried her over water. Two strides from the take-off she saw the water over the top of the fence and tried to stop, but I had her galloping and collected and she simply jumped a trifle short. However, it was two rounds each. On the second round, she jumped all the upright fences with a foot to spare. But she had been thinking about that water, and this time, to my surprise and annoyance, she set her four feet and refused dead. As it was three refusals and out, I was out of the competition. After tea, we began the important part of the programme, which went off very well indeed, there being quite a crowd from other units, while one of the bands of the Durhams supplied us with cheerful music. Corporal Rennie was the hero of the day. He had .at one time been a professional soccer player, and I think had played for Scotland, though now bald and middle-aged. He won the one hundred yards, the two-twenty yards and the Old Soldiers' race. Whenever he turned out, the crowd greeted him with cheers and shouts of 'Here's the old man again.'
A sensational mounted event was the Souastre Scurry. It consisted of a gallop of about 440 yards round a field, bounded by a hedge. On the inside, the course was marked by a rope on pickets five feet high. The course was only four yards wide and included a hairpin-bend, there being some twenty-five horses entered. Altogether a most blood­ curdling event, the men all being barebacked, on great lumbering draft horses! Heavy bets had been booked between the troops. The course being so short and dangerous,a great deal of wild excitement resulted. By a miracle, no horses or men were hurt. Wrestling on horseback was another popular event. But the great event was the Tug-of-War, at which the 7th Field Company had challenged the world. The sergeant­ major had his team in fine training . He won all the heats, pulling over battalion teams, made up in many cases of enormous men, who must have weighed half as much again as our people. The final pull, which took place on sports day, was against the Field Ambulance. A
Tug-of-War is the most agonizing suspense on earth. The sergeant-ma jor had a most graceful way of signing for a heave, by bending forward and then throwing back his head. Our fellows did the most beautiful heaves, every ounce together, sometimes gaining a yard at a time. The sergeant-major would then call 'check', and everyone sat back on the rope together, while the other people tried a heave. The rope stretched, the bodies swayed slightly, but not an inch did we give. Roars of joy, wild shouts of 'Stick it, boys! ', 'Come away the Black Horse!' (The 7th Company has always been nick-named the Black Horse ,for reasons lost in the mists of antiquity.) Thus it dragged on, amid ever-mounting excitement, in alternate heaves and checks, the crowd almost hysterical. Then, at some imperceptible sign, Sergeant Bones, who was at the front of our team , suddenly turned completely round, with his back to the enemy and the rope over his left shoulder. Then the next man and the next in succession , till in a flash the whole team had the rope across their back s, the change having run up the team like a ripple. Then the sergeant-major, whose orders had hitherto been given by a movement of the head or the wink of an eyelash, suddenly threw off his reserve, ran up to his men, and stooping down roared- 'H EA VE! HEAV E!' Heads down, foot by foot, right-left, they began to walk slowly away. The Field Ambulance , who put up a most sporting fight, got flustered, began slipping and sliding, while their coach roared desperately'check! check!' But, surely and steadily, our men moved forward foot by foot. The excitement reaches frenzy, 'Take 'em away, boys!' 'Keep at 'em!', 'Come on the Black Horse!'.
The Field Ambulance struggle and pant to the last, but steadily had to give way until, amidst deafening applause, the knotted tape crosses the line, up goes the judge's flag and the agonizing struggle is over.'Long live the Black Horse!' Everyone agreed in calling it a most pleasant and successful afternoon. After this, the C.R.E. held an inspection of the mounted section and vehicles. Colonel Rathbone found a good many mistakes, notably in the fitting of harness and in small points round the wagons. I wondered how he could spot the least deficiency in the harness, a buckle crooked or a strap a hole too short, when it was obvious that he knew nothing about horses and cared less. His niggling fault-finding was often annoying; but it was the cause of much administrative reform in the company. He also caught us out by inspecting identity discs, many of the men having them tied to their braces, instead of round their necks. Personally I have not had an identity disc for months! Inspecting drivers' kits, he asked Driver Nixon when he washed his linen holdall, which is supposed to contain the razor, toothbrush and so on. Nixon replied truthfully, 'Never, Sir.' A week later, when I inspected kits, Nixon, Kirkman and Hughes had.no holdalls. On my asking why, Nixon replied with a perfectly straight face, but a twinkle in his eye, 'They are hanging up to dry after being washed, Sir!' -a spirit which made me chuckle. The only other notable event during our three weeks at Souastre, was the reception of five new horses. One day we received a wire to say that five light draft horses for us would arrive at 4.30 am. the next morning at the railway station at Saulty l'Arbret. 'Please arrange to collect.' I set off with Sergeant Church, Corporal Paine and some drivers while it was still dark. The train eventually condescended to roll up three hours late. The Divisional Vet, Major Hearn, was in charge of the distribution of the horses.
Hundreds of mules were detrained, beautiful, well-bred, silk-coated, stepping daintily down the gangways, with raised heads and pricked ears. I thought sadly what they would soon become, standing shivering in the slush, ungroomed, galled, beaten and jobbed in the mouth by evil-tempered, mud-plastered drivers. Already some Divisional Ammunition Column drivers were dragging away two or three newly acquired mules, bellowing furiously, 'Come on, you ---s, you!' I was determined that our drivers get hold of the best horses as they came out the train; After careful inspection in the train of what looked good, we got hold of five. When all were out, I cautiously approached Major Hearn, the vet, who was rushing about very busy. To my joy and amazement, he called out to see me to pick the five-I wanted from the whole lot allotted to the division, so as not to have to wait. No other unit in the division had raised the keenness to send an officer at 4.30 am, except the gunners, whose allotment came separately. Consequently I walked as if in a dream through a crowd of hundreds of horses, so densely packed that one could not look at them properly. I was delighted with the five we had chosen , of whom four at least I was sure were the best on the train. Having reported to Hearn, we cleared off and set off for home, full of joy, jogging down the main road.
1 June: Cleaning Souastre village in neighbourhood of billets. Baths, maintenance work on rifle range.
2 June: Close order drills - Musketry practice on range - Lecture by O.C. to N.C.O.s and reconnaissance connected - Gas drill. Making up targets for range and jobs for town Major.
3 June: Sunday: 'D' wire fences - Clean arms and billet inspections
4 June: Close order drills - musketry on range - baths - gas test of box respirators.
5 June: Work on rifle range - 1/2 Coy practical demolitions near Sailly Au bois - 1/2 Trestle bridging at St Leger Les Authie
6 June: As for 5th with work of 1/2 Coys reversed
7 June: Marching order inspection - preparing sports ground - sports preliminary heats.
8 June: Marching order 'turnout' inspection - sports - (tug of war open to local units won by Coy team)
9 June: General fatigues.
10 June Sunday: 'D' wire fences - rifle and feet inspections.
11 June 1917: 1/2 Coy practical demolitions at Sailly Au bois - 1/2 Coy Trestle bridging at St Leger Les Authie. 2 Battlion 151 Inf Bde instructed in making and placing barbed wire concertinas. - Lecture by G.O.C.
12 June: Route march (12 miles) combined with map reading and judging distances practices.- Lecture G.O.C.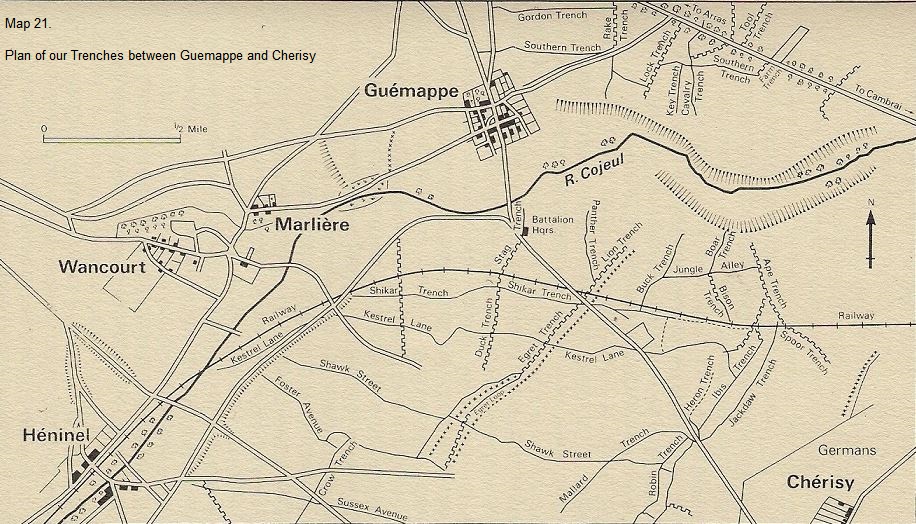 18-27 June: No 1 Section improvements to concrete trench (making fire trays) till 21st then employed entirely on improvements to Bootham Tr- (Intermediate Line) widening and deepening trench, adding necessary Fire Trays, making bunker blocks and Fire Trays in Avenue trench - work mainly night work, as only work within the trench practicable by day owing to ground under observation.
No 2 Section - 1 squad employed Hill 26 in hutting and other services at 50 Div HQ at Boisleux au Monts, remaining squad employed partly on work (widening and deepening) at S.P 18 (Corps Line), partly on making barbed wire concertinas and various miscellaneous work in the line and bivouac.
No 3 Section 19-21st on making 9' wide chambers in dug outs for B/250 Batts at Heninel - that on C/251 abandoned on 23rd as position vacated.
No 4 Section 17- 23rd completed over 48 of 9' chambering in A/82 and B/32. Then completed the remaining work required in B/250 & D/82. On 26 work on new dug out commenced for C/250 Batt = work still in hand (porches, camouflage etc) to B/259 & D/82
28 June 1917: Instructions received from C.R.E on 27th to effect that probably 7 Field Coy RE would be required shortly to take over work in forward area on line Sector between Arras - Cambrai Rd ( N of Cojeul ) to Kestrel Trench (S of Cojeul) in relief of 56 Div - Capt Glubb forwarded on 28th to get in touch with O.C. 513 Fd Co RE and O.C 418 Fd Co RE. Arrangements made for O.C and other officers to go over line on the 29th. Work as of 27th with addition of 1 squad No 2 Section wiring Bootham Trench.
29 June: O.C. and officers proceeded around new area with officers of 416 Fd Co & viewed all work- Rough programme submitted by O.C. to C.R.E. Work as for 28th.
30 June: Work as for 29th. O.C proceeded on leave. Capt J,B. Glubb acting in Command.
I went back to Souastre on 14 June having spent 3 days leave with my dad. Baker, I found, had returned from his leave in England. I was very glad indeed to see him.
15 June: we marched out of Souastre early on a beautiful summer morning. The air was fresh and cool, the sky light blue, the grass sparkling grey with dew, the sun, just risen, shining in the soft gold light on the red village roofs and the tufted tops of the elms. The Durhams passed down the main street with their band playing, and we moved off behind them.
An hour or two later, however, the sun had become almost unbearably hot. The dust hung in clouds over the road and the lines of sun-baked downs shimmered, in the heat haze. The men, covered with a veil of grey dust, plodded or limped along, their jackets unbuttoned, their caps on the back of their heads, their faces. purple and streaming with sweat.
McQueen took me with him and we rode on ahead to locate our new camp. We passed through Boisleux-a u- Mont, Boisleux-St Marc, and Boiry-Becquerelle into Henin. All these villages were mere mounds of brick-dust (see Map 20. The day was breathlessly hot and dusty. We turned to the left in Henin and found the 80th Field Company R.E., whom we are relieving. Here we met 'Major Bremner M.C., who commanded the company and who seemed to be only about twenty years old. He gave us an example of hospitality, the like of which I have never seen in France: He had himself evacuated his dugout to leave it for McQueen. Each of his section had orders to have some water boiling when our men came, so as to be able to give us all tea at once. I will remember to do this myself, next time we are relieved. [Unfortunately Major Bremner was killed in action in 1918.]
Having seen the camp, I rode back and met the company, marching well, just beyond Boisleux-au-Mont. The same could not be said of the 6th Durhams, many of whose men were straggling along behind their battalion, or lying on the grass beside the road. .
On the march, officers must often harden their hearts. If they give way to pity and allow some poor devil to fall out, they cannot blame more and more men for giving in. Every man is in very great discomfort, with aching backs and shoulders, a feeling of giddiness, thirst and headache. What man can be blamed for giving in, when he knows that to do so involves no discredit? It was certainly a very hot day and some men had genuinely fainted under the enormous weight they had to carry, recently increased by the steel helmet and box-respirator. I gave my horse to Sapper Clear to ride, for he was a bit old and tired, and marched the rest of the way with the sappers.
17 June: We took over work in the front line. During the battle of Arras, we had broken through the so-called Hindenburg Line system of trenches, but at an angle . The result was that the German fire trenches of the Hindenburg line became our communication trenches and vice versa. In addition to masses of old German trenches, there was a network of half-dug trenches which odd parties of infantry had dug to shelter in during the battle. The job was, out of this labyrinth, to prepare lines of fire-trenches facing the enemy, and communication trenches leading back from them, and in some places also to put out barbed wire-in other words to construct and organize a stable system of
trenches. McQueen, having been in France since April 1915, was entitled to a month's leave in England, and left on 1July, to return on '1 August, leaving me in command. Company headquarters and the mounted section were on the Henin - Neuville-Vitasse road, and two sections of sappers went to live in dugouts a little south-east of Wancourt. These sections were to re-dig the front line, working, of course, at night. The other two sections were engaged in making reserve trenches and improving the communications behind the main trench network. McQueen having de­parted, I set myself to organise the work on our new sector. McQueen and I were of very different constitutions. He was completely serious (I never remember him making a joke), disapproved of levity in wartime, and worked morning,noon and night. Like so many dedicated men, he found fault sharply with every trivial fault, but rarely, if ever, remembered to praise good work. I never knew him to show any sign of emotion, except anger at what he thought was bad work. My Cornish-Irish ancestry, on the other hand, had made me emotional. I really love my soldiers. I enjoy an occasional party, and used especially to revel in our gramophone, which McQueen had dumped before the Battle of Arras. McQueen and I,however, although of such different constitutions, were united by our one ruling passion. Both of us were utterly dedicated to our company. Our sector of trenches extended from the Arras-Cambrai road and Gordon Trench to Kestrel Lane inclusive . It was divided almost equally in half by the River Cojeul, in the valley of which there were no trenches. It was, therefore, impossible to cross by day between the trenches north and south of the Cojeul, except by going all the way back to Marliere and Wancourt. This made our sector extremely unwieldy to organize. The whole area was a maze of innumerable trenches, about half of which were abandoned. Some of these were old German trenches, the remainder had been hastily dug by one side or the other in the heat of battle, from 15 April to the middle of May. The weather at that time having been cold and wet, each man had undercut the parapet to scoop himself out a little shelter. There were no dugouts anywhere. There was no revetment, but, as the soil was chalk, the trenches stood up fairly well. In the northern section, Rake, Lock, Key and Cavalry trenches were of this type. In the southern section, Panther, Lion, Bison, Buck, Ape and Spoor were of the same kind. Although these trenches faced the enemy, it was almost impossible to fire out of them. Our predecessors, the 56th Division, London Territorials, had done a lot of work on the main communication trenches, which had been dug to nearly seven feet deep, and floored with trench boards. Such trenches were Shikar, and Kestrel. Egret was also well dug and was the only fightable fire trench there was. A third category of trenches had not been re-dug, but were in loose earthy soil, not in chalk. As a result, they had fallen in, and were only 3 feet 6 inches to 4 feet 6 inches deep. Such were Farm trench, Duck, Stag and Jungle Alley. It was necessary to crawl from Ape to Jackdaw, along a piece of trench under the old railway. The first time I came along there, I remarked a large pool of blood at the junction of Ape, Spoor and Jackdaw, and, a few seconds later, a whizz-bang whisked just over my head and burst a few yards behind. I certainly made record time, doubled up like a monkey, lest I should make a red pool of my own there. Next time I came round, the trench was blocked by a new corpse on a stretcher covered with a blanket. The urgent jobs to be undertaken immediately were:
(1)To get good fighting trenches dug along the whole front.
(2)To provide shelters in the trenches for the men.
(3)To provide dugouts for battalion and company headquarters .
(4)To complete communication trenches up to the front line.
Bazentin le Petit - the base of III Corps tramways administrated by 7 Field Company RE. These men are either 7 Company or 'B' Echelon men. Photo taken October 1916 and courtesy of IWM.
Photo IWM. British troops ride on the tramway run by 7 Field Company at Bazentin - High Wood. October 1916
Map 21. East of Arras, 7 Coy's work area 15 June - 4 October 1917, a little further east than their first visit in April.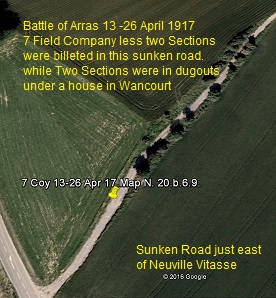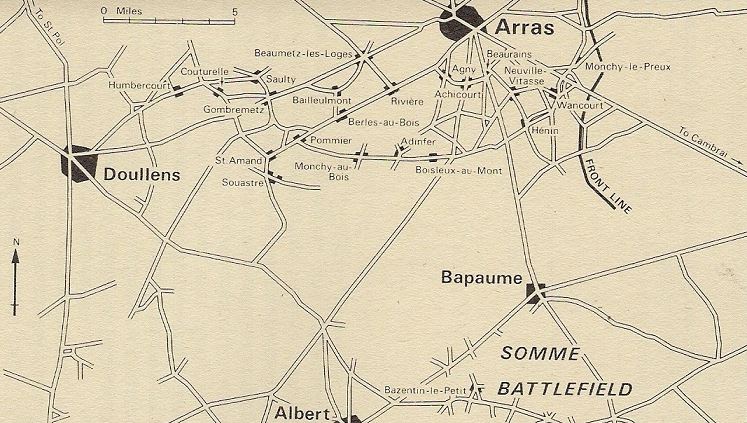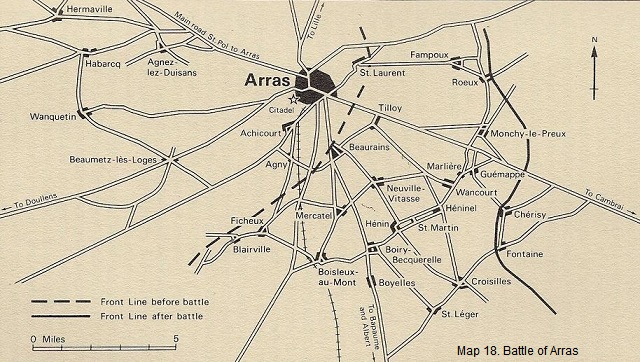 22 April: Two days ago, news was received of a big attack to be made tomorrow morning. Brigade asked us to finish a couple of jobs before the attack. The long hillside east of Wancourt was as open as a billiard table. Brigade wanted a mined dugout in the bank in front of Wancourt to be used during the attack for a Battalion Headquarters and then, when the battalion went forward, for Brigade Head­ Quarters. It was essential to provide some cover where the directors of the attack could work, whereas there was not so much as a sheet of corrugated iron on the whole smooth hillside. In addition, they asked for two little splinter-proof dugouts in the slope to provide dressing stations, for the wounded men coming back as the attack proceeded. Baker and No 2 Section did the headquarters mined dugout. Charlie Chaplin with No 1 Section, did the dressing stations. They could only work at night, as the place where they were working was our existing front line. It would only become a dressing station, when the line went forward. Just as dawn was breaking, the sappers were putting the finishing touches to the dressing stations, and Chaplin was standing beside the shelter superintending. As often happened at dawn, the Boche put down a light artillery barrage and a shell fell right into the little group of them. It burst close to Chaplin's head and killed him instantly, together with eight sappers. One of them was Sapper Penson, who had been wounded by the same shell as I was in Sanctuary Wood. I was up there next morning with McQueen, in broad daylight, and in full view of Guemappe, which was actually behind us and only a short distance away . But nobody fired a shot. I sat drearily in the sunken lane all the afternoon, having sent a signal to Connor, the padre with the 7th Durhams, asking him to come and bury them. McQueen told me, if Connor did not come, to say the Lord 's Prayer over them and bury them myself, as we should be too busy next day when the attack began. At 6 p.m I ran up to Neuville-Vitasse to look for a padre and after much enquiring, I found one, who came with me and buried all our men. I felt miserable and could not keep back my tears when he read:
For as much as it hath pleased Almighty God of His great mercy to take unto Himself the Souls of our dear brothers here departed, we therefore commit their bodies to the ground; earth to earth, ashes to ashes, dust to dust, in sure and certain hope of the Resurrection to Eternal Life.
Poor Chaplin! I could not help liking him. He seems now to have been so young and so helpless. I can hardly realize that he is dead. I slept the night in the sunken lane , so as to be handy in case I was required during the attack. It is to be a big one, said to be by two armies, the Third and the Fifth, and also part of the First to the north. Our job is to repair the bridge over the Cojeul River in front of Wancourt, and to construct a stronger one beside it. We have been told that the guns will want to cross the bridge between 8 am and 10 am to take up forward positions to cover the second advance, which is timed for 12 noon. We are to begin work as soon as Guemappe is taken.
McQueen and I walked over to Brigade Headquarters just before zero hour, which was 4.45 am.
We stood halfway up the bank of another sunken lane, in which Brigade Headquarters was situated, so that we had a view of the dark hills opposite, and of the trees and houses of Marliere and Wancourt, barely visible in the twilight of dawn and through a cold morning mist. There is scarcely a sound to be heard, except a buzzer in a dugout just below us, and an occasional burst of machine-gun fire in the darkness to the east. A belated Very light rises, hangs for an instant and falls, looking pale against the light of dawn in the east. We look at our watches -two minutes more to go. In the distance, we hear the thud of a German gun, a long whistle and a sharp kr-rump somewhere away to the north. Then silence -fifty seconds to go! Everything is as still as death! Now it must be time surely -still silence. Then one of the batteries behind us suddenly barks, bang - bang - bang bang, and the shells whirr over our heads. A second later, the flashes of flame break out all over the opposite hills, followed, as the sound reaches us, by their bang - bang - bangs. Two more batteries join in just behind us. Two seconds after the first gun spoke, the whole country, still looking black and indistinct in the twilight of dawn, is alive with tiny darting flashes of flame and the air is full of a continuous bang-banging, while the little shells whizz in endless streams over our heads. The noise is continuous and deafening, punctuated only by frequent prematures from a battery close beind us, which pass over our heads with a whirr of flying fragments.
Barely a minute after the guns opened, the first red light rises up from the German lines somewhere beyond Wancourt and bursts into two; another from in front of Monchy, then two or three together, until, along the, whole eastern line of hills, a series of red rockets soar into the air, hang for an instant, burst and fall with increasing velocity. It is the German infantry, calling to their artillery, Save-Our-Souls. In the calm, cool of dawn, a sudden hurricane of shells has been let loose on them, as they crouch peering into the dusk, expecting every second to see the boys with their long line of fixed bayonets. A minute or two after the silence of the cool still dawn was broken by the bark of our first gun, every German gunner on the front is straining his every sinew, firing rapid gunfire on their S.O.S. line. The noise of the German guns is indistinguishable to us owing to the deafening bang­ banging of our own, but we can tell that they have started by the bursts. 'First, on the ridge, a spurt of grey, then two more, then another to the right, four, five, six, more in Wancourt and up on the Cambrai road.
At about 7 a.m no news having been received, McQueen asked me to walk up to the front and see if I thought the sappers could now begin work on the bridge. An occasional 4.5 was landing on the road to Wancourt, but the guns of both sides were already slowing off. I looked in on the section officers in their dugout in Wancourt and found them sitting, all ready to start. So I said I was going up to the bridge, and Baker offered to come with me and, of course, Littlewood. We walked out and stood, looking stern and noble, on the ruined old brick bridge and scrutinized Guemappe. It appeared to be deserted, and neither side was shelling it. Every minute or so, a shell whistled lazily into Marliere or along the valley, or burst on the ridge above. So I asked Baker to begin work, and walked back to Brigade Headquarters to tell McQueen. During the whole morning, the shells continued to pour steadily into Wancourt and up and down the Cojeul valley. Before midday, the Boche put in his counter-attack, and the shooting worked up to an intensive bombardment, both sides being all-out, and a heavy barrage came down on the Cojeul. The sappers, however, worked on, though casual­ties began to pile up. The losses were surprisingly small, however, considering the amount of stuff that was coming over. Soon Guemappe was nothing but a cloud of dust and smoke. Things were beginning to look a bit thick on the bridges, apart from the deafening barrage which was still falling. If the Boches established themselves in Guemappe again, they would be only 500 yards from 'the bridge across open grass. But McQueen kept them all at it without a check. During the afternoon, things cooled down a bit, though our guns kept plugging into Guemappe. At 4 p.m McQueen told the sappers to knock off. They had been nine hours at work, under heavy and continuous shell fire. Baker had been hit by a piece of 5.9 shell, a small fragment of iron having entered his thigh. I walked with him to Neuville-Vitasse, there being no ambulances available. As we left the sunken lane together, the field guns suddenly burst everywhere into another bang-banging bombardment. Our infantry made another attack at 6 pm and regained the first objective which we had taken at 5 am and lost again at midday.I bade a sorrowful goodbye to Baker, wondering how I should get on without him. As we had now lost two officers-Chaplin and Baker I took charge of the work on the bridges on 24 and 25 April. We found a dump of German engineer stores in Marliere which helped a great deal. Boast's company, the lst Northumbrian Field Company, passed through us on the evening of 24 April. They went up and dug a line of trenches all along the front, doing very well. But this does not look much like a breakthrough. People are digging trenches and putting out wire again. Boast, returning from this exploit in the morning, passed us where we were still working on our bridge . The Boche were regularly shelling the west end of Wancourt, where he wanted to pass, and he asked us how often the shells were falling. We timed them and found it was every- three minutes. Waiting till the next one burst, he called out, 'Well, tempus fugit as the Chinamen say. Goodbye,' and set off at a run to get by before the next shell burst. Colonel Vaux, of the 7th Durhams, caused some amusement coming by laden with souvenirs, German helmets, revolvers, and bayonets. At about 3 pm I received a note from McQueen to say that we were to march back to Arras at 6 pm.to rest. I remarked to Sergeant Farrar that this would be a long day for the sappers, marching to Arras after a day's work at Wancourt. He answered with a grin that he did not think there would be many objections all the same, if it meant getting away from Wancourt.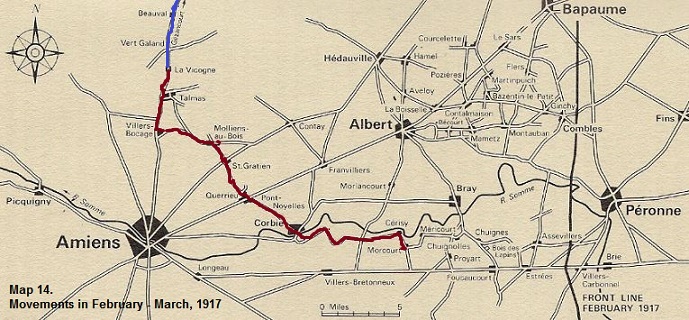 East of Arras 15 June to 5 October 1917

The urgent jobs to be undertaken immediately were:
(1)To get good fighting trenches dug along the whole front.
(2)To provide shelters in the trenches for the men.
(3)To provide dugouts for battalion and company headquarters .
(4)To complete communication trenches up to the front line.
13 June: Close order drills - bombing practice - Lecture by G.O.C. - Lecture by C.S.M. Parker
14 June: Coy fatiques - cleaning Pontoons etc.
15 June: 7.40 am Coy marched (17 miles) Adinfer to location of 84 Field Coy RE 18 Div near St Martin Sur Cojeul with 151 Bde Group in relief of 18 Div - severe heat, 1 man fell out on march.
16 June: (N.26.d.8.8) O.C. with Section officers and N.C.O.s to view lines and work of the 84th Fd Coy. 7 Coy RE, work mainly on Artillery deep dug outs, intermediate line, (Corps) line of strong points - 5 deep dugouts taken over, all connected up as regards ? Gallery but all requiring chambering throughout to 9' width. This work already started in 2 cases.
17 June: Moved into bivouac vacated by 84 Coy RE - work commenced (3-8 hr reliefs) in dugouts.

2 May: We marched out of Pommier at 7 am. McQueen having gone on to reconnoitre, I brought the company along. A beautiful morning, cool, calm and bright, the grass sparkling with dew, and the larks singing overhead. But soon the scenery changed. We passed through Berles-au­ Bois which was pretty well ruined. On the right of the road was a maze of trenches, probably our old reserve line. When we left Arras a week ago, it had been bitterly cold. Today it was burning hot with clouds of dust sweeping across the country. The Divisional Headquarters was ready and occupied by the evening - an exceedingly fine piece of work by the sappers and of organization on the part of McQueen. The Divisional Commander was delighted.
3 May: we were woken up early at Neuville-Vitasse by the On rumble of the guns. This is said to be a large scale action, by I, III and V Armies. It is to be in reserve for this that we have been recalled so urgently. We are bivouacked on the old German front line before the offensive began. Some of the men are sleeping in the trenches and some on the open ground. Rumours came down in the morning that the attack was successful, but in the evening we heard that we had been driven back to our starting line again .

4 May: After this failure, the idea of attacking again seems to have been abandoned. Divisional Headquarters went back again to rest.
6 May: We received orders to collect two officers and thirty sappers, to replace our losses in the battle. The next day we marched back to our old rest billets at Humbercourt. All dismounted men now have a foot inspection after every march, with the result that we have not had a sore foot since we left Morcourt.
9 -15 May: At rest in Humbercourt - a very happy time. We did not do much work. I took all the drivers and horses on exercise every day, and rode up through the forest. Colonel Rathbone, the new C.R.E, being an old Chatham man, is tremendously keen on inspections. One day, he ordered an inspection of the sappers, which proved a revelation to all ranks. How he knows, remembers and notices all he does, no one can tell . His inspection of the sappers lasted hours. Every little thing was noticed - clasp knife not on the left buttock, or the cap badge not straight. He noticed the tiniest little details of small kit, a reel of cotton in the 'housewife', or a spare pair of bootlaces in the haversack. Every point gave rise to a cry of 'Section 3 Commander! why has this man got no spare buttons in his housewife?' or, 'How long has this man had no tooth­ brush?'
Then followed an inspection of billets, with a searching catechism of each cook. ' Where do you put your refuse water?' ' What do you do with your bread scraps?' He told one of the section officers that he ought to keep his section's potato peelings, and give them to the local people as pig food, in exchange for fresh farm produce!
16 May: We marched to Monchy-au -Bois. It is a great joy seeing men and horses improving under one's hand, so to speak. At a ten minutes halt just through Bienvillers, I saw Driver Gowan dash into a field beside the road and feverishly pick dandelions and carry them to his horse. These are supposed to be much valued by horses, and to bring out and improve their summer coats. This is the real spirit of horsemastership - think first of your horses. We remained in Monchy-au -Bois for a week. The Durhams did a brigade exercise, in which we took part. The village of Monchy is not only in ruins but is entirely razed to the ground, having been systematically destroyed. by the Boches when they retired last spring. The telegraph wires along the Ransart road were carried by reinforced concrete telegraph posts. Every one of these has been separately blown down.
The brigade having asked for some experiments with Bangalore torpedoes, we got hold of some water piping, cut it in twelve -foot lengths and packed it with ammonal. The experiment was carried out on some old German wire entanglements near by. A single length of pipe blew a passage two feet wide through the wire. Two torpedoes, eighteen inches apart, blew a path eight feet wide. The idea is that, before an attack, the sappers creep out of our trenches, push the torpedoes through the German wire, and fire them, so as to open gaps through the entanglement for the infantry to use. Unfortunately the pipes are very heavy, and it is virtually impossible to carry them across no-man's-land unseen and unheard. One suggestion is to have an artillery barrage at the same time, in order to make so much noise that the sappers would not be heard. But a barrage on the enemy front line would probably also kill our sappers!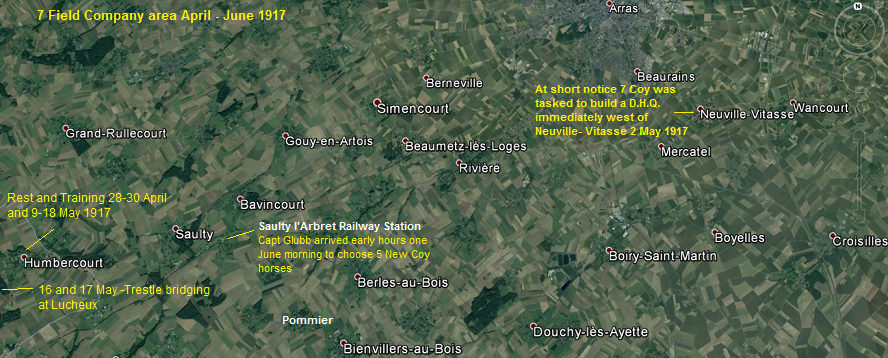 McQueen had the idea of a tug-of-war one afternoon at Monchy, and told the sergeant-major to arrange a competition between the sections. The CSM, who has a sense of the ridiculous, after plotting with the N.C.O.'s, asked if the officers would pull against the senior N.C.O's, 'by' way of sport. The absurdity of this proposal lay in the fact that the senior N.C.O's average about fifteen stone, are all old regulars and have made a science of tug-of-war for many years. The officers average about eleven stone and have never done it before. The N.C.O.'s played with us, winking at each other to give way a bit now and again, till the officers were bursting with exhaustion. Luckily I was in front, and saw them signing to each other not to pull too hard, so, with great appearance of toiling, I contrived not to get overtired.

CRE 50th Division's report on RE operations
at and near Wancourt 14-26 April 1917.
Click the thumbnails to enlarge.
The casualties in the company amounted to exactly a third of the strength of the sappers. Out of a total of six officers, one was killed and one wounded. Out of ninety sappers, we lost a total of thirty, of whom twenty-two were wounded. The mounted section were fortunate not to lose any men. For the first eight days, we had a lot of horses in the sunken lane, in full view of the enemy, ready to march on Berlin. Then the horses went back to Neuville-Vitasse, but we had wagons working in Wancourt, carrying stores from the old German engineering dump to the bridge. Fortunately the Germans are a methodical people and their bigger guns often fired at three or four minute intervals, which made it possible to gallop the wagons through in the interval between one shell and the next. Eighteen months were to elapse before we set out in real pursuit of the retreating enemy.
After Arras, the divisional commander, General Wilkinson, published a special order saying that he wished to record his satisfaction at the conduct of the 7th Field Company throughout the battle, concluding with the words, 'their work throughout has been excellent' There is no doubt that we have won a great name. This is partly due to comradeship and the old company feeling, and partly due to McQueen's untiring work and influence.
There were three German dumps of materials in Wancourt and Marliere. One at the west end, containing chiefly timber, wooden frames, with also corrugated steel shelters . Another, in Marliere, also contained quantities of timber, together with brushwood faggots, hurdles and fascines. A third dump, south of Wancourt bridge, contained an immense amount of steel reinforcing bars and concrete stores. These were probably largely used for the construction of their big defensive lines, like the Hindenburg Line, which are full of concrete. Wancourt contained a great number of mined dugouts, as also did every bank and sunken road in the area. The diligence in which the German make and mined concrete dugouts is well known. There was also a good deal of Decauville tramway and derelict trolleys lying about. A main tramway line ran from Guemappe to Marliere and to all the above dumps
Just as we knocked off work, we saw a most emotional air fight just above our heads. A little Boche plane, painted red all over, dived on to one of our old artillery observation buses. He followed our man down, sticking to him like a bull dog, diving and twisting and firing bursts of m-g fire into him all the time, until he came so low we could almost have hit him with a revolver, and everyone started shooting at him with rifles. Meanwhile some of our fighters began to appear above him. Then suddenly he flattened out and made for home. We thought at the time that these little red devils (there were two more behind him) were a new kind of plane. Later we heard that they were Baron Von Richt­ hofen 's famous circus.
We marched out of the sunken lane at 6 pm. McQueen had gone on to Arras and I took the company back to where our advanced party met us with guides for each section. Having got the horses tied up to the wagons, the drivers were led down a dark, narrow stairway beneath a ruined house, into the caves where they were to sleep.
The caves of Arras are said to be mediaeval catacombs, extending for many miles through the chalky soil. This part of them consisted of high vaulted caves, the walls dripping and running with damp. The floor was crowded with close­ packed infantry, lying chock-a-block, while no words can describe the foul sweaty smell and the decaying, suffocating heat. Putting it as best as I could to the vote of the men, crowding and peering behind me, their rifles and kits on their backs, I found that opinion seemed to favour a return to fresh air. Fortunately the weather had turned warmer and they bivouacked in the field with the horses. Thus ended our part in the Battle of Arras, at which we had been billed to burst through the German lines and march for Berlin. In fact, during the fortnight we were in the line, our front line advanced about 2000 yards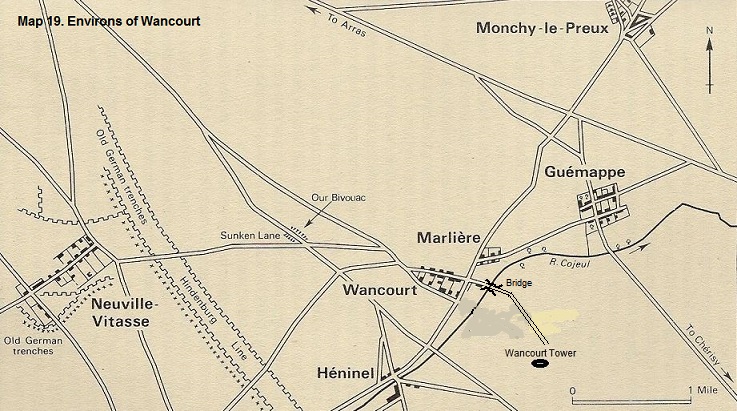 2 April: Our march today was along the main Amiens­ Doullens road, mostly across the top of the bare downs, where the wind shrieked past us, enough to cut off our ears and bands. Shortly after passing Vert Galand farm, we passed Sir Ivor Maxse, the Corps Commander. We had previous warning that he might be about, and the drivers had been instructed to salute by teams with their whips. To give 'Eyes left' to the whole mounted section on the road, above the rumbling of the wheels and the clicking and trampling of the horses' feet, would have been impossible. Section officers were to give, 'March to attention - eyes left' to the sapper sections. Maxse sat in silence while the company passed, and then said to McQueen, 'Well, I've got no remarks to make, and when I've got no remarks, it means it's damned good. But there's one man in your company without a cap badge; what about it?' Not so easy to get praise from Maxse, I believe. We heard afterwards that another field company (which shall be nameless) passed him later, and got cursed and damned to the devil and reported to their division - altogether the fat was in the fire. They assumed a sort of 'out since Mons' air, woollen scarves, Balaclava helmets and dirty buttons. Maxse is an old guardsman, so our smartness and polish appealed to him. McQueen was very ·pleased and told me the company passed very well, every man in dressing and with his head and eyes to the left. All the drivers also saluted well. It was blowing a gale and snowed for several hours on the road.
Our route lay through Beauval and then to the left to our destination, Gezaincourt, a village which was almost a suburb of Doullens. We were disappointed on arrival to find that we were not billeted in a village, but in a camp of Nissen huts, standing on piles, on a muddy hillside. During the afternoon, it snowed for several hours, with a gale of icy wind. Baker, Slattery, Charles and the Fat Boy played poker at the table, where a vast number of twenty-five centimes pieces seemed to be in circulation. This seems to be their latest craze. ·
Singer, the C.R. E., came in during the afternoon, sprinkled with snow and trembling rain drops, to say goodbye to us, having just been promoted Chief Engineer, XV Corps. We slept in rickety Nissen huts. The wind shrieked round us all night, whistling through the crevices in the huts. The door latch was broken, and the door kept swinging open, admitting a sudden icy hurricane blast and whirling snow flakes. I lay huddled and shivering, going off and waking up again. Luckily with all this marching and hard work, it is difficult not to sleep like a log, but I nearly failed that night. Next morning, 3 April, we were up at 4 a.m. the wind still howling and shrieking. The cold was beyond words . Ears, feet and hands did not feel cold, but numb and tender, so as to be agony to touch. We marched over downs for a while and then descended the steep hill into Doullens, leaving on our left the grey walls of the cathedral. We marched through the main street of Doullens, past the town hall and up a steep hill on to the downs again. We see towns so rarely that it is quite entrancing passing through one, even at 7 a. m . There were shop windows with ladies' hats and clothes in them, and cafes and food shops and even a bookshop. I have not seen such shops since I left England last July; it seems like something out of a past life. In fact since July I think I have only seen shops twice, on my two visits to Corbie .
Once again we were on the open downs, with the wind shrieking and the snow whirling past us. We turned to the left after entering Frevent, up a narrow valley with a little stream winding in a ditch beside the road. Suddenly fortune seemed to have made up her mind to atone for all our bitter shivering of the past twenty-four hours. We were sheltered from the wind in the little valley, the sun came out instead of the whirling snow, and everyone swung along cheerfully again.
Then the valley narrowed and became filled with a wood between steep downs. Here we met our guides who had gone on ahead, ready to conduct us to our billets. McQueen and Baker standing in the road all smiles - a lovely place and splendid billets in Ligny-sur-Canche. I dropped my marching order off my aching shoulders in the officers' mess, and walked up to see the horses watered and fed.
Just as we were settling down to a meal, at about 2 p.m, into the yard rode General Cameron, the Brigade Commander, with Daly, his Brigade Major, to ask if our billets were comfortable. They really are a pair in a thousand riding round every unit in the Brigade Group, often spread over four or five miles, after every march, to ask if everyone is happy. Finding they had not eaten since 5 a.m, we compelled them to share our meal, after which they rode on to ask how the Machine-Gun Company were. After dinner, I walked with Rimbod in the dusk and crossed the little river, surrounded by the sighing of the over arching woods. Then up through the village, the little white, green and yellow cottages climbing one above the other up the hill. There was no Town Major in this village, and our billets had been arranged direct with Monsieur le Maire, who proved an experienced and efficient billeter. 'Compagnie de Genie?' he said. 'Oui! oui! c'est a! les chevaux ici, les soldats ici! Ca va?'
My own billet was a beautiful clean room beneath the eaves, with a big bed and sheets (the first I have had since Mont des Cats!), a china jug and basin, and something under the bed which I haven't seen since I left England. Truly we seem very far from the war in this quiet little tree-whispering village.

22nd April:
The deep dugouts constructed by 7 Coy (see pictures right). As the working party completed the R.A.P. dugouts and were leaving the site at 4 am, a heavy shell burst on the party causing 17 casualties - 2nd Lt, R.E.E.Chaplin, Lcpl W. Nunn, and 7 sappers killed and 8 sappers wounded, all of No 1 Section
Map: Capt H.A.Baker MC
The Company was inspected on the march at Beauval by XVIII Corps commander.
On the 7th April, as the Company passed through St. Pol (headquarters 3 Army), its marching was noticed by the B.G.G.S. 3rd Army, who took occasion to compliment it warmly through headquarters 50th Division as ''the best marching unit in the 3rd Army'' much to the appreciation of the Company, which during its recent training, had taken march discipline seriously.
The weather at this time was very severe as the following extract from my diary shows:
April 11th. Stood by all day to move. Orders to move at 4.10 pm to move at 5 pm. I had to push off right away as billeting officer. Company moved at 5 pm, but when they got a mile were sent back and the march cancelled for 2 hours. Frightful blizzard- waited outside dugout in snow for two hours while staff captain got billets. He had no billets for us, so I had to ring up C.R.E., who could only give us a field. As you couldn't see your hand in front of your face, I decided, on advice of 61st Company, to billet in Arras. Met Company at 1 am and settled down in Arras. The snow has almost ruined the Push….. It was real war last night in the snow!
A considerable point in favour of the immediate construction of shelters was the difficulty of movement along the trenches. When a whole system of trenches is full of stolid Durhams, asleep after a night on working party, it is quite a formidable task to get round the line at all. The neck of the bottle in all this sector's work was at once visible. Wagons could get up to Wancourt and Marliere at night, but all stores were carried by hand in front of these places. The enormous parties required to take any quantity of stores for so long a distance was prohibitive. Yet, instead of leaving the trenches (bad as they were) for a short time and improving the communications, our predecessors had continued to scratch away in the front line as best they could without stores. Yet the front line could not be made secure without barbed wire, dugouts and trench boards. As a result, a good deal of work was done by us in the Cojeul valley and through Guemappe up to the trenches to enable wagons and pack ponies to bring up rations and ammunition at night. We had two horses killed by shell fire, making a track through Guemappe.