7 Field Company Royal Engineers 1920 to 1938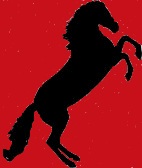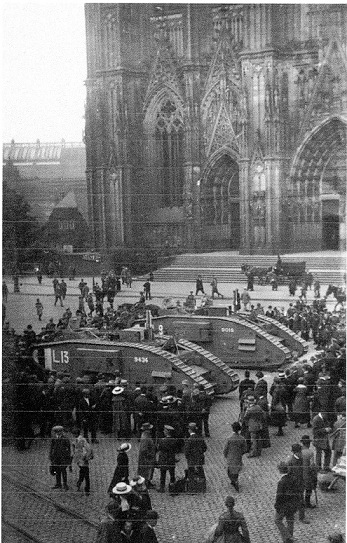 British Army Tanks outside Cologne Cathederal during the first BAOR 1919-1929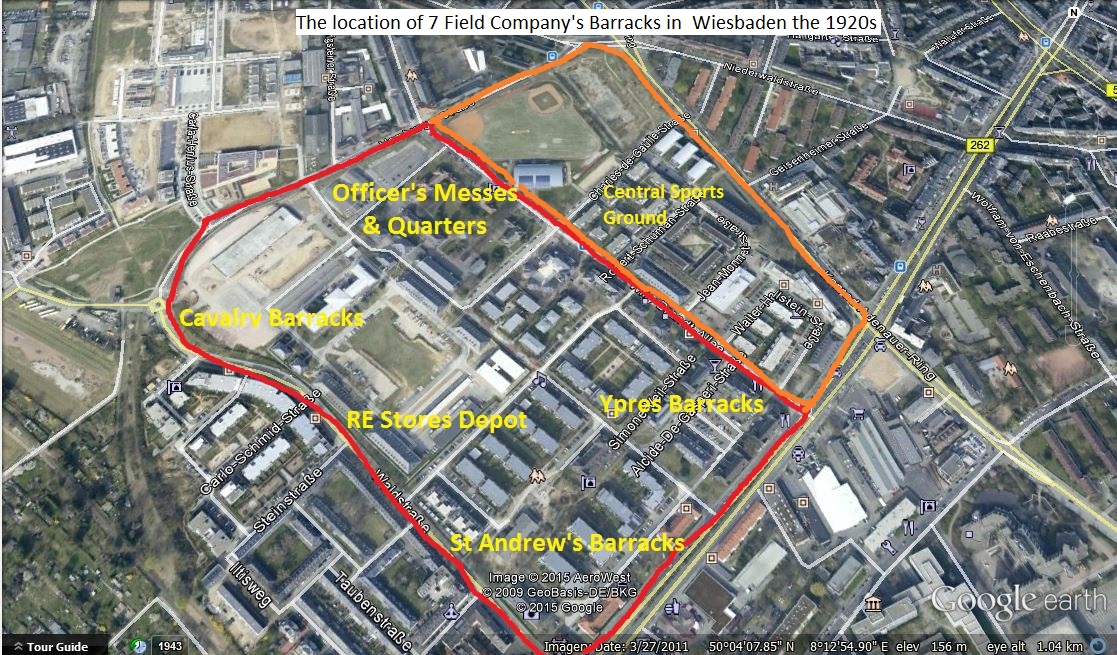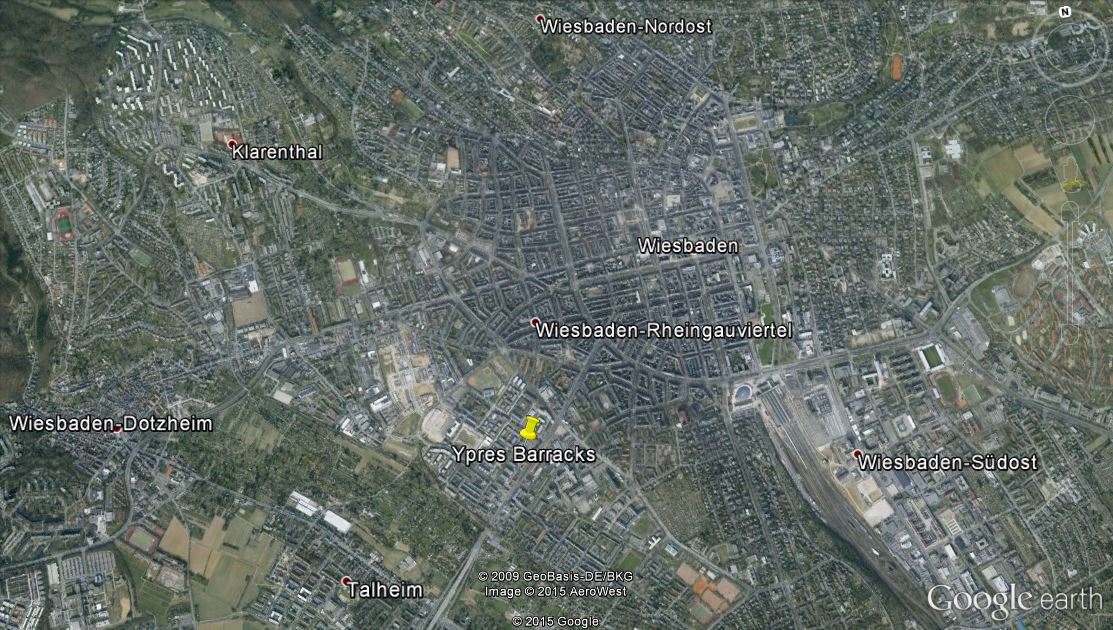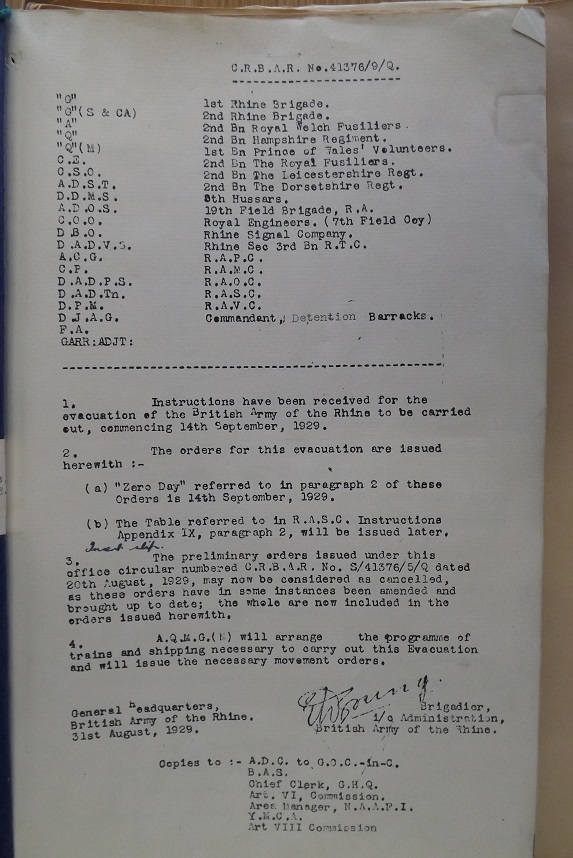 7 Field Company was stationed in Ypres Barracks Wiesbaden in the 1920s
The yellow pin marks where Ypres barracks was located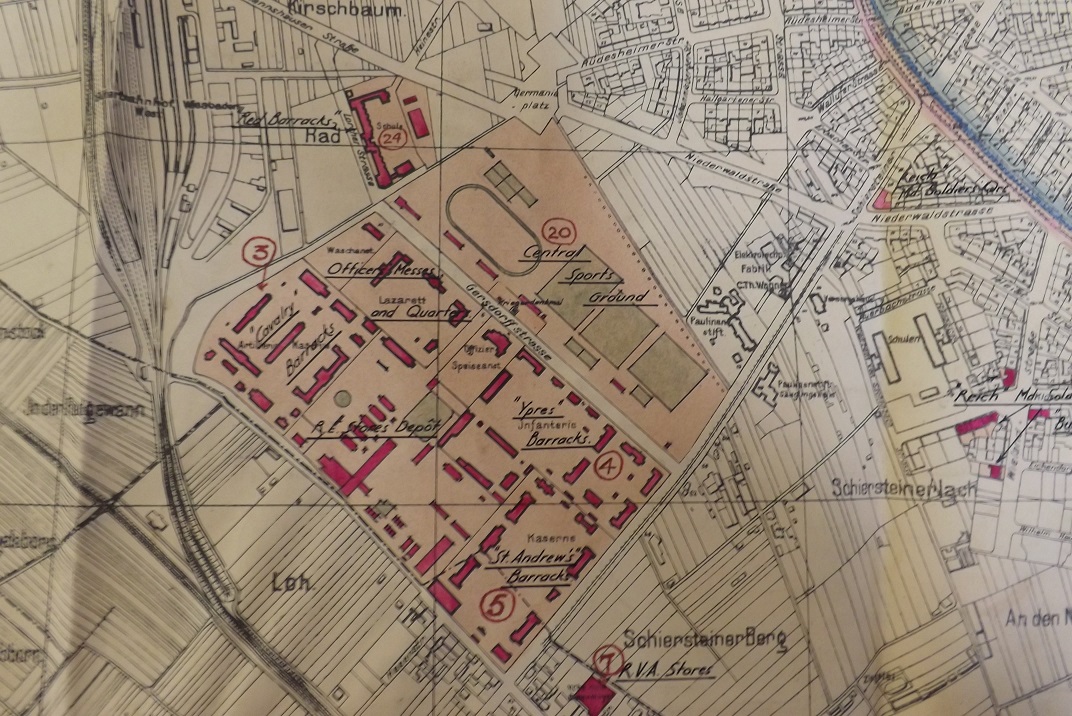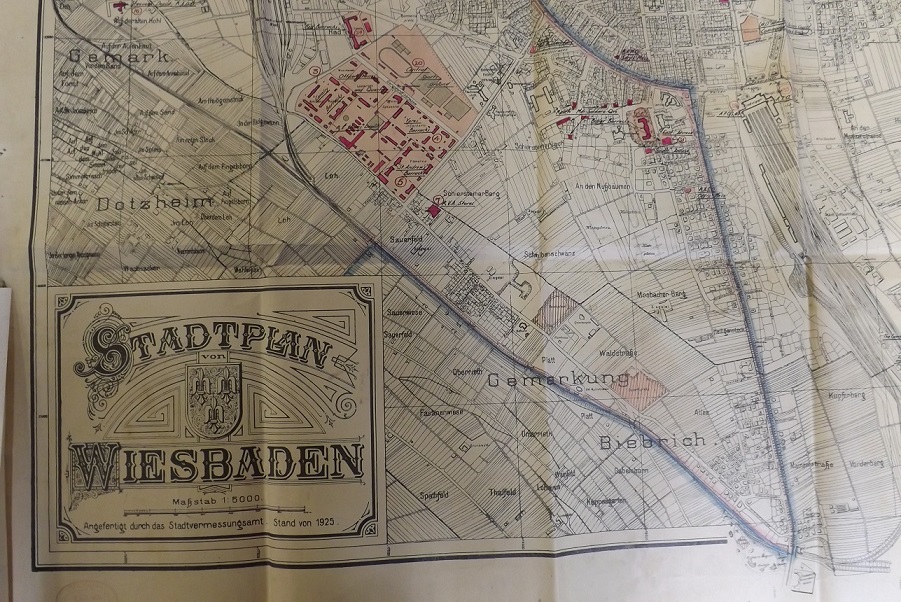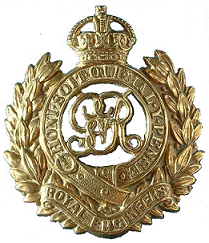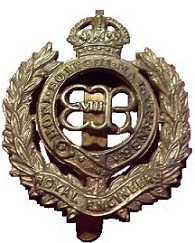 King George V
1901-1936
King Edward VIII
January to December
1936
| | |
| --- | --- |
| Date | Place Event Campaign |
| 1920 | Company re-formed at Chattenden |
| Apr 1920 -1929 | Cologne - Wiesbaden as part of The British Army of the Rhine |
| Nov 1929 | Colchester |
The First BAOR

The occupation was originally intended to last for 15 years, with the number of Allied troops reduced in stages after 5 and 10 years, subject to certain conditions being met.
The British left Cologne in January 1926, but some troops stayed on in Wiesbaden until 30th June 1930. Read More: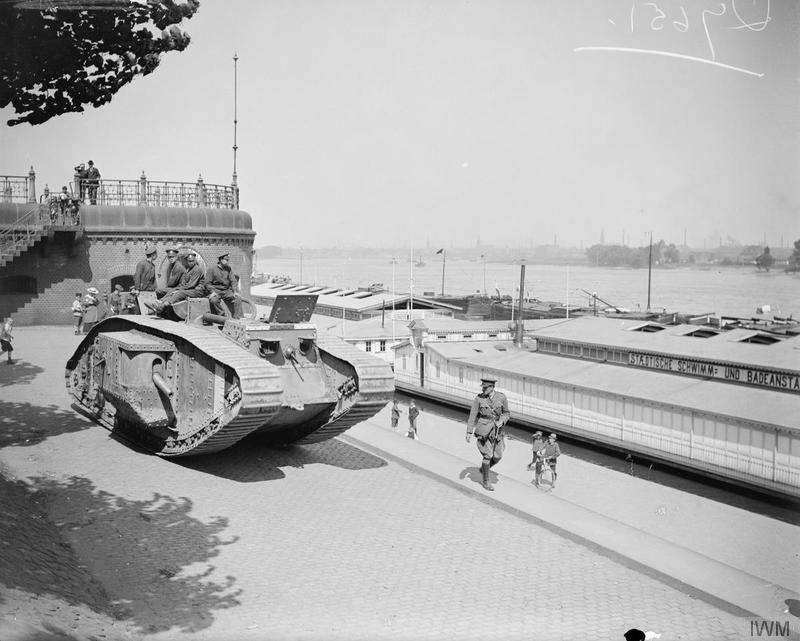 A 12th Battalion tank passing along the Rhine embankment in Cologne, 22 May 1919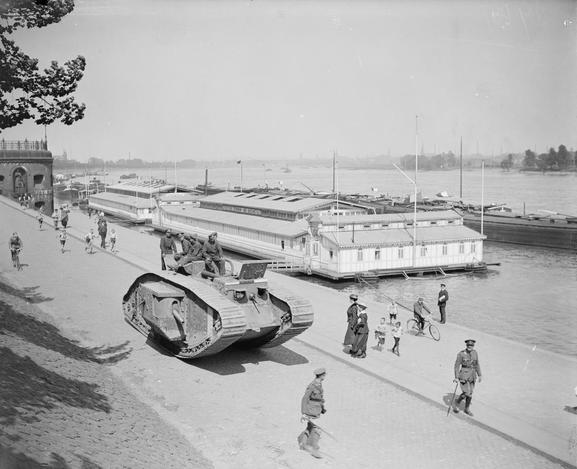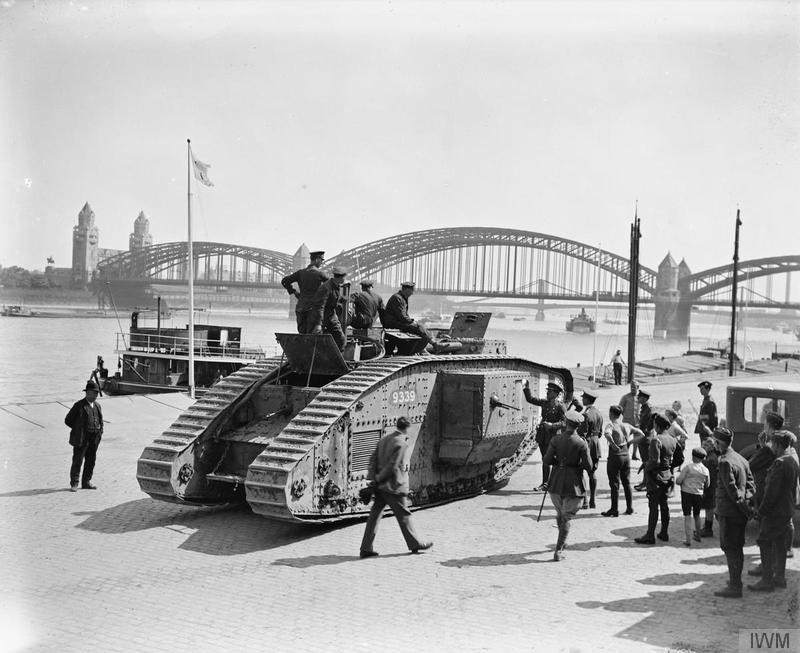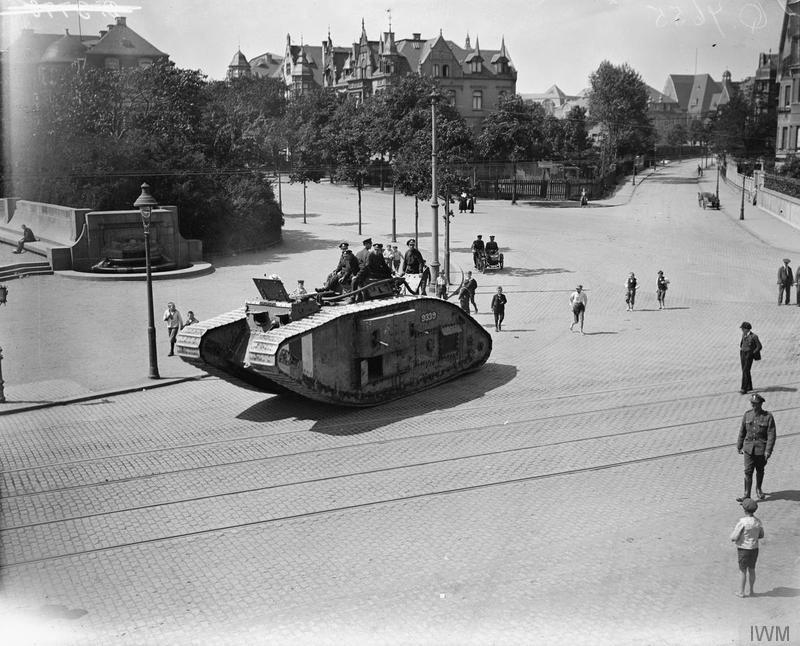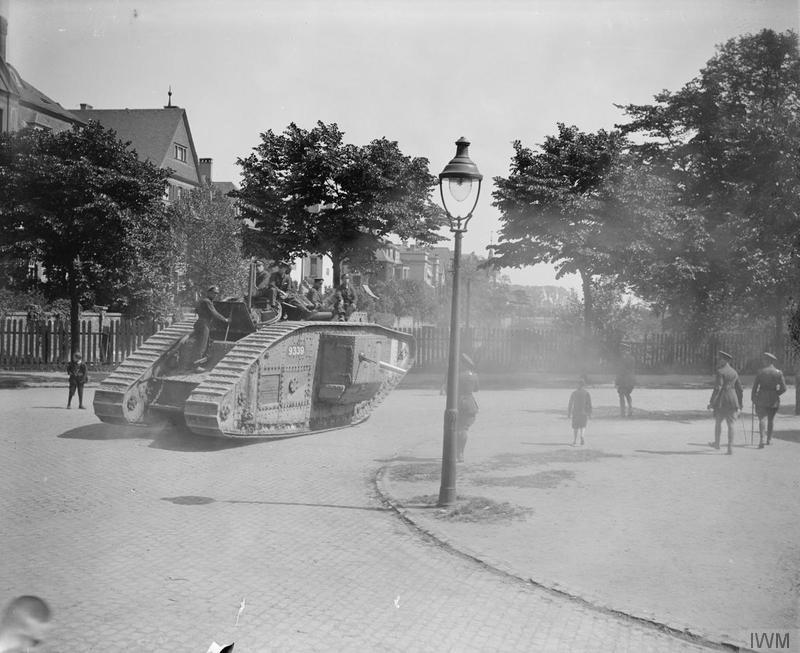 12th Battalion tanks of The Tank Corps in Koln May 1919
BETWEEN THE WARS 1919-1939

Army Post Office S40 was established in Cologne in 1919
to provide postal support of the first British Army of the Rhine (BAOR) and was closed in 1929 when the force was finally withdrawn from Germany. After which the RE (Postal Section) was allowed to revert back to its original establishment of 10 Officers and 290 men.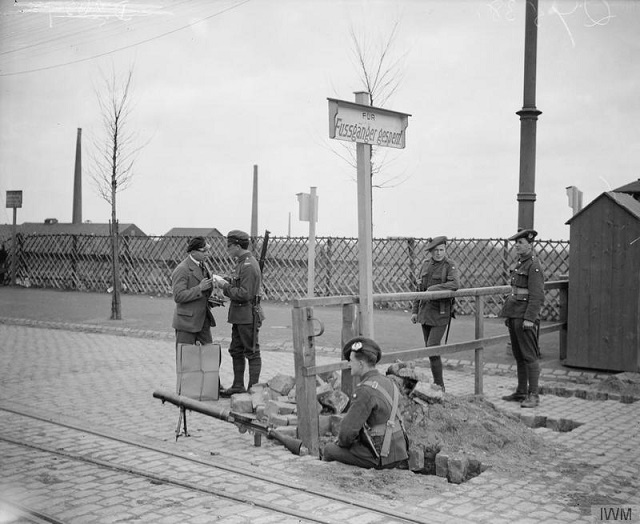 A picquet of the 9th Scottish Rifles. Examination of a pass of a man entering the British zone at the barrier on the Dusseldorf road near the Reisholz. 15 April 1919.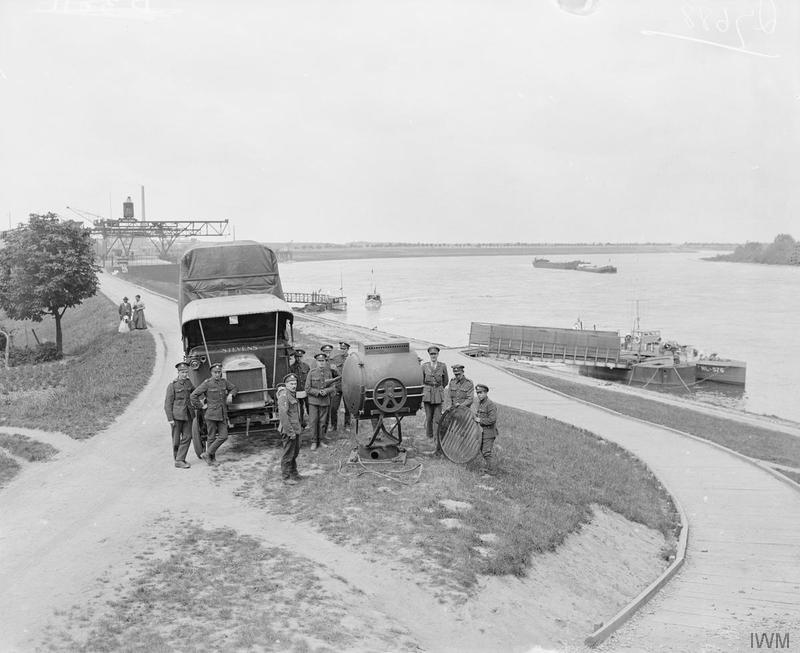 Royal Engineers searchlight station on the banks of the Rhine, used as a precaution against smuggling, Koln,1919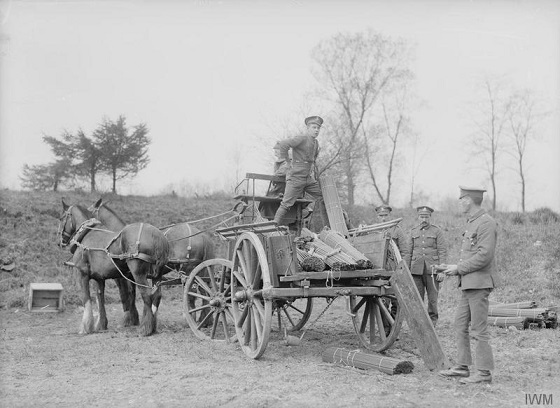 Royal Artillery wagon, loaded with German cordite, arriving to be burnt. It was surrendered in accordance with the Armistice terms. Cologne, 26 April 1919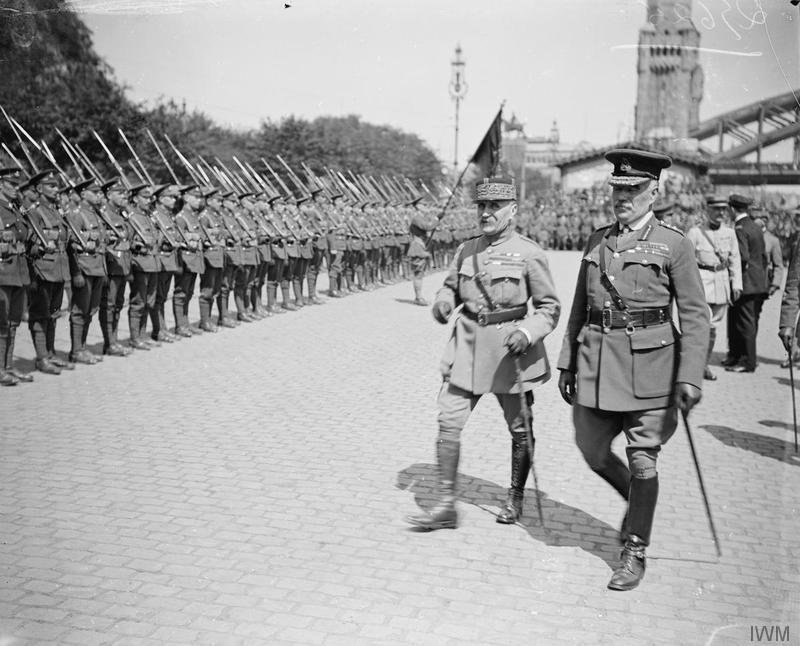 Visit of Marshal Ferdinand Foch, the Supreme Commander of the Allied Forces, to Cologne, 17 May 1919. Marshal Foch and General William Robertson, the C-in-C of the British Army of the Rhine, going to inspect the Guard of Honour the of the DLI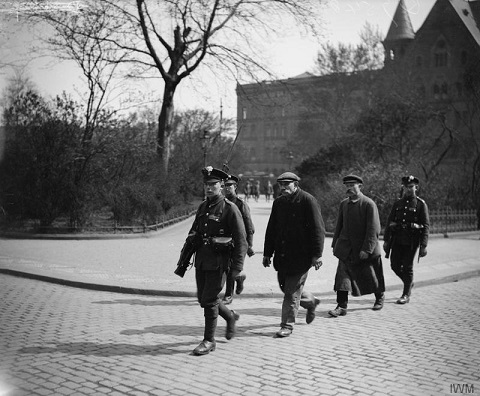 Two arrested Germans being taken to the Assistant Provost Marshal under escort. British soldiers are wearing roses in their caps for St. George's Day. Cologne, 23 April 1919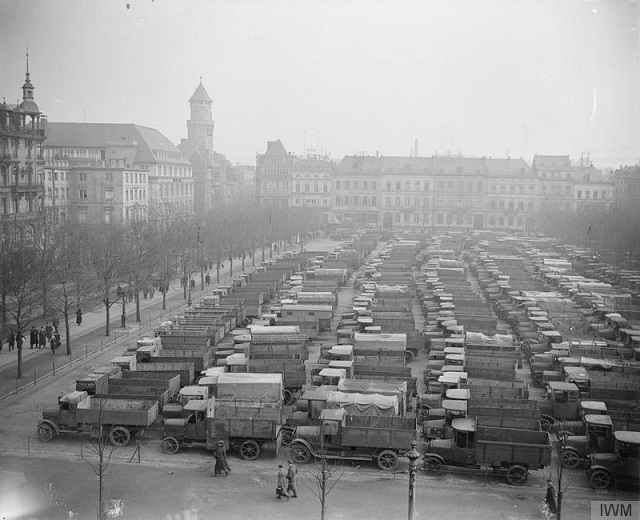 Lorries handed over by the Germans to the Allies. Cologne, 26 February 1919.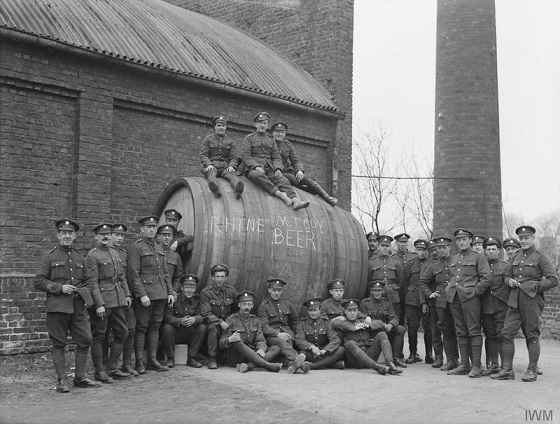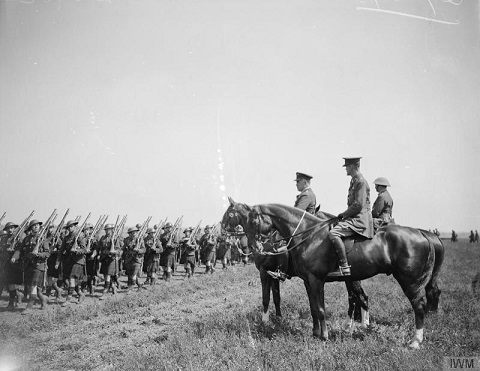 March past at the C-in-C of the British Army of the Rhine, General William Robertson's inspection of the VI Corps at Duren, 15 May 1919.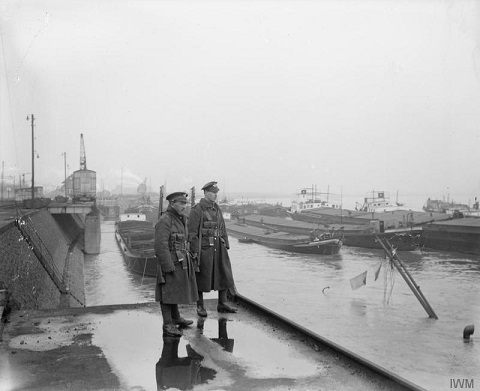 Sentries of the 2nd Battalion, Durham Light Infantry (6th Division) on the River Rhine. Cologne, 12 February 1919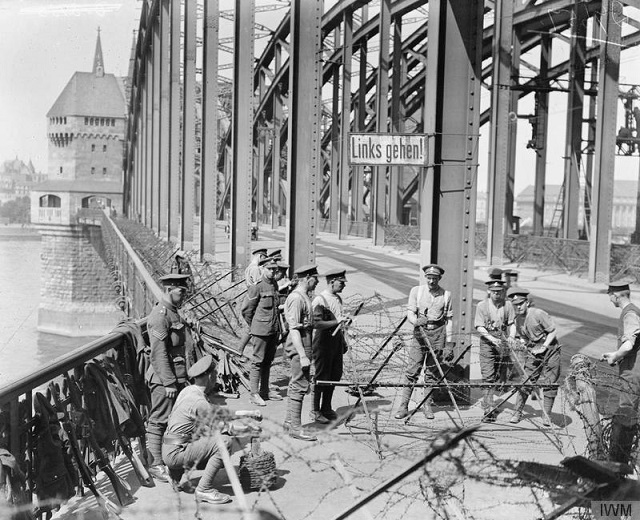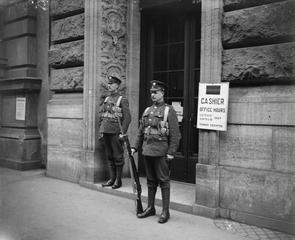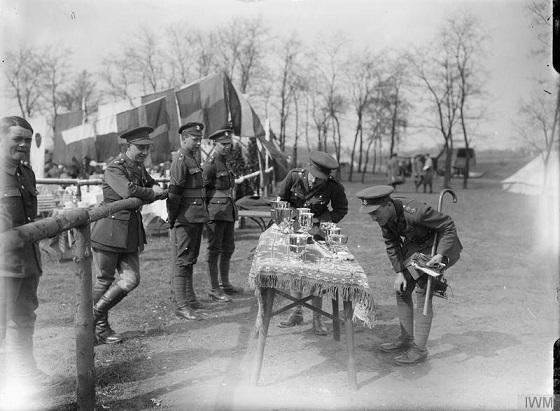 Sentries of the Grenadier Guards outside the 2nd Army Cashier's Office. Cologne, 26 February 1919.


Racing competition organised by the London Division of the VI Corps at Cologne. Officer of the East Surrey Regiment (probably 9th Battalion) admiring cups. Two soldiers of the Royal Fusiliers (probably 23rd Battalion) and Lieutenant of the Middlesex Regiment are on the left.


Extract from The Cologne Post and Wiesbaden Times Xmas Annual 1928-

In 1533 Henry VIII had military posts between London and his Armies, consisting of horsemen established at 20 mile interval "by means of which, travelling at the utmost speed and no passing their respective limits" (or Posts) dispatches were carried between the King and his Armies "200 miles in two days". Thus the Army Postal Service can claim to be one of the oldest unit of the British Army.

Below: Photos courtesy the Imperial War Museum
http://www.iwm.org.uk/visits/iwm-london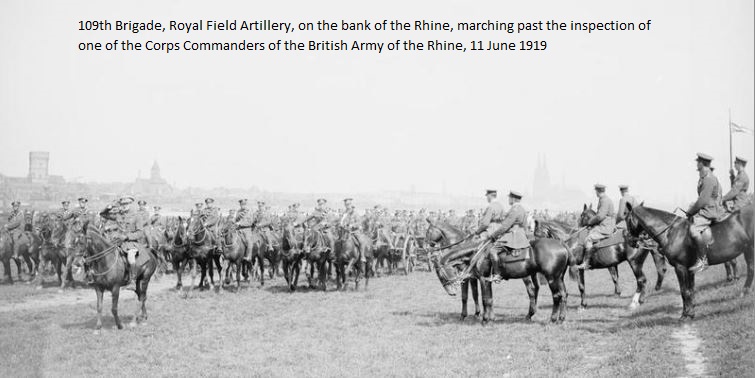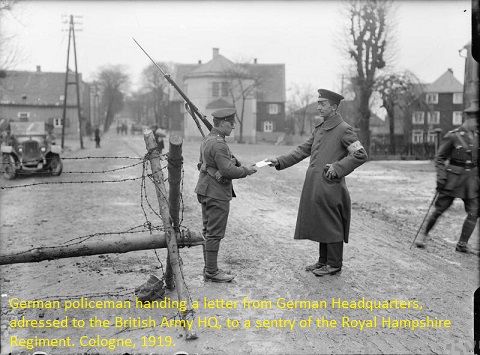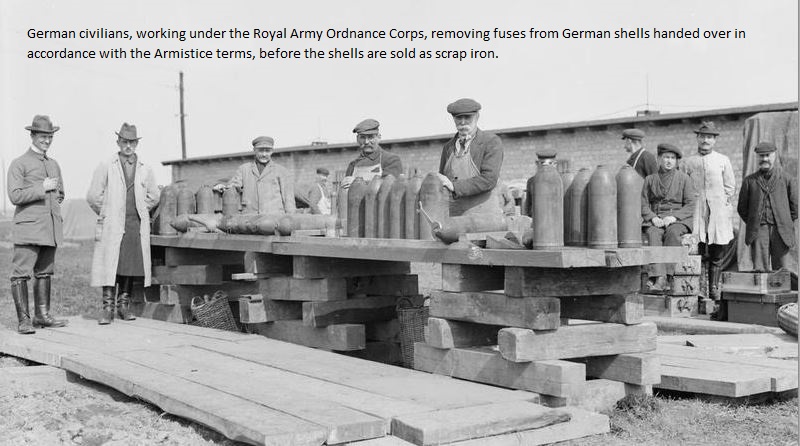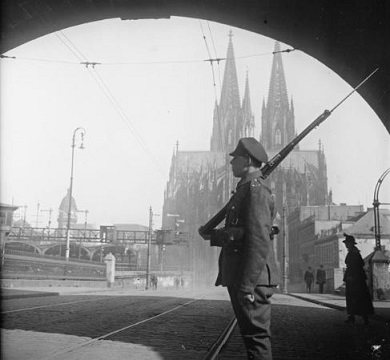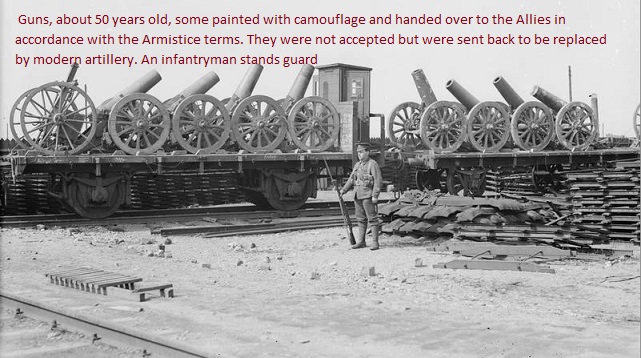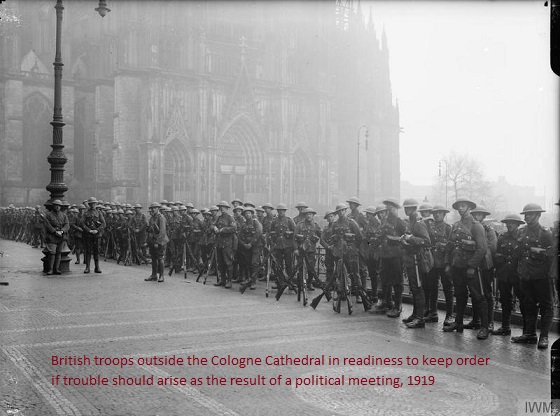 As you would expect on an occasion like this, there are shed loads of documents with directives, orders, instructions and reports on the British Army's evacuation of BAOR in 1929. Below are a few snippets.

Source: National Archives, Kew, Richmond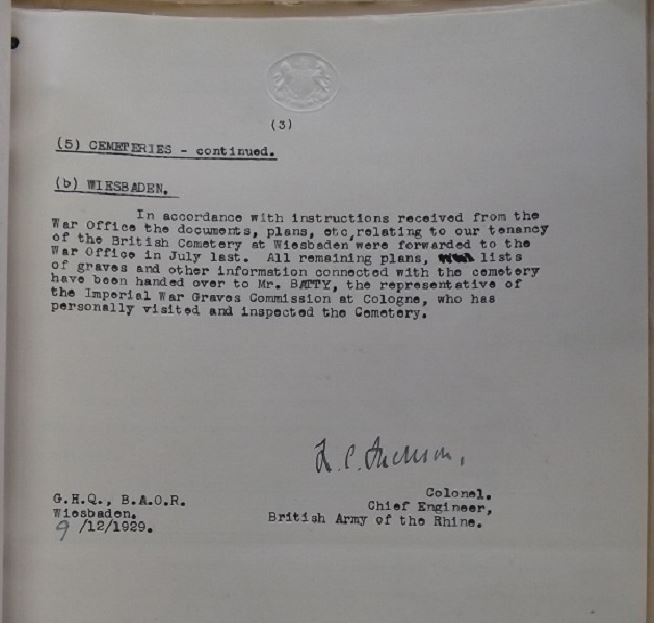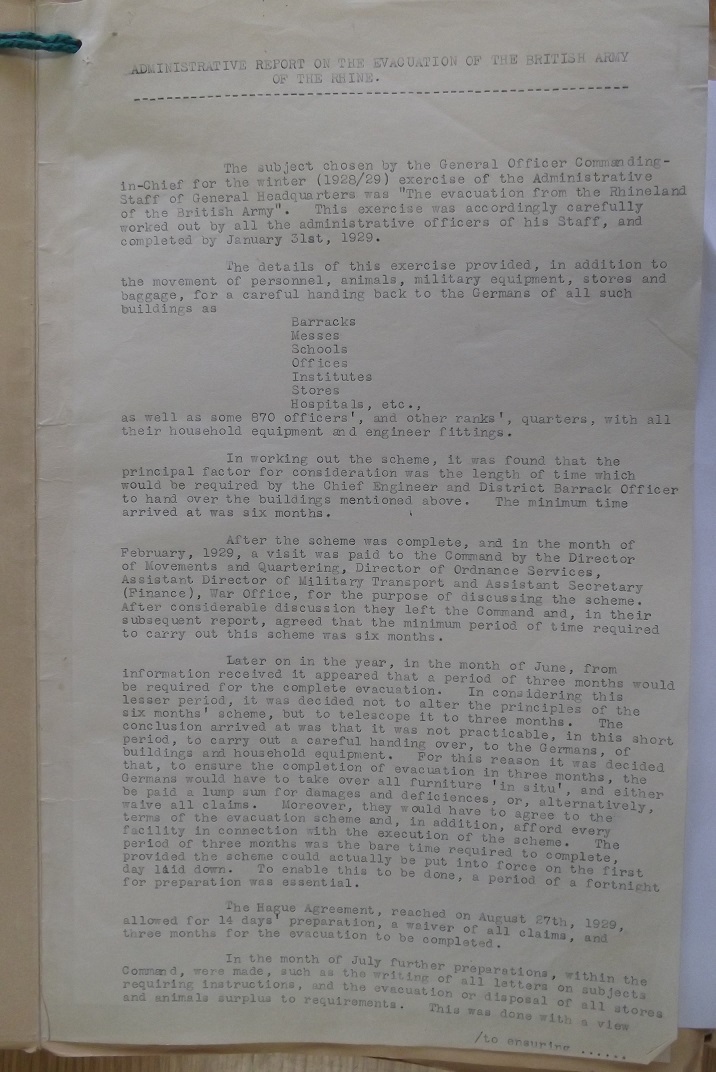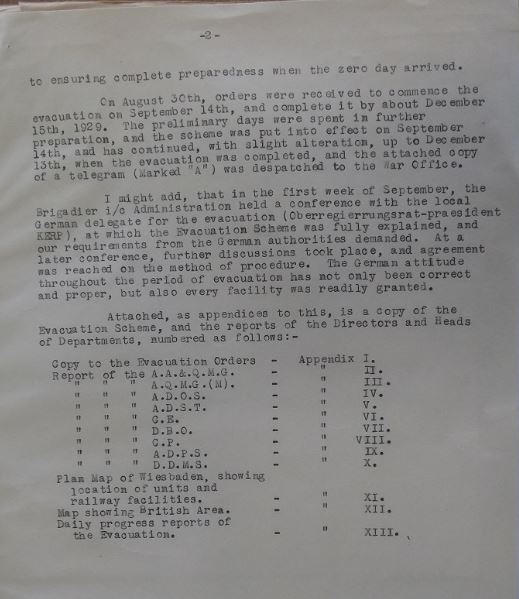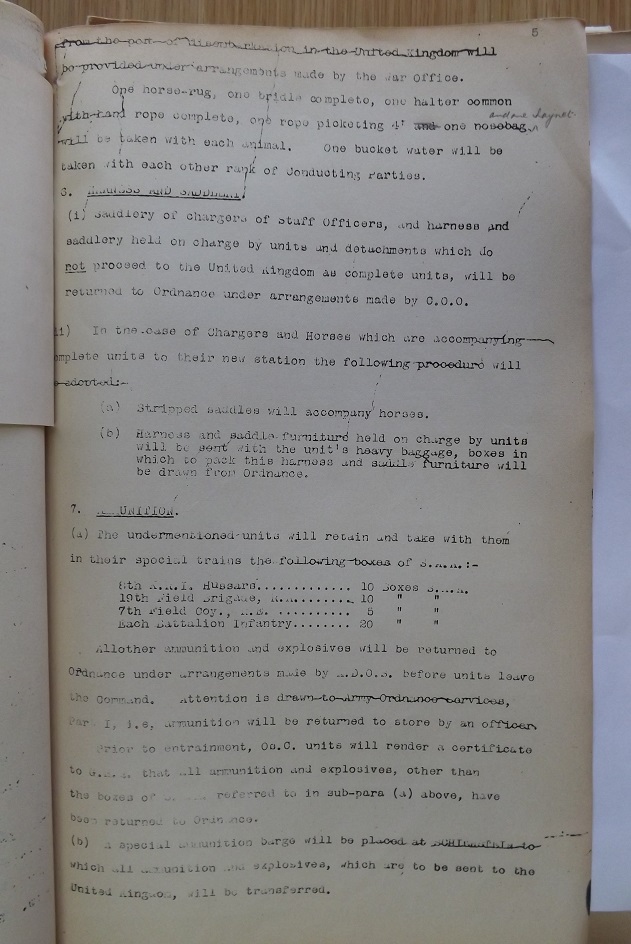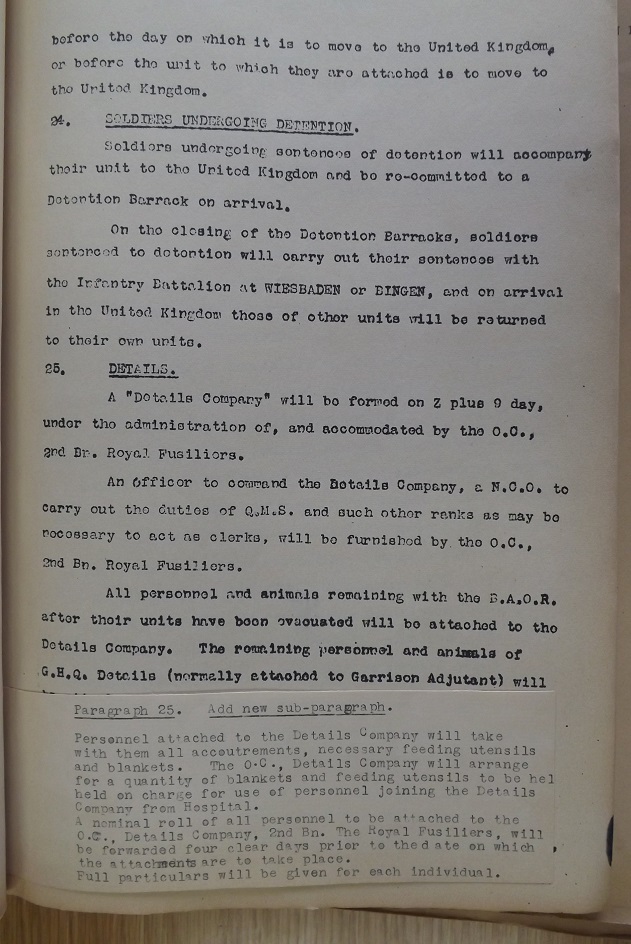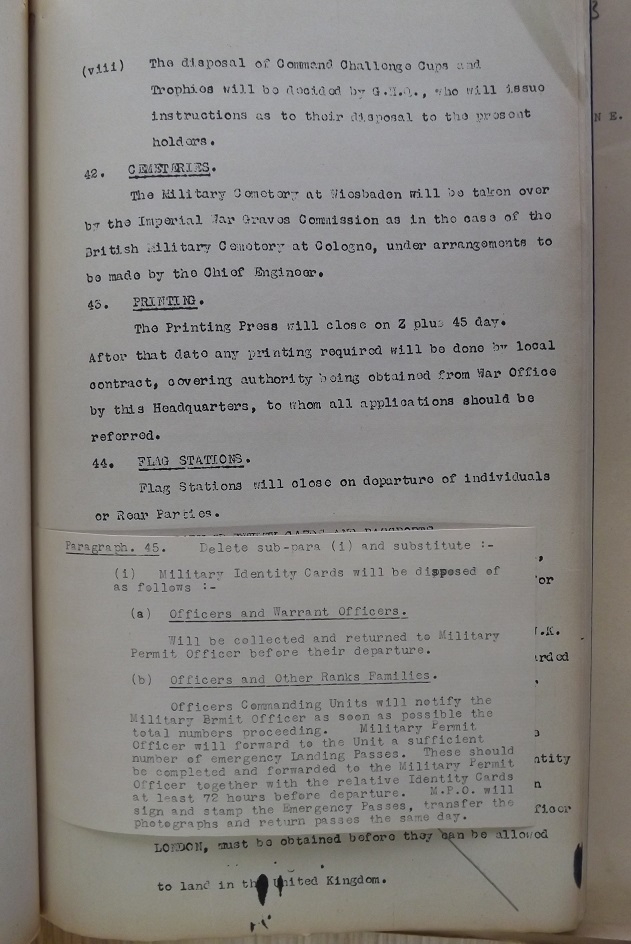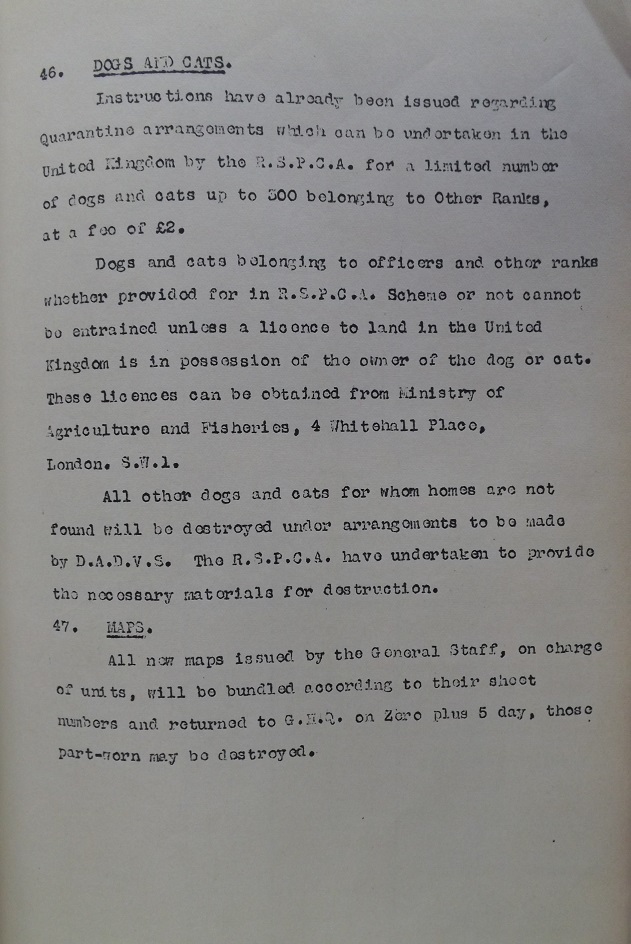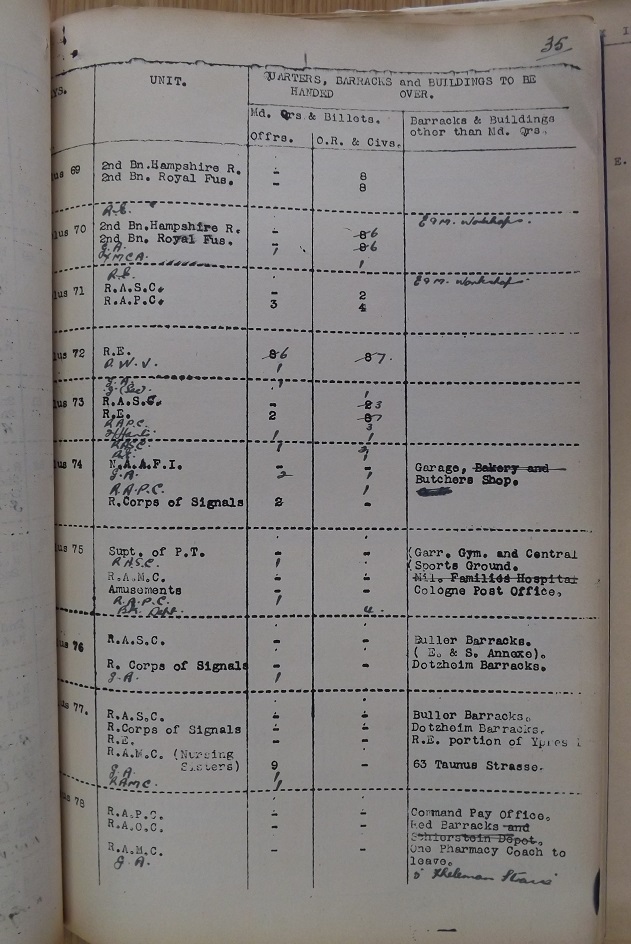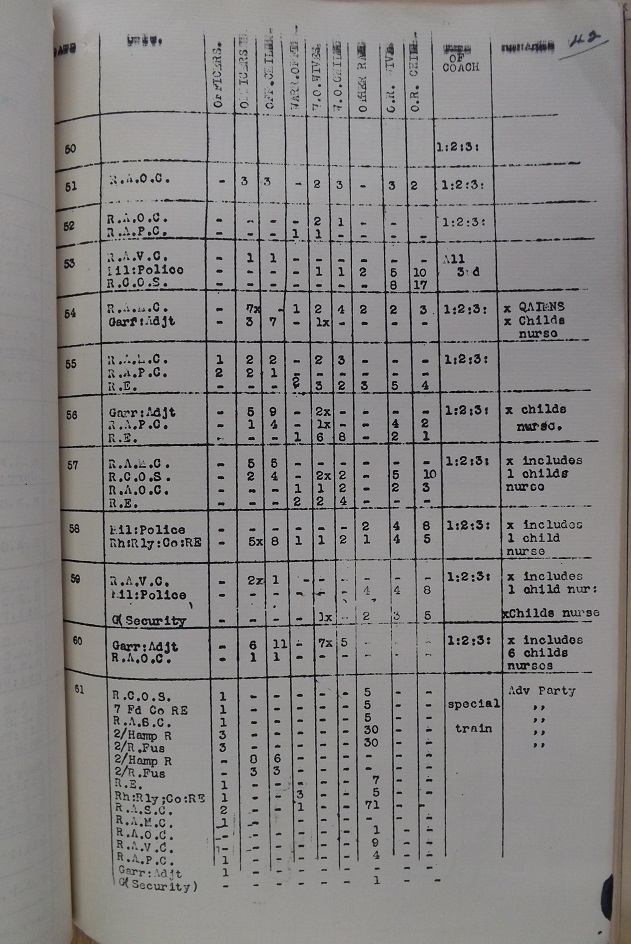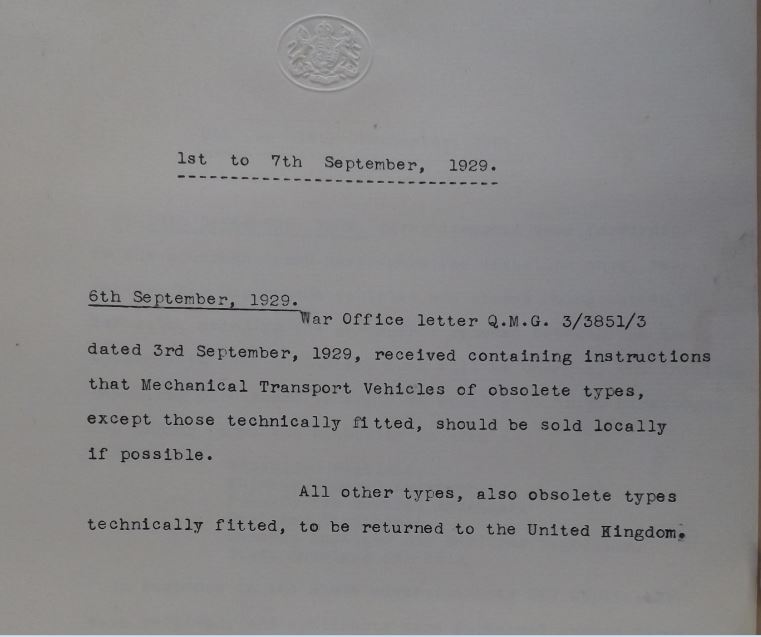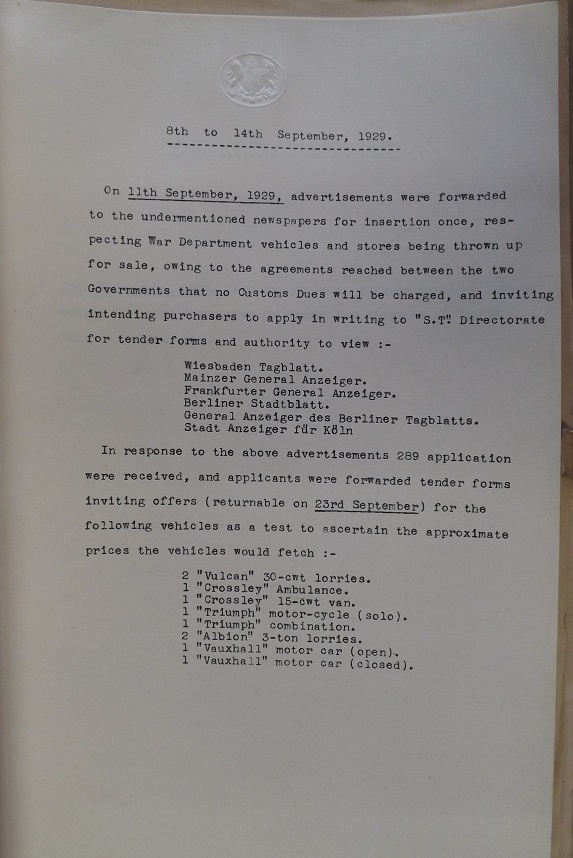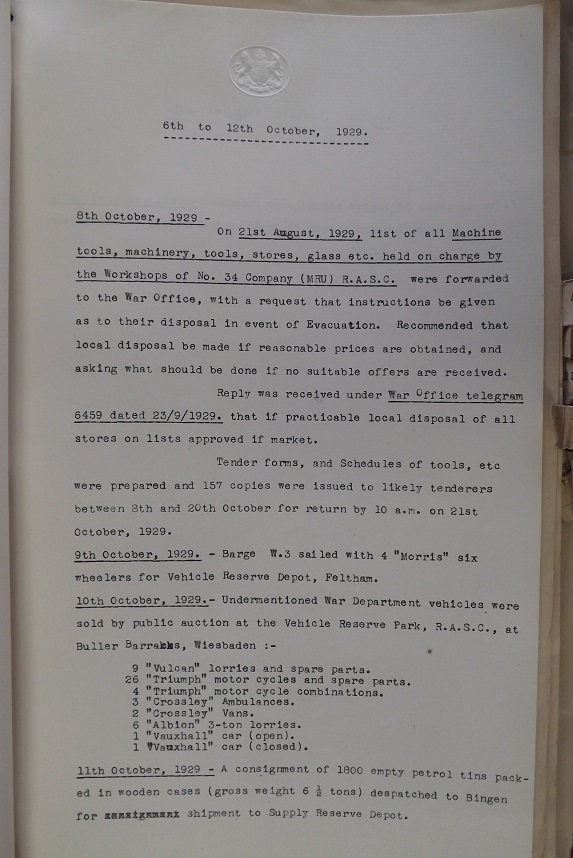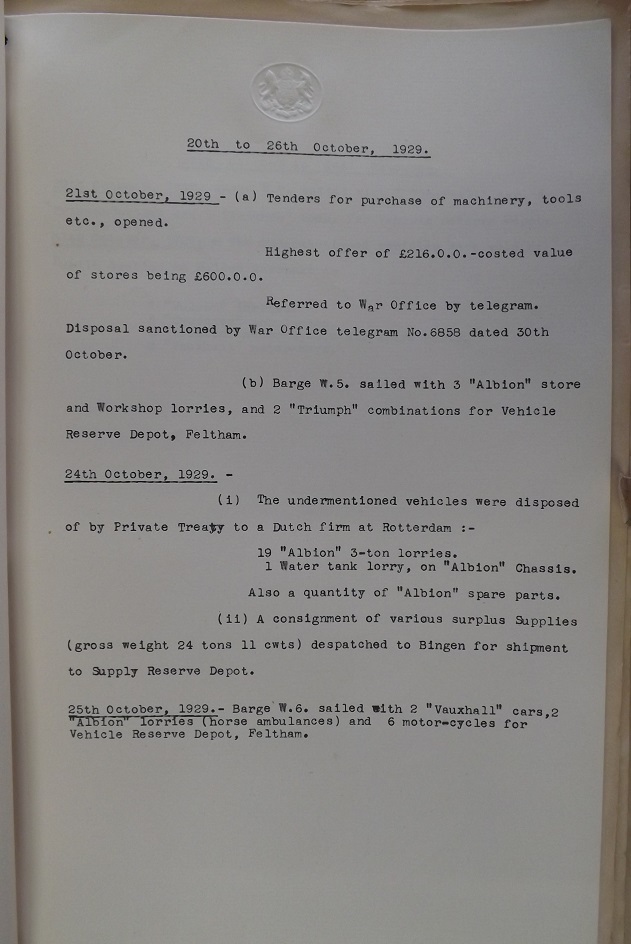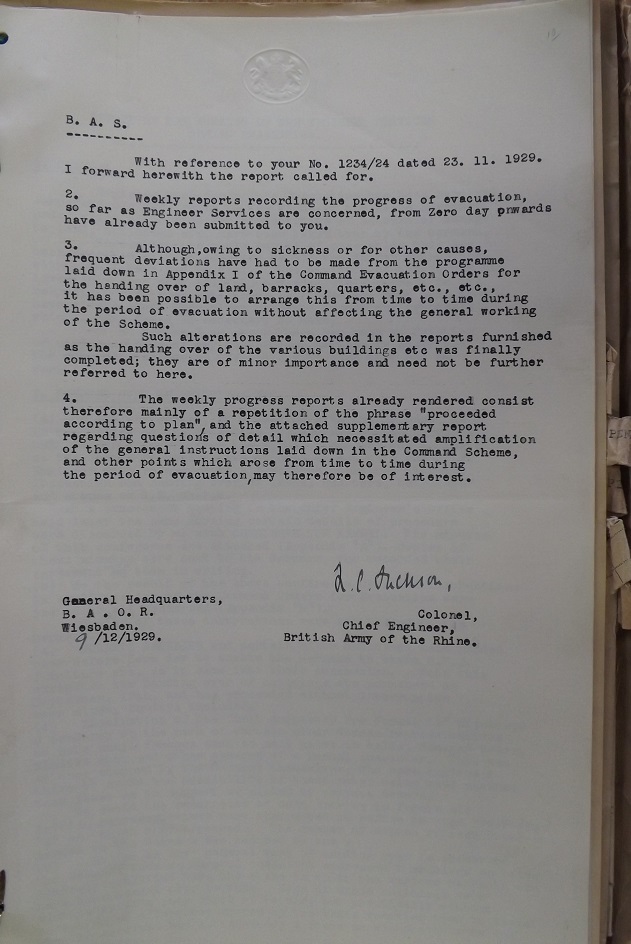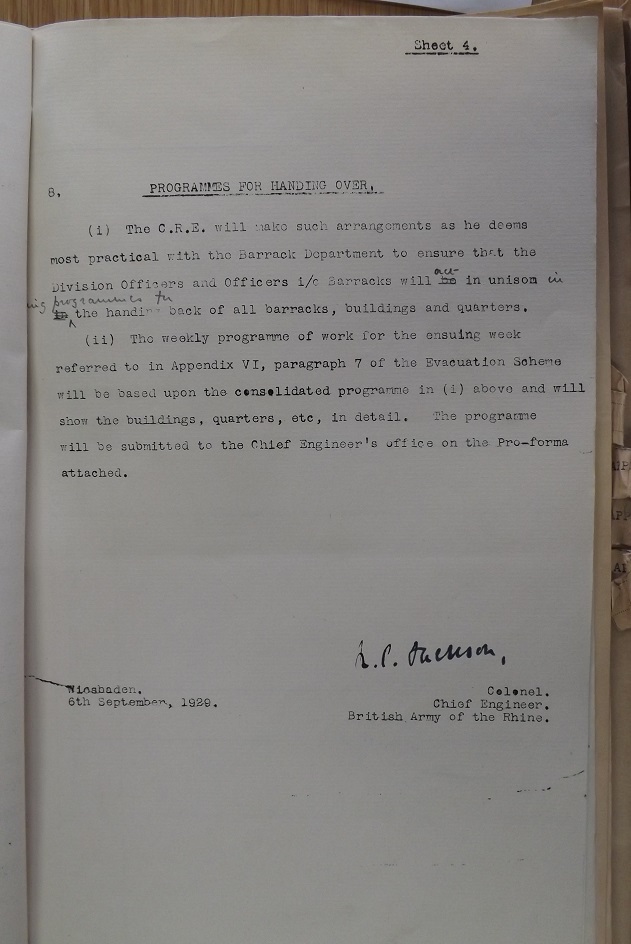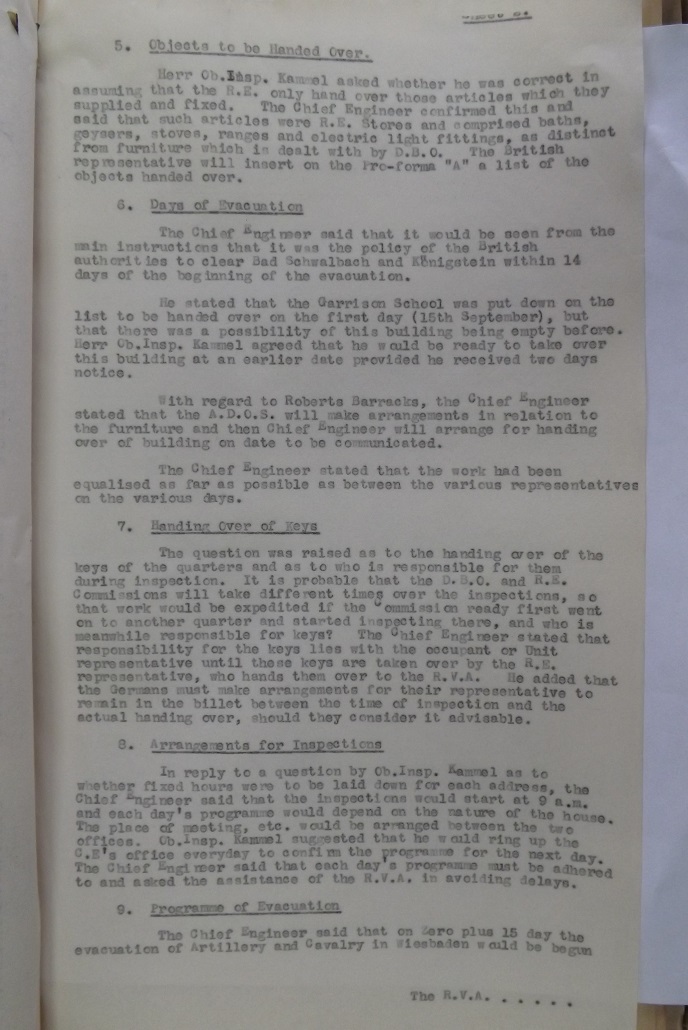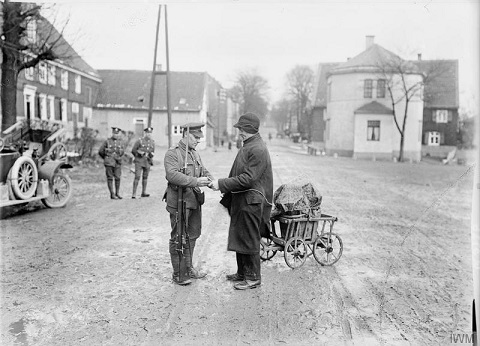 Sentry of the Royal Hampshire Regiment examining pedestrians as they pass from the occupied territory to the neutral zone. Cologne, 1919.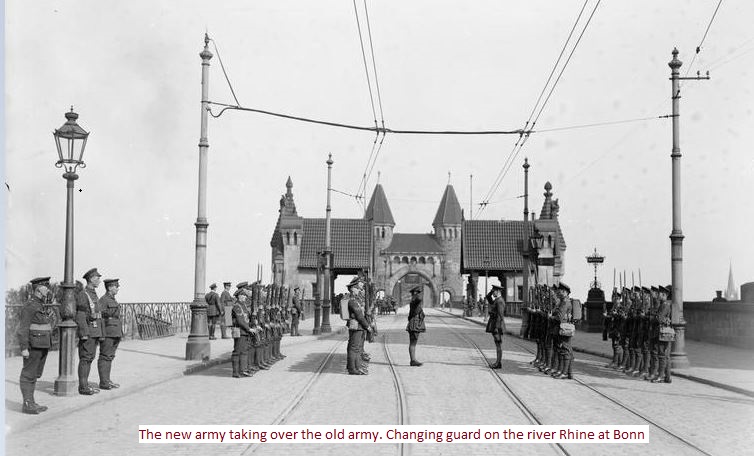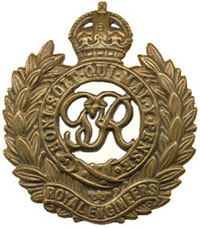 King George VI
1936-1952
In WW2 on March 6, 1945 a Mark V German Panther tank in Cathedral Square was knocked out by an American M-26 Pershing tank.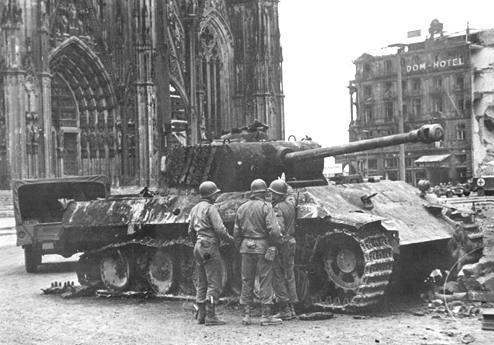 Above: Paragraph 2 c, interesting to note there was a Roberts Barracks

From 1922, BAOR comprised two Rhine brigades, which survived into 1929 when BAOR was disbanded and the British withdrew.

1st Rhine Brigade

1st Bn Northumberland Fusiliers 1922 - 1926
1st Bn West Yorkshire Regiment 1922 - 1926
2nd Bn QO Cameron Highlanders 1922 - 1926
1st Bn York & Lancaster Regiment 1922 - 1924
2nd Bn Royal Berkshire Regiment 1926 - 1928
2nd Bn Royal Welch Fusiliers Nov 1926 - Oct 1929
2nd Bn Worcestershire Regiment 1926 - 1928

2nd Rhine Brigade

2nd Bn Duke of Cornwall's LI 1922 - 1924
1st Bn YO Yorkshire LI 1922 - 1924
2nd Bn KRRC 1922 - 1925
1st Bn Royal Ulster Rifles 1922 - 1926
1st Bn Manchester Regiment 1923 - 1924
2nd Bn King's Shropshire LI 1924 - 1927
1st Bn Oxford & Bucks LI 1925 - 1927
2nd Bn Royal Fusiliers 1926 - 1929
2nd Bn Leicestershire Regiment 1927 - 1929
2nd Bn Dorsetshire Regiment 1928 - 1929
There was one cavalry regiment present from 1919, 14th King's Hussars. It was amalgamated October 1922 at Cologne with the inactive 20th Hussars to form 14th/20th Hussars, and returned to the UK in 1923. 1st King's Dragoon Guards were stationed in Germany 1924-1927 and 8th King's Royal Irish Hussars from 1927-1929.
3rd Brigade RFA was in Germany 1920-1923. 8th Brigade RFA came to Germany in 1921 and remained to 1927 [redesignated May 1924 as 8th Field Brigade RA]. The last artillery unit was 19th Field Brigade RA from 1927-1929.
7th Field Company RE served in Germany 1919-1929.
Below: 26 years later........
The German name for Ypres Barracks was 'Gersdorff Kaserne'. After WW1 in 1918, the French Army took over the barracks which they named 'Foch Kaserne'. In 1925 the French moved out the barracks and the British Army moved in, therefore 7 Field Company would have been in Cologne up until at least 1925.
In 1935 when Germany was re-arming, the barracks were modified. At the end of WW2 the Americans took over the barracks until 1993 when they moved out.
Below: Gersdorff Kasene - part of which the British Army named 'Ypres' Barracks and part 'St Andrew's' Barracks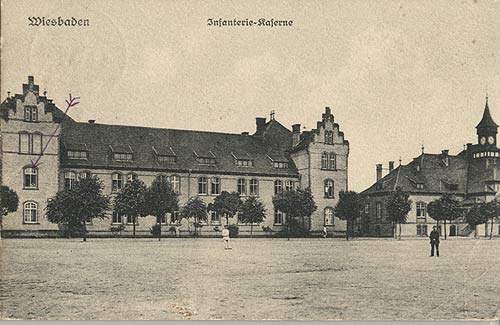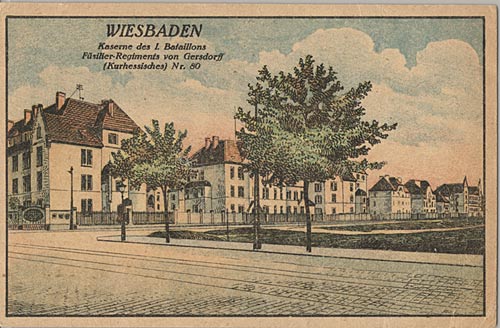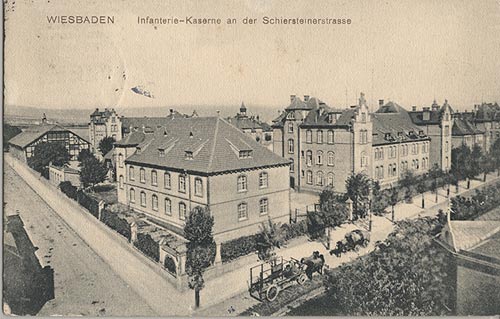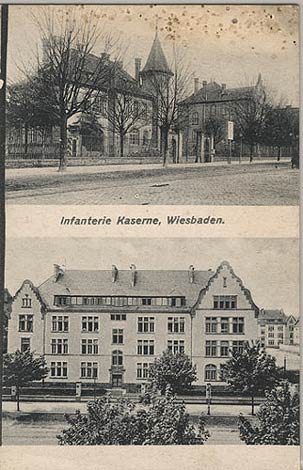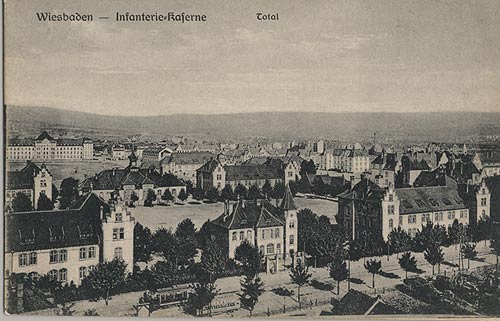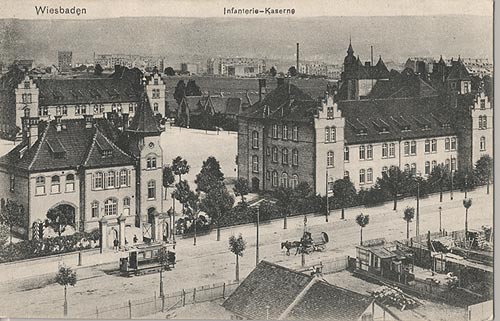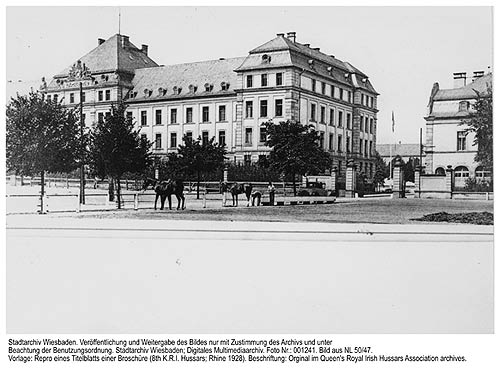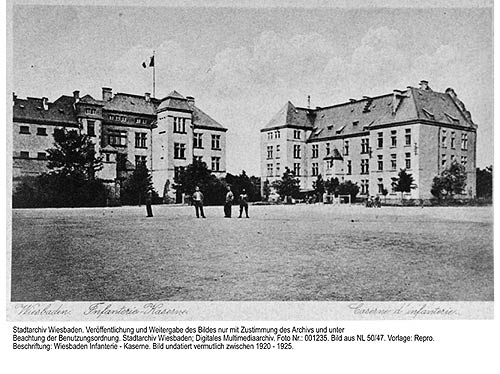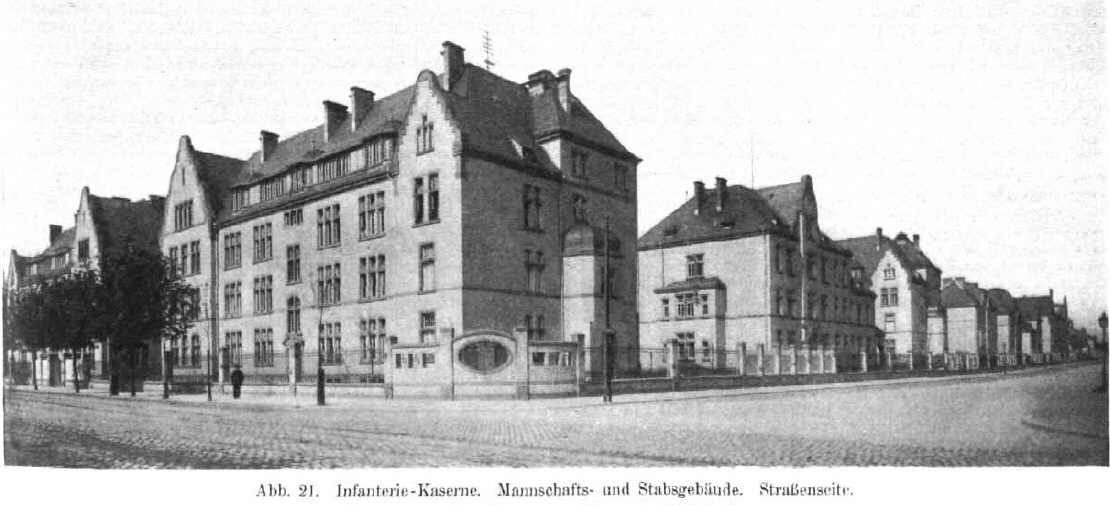 This photo was taken between 1920 and 1925
This photo was taken in1928 and the original is kept in the Queen's Royal Irish Hussars Association Archives
How Ypres Barracks looks today
Soldiers making knife rests on the Hohenzollern Bridge
These soldiers used this brewery as billets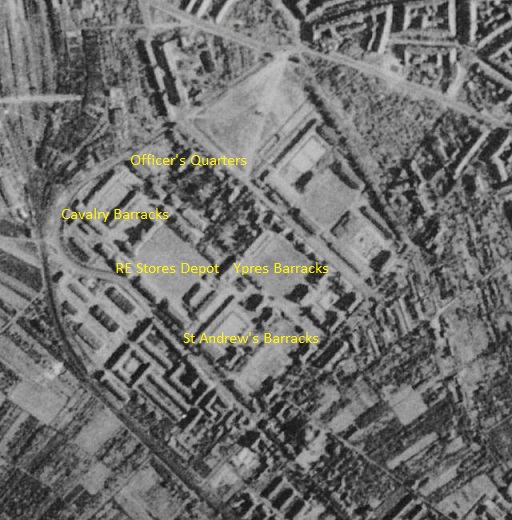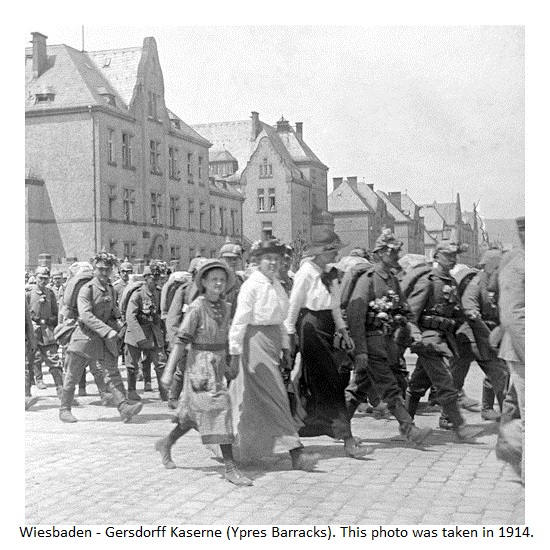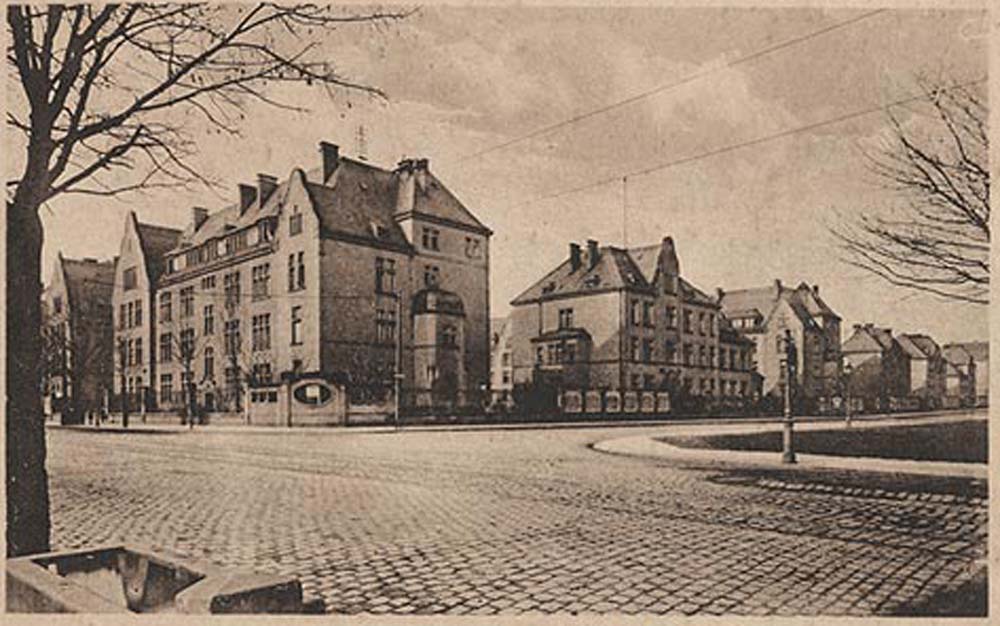 Gersdorff Kaserne - Ypres and St Andrew's Barracks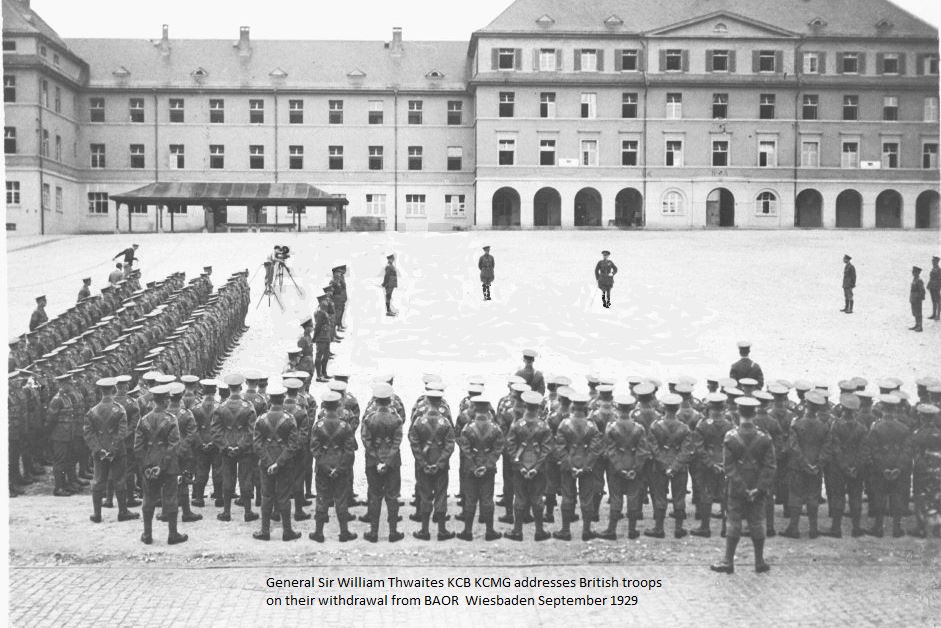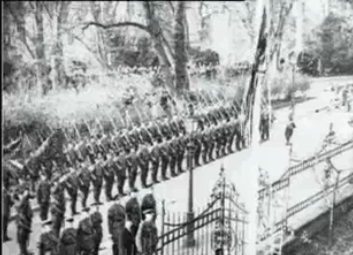 Army of Occupation 1920-1929

The Company was finally reduced to cadre strength of 2 officers and 40 O.R.s in May 1919. Early in 1920 it was decided to form a Company to send to the Army of Occupation at Cologne and 7 Field Company was reformed at Chatham. Lt H. A. Baker, M.C., who had served with the Company during the war, was appointed to reform the Company. The only other member of the war time was driver "Nobby Clark", who served in the Company throughout the war as O.C.'s batman.
The Company proceeded to Cologne in April 1920 and was there, handed over command of Bt. Major B.T. Wilson D.S.O., finally returning to Colchester to its old Division in 1929 when the Army of Occupation was withdrawn.

H. A. Baker M.C. Dover 1931
British Army Farewell Parade on leaving BAOR 1929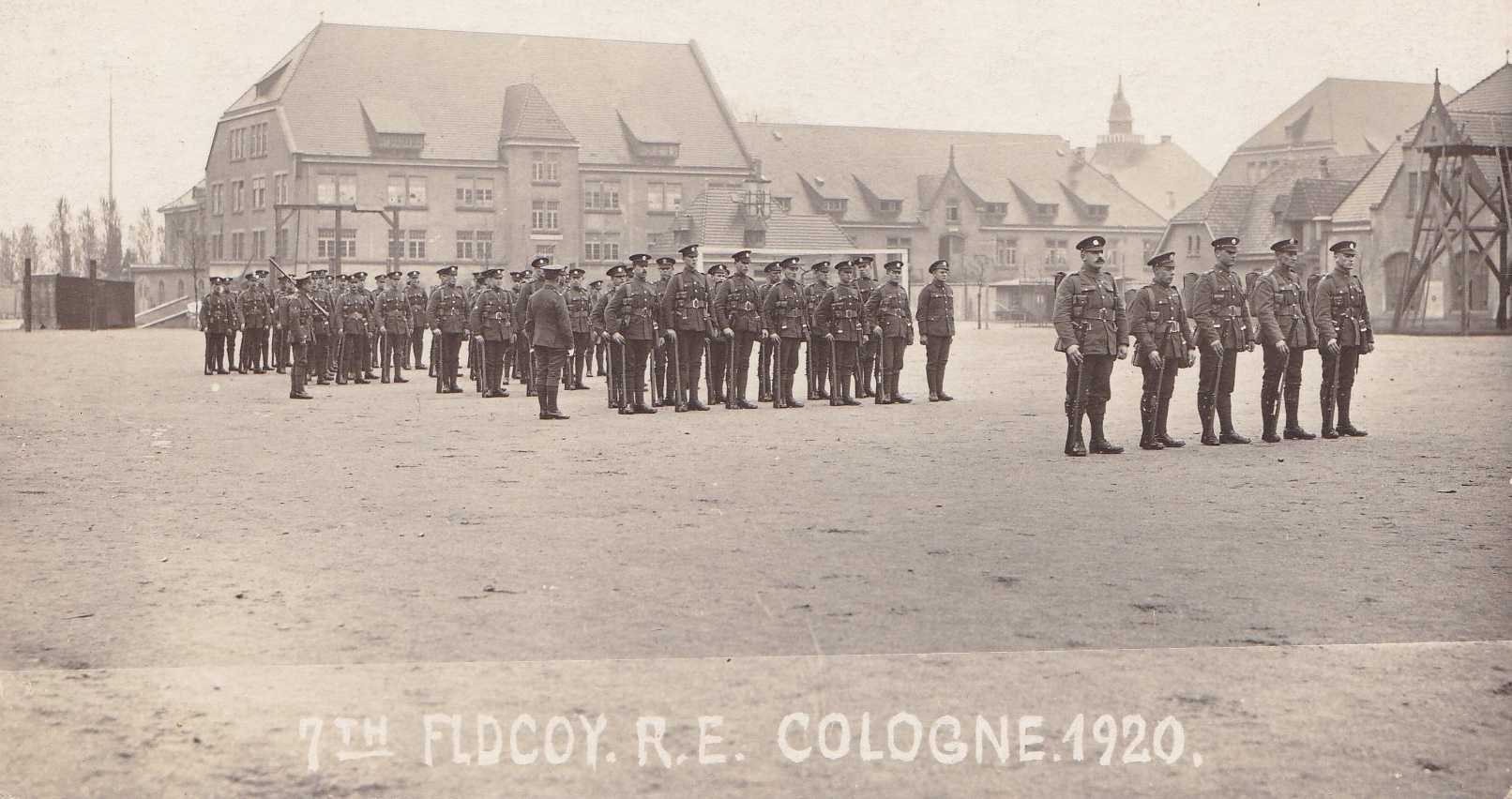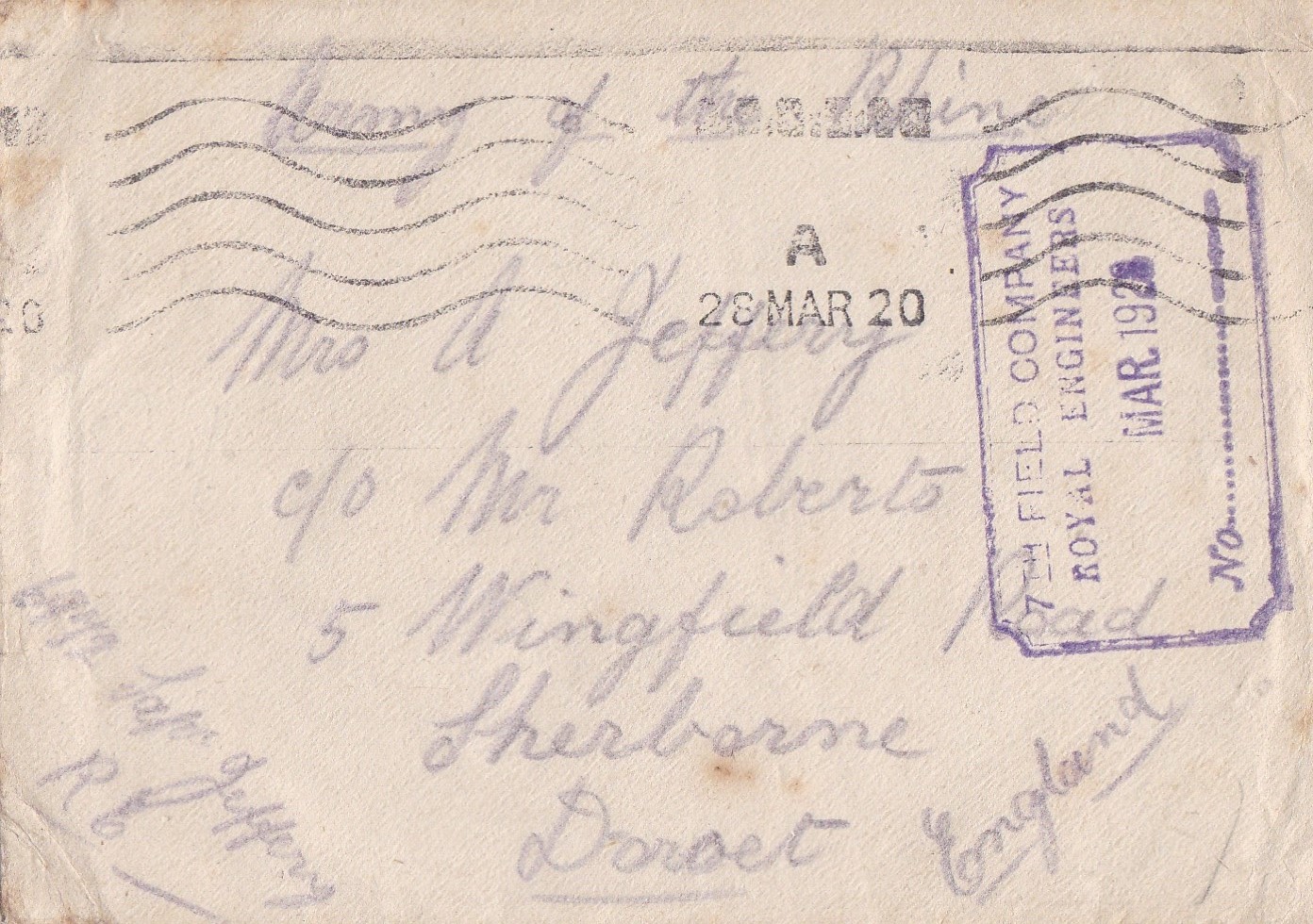 Above: Envelope addressed to Mrs Jeffery sent by 6972 Spr Jeffery of 7 Field Company RE, 28 March 1920. At the top of the envelope it is endorsed ''Army of the Rhine''