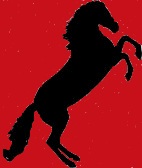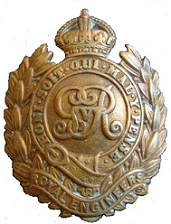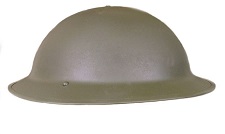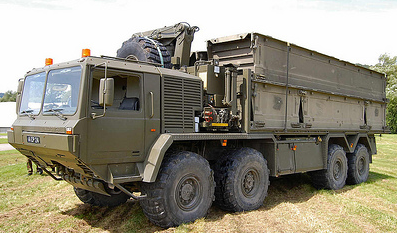 The Black Horse Trail France - Belgium 1915 - 2015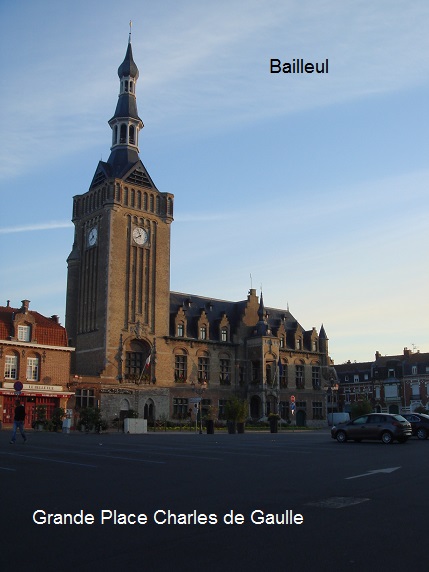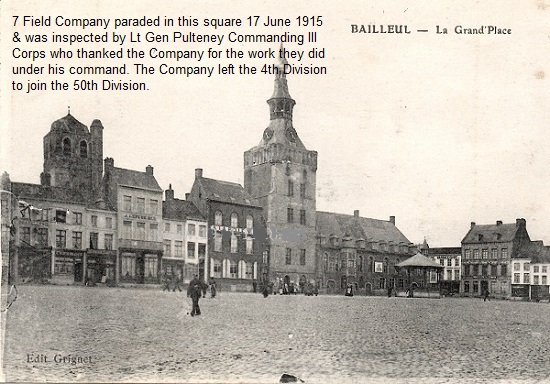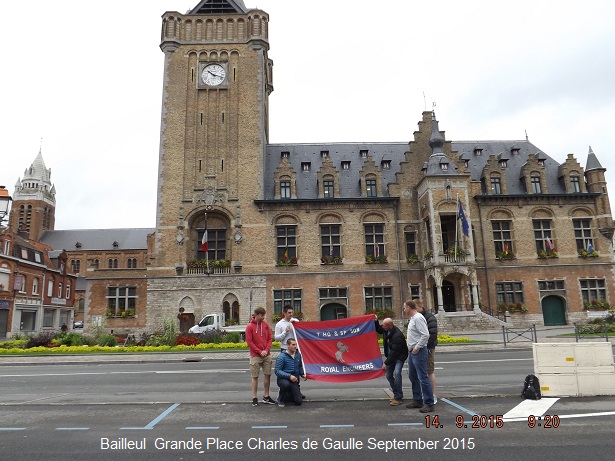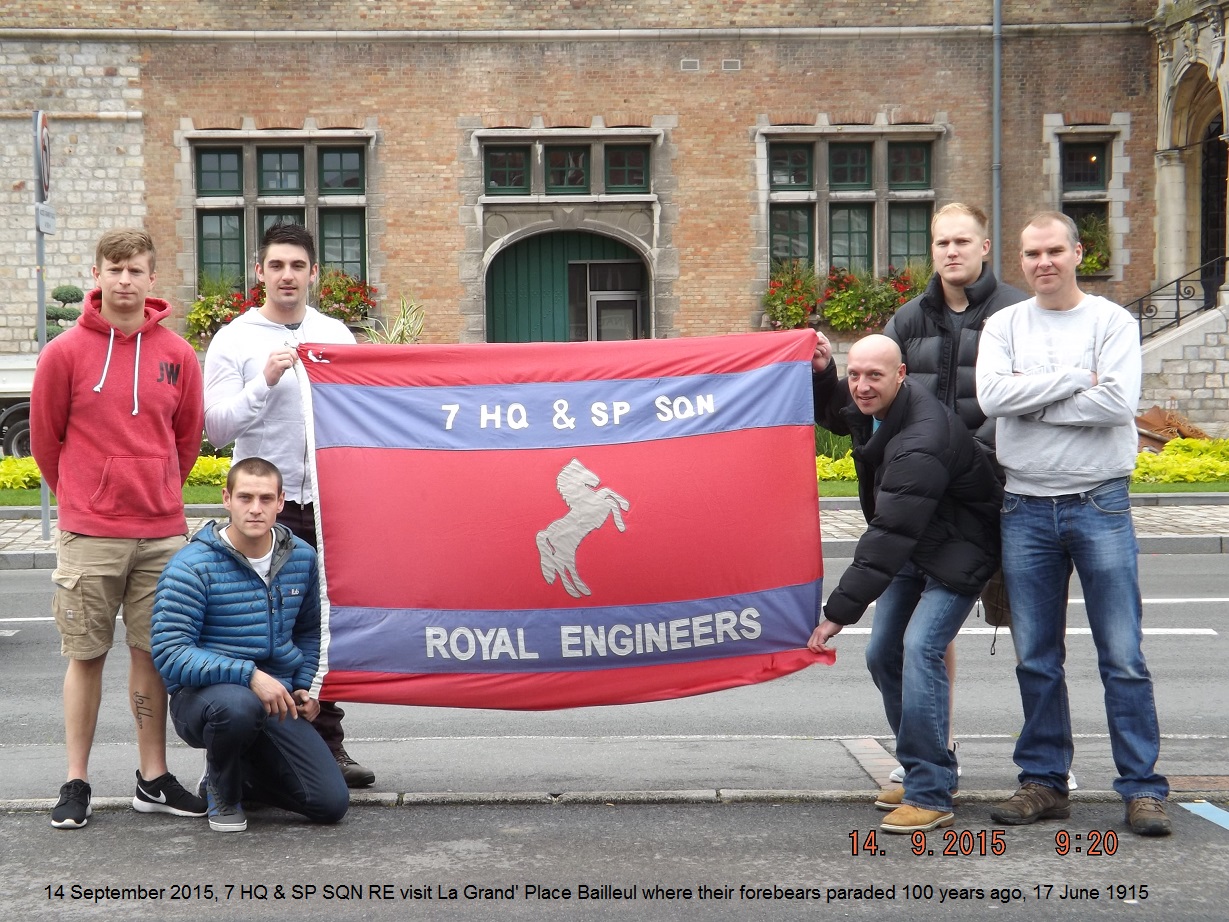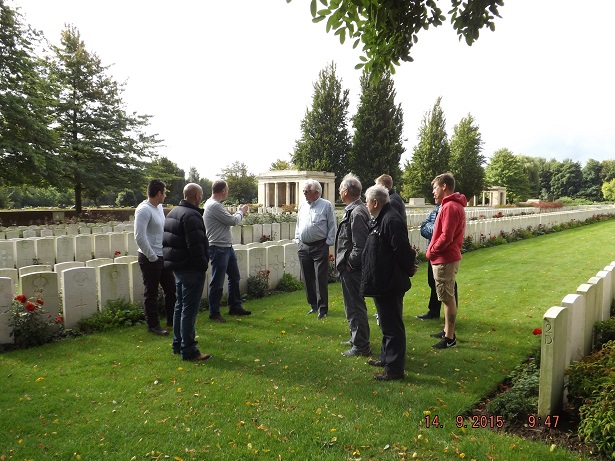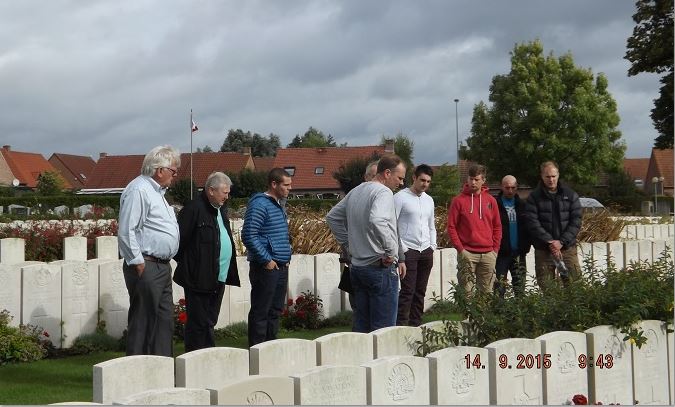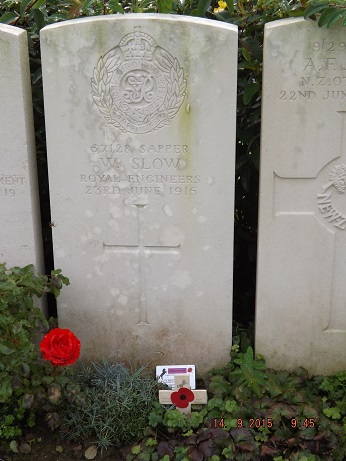 7 Field Company in WW1, a Troop was known as a Section.
The Black Horse Trail - Revisited 1915 - 2015
Bailleul Military Cemetery extension Nord

7 Field Company RE have three men buried in this cemetery.

Dvr Hawkins. A. 4 Nov 1914 - Photo to follow
A 2nd Cpl Mclaughlin. W 13 Nov 1915 - Photo to follow
Spr Slow.W 23 Jun 1916

The group planted poppy crosses on their graves

WE WILL REMEMBER THEM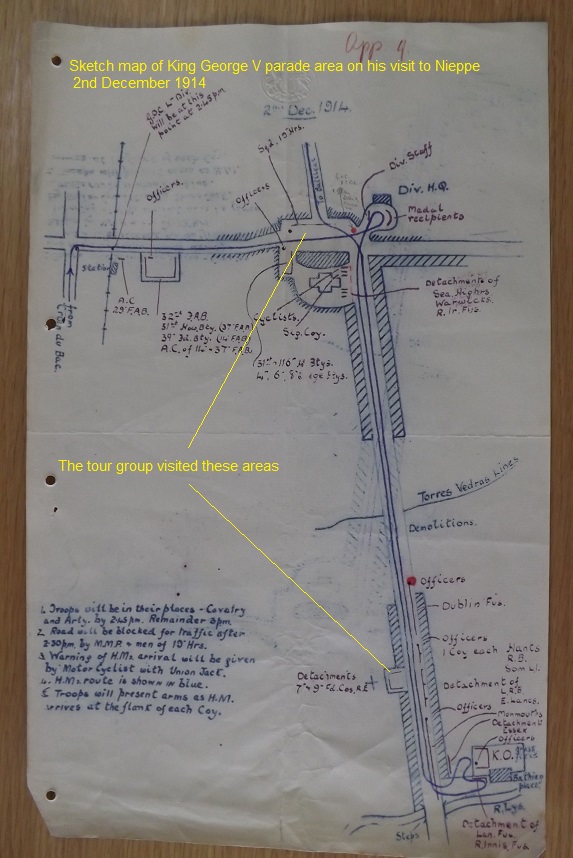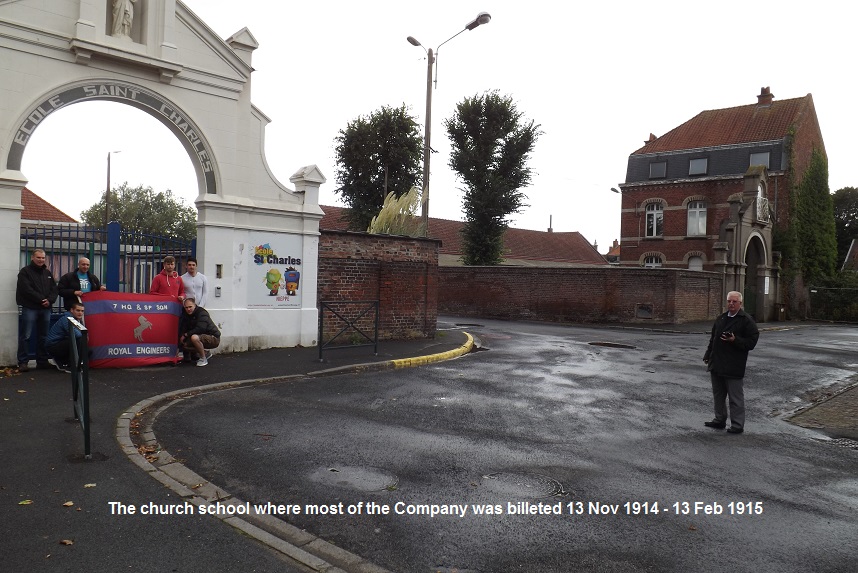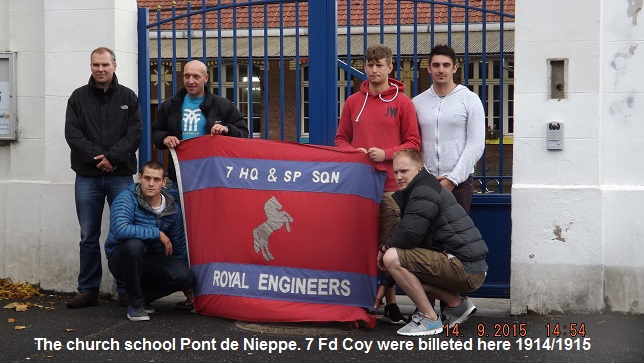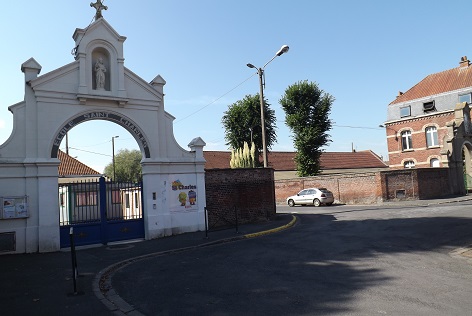 Right: Pont de Nieppe outside the church where H.M. the King inspected a detachment of 7 and 9 Field Companies.
Behind the church is the church school, where the Company was billeted at the time. See below.
In November 1914 the Company was tasked with constructing reserve line trenches from Nieppe to Neuve Eglise. This included digging trenches, barbed wire entanglements and house demolitions. The Company had 400 civilian labourers that had to be supervised. 9 Coy worked from Neuve Eglise. See map below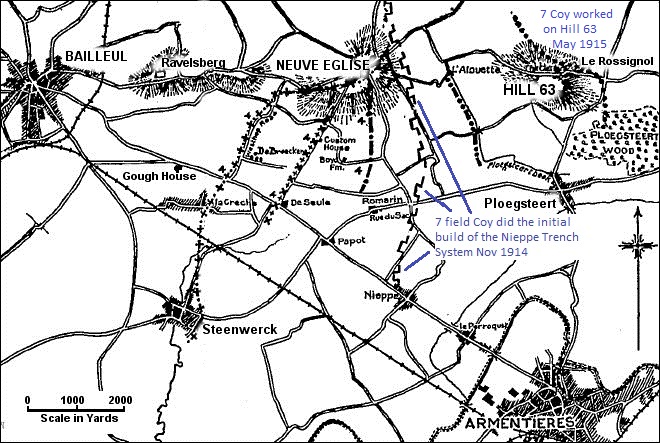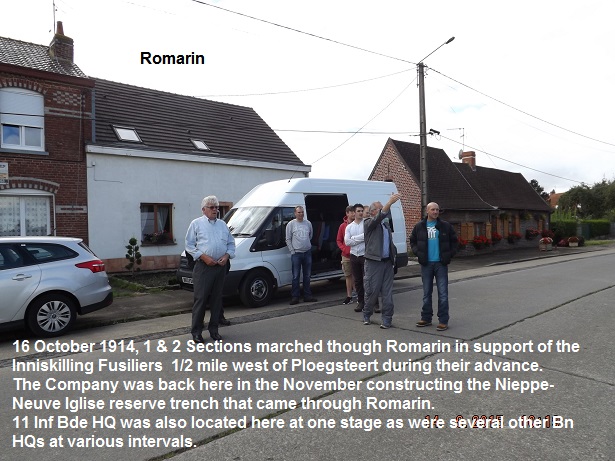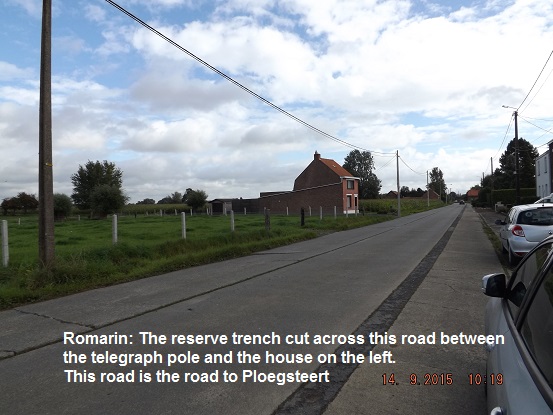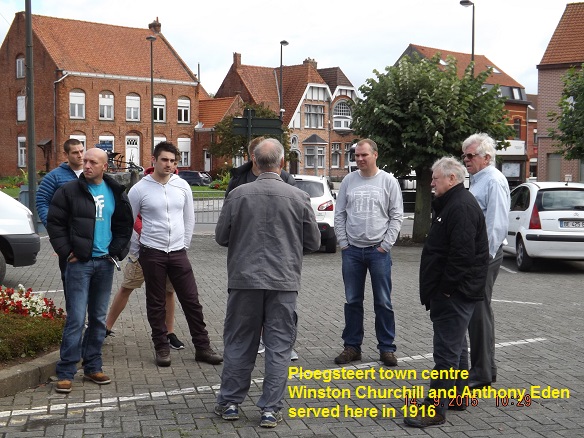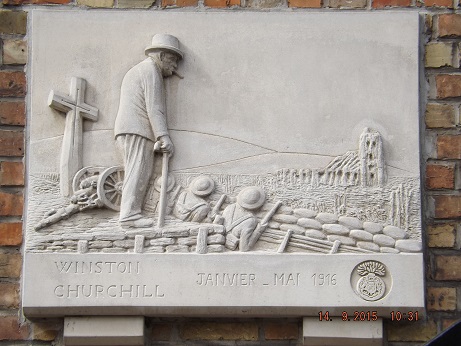 Winston Churchill plaque on the wall of Ploegsteert town hall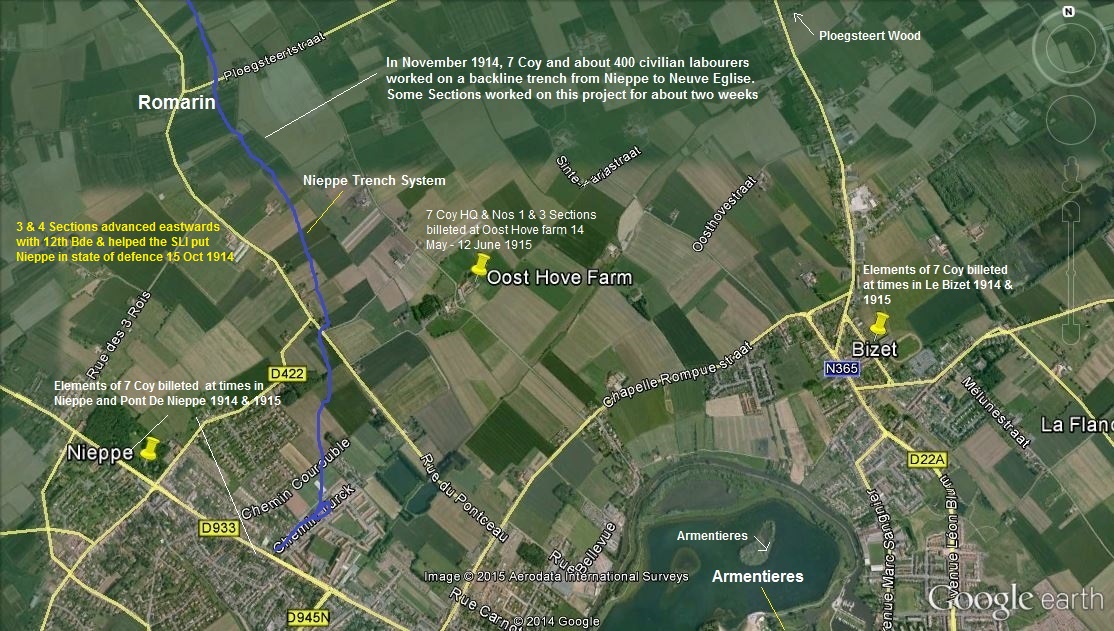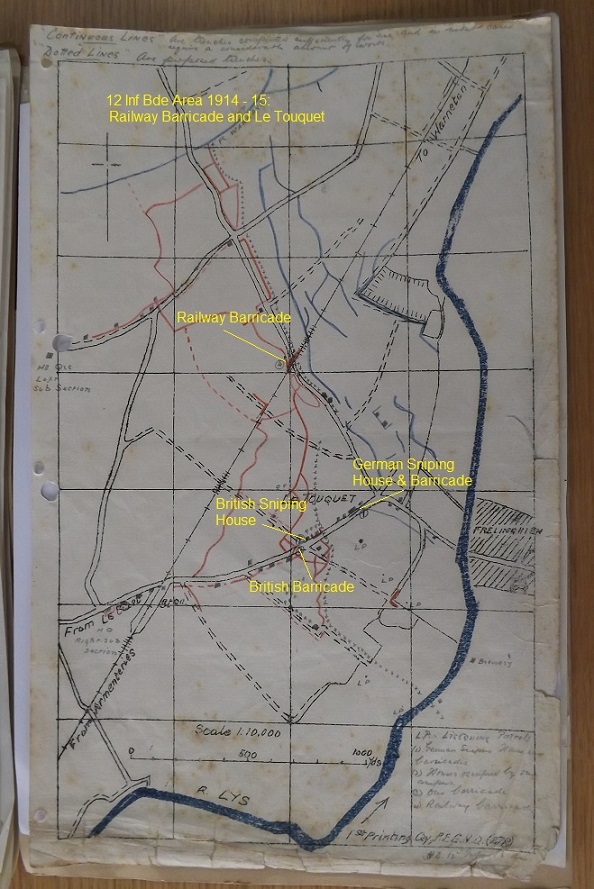 Le Touquet: 18 October 1914, the 2nd Bn Lancashire Fusiliers and 1st King's Own of 12 Inf Bde captured Le Touquet and dug in forming the front line, which was more or less to remain throughout the war. Sections of 7 Coy were employed 18 October 1914 - 29 April 1915 building and maintaining the Railway Barricade, trenches and Le Touquet defences often in wet and very cold conditions. This area was a hot spot for sniping and shooting exchanges.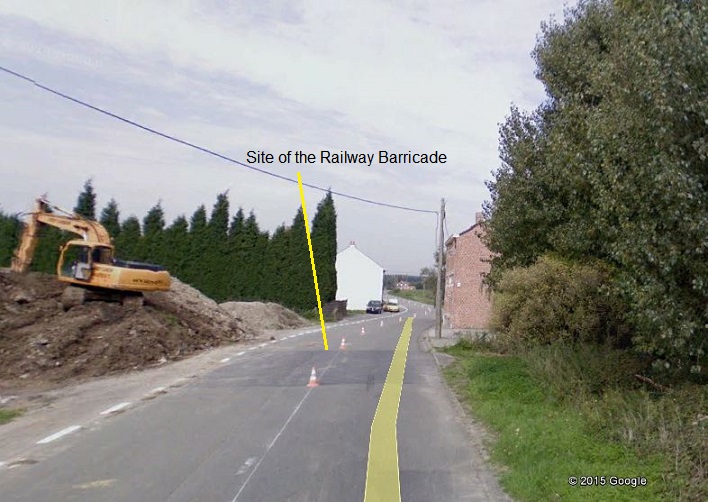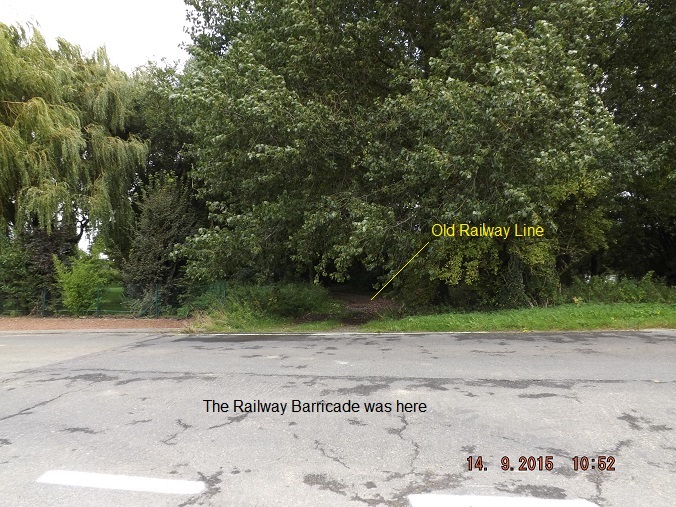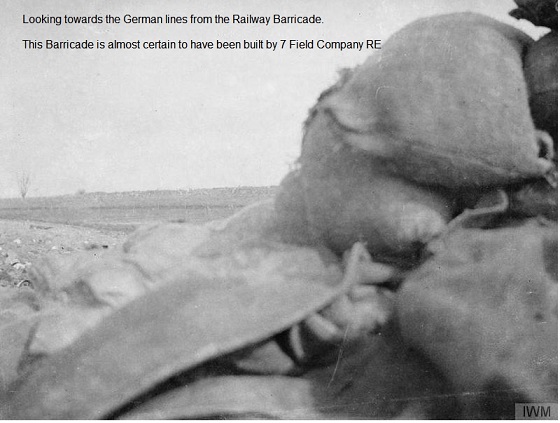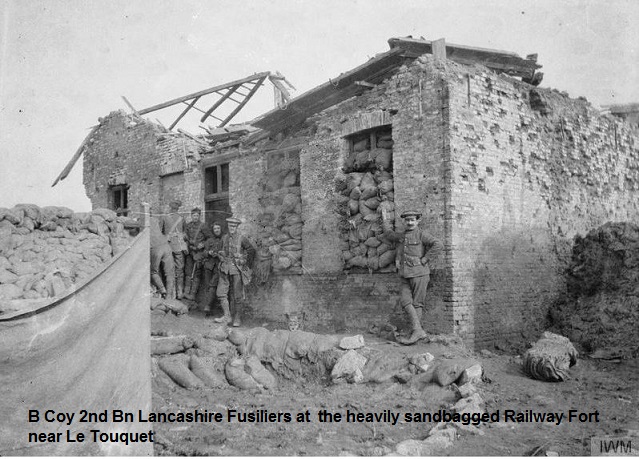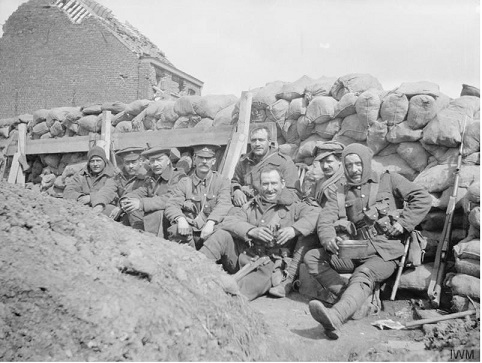 ''C'' Coy 2nd Bn Lancashire Fusiliers at the Barricade in Le Touquet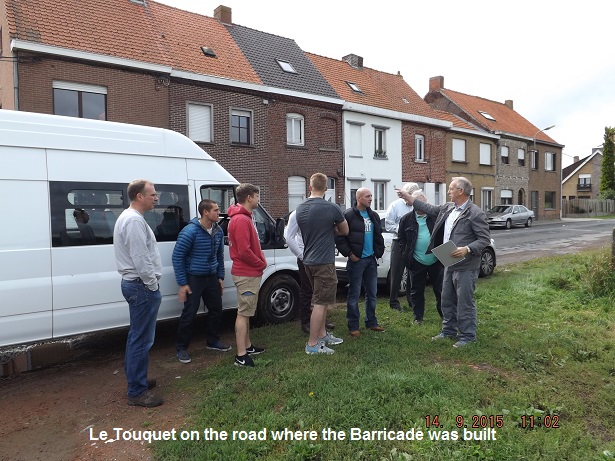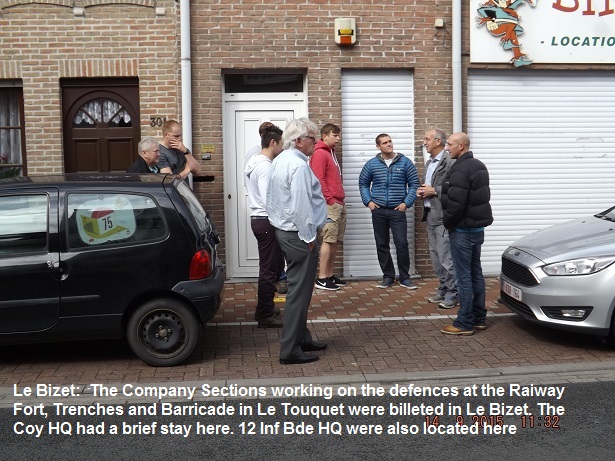 The group had a lunch stop in Bizet on 14th and 15th September
7 Field Company war diary entry 19 October 1914:

During the night of 18th-19th Nos 1 & 2 Sections built barricades etc in Le Touquet village which the 12 Brigade were attacking during this and following days. Nos 3 & 4 Sections marched across during the same night to Ploegsteert. On the morning of 19th Company Headquarters moved to Le Bizet. Sections were again at work assisting the infantry (12th Brigade) to entrench on night of 19th.


On 2nd January 1915 No 2 Section relieved No 1 Section in the Le Touquet area. Pioneer Daniels was in No 2 Section and kept a dairy, the following are some extracts:

Saturday January 2nd. We change billet at 11 am and go out to work on the High Command trenches at Le Touquet. Sgt Lewis is wounded in the leg.
Sunday January 3rd. We sand bag the breast works again, it is a beastly night.
Monday January 4th.We did the same as last night, another wet night.
Tuesday January 5th.Tonight I am in a loop hole party. We have a farm to put in state of defence.
Friday January 8th.I could not sleep it was so cold. I made numerous loopholes and returned to billet when dark.
Saturday January 9th. Paraded at 4 am and proceeded to the Railway Fort which is only 40 yds from the Germans. We strengthened the shooting gallery by sand bag revetting.
Sunday January 10th. We continued strengthening the house.
Monday January 11th.Revetted up the communication trench and at dark raised a barricade where a fellow was killed this morning.
Wednesday January 13th. I built up as far as sand bags would allow,another wall. We built in the afternoon a barricade formed of rubble in boxes round a maxim. At night we raised a wall for added protection. Elms, White and Fletcher were wounded.
Thursday January 21st. Rained all day got wet thro' to the skin, it is the most miserable day I have ever spent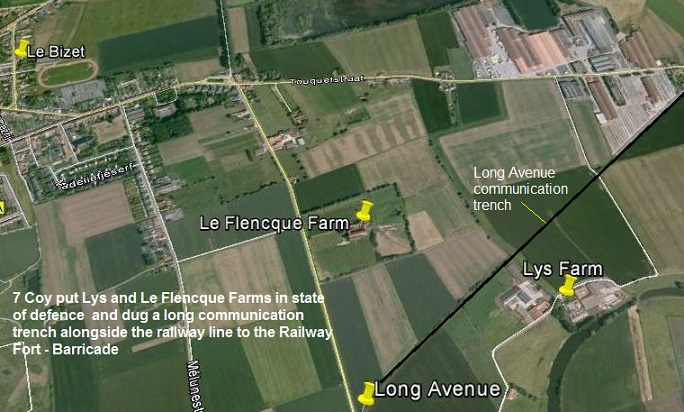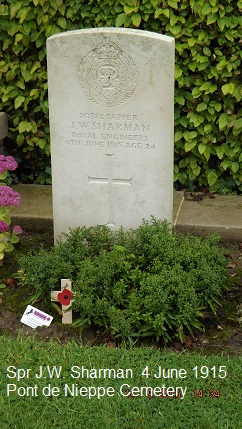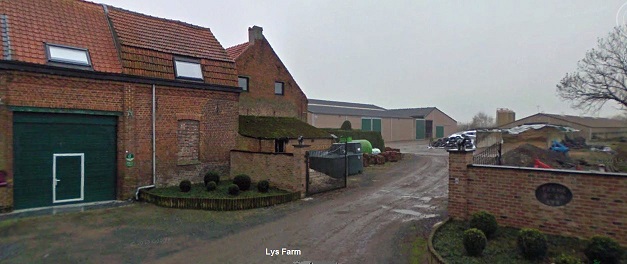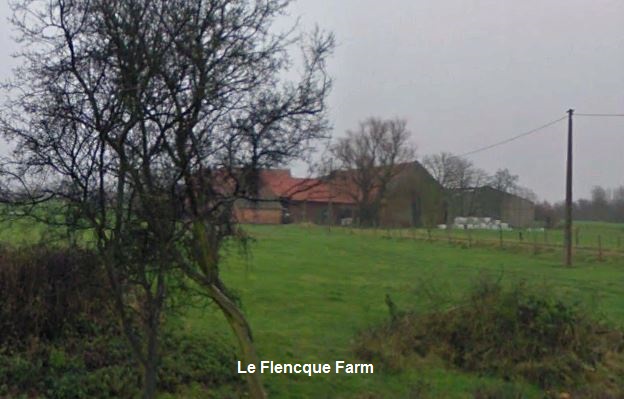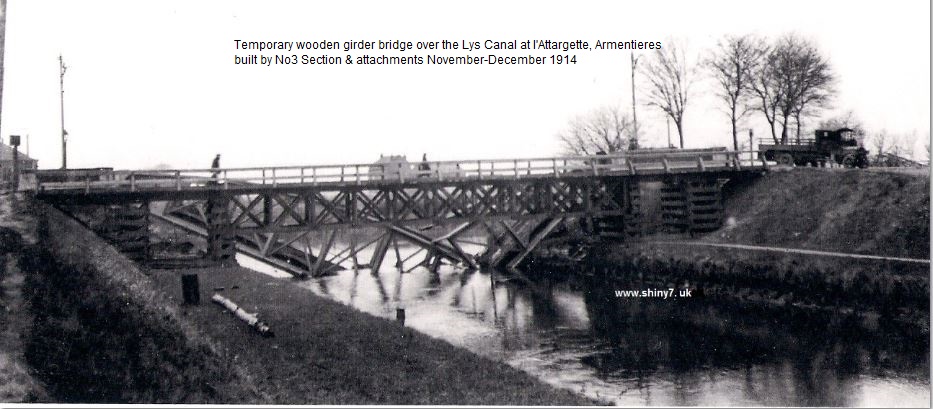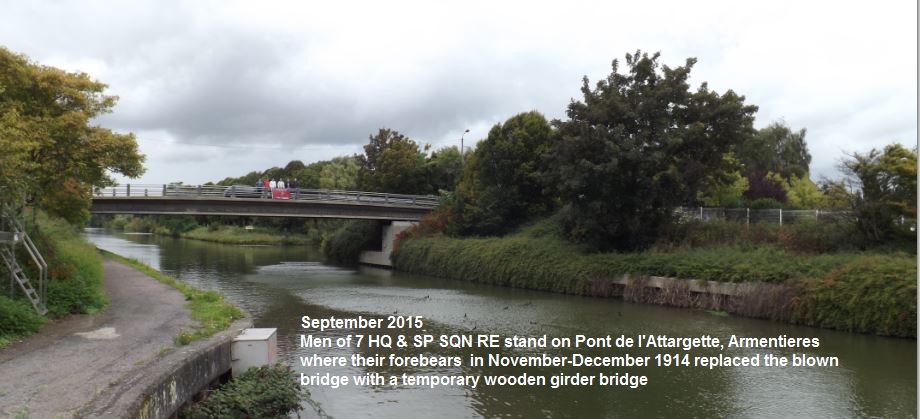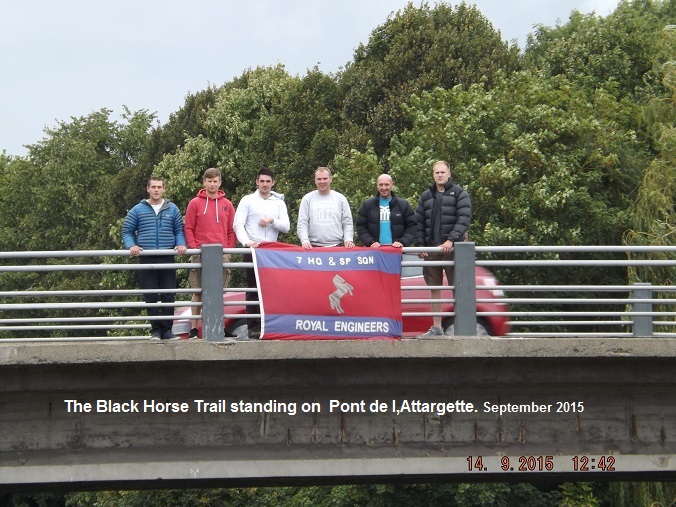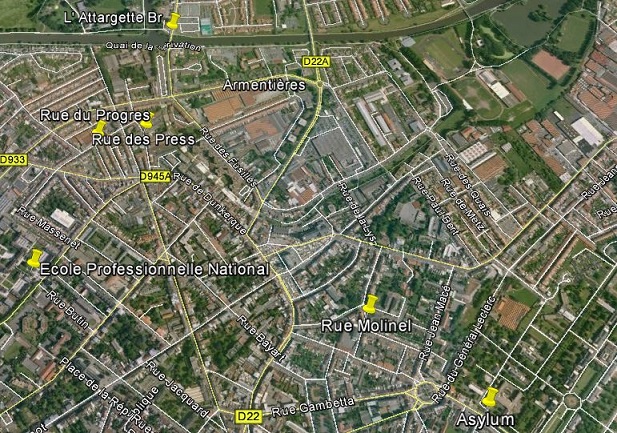 Above: The tour group visited the places marked above which were used by 7 Coy for billets in 1914 -15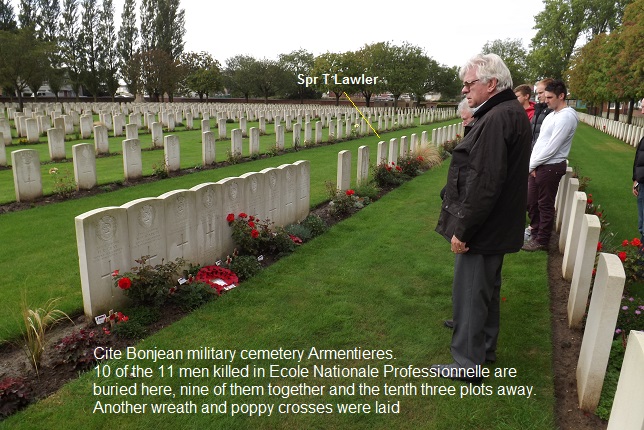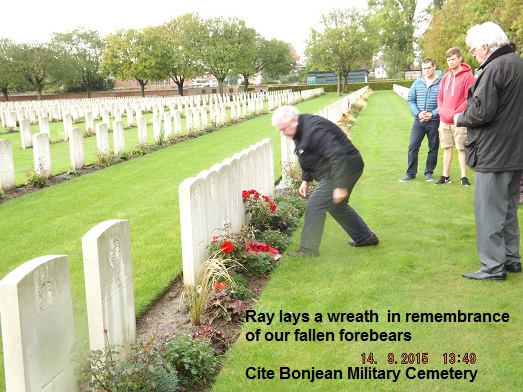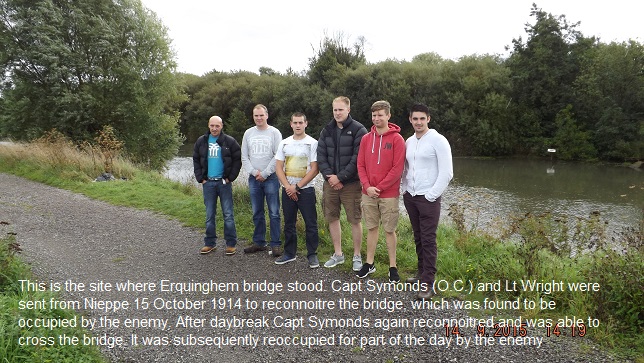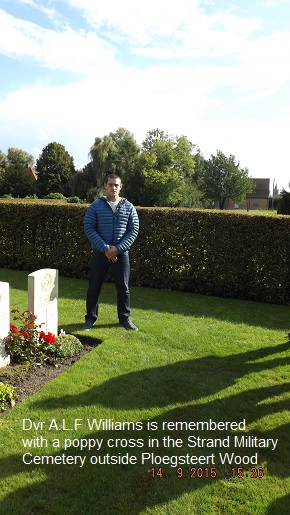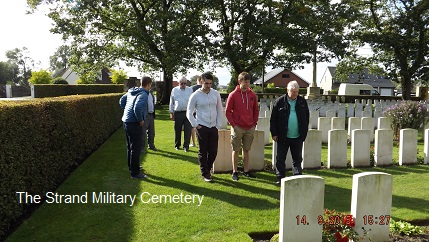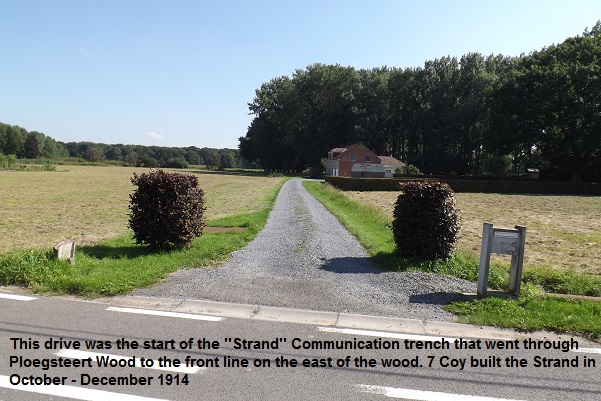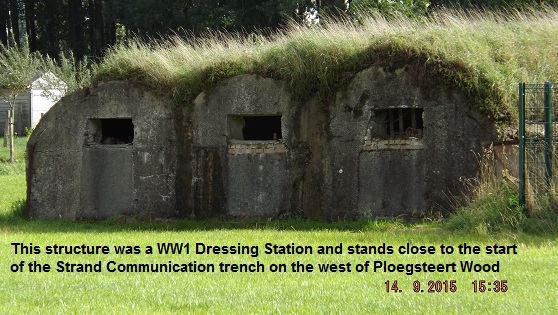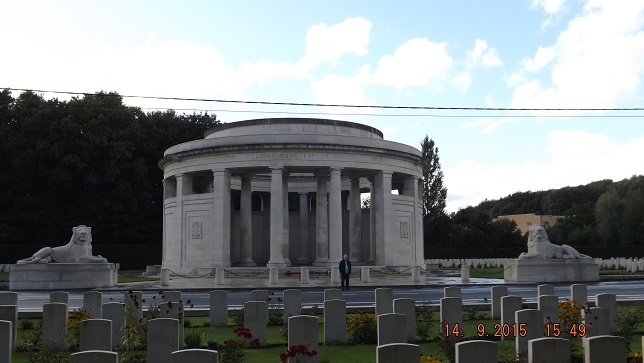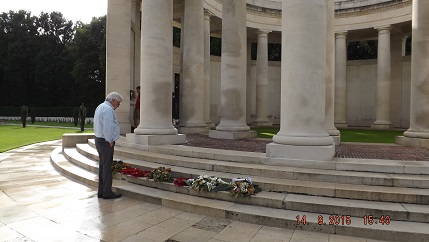 Ploegsteert Memorial to the missing at Hyde Park Corner, Ploegsteert Wood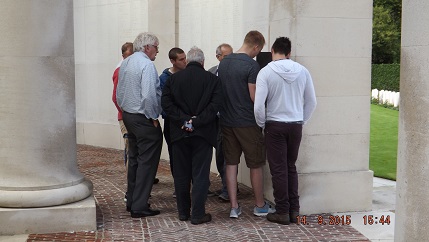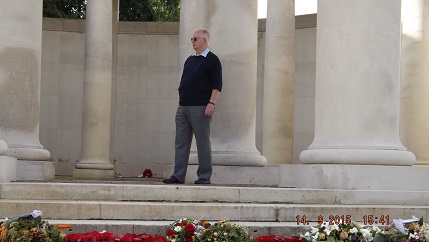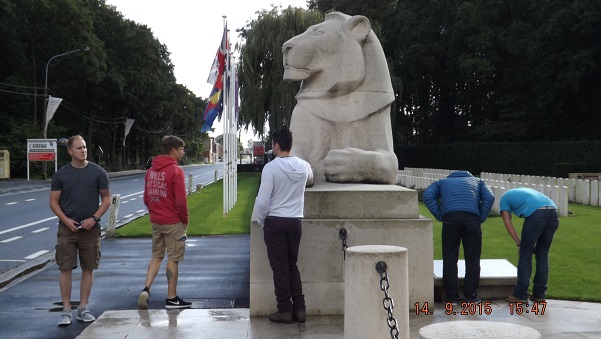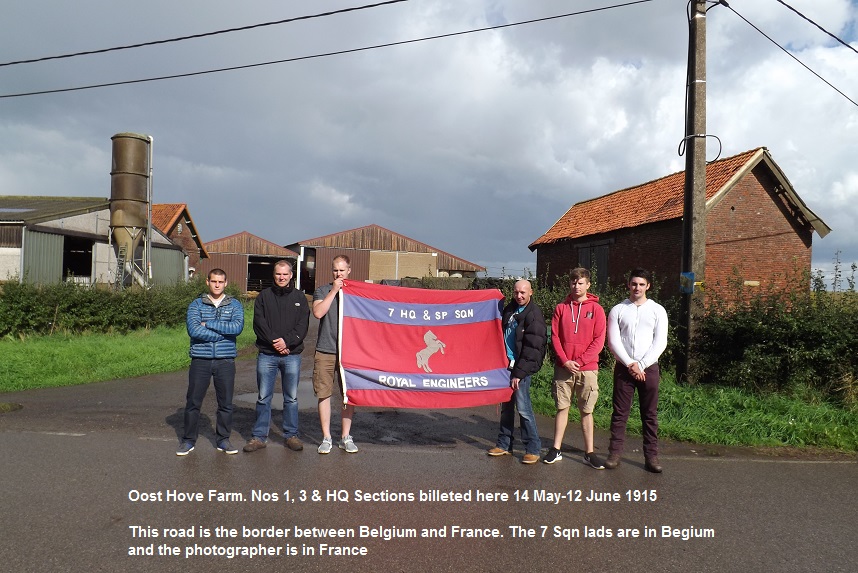 7 Field Company have no casualties listed here, though there is an interesting listing of an extraordinary act of bravery by Spr Hackett VC, of the 254th Tunnelling Company RE who is commemorated here. This is his citation:

For most conspicuous bravery when entombed with four others in a gallery owing to the explosion of an enemy mine. After working for 20 hours, a hole was made through fallen earth and broken timber, and the outside party was met. Sapper Hackett helped three of the men through the hole and could easily have followed, but refused to leave the fourth, who had been seriously injured, saying," I am a tunneller, I must look after the others first." Meantime, the hole was getting smaller, yet he still refused to leave his injured comrade. Finally, the gallery collapsed, and though the rescue party worked desperately for four days the attempt to reach the two men failed. Sapper Hackett well knowing the nature of sliding earth, the chances against him, deliberately gave his life for his comrade".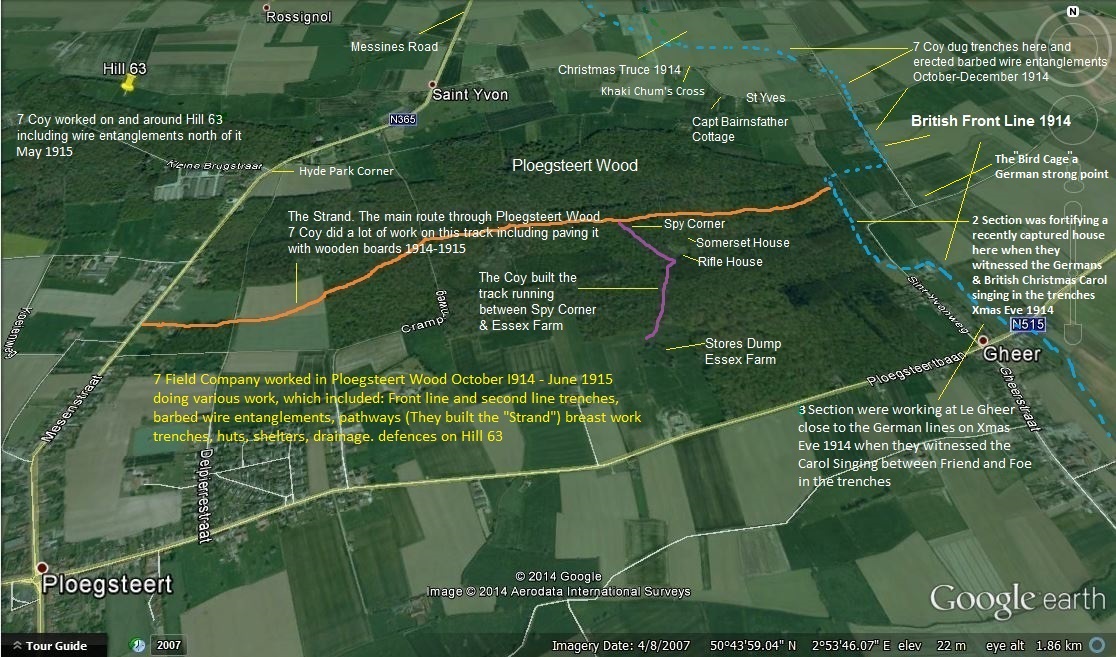 The Black Horse Trail visited all these areas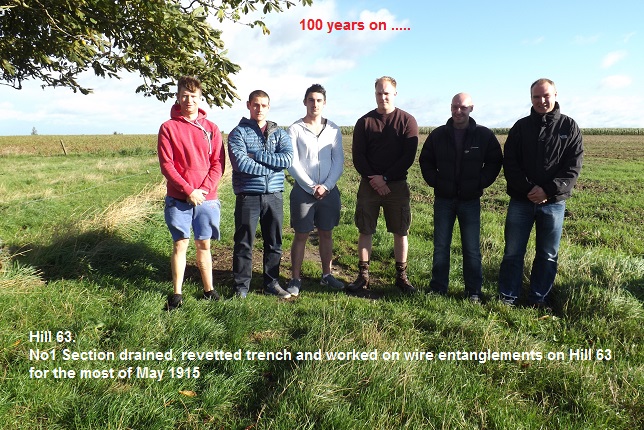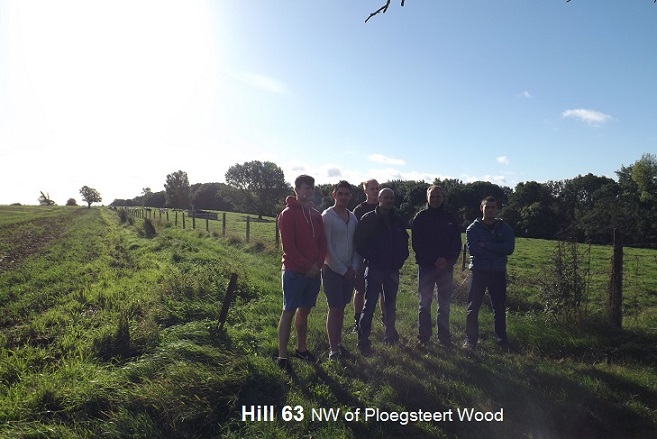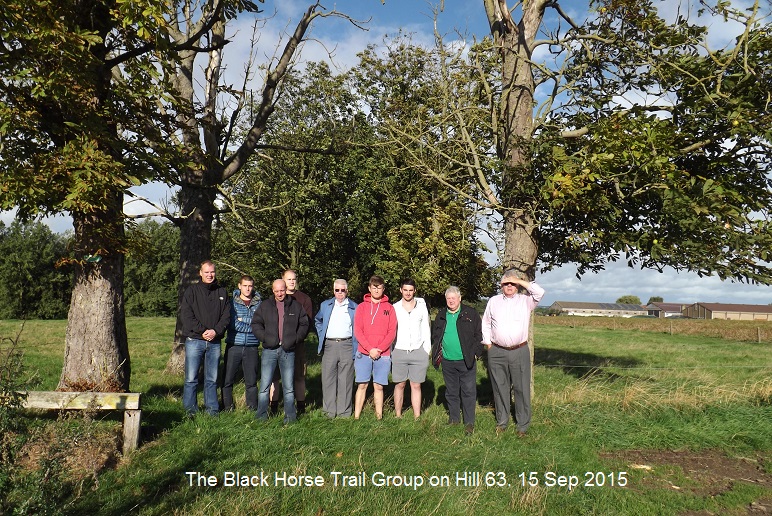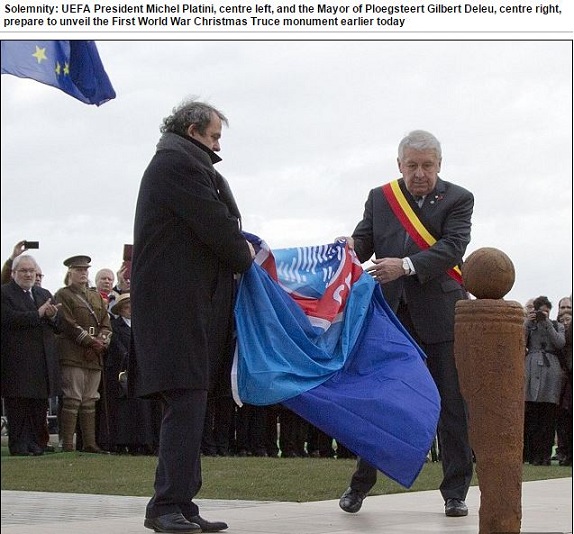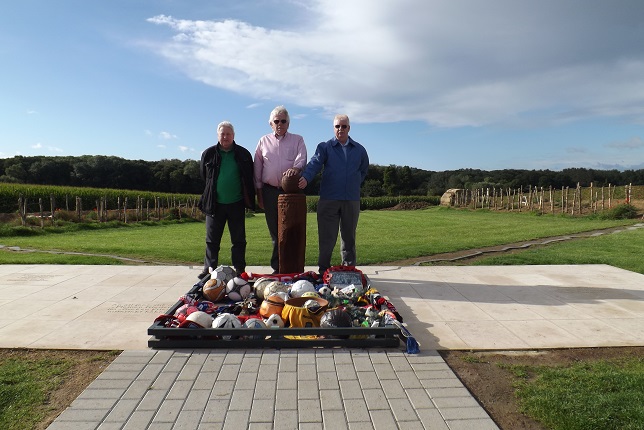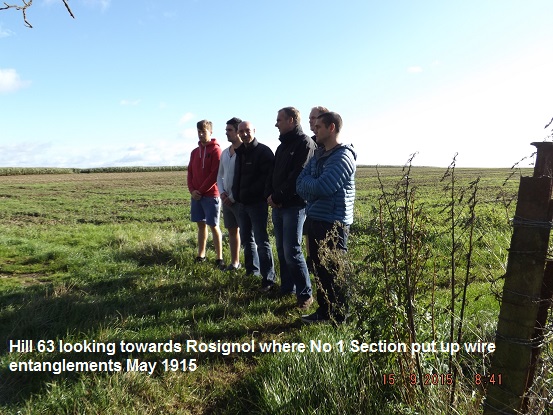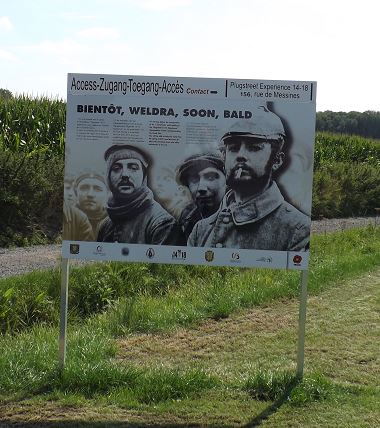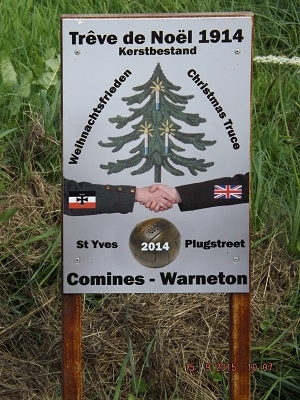 The above is from an IWM photo marked as 11th Bde, 4th Division area. 7 and 9 Fd Coys were supporting 11 Inf Bde. Nos 1, 2, and 3 Sections did a lot of work at night in the area from 20 October - mid November 1914, entrenching and putting up barbed wire entanglements. To get to the area where this photo was taken you would've had to cross the wire entanglements 7 Coy erected.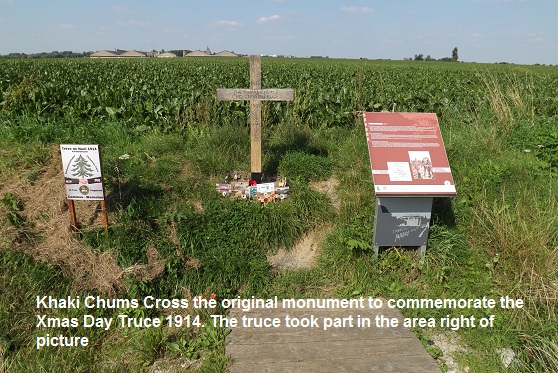 Lieutenant Bruce Bairnsfather a British prominent humourist and cartoonist was at the time, a machine gun officer with 1st Warwickshire Regt serving at St Yves. On Xmas day 1914, following the goodwill exchanges between the two opposing sides he ventured into no manís land and fraternised with German officers, snipping buttons off their tunics as souvenirs. He drew a sketch map of where this exchange took place.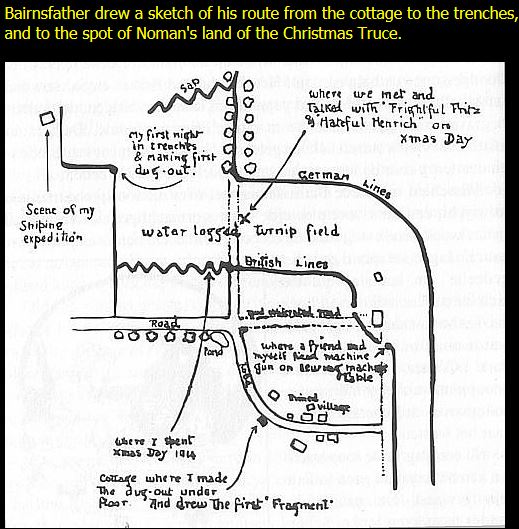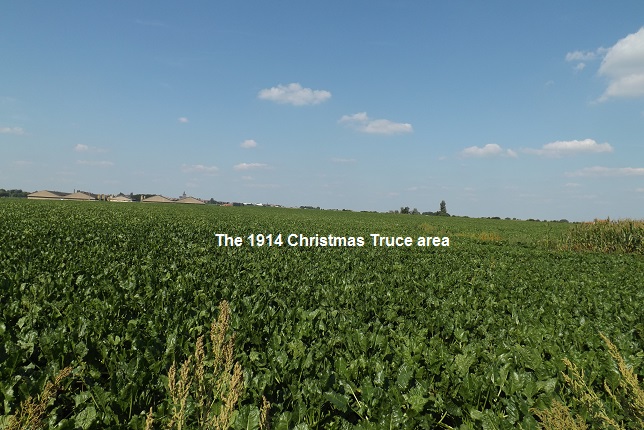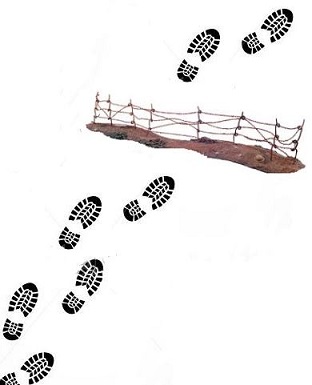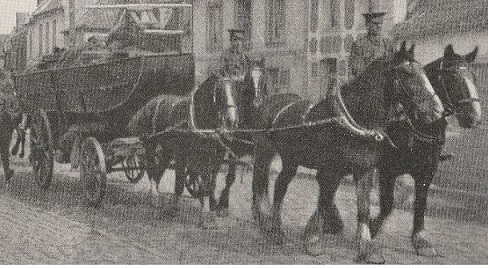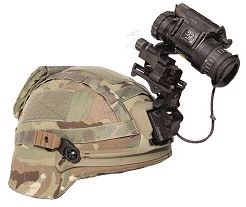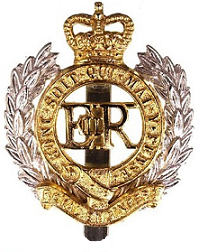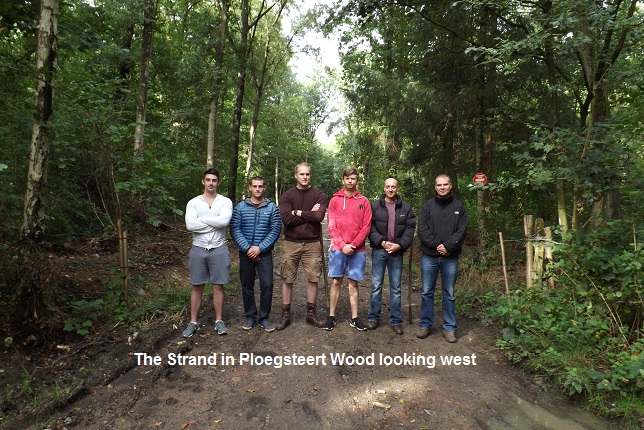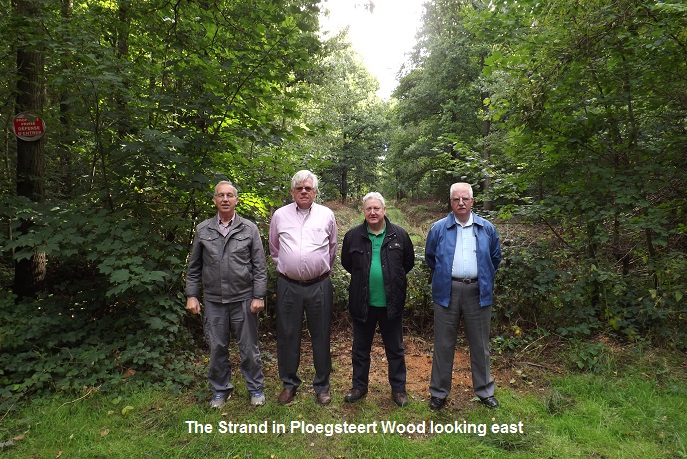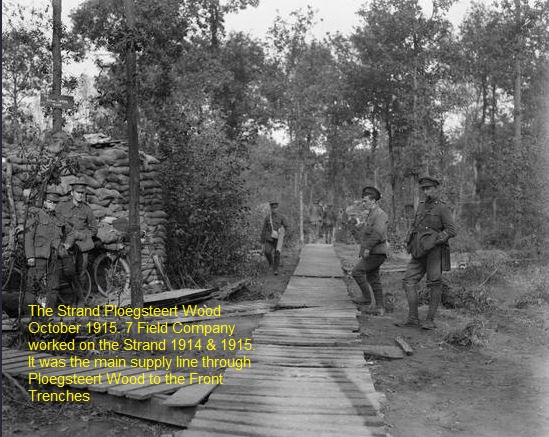 The firing continues. This morning we are collecting wire for entanglement. After dinner we cut the required pickets. Paraded at 5pm and reached St Yves at 6.30pm. It has been terribly shelled, not a house standing and huge holes in the ground. We had nearly completed one entanglement when our fellows in the trenches opened fire upon us. The enemy replied from 400yds. Down we flopped, after the first 2 or 3 minutes we began to get used to it, yet I could not help wondering where or when I should be hit. The bullets were ricocheting off the wire and plumping into the ground all around us. After twenty minutes, firing ceased, so waiting about five minutes we crept back to our own trenches with great care to let our fellows know who we were as it was quite possible that they would have fired on us. We were all very thankful to get out of what had been a tight corner.We arrived back at our billet at about 3am.
22 October 1914: Pioneer Daniels was working with No 2 Section at St Yves putting up barbed wire entanglements. This is his diary entry for this day:

Ploegsteert Wood was frequently shelled as well as daily sniper fire.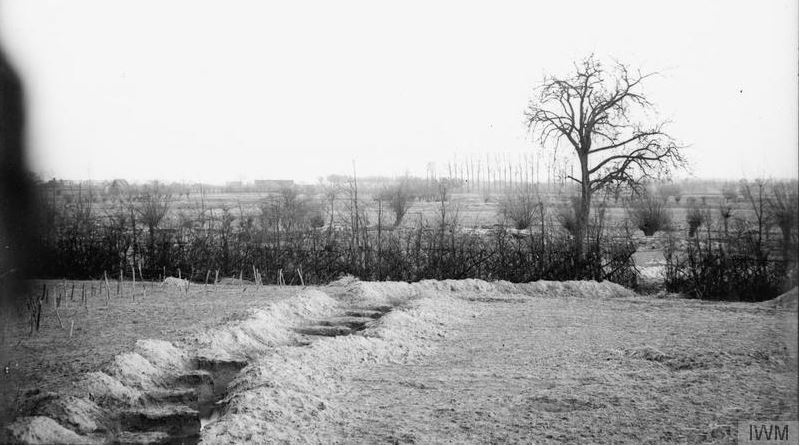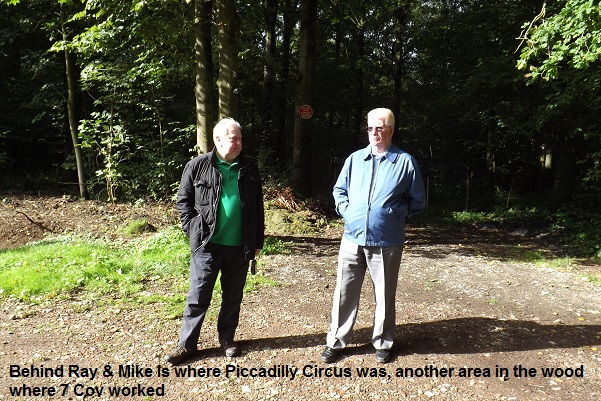 Le Gheer front line trench:
This photo looking SE was taken 28 February 1915.

7 Field Company's first visit to Le Gheer was on 17 October 1914, when the Company worked through the night entrenching here in support of the 12 Bde whose advance eastwards halted at this point. On the 18th and 19th October the Company was again working here with sections also working on defences at Le Touquet.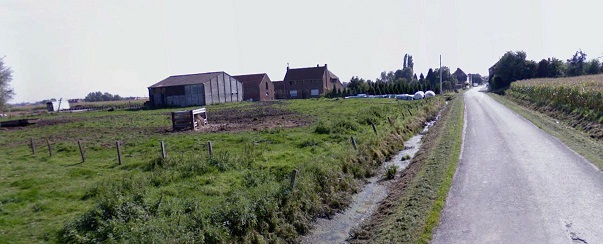 Above: The new Christmas Truce monument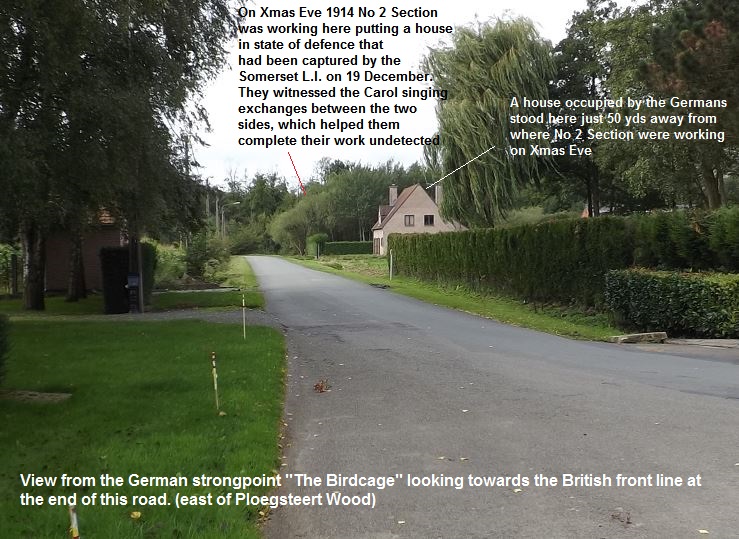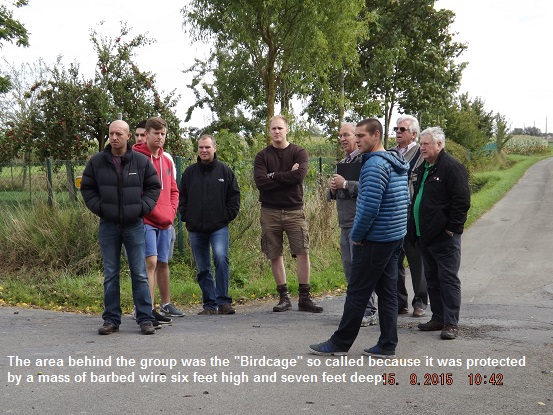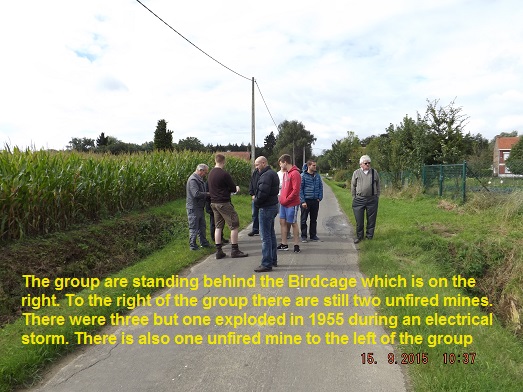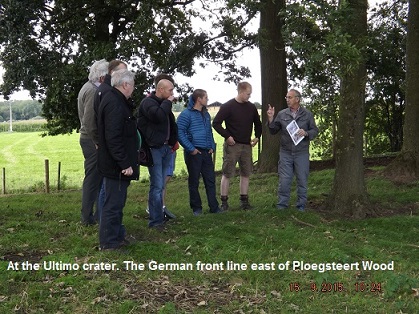 In 1916 long after 7 Fd Coy left Ploegsteert the British dug a series of 25 mines under the German trenches from Hill 60 to Ploegsteert and detonated 19 of them at the beginning of the battle of Messines 7 June 1917. One mine was flooded and abandoned. The four mines furthest south at the location of the Birdcage, east of Ploegsteert Wood were not detonated for tactical reasons. These four mines were known as Birdcage 1 (9,100 kg ammonal and gun cotton), 2 (15,000 kg), 3 (12,000 kg) and 4 (15,000 kg). Birdcage 3 was detonated by an electrical storm in 1955 making a crater 60 feet deep and 220 feet wide. This crater was filled in soon afterwards. Birdcage mines 1, 2 and 4 still remain undetonated.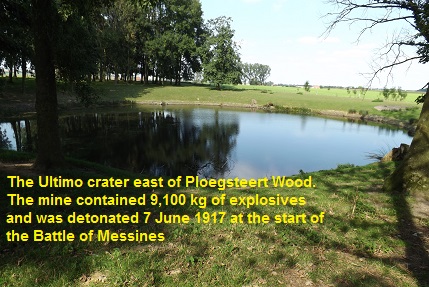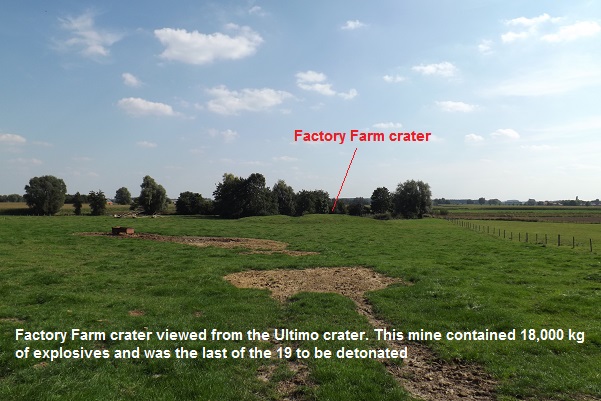 St Yves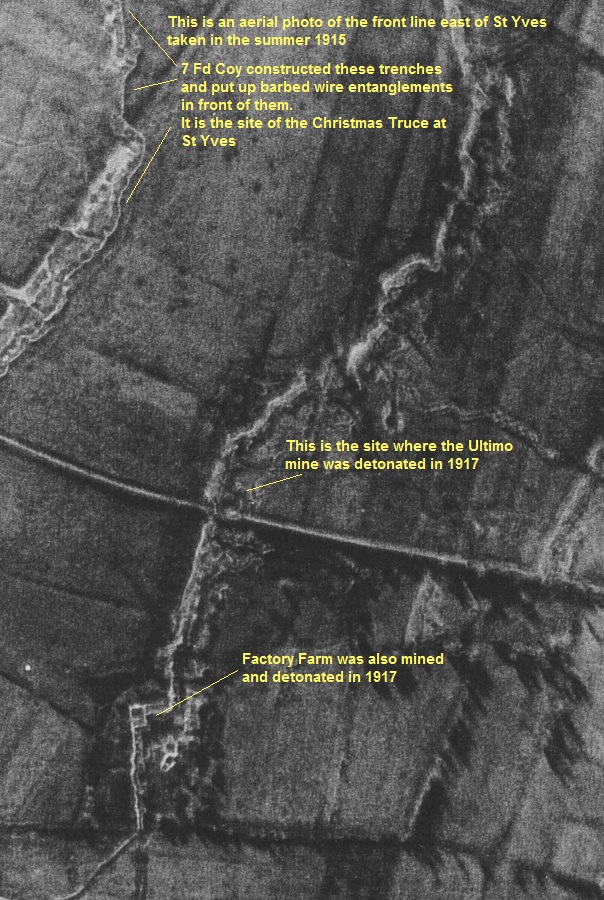 The Somerset Light Infantry were ordered to attack the Birdcage on the 19 December, 2 Sections of 7 Coy were in support. The attack began with what was meant to be a heavy artillery bombardment but was described by Colonel Sutton the C.O. as meagre. The wire at the Birdcage wasnít cut by the bombardment. The enemy didnít respond until the SLI left their trenches to attack, then they opened up with heavy machine gun and rifle fire. Few men made it to the wire, those who did made gallant attempts to scale it with their purposely made mattresses that each man carried. The mattresses, made of rabbit wire and stuffed with straw were a complete failure, hampering mobility and ineffective on the barbed wire. The attack failed costing heavy casualties, though they did capture German House on the edge of the wood.

Looking south towards Le Gheer from the east side of Ploegsteert Wood. The British front line trenches ran a few yards to the left of this road and parrallel to it. 7 Coy were in support of the advancing troops when they took Le Gheer and surrounding areas
The 11th Inf Bde sector started at Le Gheer - Halte road exclusive and went north to Messines. 12th Inf Bde sector was from Le Gheer - Halte road inclusive south to the river Lys north of Houplines. 10 Inf Bde was south of the river Lys between Frelinghien and Houplines to Lille railway line south of Armentieres. 7 Coy supported 12 Bde, 9 Coy supported 10 Bde and both Coys supported 11 Bde.

On the 20th - 21st October there was heavy fighting at St Yves, Le Gheer and Le Touquet with Le Gheer being captured for a brief spell, a counter attack regained lost ground and 150 German prisoners taken.

The trenches above would have been built by 7 Coy most likely with infantry working parties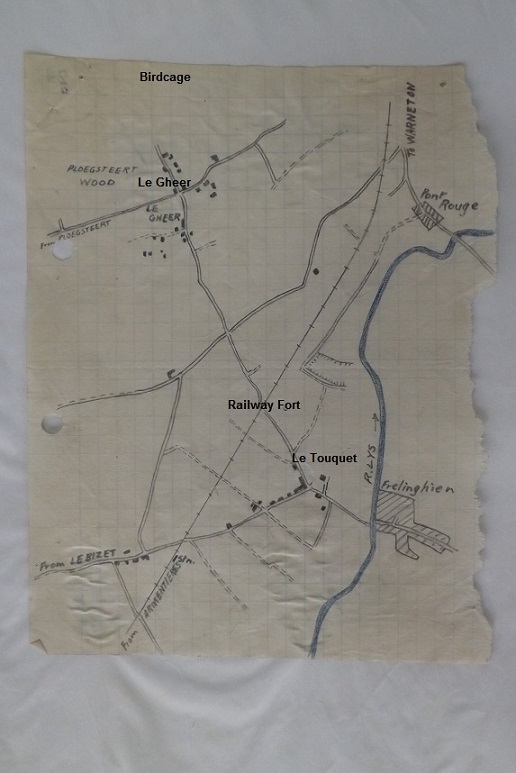 12 Infantry Brigade Area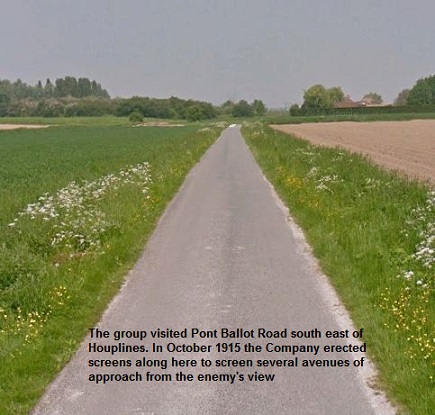 Right: Houplines Bridge. When the B.E.F. arrived at Houplines in October 1914 they found it had been damaged by the Germans. 9 Fd Coy with No 3 Section of 7 Fd Coy were tasked to repair it. Click on the thumbnails below for details of the repairs. The group visited the site.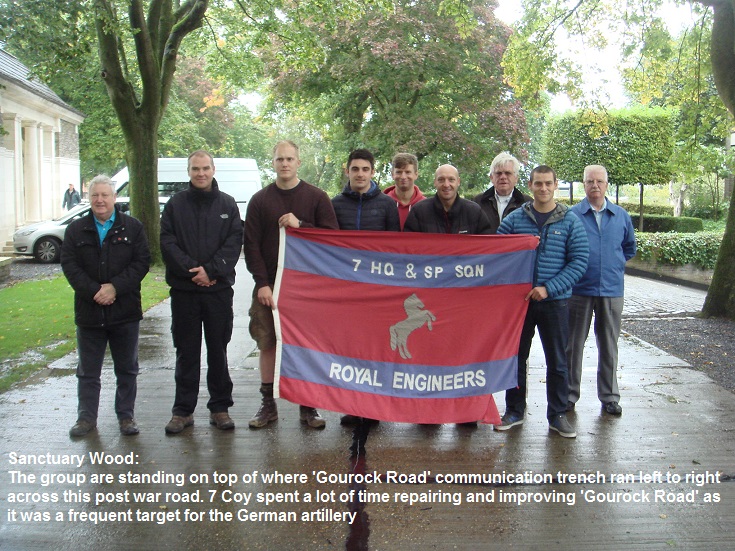 Sanctuary Wood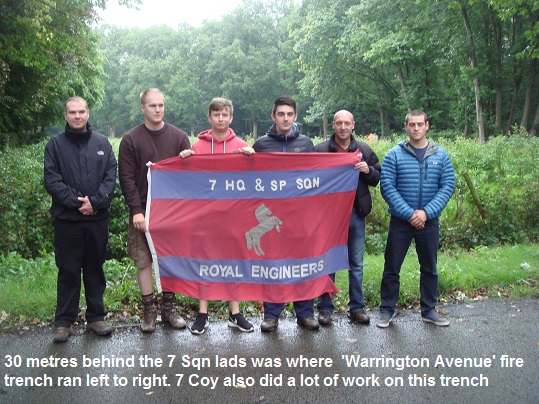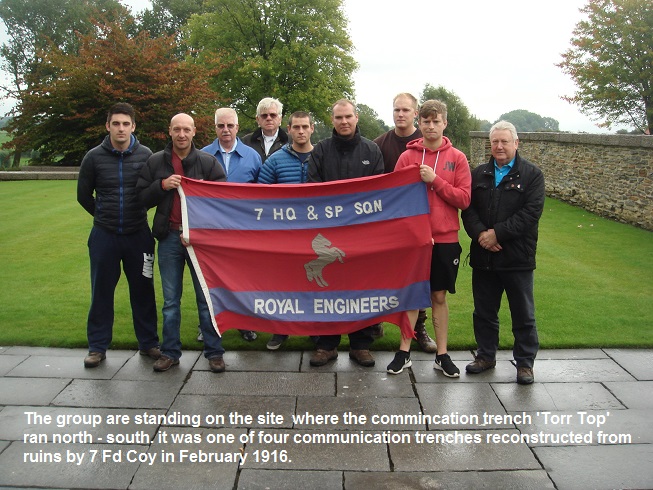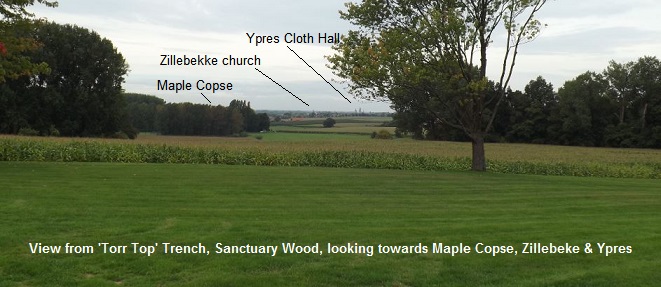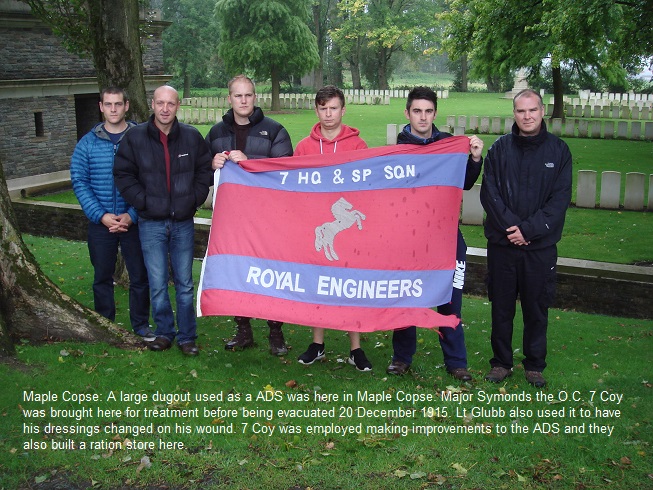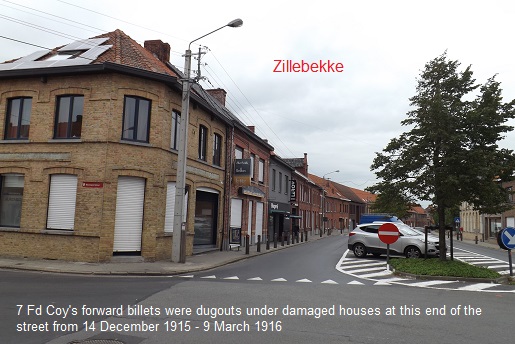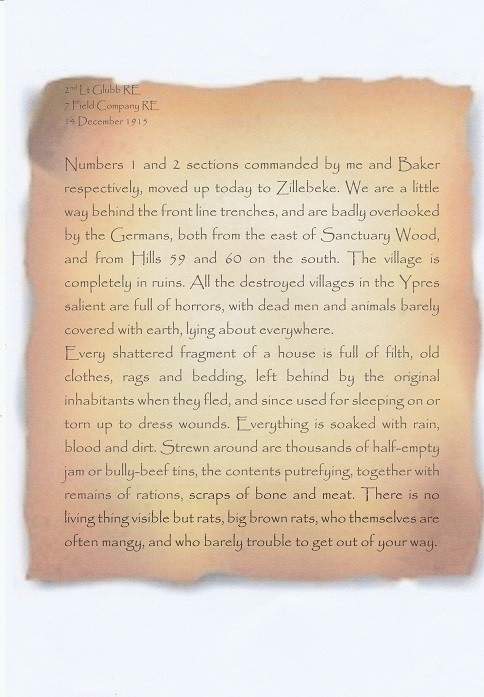 Below: Lt Glubb's description of the environment in 1915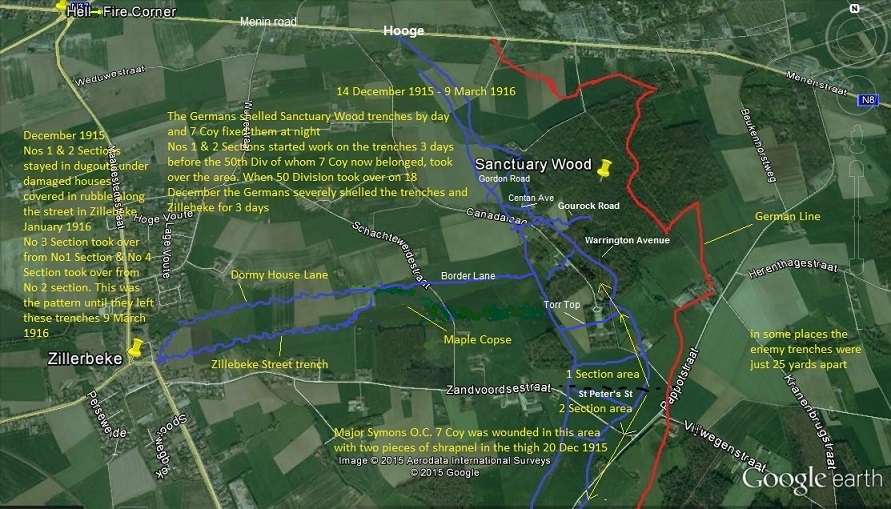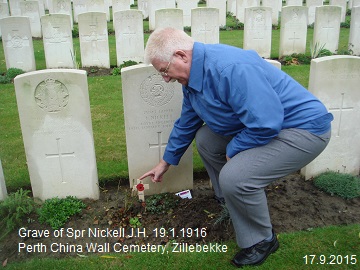 Perth China Wall Cemetery Zillerbekke

Spr Nickel J.H. 19 .1.1916
Spr Smith J.W. 15.2.1916

Spr Smith was killed by a Whizz-Bang while working on Warrington Avenue trench

Spr Slow W 23.6.1916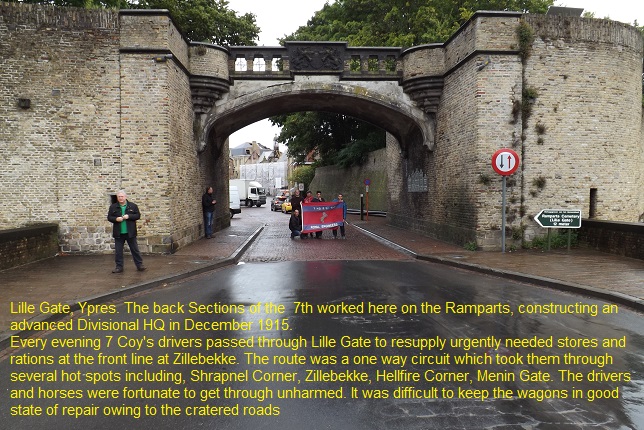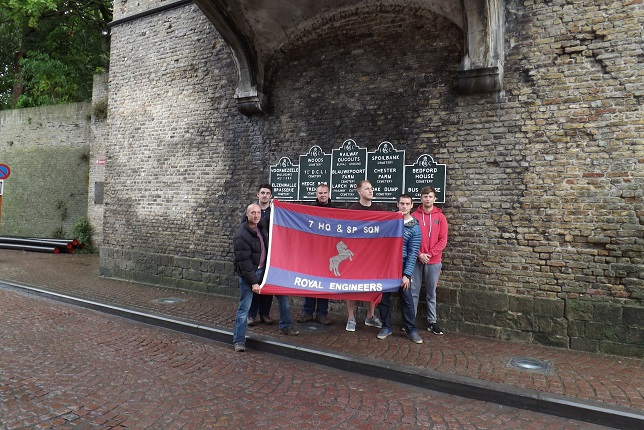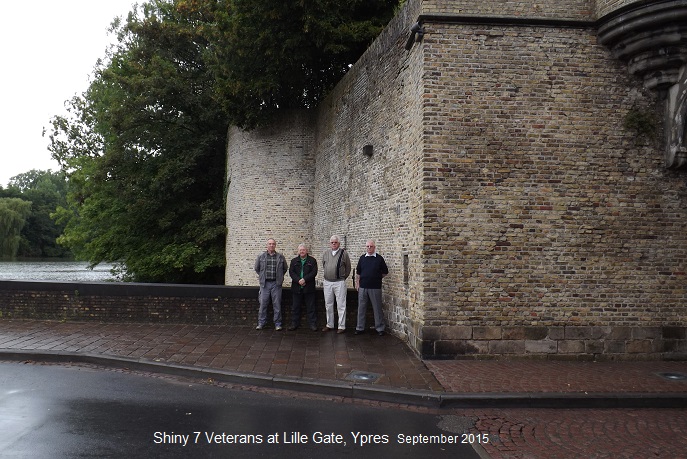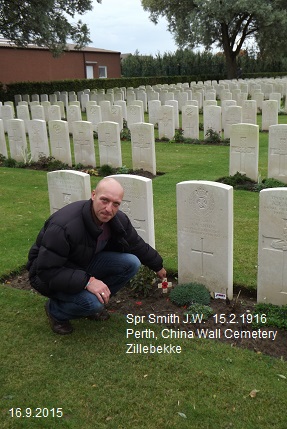 The aim of the trail was to commemorate the centenary of 7 Field Companyís contributions to WW1 in 1915. By visiting the sites we were commemorating their achievements and paying our respects. In addition to visiting their work places and battlefields the tour also visited 27 graves of 7 Field Company men killed in WW1 & WW2. Poppy crosses planted and wreaths laid.